Cecilia's bags first showed up on my radar at the PhotoPlus Expo in New York where they were exhibitors last October, and although I didn't spend much time with them then, it was still enough to get the Simon and Garfunkle song stuck in my head for an afternoon. After spending the past few months with a Cecilia Lambert leather messenger bag1Cecilia sent me a Lambert Messenger Bag to review; I did not pay for the bag, but I also ONLY accept products with the understanding that my reviews will be honest and as objective as possible; we never provide positive reviews in exchange for payment or other considerations, I've determined that having the song frequently stuck in my head is it's worst feature: it is otherwise well built, well designed, and attractive.
At this point, I've traveled across the country twice with the Lambert. I've trecked through forests and along beaches, and the bag hasn't let me down. But is that enough? There are lots of good messenger bags on the market. If you think this might be the right one for you, read on.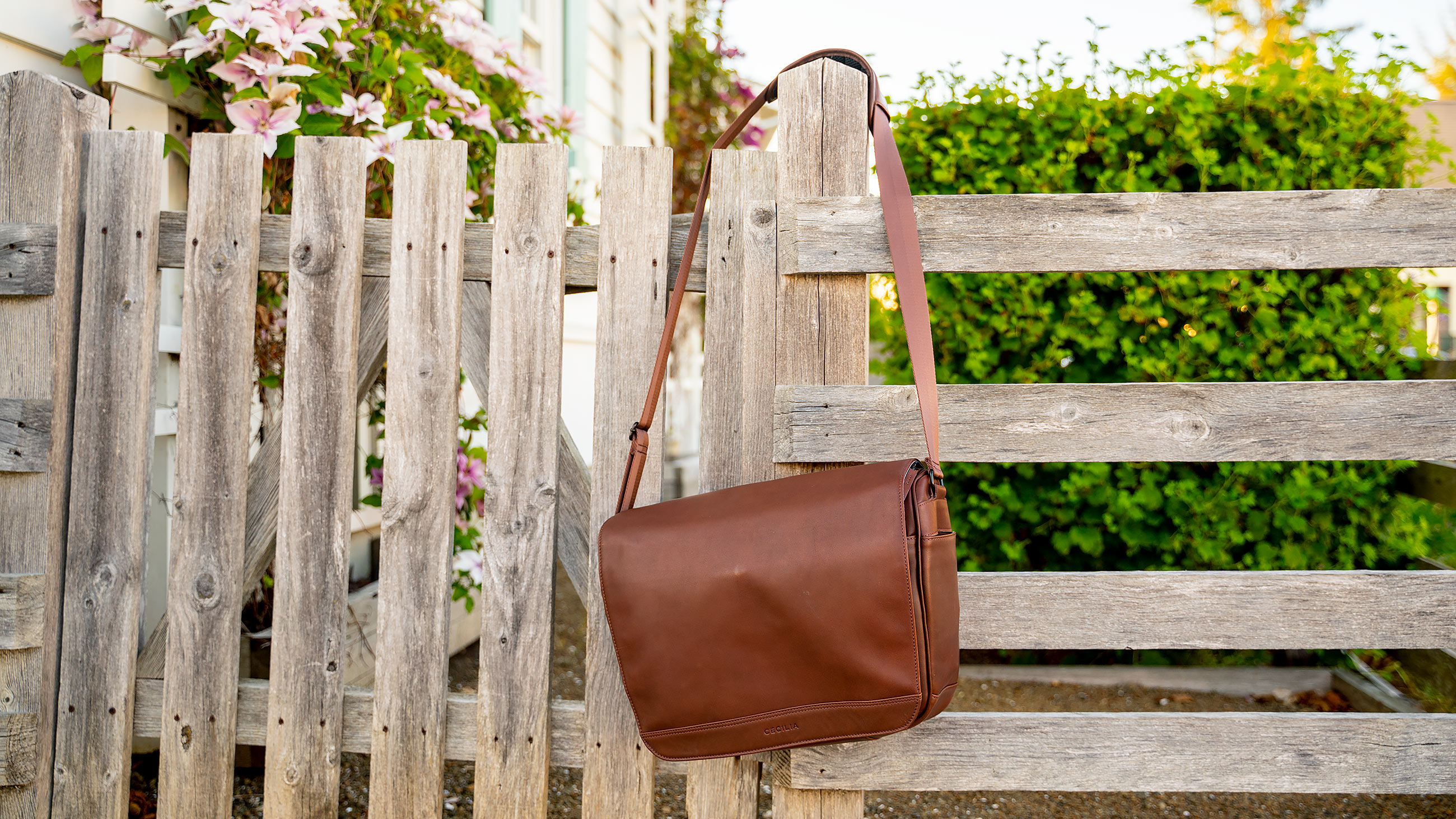 Materials & Build Quality
Cecilia is the offspring of a leather company; the Cromwell Leather Group (Cecilia's parent company) is the main supplier of leather to Coach Leatherware, so it should be no surprise that the leather found in Cecilia's bags is of luxurious quality. Cecilia bags are made only with full grain leather, which includes the strongest outer-layer (though it is not always the prettiest, and therefore many companies remove it and provide a less durable "top grain" leather, or worse, "genuine leather". That said, the Lambert's leather has been shaved down on the soft, suede side to reduce bulk, so it is no heavier than my synthetic Tenba bags, for example.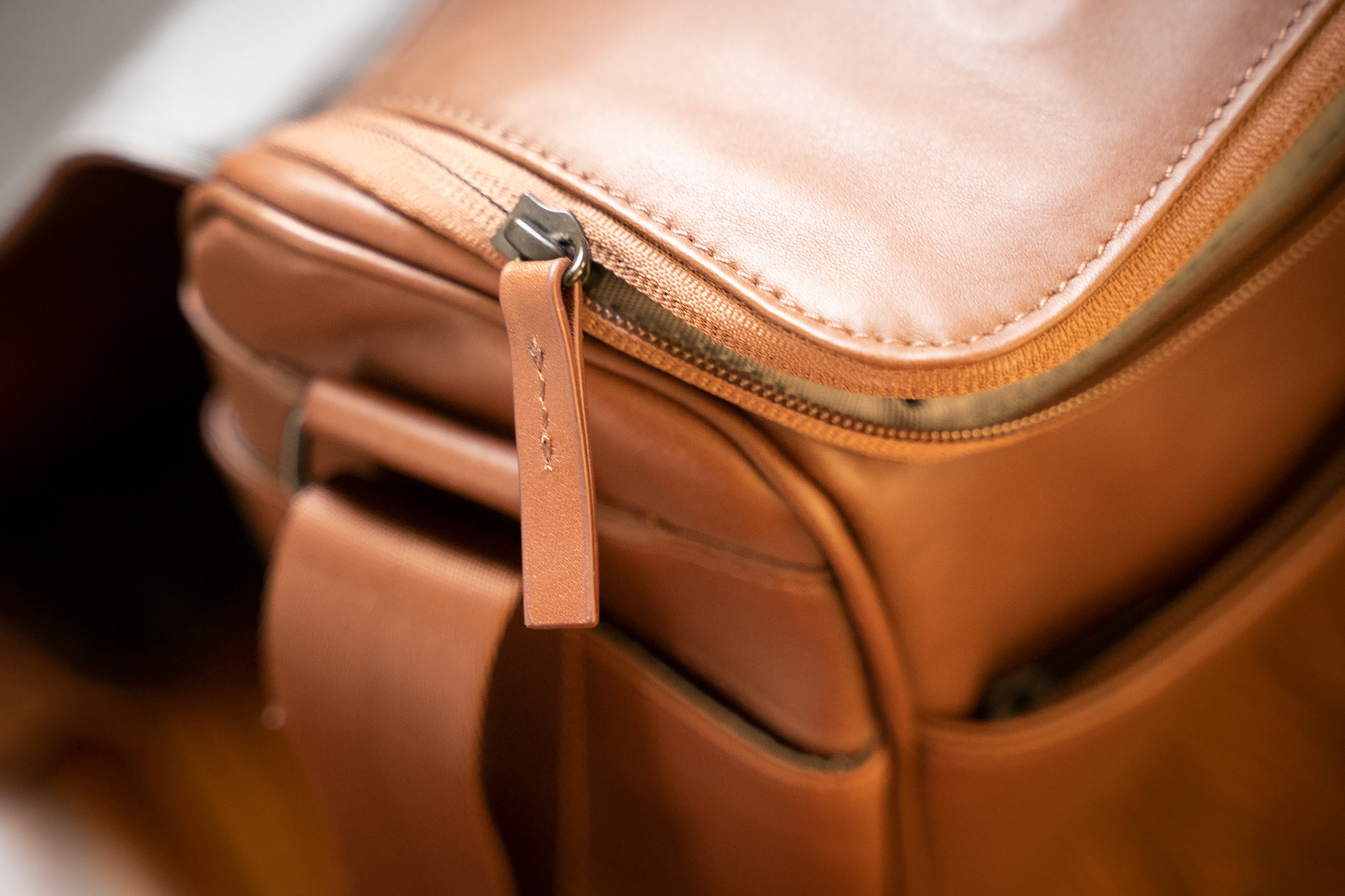 Zippers are high quality YKK with leather pulls, and the Lambert's interior is like most other camera bags, fuzzy so that velcro dividers will stick to the walls. After my first trip with the bag, the leather pull on the right-hand zipper vanished, which was disappointing, but I haven't had any problems with the operation of the actual zipper.
The strap is heavy poly webbing (seat-belt material, essentially), strong enough to hold thousands of pounds of weight, with a lightly cushioned leather pad.
Appearance
Like many leather accessories, the appearance of the Cecilia Lambert improves with time and a little wear, but that doesn't mean that there's anything wrong with it when it's new. The bag design is simple and clean, with a plain front leather flap and uniform color around the sides and bottom, with no visible straps or buckles to hold the flap closed (embedded magnets do the job instead).
The grey interior adds subtle contrast, creating an effect that is more classy than flashy. Similarly, the black padded panel on the back of the bag is under-stated, despite the bold triangles of padding that hold the bag away from the body.
Though the bag starts its life looking like a fashion accessory, as it wears, the texture of the leather becomes more prominent and patches of lighter brown appear in the heavy-wear areas, which is an improvement, in my book.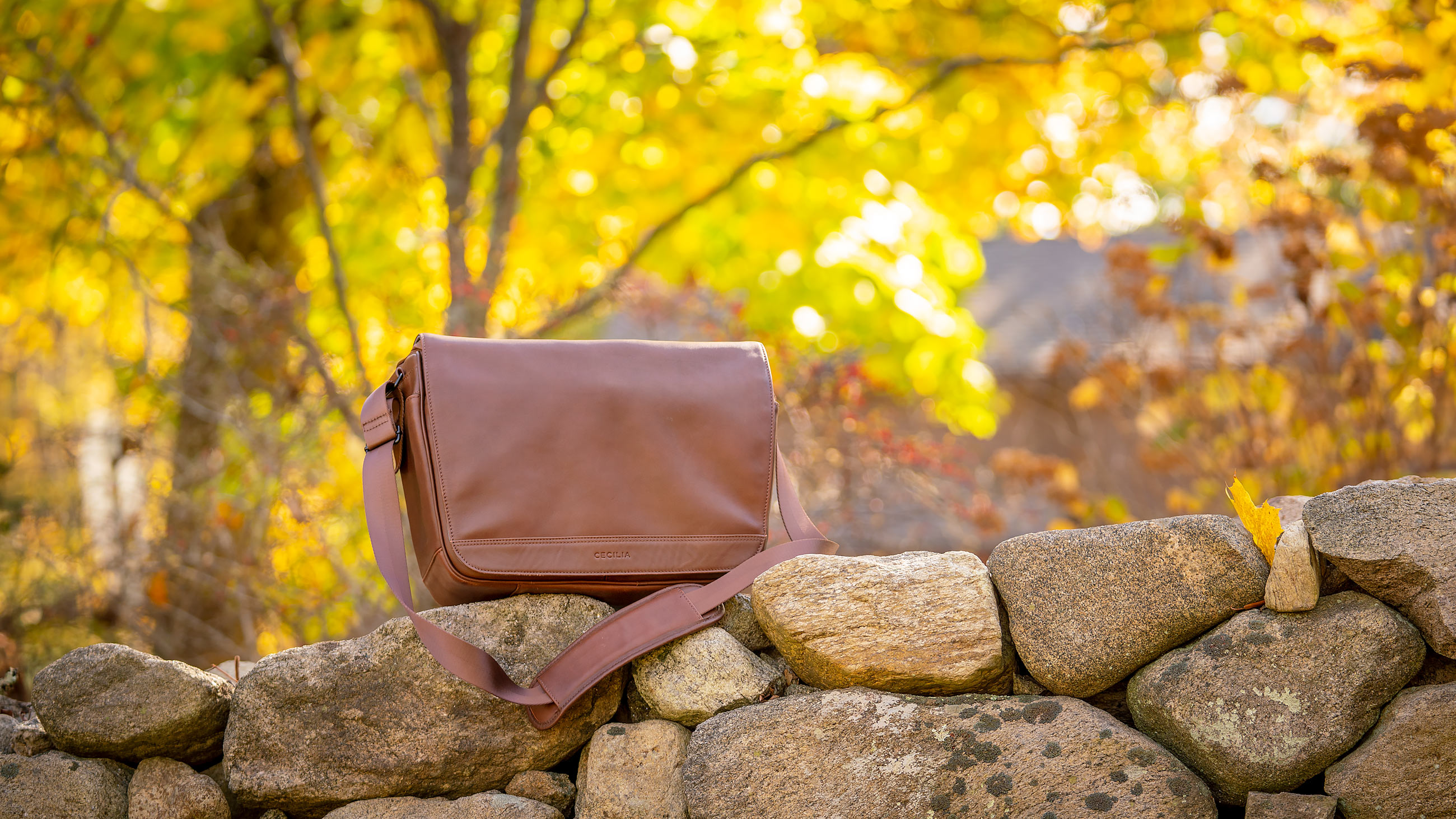 Features & Functionality
As a classic shoulder bag, there are not many features to discuss. The main compartment of the Lambert comes with three dividers with standard Velcro attachments, and it will hold a camera body and three large lenses or flashes. Additionally, the front flap normally covers two front pockets that are the right size for carrying extra cards and cables or small notebooks, but nothing much bigger. Each end of the bag has a pocket that can fit a small water bottle or a sunglasses case. Unfortunately, there are no dedicated slots for pens and pencils in the inner pockets.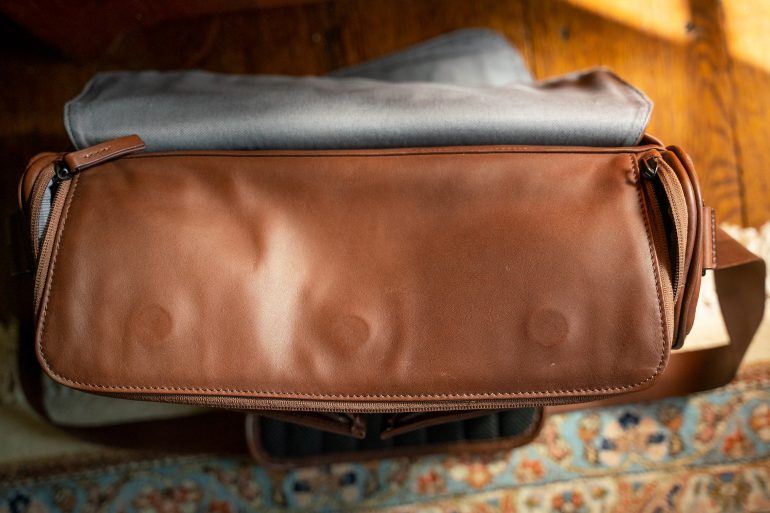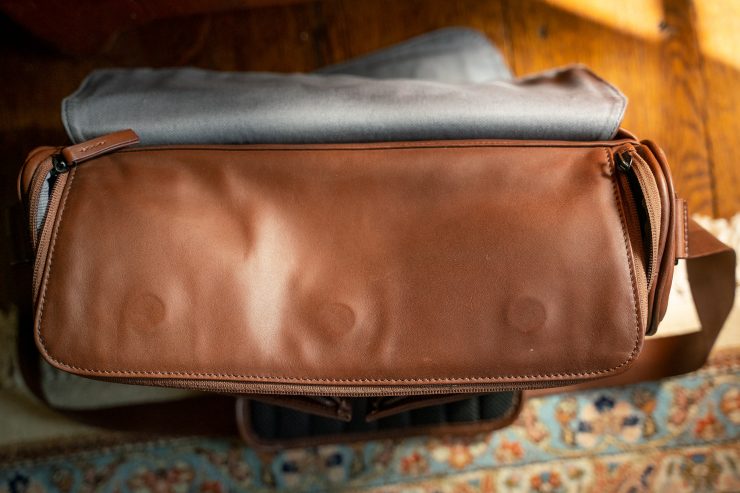 Between the front flap and the inner zip-top of the main compartment there are magnets to make the two work like a single piece of leather, but if you pull them apart, a large tablet / thin laptop pocket is hidden on the back of the bag.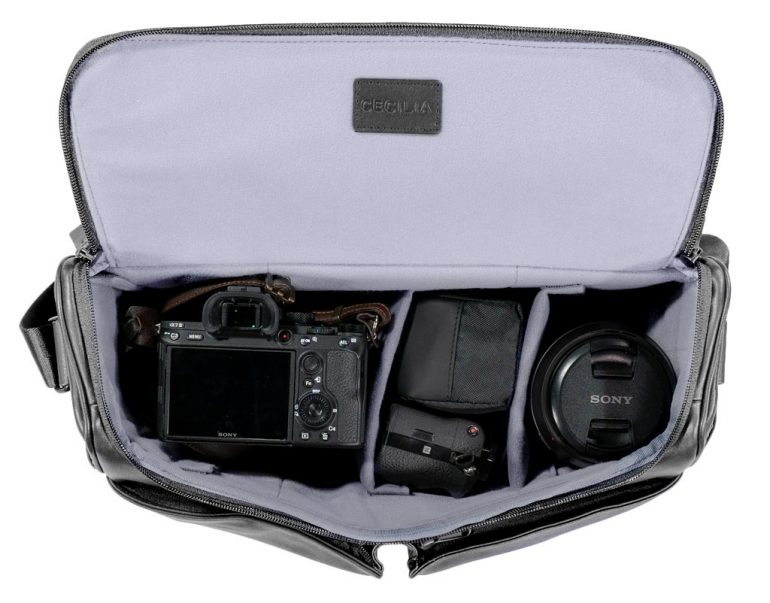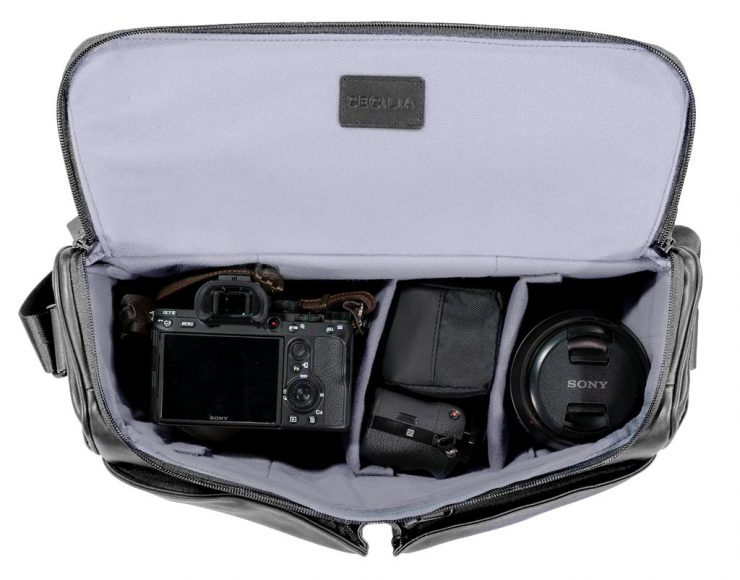 The back exterior of the bag has thick but well ventilated padding, and behind that is a pass-through slot for the handle of your rolling luggage. Unlike many bags that I've tested, this slot is sturdy enough that it really will hold your bag steadily on top of a suitcase while it's rolling through a crowded airport.
Although the magnetic closures on the front of the bag are sleek and easy to use, they don't do much good if you're over-stuffing your bag, and that's when you'd be likely to lose something and closures are most important. However, the top flap of the main compartment does zip closed, so at worst, the front flap will do just that: flap around uselessly, if the bag is stuffed.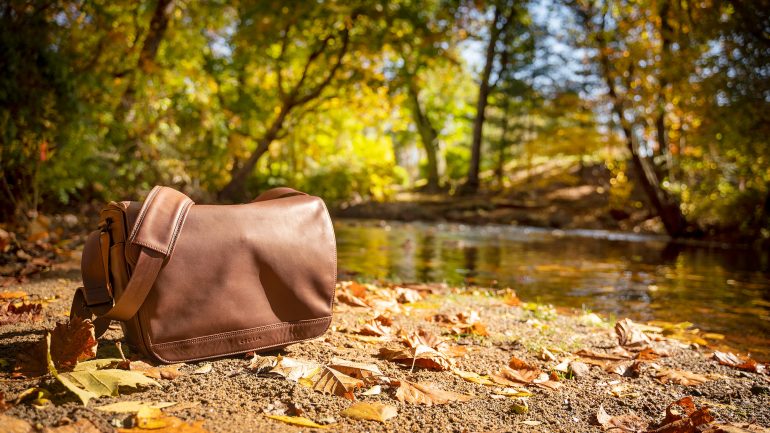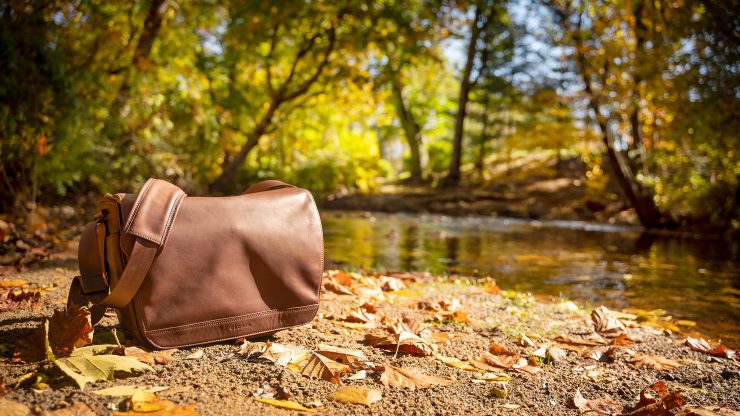 I live in Seattle, and therefore have one more concern about the bag: rain. The people at Cecilia tell me that the leather is lightly treated so it can tolerate a little rain, but they do not recommend using it in heavy rain at all. This means that I'll only be able to reliably use the bag for about three months of the year, unless I'm willing to treat it more heavily or give it regular care with oils or saddle soap and that sort of thing (and I'm not).
Comfort
As with any shoulder bag, comfort is a matter of time with the Lambert. Most photographrs will be comfortable for a while, if you don't pack too much weight into the bag, but we'll all get uncomfortable after a few hours of use. This can be improved in some shoulder bags with an especially wide and thick pad on the strap, but in this regard, the Cecelia is no better than average. The padding on the strap is so thin that its extra breadth makes little difference.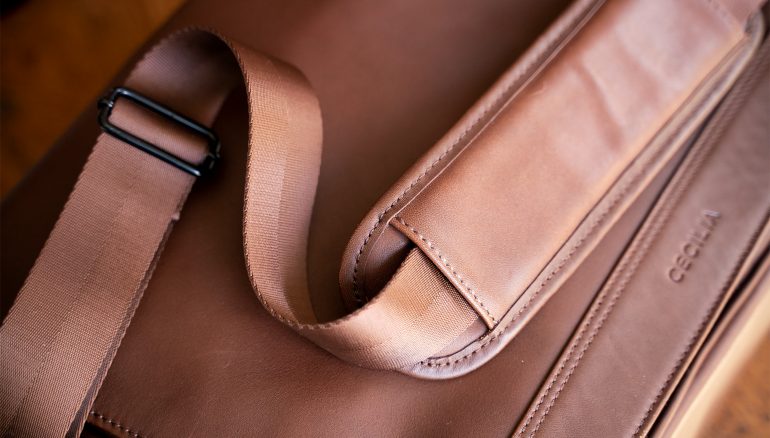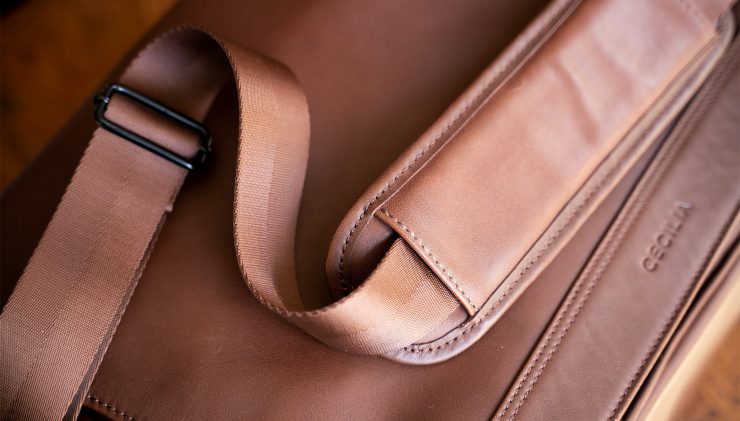 However, the padding on the body-side of the bag is very thick and comfortable, so if the bag is banging against your hip for a few miles, you'll hardly notice.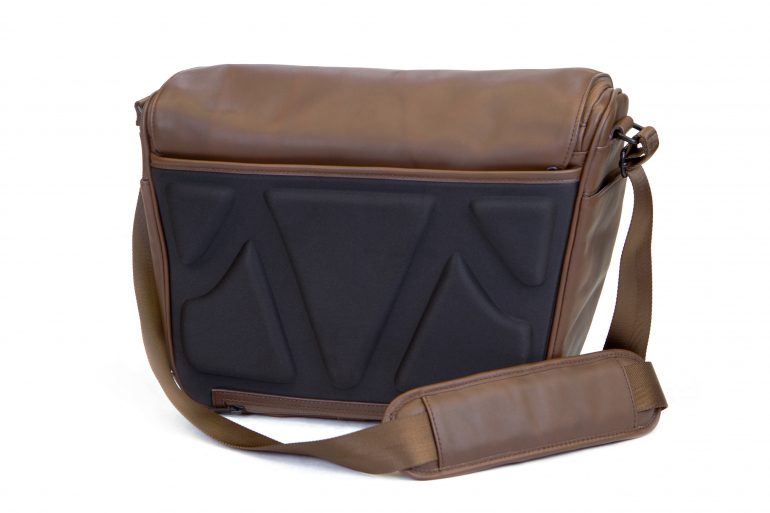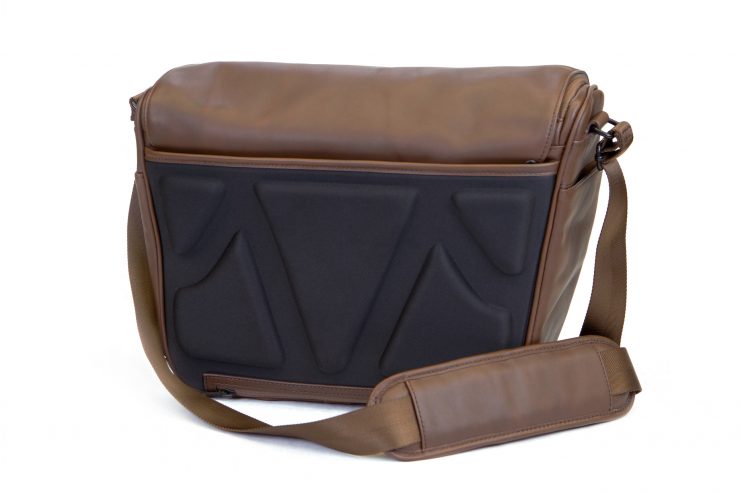 Value
High quality leather is expensive, and since it's so often hard to tell whether you're really buying good quality leather, value can be hard to compare. I'm satisfied that the Cecilia Lambert is made of exceptionally high quality leather, and the overall construction is quite good.
Still, it these bags will cost about $440 dollars, from Cecilia. Is it outrageous? No. Saddleback's "Classic Leather Briefcase", which is similar in size, costs just under $700 (though frankly, I like its rugged construction better than the more elegant Lambert). And of course, most designer bags with similar quality leather will cost several hundred and run into the tens of thousands.
So, at $440, the Cecilia seems fair, if not exactly a bargain.
Conclusion
Cecilia Lambert Leather Camera Bag
Materials & Build Quality
9.5
Draws
High Quality Full-Grain Leather
Great Overall Construction
Drawbacks
Questionable Zipper Pulls
Not Rain-Safe
The Cecilia Lambert is a simple camera bag made of luxuriously nice leather; its build quality is excellent (the lost zipper pull not withstanding), and it will not let you down when you need it. The choice of magnetic closures speaks to the bag's role as a fashion accessory more than a professional's tool, but that doesn't mean that it won't meet your needs if you don't give it more than it can take. If you're interested in one, check out the Cecilia website.
Professional photojournalists may find that bags by ThinkTank or Tenba, which both come with rain-flies, accommodations for pens and multiple notebooks, and other more professionally oriented features, will better suit their needs.
---