The Tenba Messenger DNA 13
When I first unboxed1 I received this bag to review from Tenba free of charge. I am not affiliated with Tenba in any way, and will not receive any money or other rewards from Tenba for this review or future product sales. I always strive to be completely honest with my reviews, and try to never let the price of a free product influence my opinion of it, but bias can always creep in where we least expect it, so take this, and everything you read on the internet, with a grain of salt. this messenger bag, my mind inexplicably dug up a line from the Princess Bride : "… with eyes like the sea after a storm." Tenba's cobalt is more like the stormy sea, perhaps, but it is gorgeous. The blue-green color mixed with black manages to be deep and rich, elegant and subtle all at the same time. If it's possible for a color to feel luxurious, this one does.
But of course, when it comes to carrying camera gear, color doesn't count for much. What really matters is whether the bag will hold up to hard use, whether it's comfortable and easy to use, and whether it's worth the price. For the Messenger DNA 13, the answer is an almost unqualified "YES". Let me explain.
Appearance
I have probably already gushed enough about how beautiful this bag is. After all, that is completely a matter of personal preference.
Still, I'll add a couple of details. The combination of the black and cobalt exterior of the bag, its tapered sides and angled lines produce a bag that is modern and elegant, as opposed to the vintage styling of the Cooper 13 reviewed last year. A khaki interior of rip-stop nylon and a soft, padded insert provides a classy looking contrast with the darker exterior. Very sharp.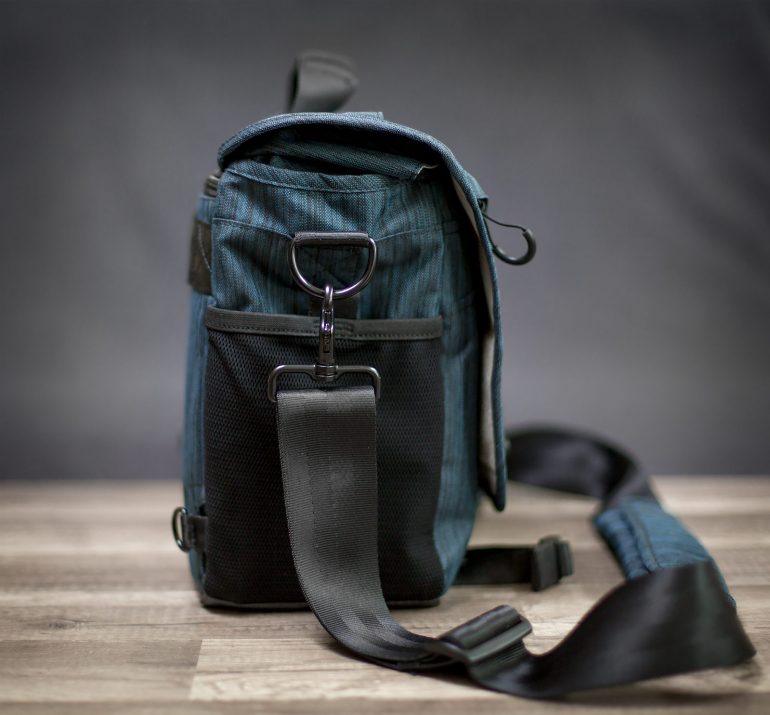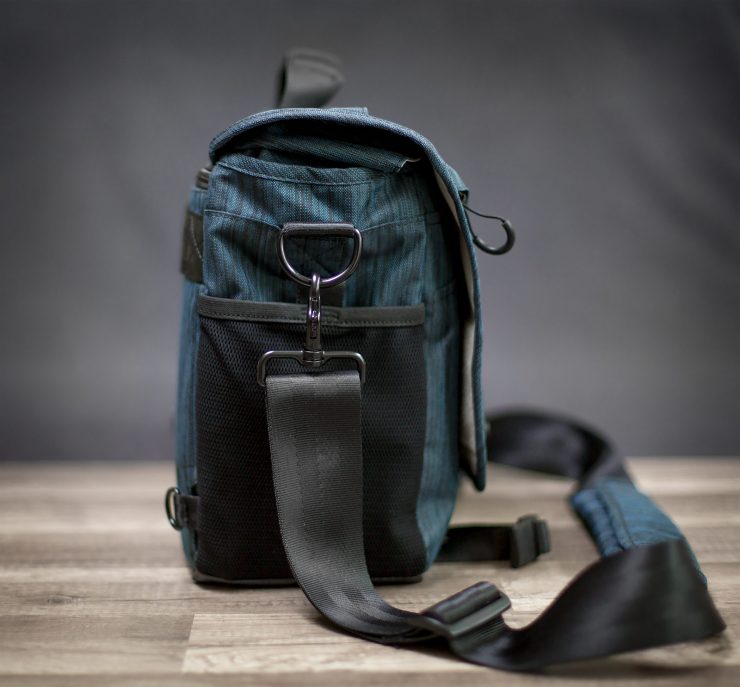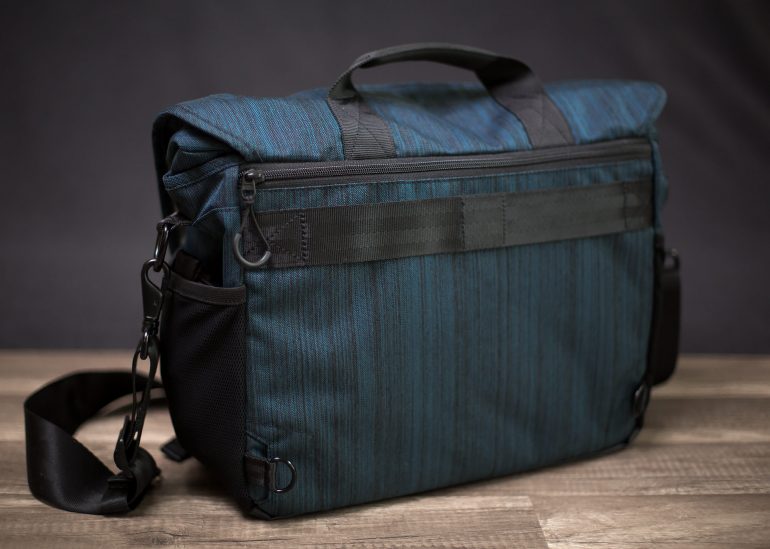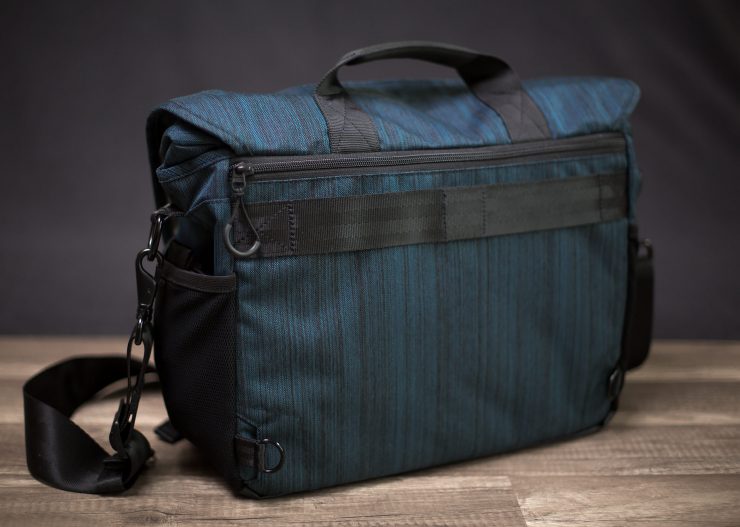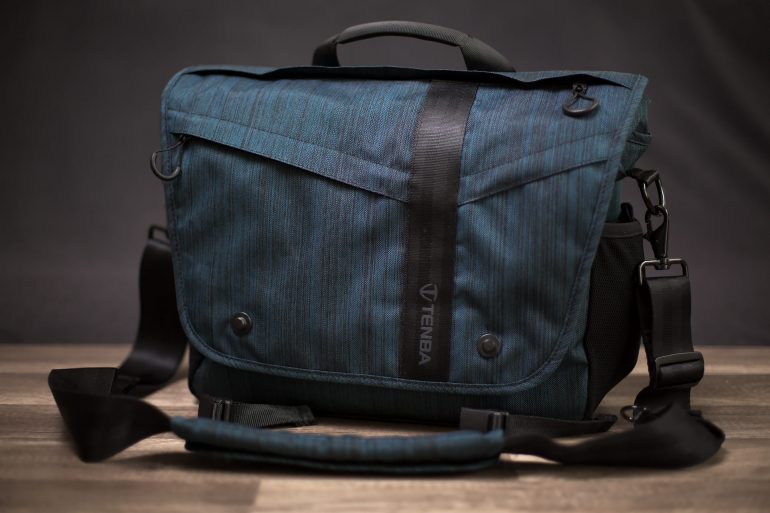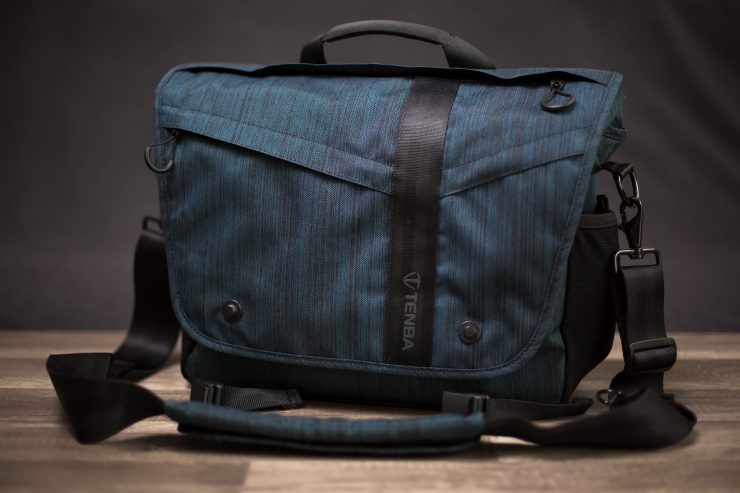 In addition to cobalt, the DNA 13 is available in a graphite, dark copper, and olive, and a "slim" version is also available for those who shoot with smaller cameras.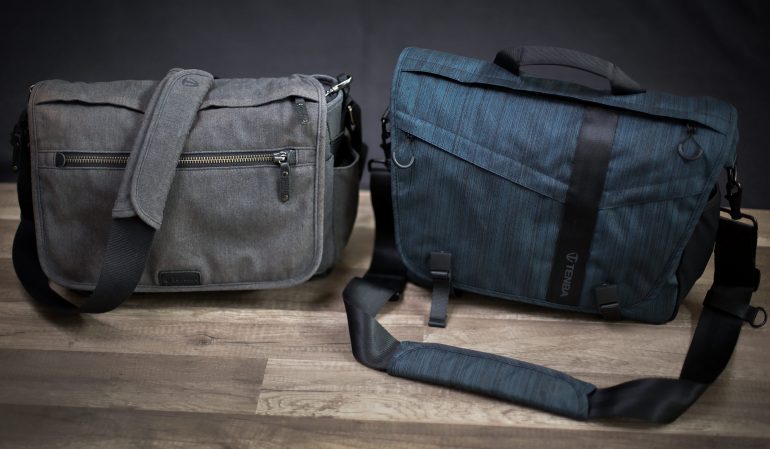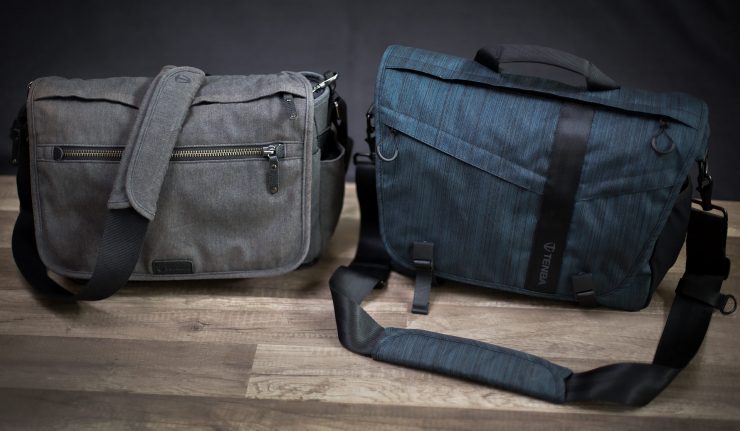 Design & Features
As you'd expect, the Messenger DNA 13's design is pretty similar to that of the Cooper 13; there isn't a lot of room for creativity with shoulder bags. Both bags have a large, messenger-style flap closure across the top of the bag that is complimented with a built-in zipper for quick access to the main compartment, which is particularly handy for situations where you don't want to deal with the potential noise of the Velcro that holds the flap closed. The flap of the DNA has gusseted corners for additional protection from wind and weather.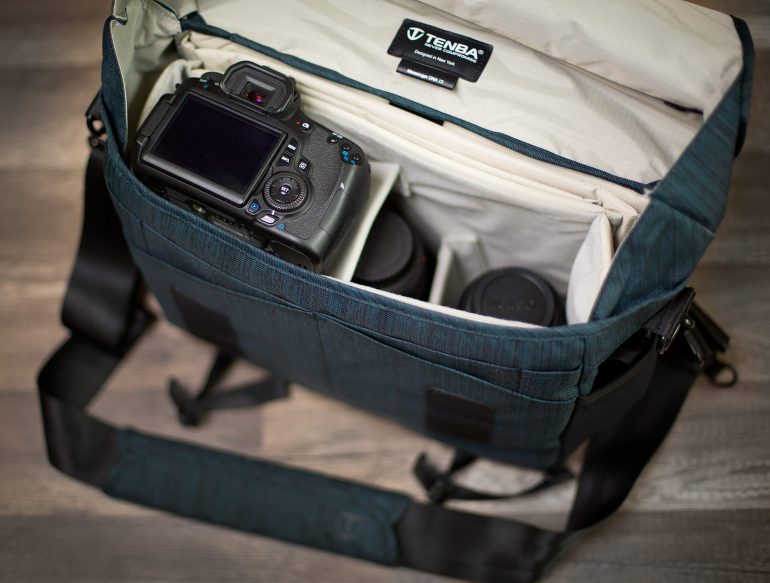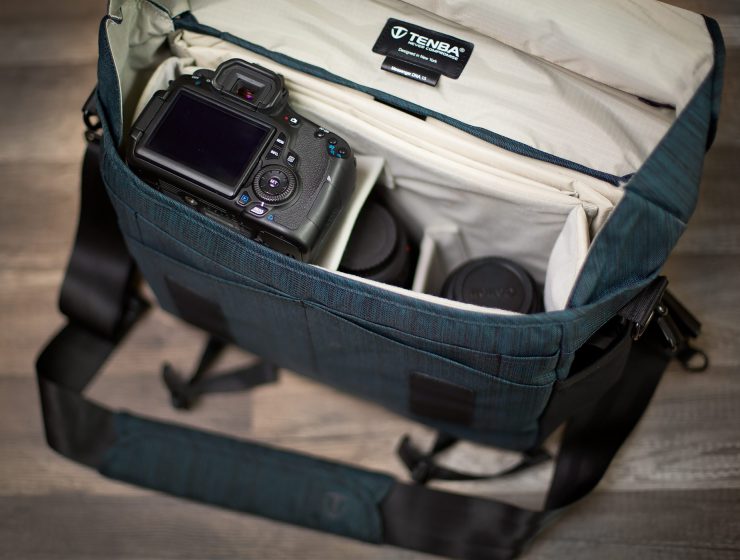 The main compartment holds a padded insert with five removable Velcro dividers. The bag is tall enough that it can hold my Canon 5DIII with 70-200mm f/2.8 attached, leaving space for two additional lenses and some other assorted accessories (chargers, cables, etc). The outside of the padded insert has a couple of additional open pockets on the front. When the padded insert is removed, it is easier to see the permanent pockets on the inside of the main compartment: a large, full-width zippered pocket (great for flat flash modifiers, filters, memory cards), a pair of small pockets and pen sleeves, and across the back of the bag, dual padded tablet sleeves with a Velcro strap to keep them in. The larger tablet sleeve holds my Surface Pro, while the smaller sleeve works nicely for an iPad, Kindle or a tablet up to about 9″ tall.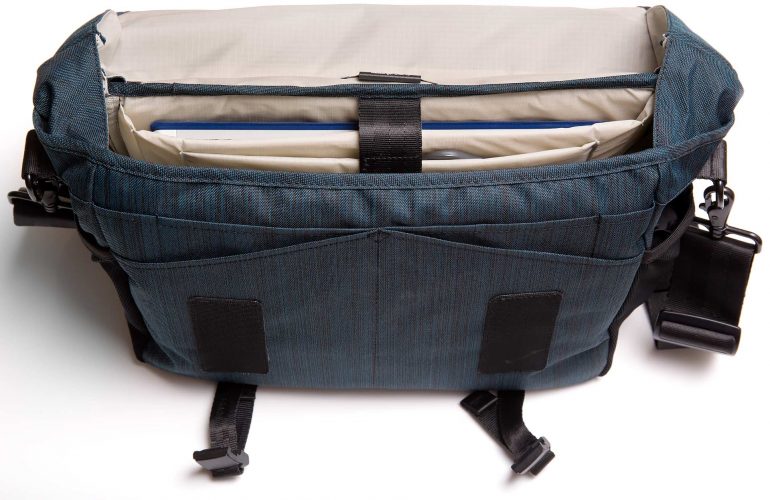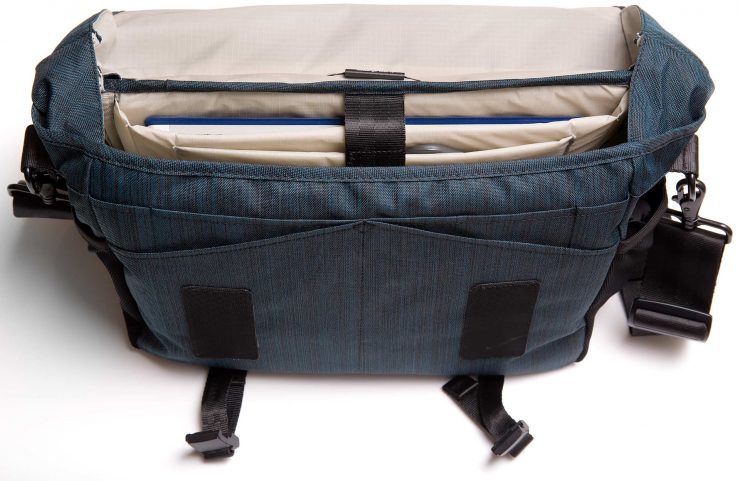 With this collection of interior pockets, the Messenger DNA doubles as a wonderful book-bag when the padded insert is removed.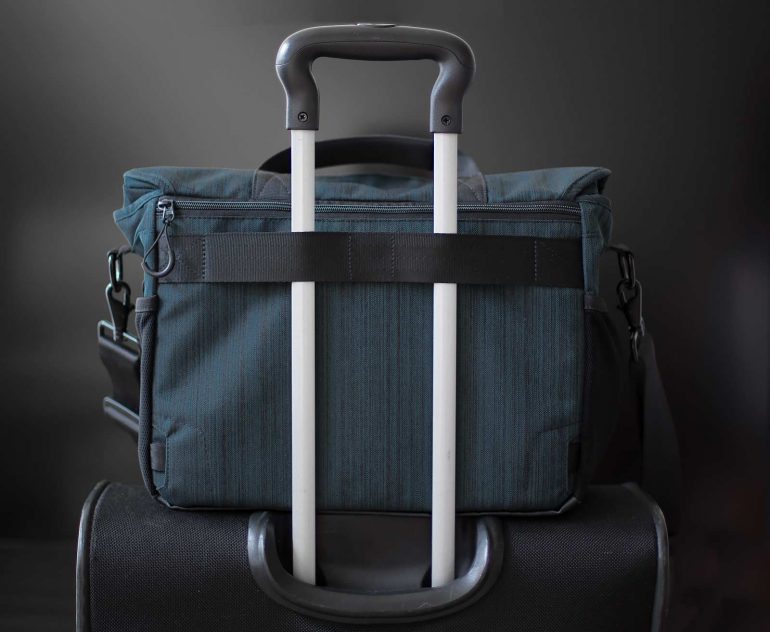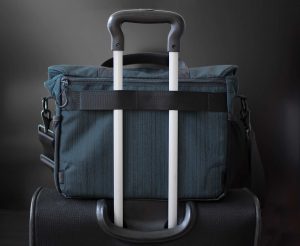 On the back side of the bag is a secondary compartment (with a zipper across the top) for a laptop or tablet. As the bag's name suggests, this will accommodate a thin 13″ laptop, so my 12″ Surface Pro fits easily. Inside the main computer sleeve there are also a few pockets for smaller items (phones, noteboots, pens), and although the idea of more pockets is always welcome in my book, they create one of my few gripes in this instance: they snag the corners of my computer as I try to slide it into the pocket, often forcing me to try several times before I manage to get the device in. With some experience, I've learned to press the computer against the outside wall of the pocket as I insert it, but even that doesn't always work. Luckily, my Surface fits into the interior tablet sleeve. You'll also find a strap on the back to hold the bag onto your roller-luggage handle at the airport (or wherever you happen to be rolling around). These are always very handy, and this one has a patch of Velcro in the center to connect back to the bag between the uprights (the Cooper does not).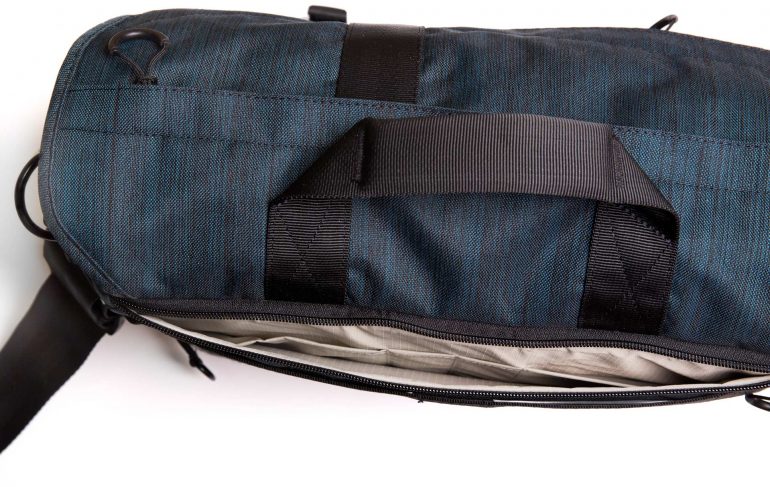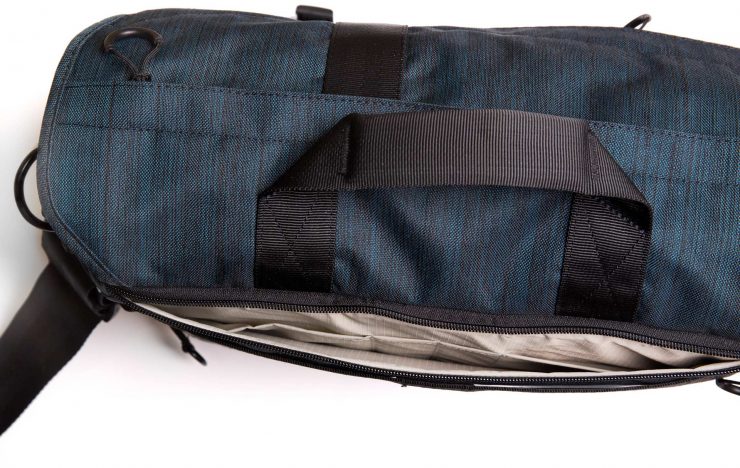 The front flap of the bag has two pockets but only one with a zipper, and under the flap, the front of the bag has four more pockets but none of them have zippers… or closures of any type. This is my only other gripe with the bag: I'm not comfortable putting expensive filters or memory cards into pockets that have an open top. There are zippered pockets elsewhere, but I wish that these front, easy-to-access pockets had a bit more security.
Buckles on messenger bags can be annoying. Traditional belt-buckles are cumbersome and usually hide a quicker clasp underneath these days (see the ThinkTank Signature Series), but even then, good alternatives are hard to find. Tenba opted to leave off the buckles entirely on the Cooper 13 (there's Velcro underneath). For the Messenger DNA, Tenba found a pretty good option: they're called Fidlock buttons, and the latch slides onto a knob mounted on the front of the bag and is held (at least in part) magnetically. It takes a little getting used to, but it's quick, easy, and seems pretty secure so far.
There's a security strap that connects between a D-ring on the back of the bag and a loop on the bag's strap, keeping the bag from sliding off your back and around to your side or front (if you're riding a bike or leaning over), effectively turning the messenger bag into a backpack. I've almost entirely failed to test this out beyond tromping around my apartment with it, since the appeal of a shoulder bag for me is that I can quickly swing it around front and pull out my gear, and I'm not a cyclist. But it seems to work.
Comfort
Without an extra-wide, spongy-soft strap, you can only expect a certain degree of comfort from a shoulder bag with a single strap. The DNA messenger is nothing special, here. The strap is wide enough to keep it from digging into your neck, and the wrap of padding does its job at keeping the shock of life's jolts from transferring directly into your clavicles, but a heavily loaded shoulder bag will simply get uncomfortable after a few hours. Wearing the bag across your body (as opposed to dangling from a shoulder) makes a big difference and can help extend that comfort period significantly. I've been pleased with how comfortable my Tenba bags are, but they won't break the laws of physics.
Quality
You only need to look at the strap of this bag to know that Tenba is serious about build quality: it's made of seat-belt webbing. That's serious durability connected to metal clasps and welded steel D-rings. Exterior zippers are quality YKK hardware, the cool front flap clasps are Fidlock, and the bulk of the bag itself is made of 600 Denier Helix (a sturdy automotive fabric) with a water-repellent coating, but there's a separate rain-fly for those times when it's really pouring.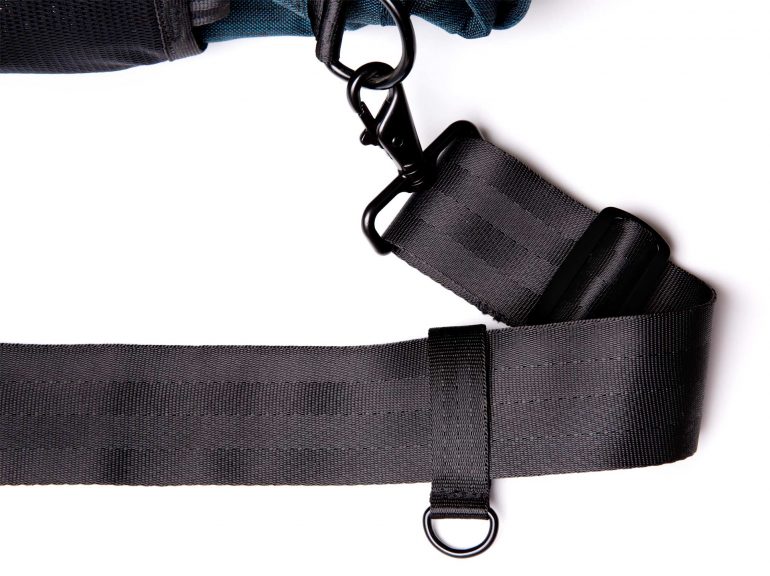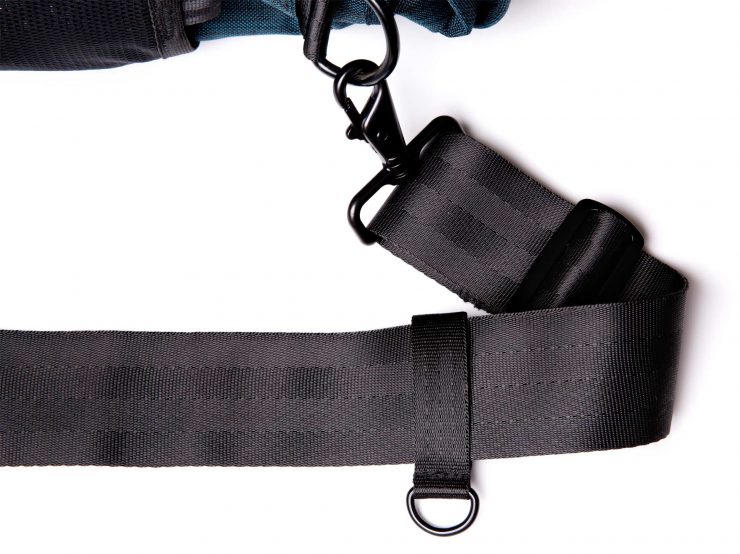 The rain-fly is a great example of Tenba's attention to detail and quality. It would have been simple to give us a waterproof cover for the bag and call it good, but Tenba took it a step further, as usual, and made the rain-fly reversible. The interior of they fly is a light, reflective silver, so when you're hiking along in the hot sun, you can at least keep your gear cool.
Similarly, the Velcro patches on the main flap are "Quiet Velcro", which reduces the pull-apart noise if you tug downward on it first. I've never gotten into the habit of using this stuff, but it does seem to work. Finally, it's worth mentioning that the bottom of the bag is a heavy duty black material. I don't know what it is, but it feels strong, and it's supposed to be water resistant. I haven't tested that claim.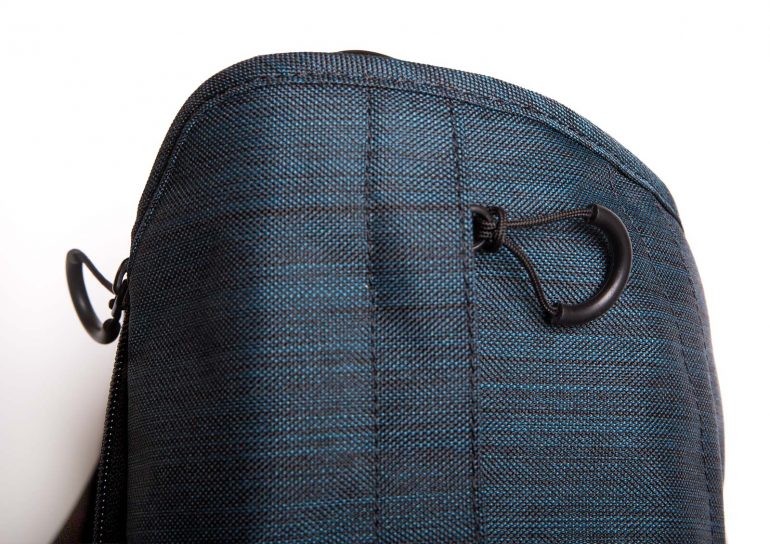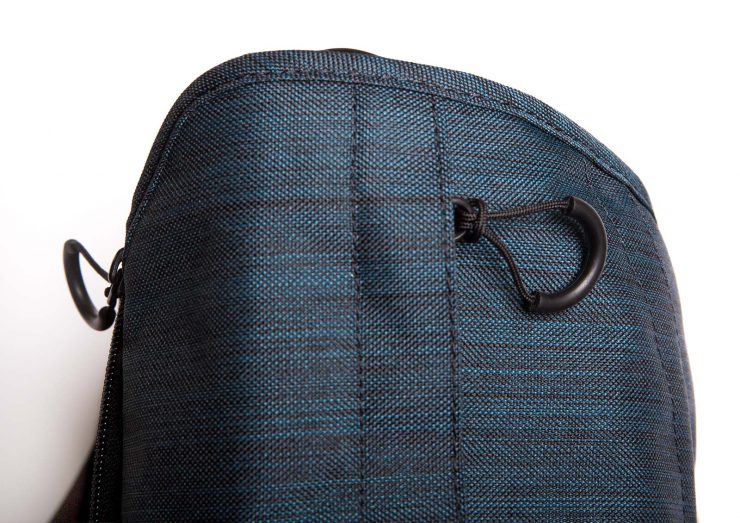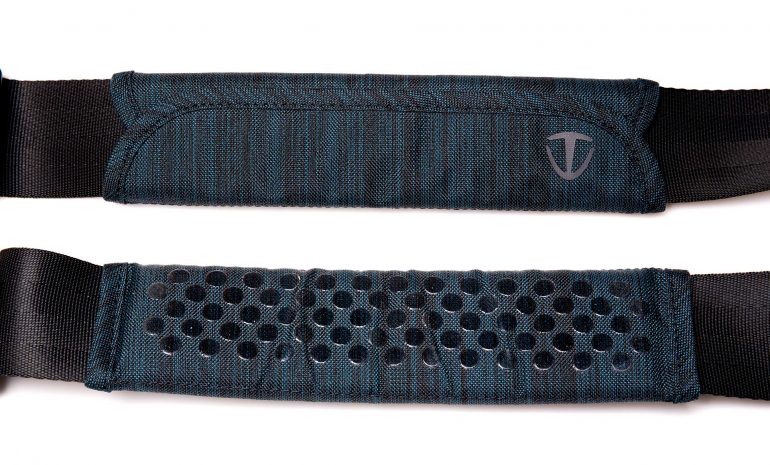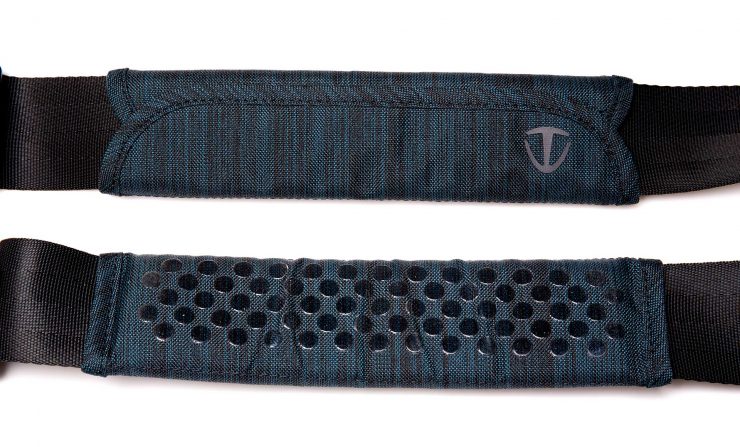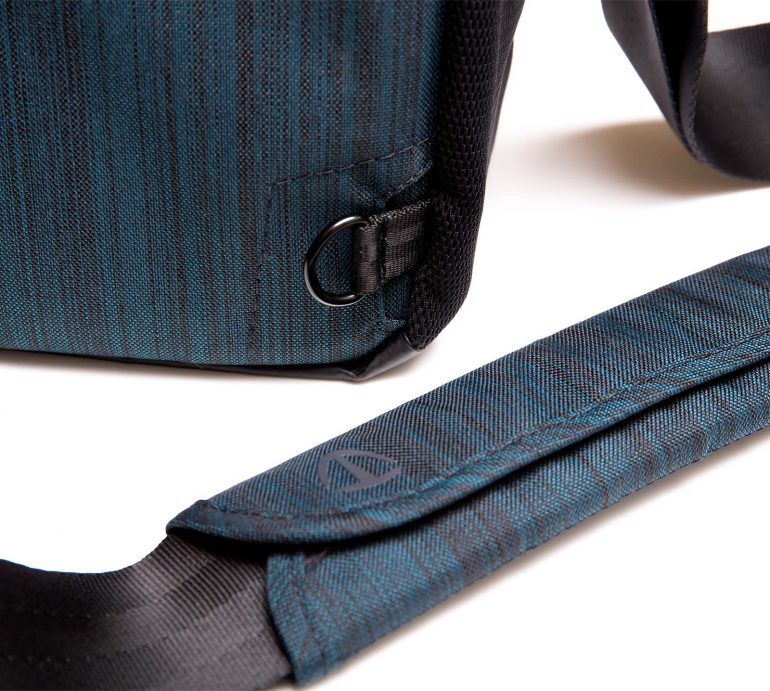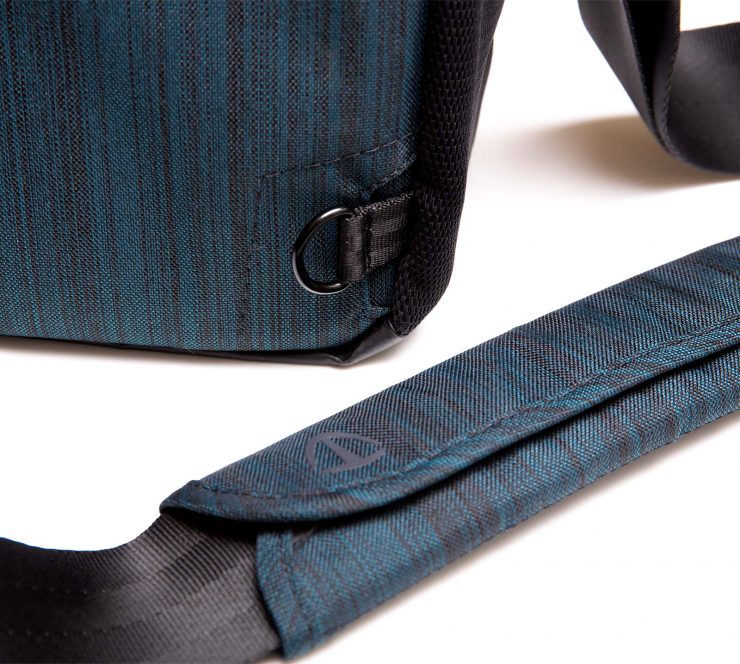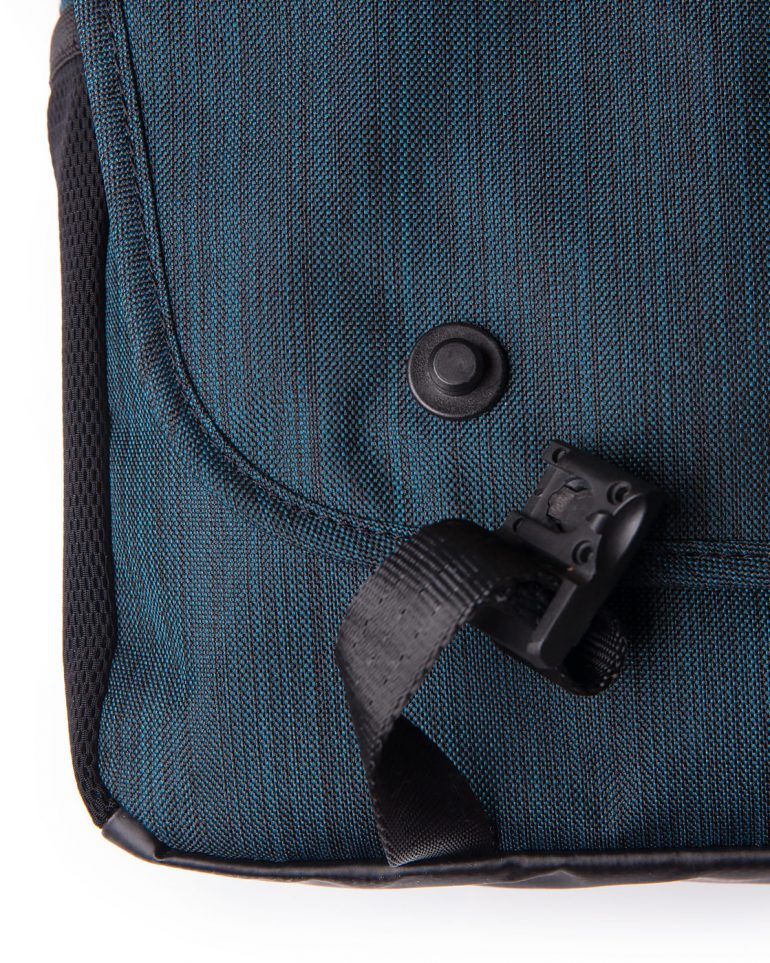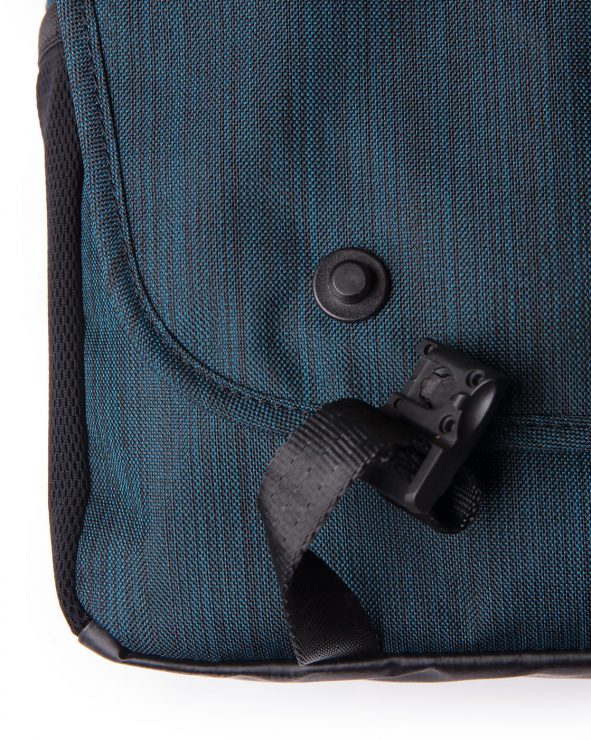 Value
I thought that the Cooper 13 was a pretty fair value at about $250, so I was a bit surprised to find that the Messenger DNA 13 could be found for only about $159. In fact, while I was looking on Amazon, I discovered that the price for the Cobalt version was even less: only about $130, though that price disappeared after a couple of days. Let's hope it returns.
In order to score well in the "value" department, a product has to exceed expectations for its cost, making the category fairly subjective. It also means that it's harder for an expensive product to get a high score, since we generally expect more when we pay more. Here, a score of 5/10 means that the product met my expectations for its cost.
As such, I'd give the Tenba Messenger DNA an 8/10. I expected it to be a nice bag, and it certainly is, but I also expected it to be significantly more expensive for its quality. This bag, especially the cobalt version, is a steal. So far, this is the highest "value" score that I've ever given in a review.
Conclusion
The Tenba Messenger DNA 13 is wonderful, with a gorgeous design that is stylish enough for everyday use, yet constructed to withstand serious, professional abuse. I'm sold. My only complaints are with a few too many open-mouthed pockets.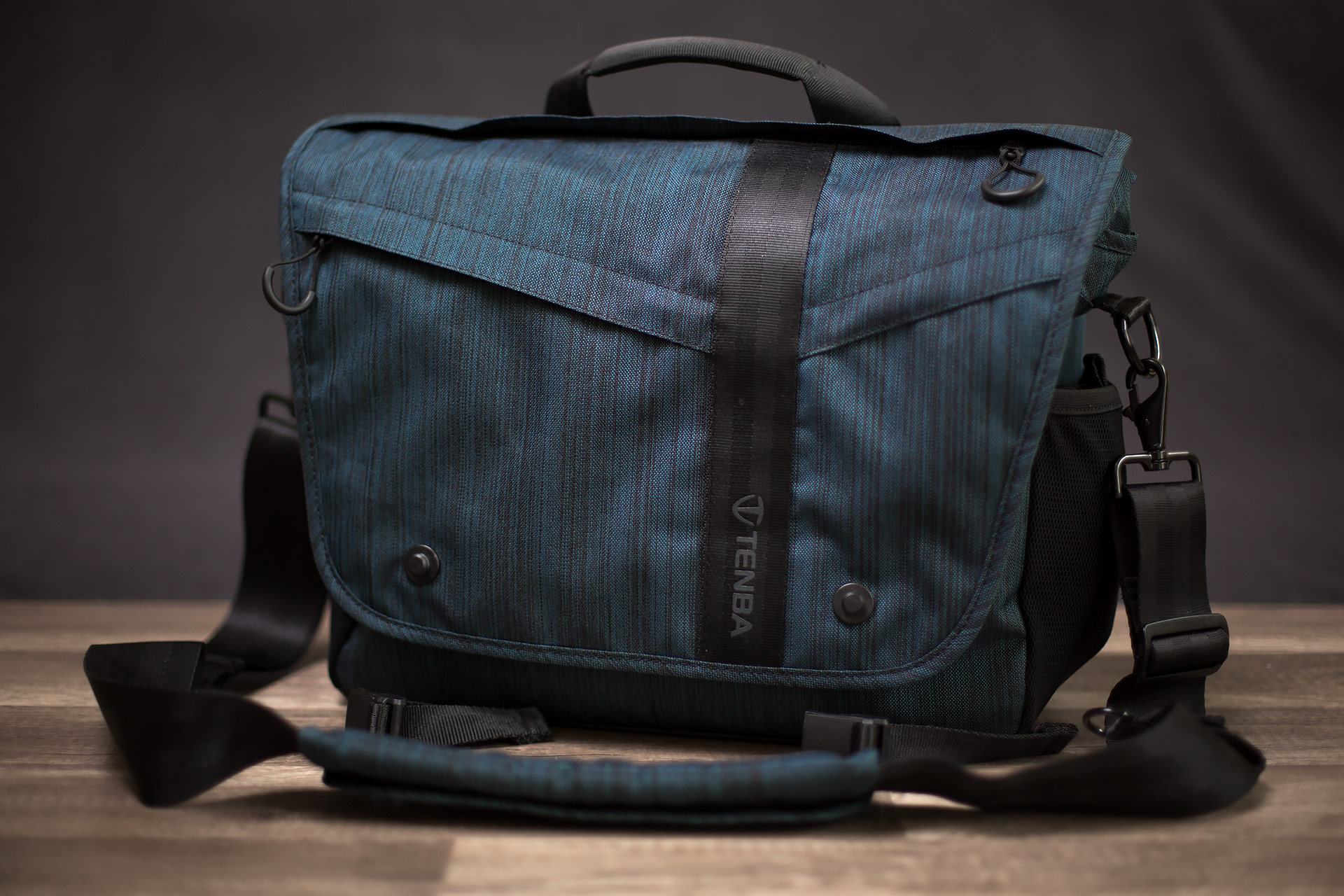 Review: Tenba Messenger DNA 13
Conclusion
The Tenba Messenger DNA 13 is not only stylish, it is ruggedly built for serious, professional use.
Nice!
Looks Great!
Sturdy construction, Well Designed
Rain Fly
Reasonable Price
Not Nice.
Interior pockets in laptop sleeve catch edges