The Tenba Cooper 13 fills a big gap in my camera bag collection, and does it with style. I own nine different camera bags, and I'm still constantly on the lookout for my next favorite one. I have backpacks, shoulder bags (large and small), Pelican cases (for air travel), but nothing similar to a messenger bag, and certainly nothing that could be considered stylish.
And most of my camera bags are pretty bulky. Twenty years ago, I cared more about being prepared for anything (everything?) than carrying a little extra weight. These days, traveling light sounds increasingly good, and the Cooper 13 seems like a good way to start. It's a bit expensive at $249, but is it worth the price?1 Notice: I received this bag for review from Tenba free of cost. I strive to be unbiased, honest and open with all of my reviews, but I'm only human, and bias can always creep in in subtle ways, so take this review with a grain of salt. I did not receive monetary compensation, nor will I receive any additional compensation from Tenba for this review or from product sales that it generates.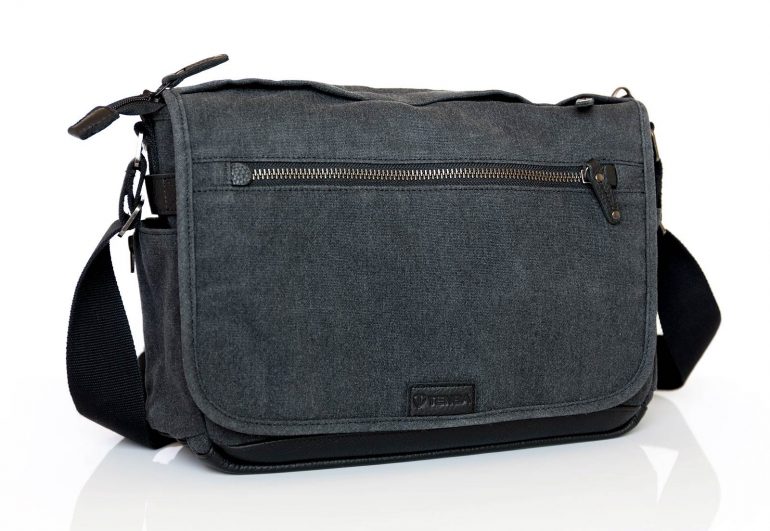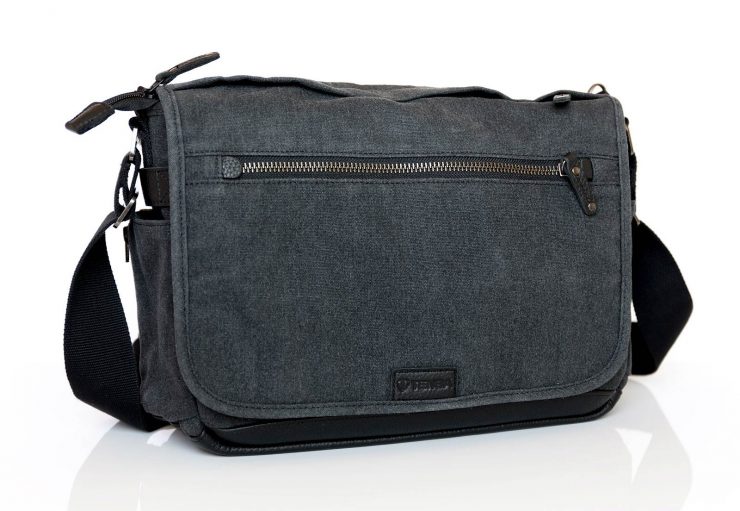 Style
I'll admit that style is rarely my first concern, and discretion is often preferable to being noticed, which is why I have also been reviewing the ThinkTank Urban Disguise 40 Classic (v3.0). That said, the Cooper 13 looks very good: it's a contemporary bag that looks sharp while remaining low-key.
The charcoal canvas and black leather are very easy on the eyes. Nothing is shiny or cheap looking; the exposed front zipper looks chunky and strong, while the zipper for the laptop compartment in the back is almost invisible, concealed by a seam. It is clear that each detail was intentionally designed with style in mind. The Cooper is slim enough that it doesn't scream "camera bag", while still being large enough to hold a full size DSLR. If you're looking for something even more compact, the Cooper 13 Slim is designed for smaller mirrorless cameras. Ultimately, the style is versatile enough that it will look good with a business suit or jeans and a hoodie.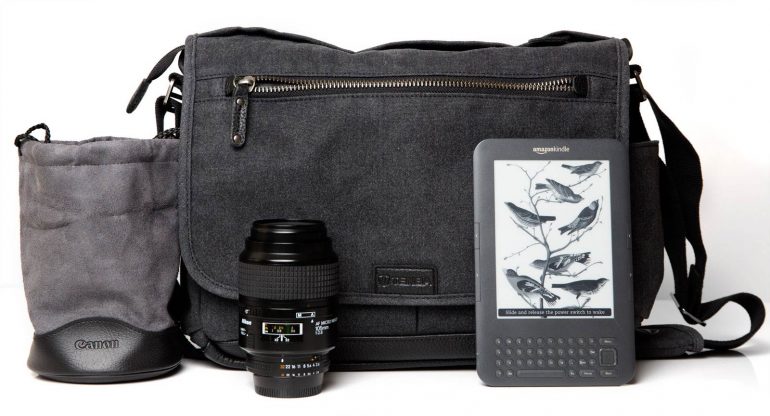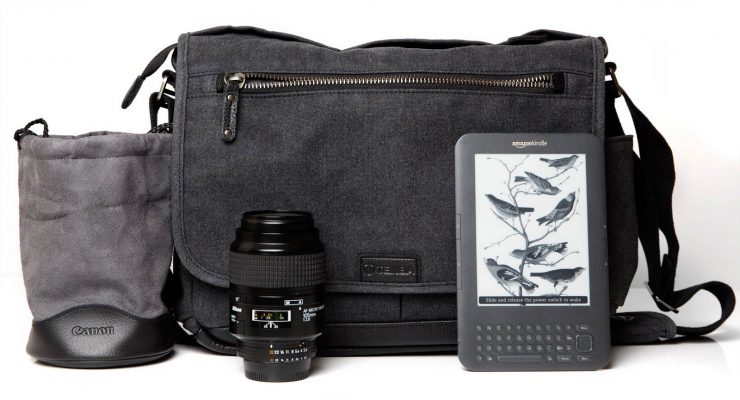 From online photos it can be hard to judge the color/shade of grey of the Cooper, so I've included this image with a few common items for comparison. As you can see, it's a little darker than an old Kindle, significantly darker than a Canon lens bag, and very similar to the rubber focus ring on a Nikon lens, and the tone is pretty neutral.
What Fits?
What will the Cooper 13 DSLR really hold? First of all, if you're loading a DSLR into the bag with the lens pointing down and the bottom of the camera against the front or back of the bag, any mid sized DSLR will fit, but any model with a battery grip (or built-in vertical grip like the Canon 1DX II or Nikon D5) will not2 Technically, these cameras will fit in the center of the bag but will make it bulge significantly. Similarly, full-size DSLRs can fit in with the lens pointing down but with the body turned sideways. This is practicable if you're pressed for space. . If you need to carry a camera that size, you may want to attach a small lens and load the camera with its back flat against the back of the bag instead.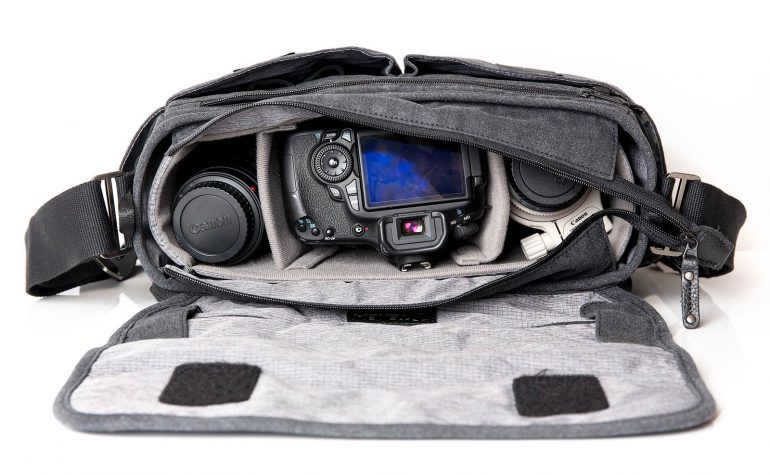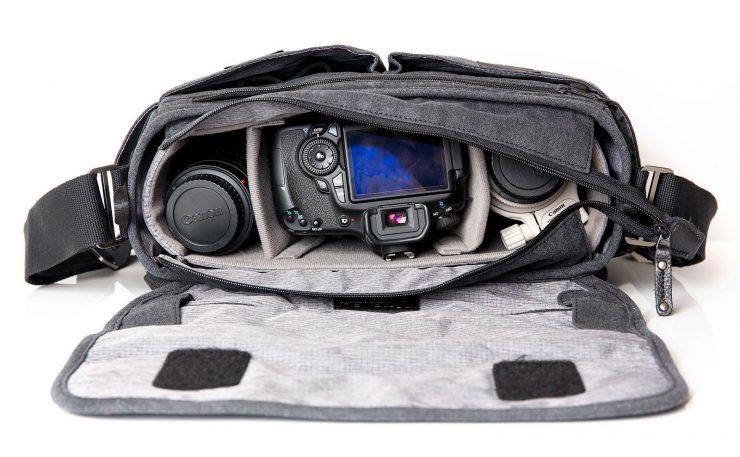 With my Canon equipment and the bag divided roughly into 3rds, this is what fits: the camera body with 24-70mm or 24-105mm lens and hood attached in the center third, a 70-200 f/2.8 in an end third, and in the final third, either A) an ultra-wide zoom and a 50mm f/1.4, inconveniently stacked, or B) two flashes and some triggers, also stacked.
As will be the case with any messenger style bag, the difficulty comes in making use of the vertical space while retaining easy access to your most frequently used equipment, since something will invariably be buried at the bottom of the bag.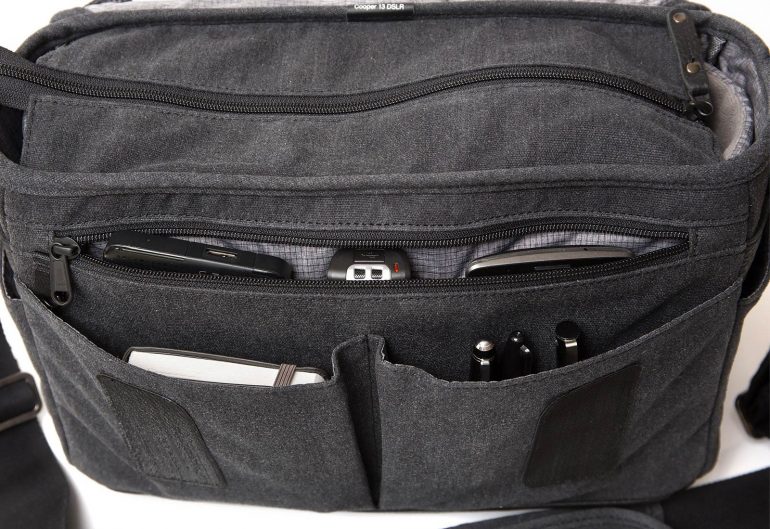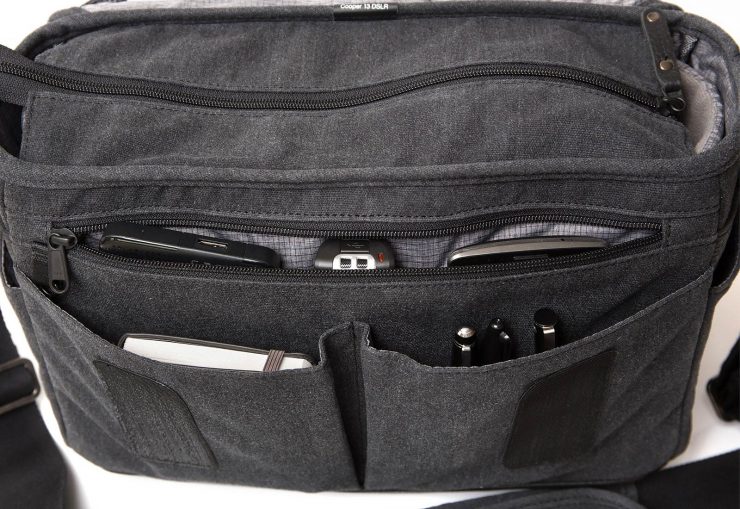 Under the front flap there are two easy-access front pockets, one of which has pen/pencil loops inside, making them the obvious place to store pens and notebooks. In the larger zipper pocket above them you'll find a single pouch for large flat items and three small pockets sewn into its back wall which are ideal for storing small electronics. In this case, the bag holds my phone (a biggish LG G3) a mobile external hard drive and a recorder, though normally I'd keep the phone in my pocket and two drives in the bag.
The outside flap pocket is a good place to store flat items that you might need to access more quickly, such as press credentials or flash modifiers.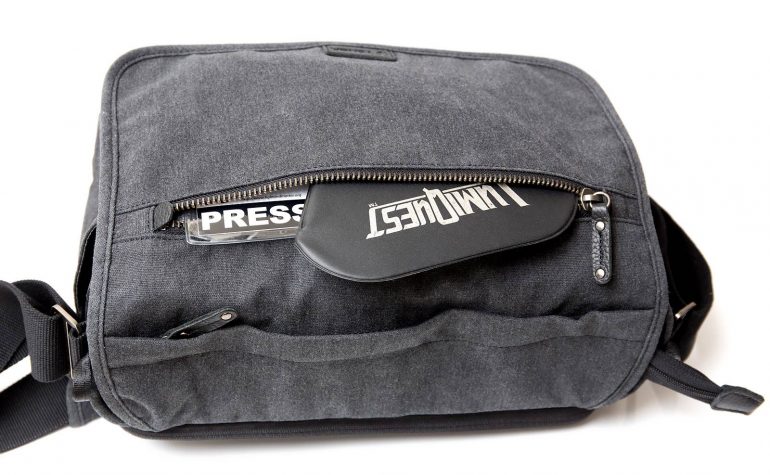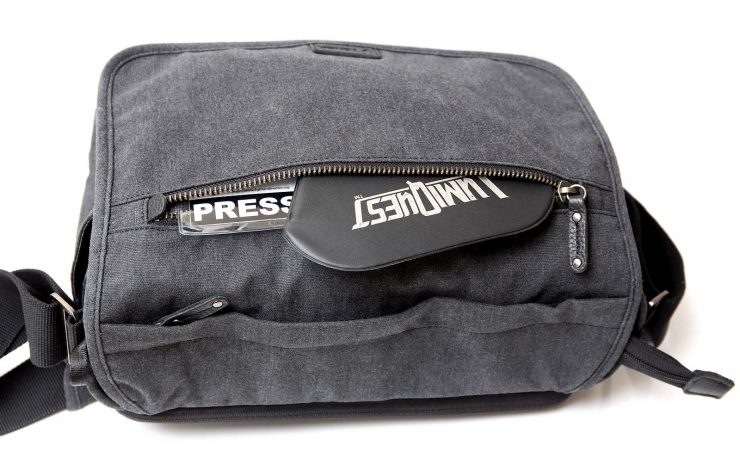 The computer sleeve is designed to accommodate a slim 13″ laptop like a MacBook, but my true laptop is a 15″, which is a non-starter. However, my 12.3″ Surface Pro 4 tablet easily slips into the pocket, with plenty of room to spare. If you're not sure whether your laptop will fit, the pocket is 9.5″ deep and 13″ wide, and will support laptops that are up to about 1″ thick.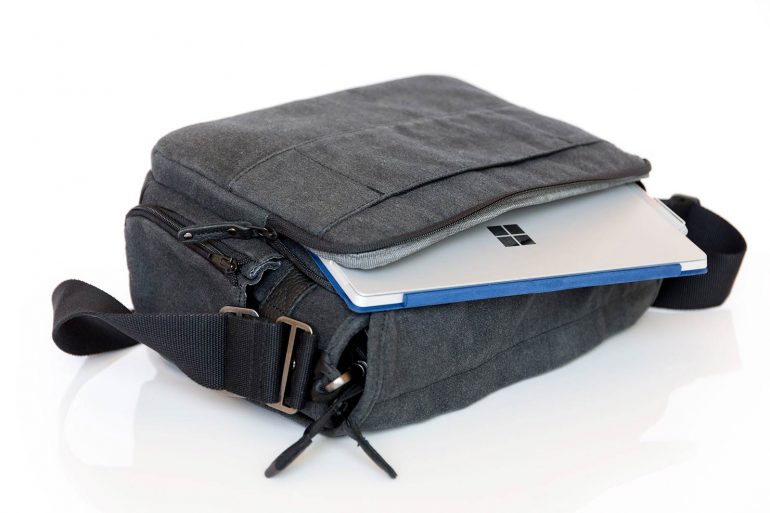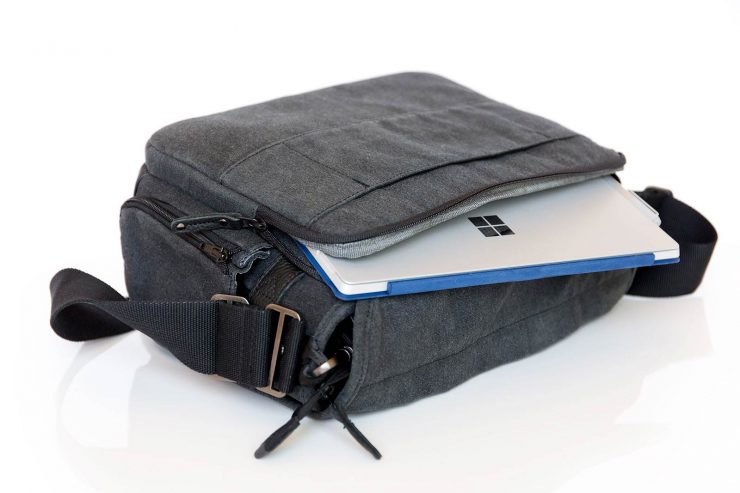 There's additional space for water-bottles and other small items in the end pouches, although these can't be sealed shut, so they're best suited to inexpensive items. I keep the bag's rain-fly in one of them.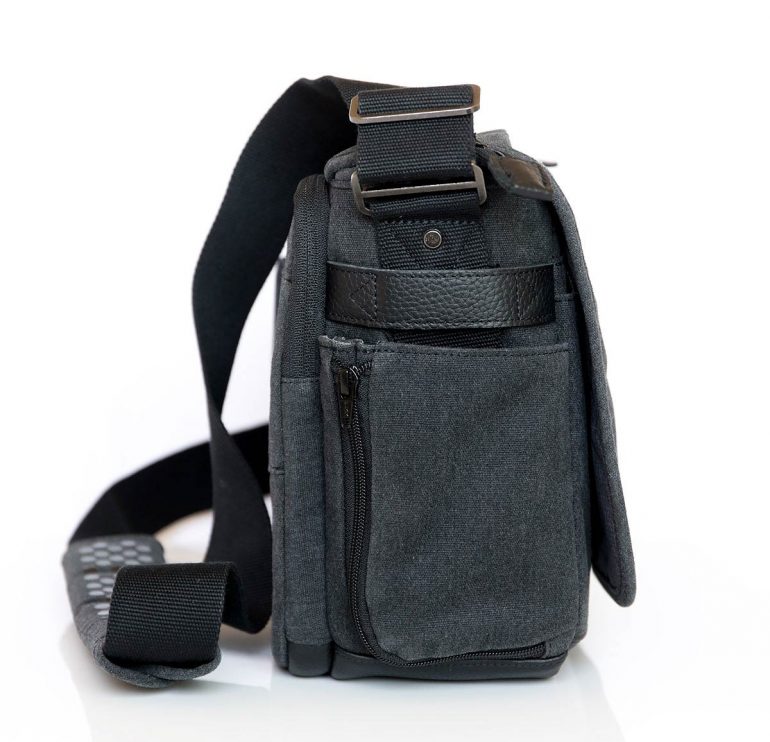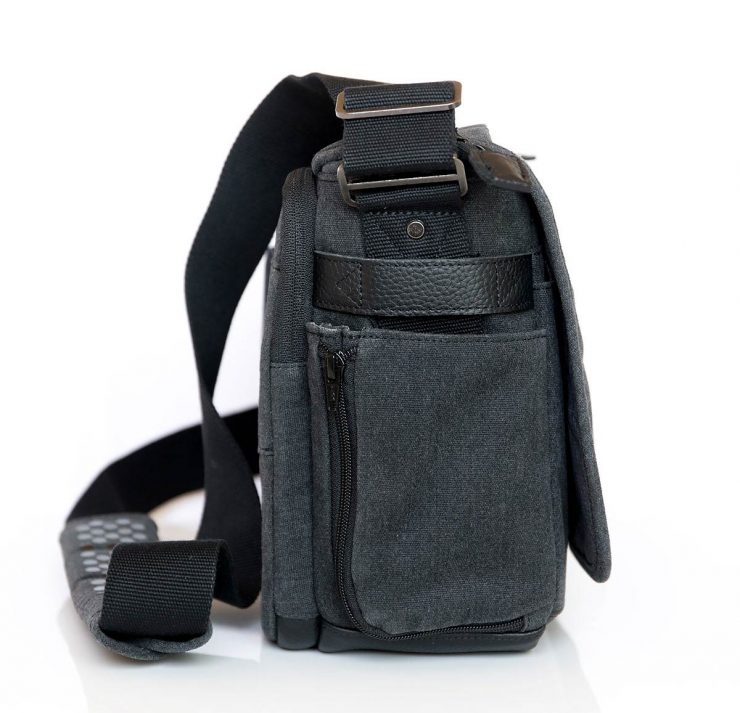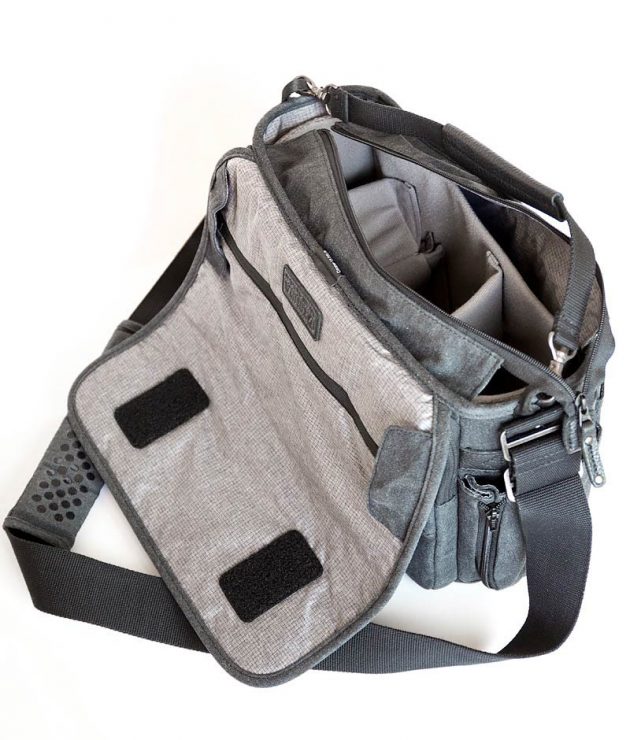 Features
If a bag can carry and protect my camera, I feel that it's done its job and I don't expect too much more of it, but the Cooper 13 does have some clever design features that are worth mentioning.
Perhaps the most non-intuitive of these is that it doesn't have to carry your camera. The inner padding insert can be removed to make the bag a simple book bag/brief case. The same thing is not true of all camera bags, and this adds a bit of versatility, which is a good thing for a bag in this price range. In general, the padding is thin enough that that bag doesn't seem too rigid or bulky, but thick enough to keep your gear safe under normal use. That said, I wouldn't chuck this thing in the luggage compartment under a bus (with other luggage piled on top of it, etc) and expect it to keep my equipment safe.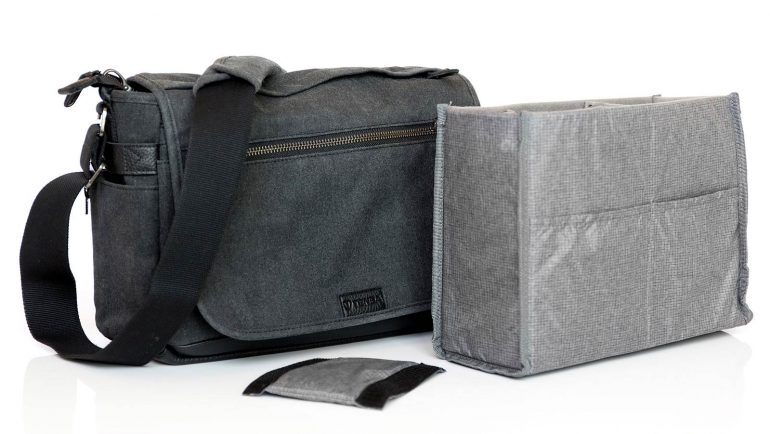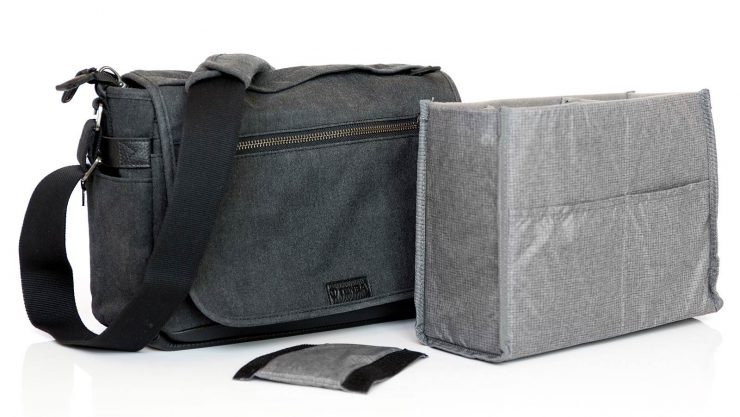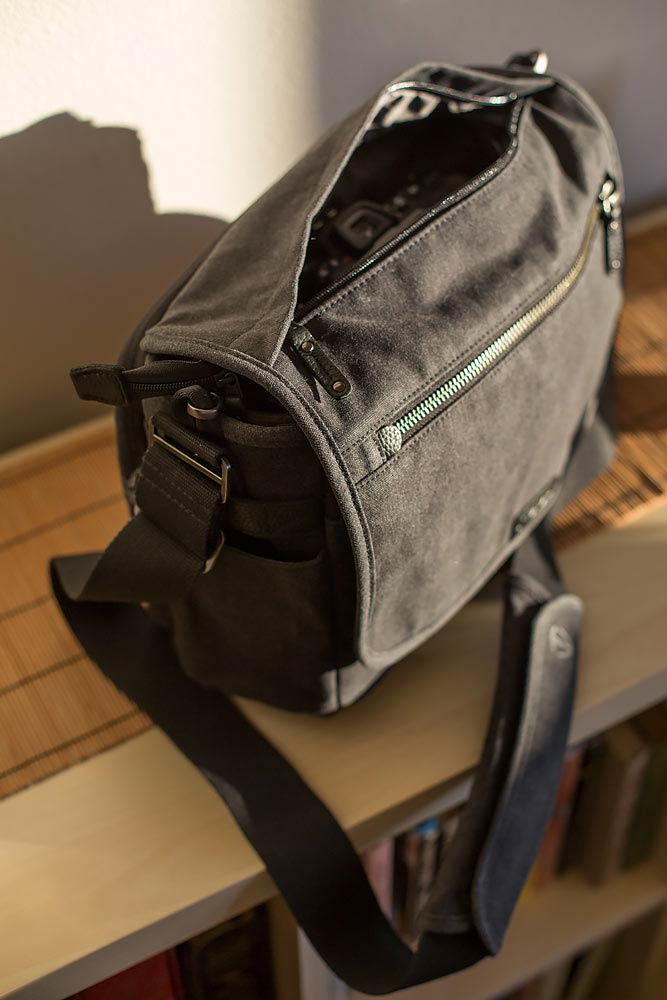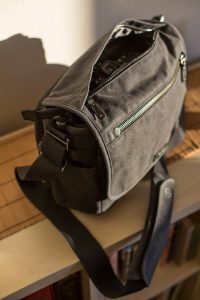 While the Cooper 13 is a typical messenger style bag with a long top flap that covers the main opening, Tenba has added a zipper in the flap across the top of the bag for easy access to camera equipment. There's an additional zipper beneath that one that can seal the main compartment, making things a little more complex in there than you might expect at first, but the top access is wonderfully useful once you have the details sorted out.
The front flap in question is held down with Velcro, but not just ordinary Velcro… it's "Quiet Velcro". This is something that I hadn't encountered before, but it's another clever idea. When the cover flap is shut and you don't want to create a scene with a loud ripping sound, you can grab the flap and tug it downwards, and then when you lift the flap the Velcro will release quietly. It works remarkably well, though it's certainly never completely silent. Sometimes, for me, it releases almost perfectly, with only the most minor noise. Other times, it just sounds like …well… Velcro. Perhaps I need practice or perhaps it needs further development. Time will tell.
The exterior of the bag is designed for serious use, with water-repellent waxed canvas (with 2x polyurethane water-resistant coating) covering the bulk of the bag and a waterproof, full-grain leather bottom. However, if you're caught in a monsoon and are really concerned for the safety of your computer and expensive camera gear, the bag also ships with a waterproof "Weather Wrap" rain-fly. The wrap slips easily over the front of the bag and snaps closed in the back, leaving only a small portion exposed to the elements. I guess that's the part that would rest on top of your head while you use the bag as an umbrella.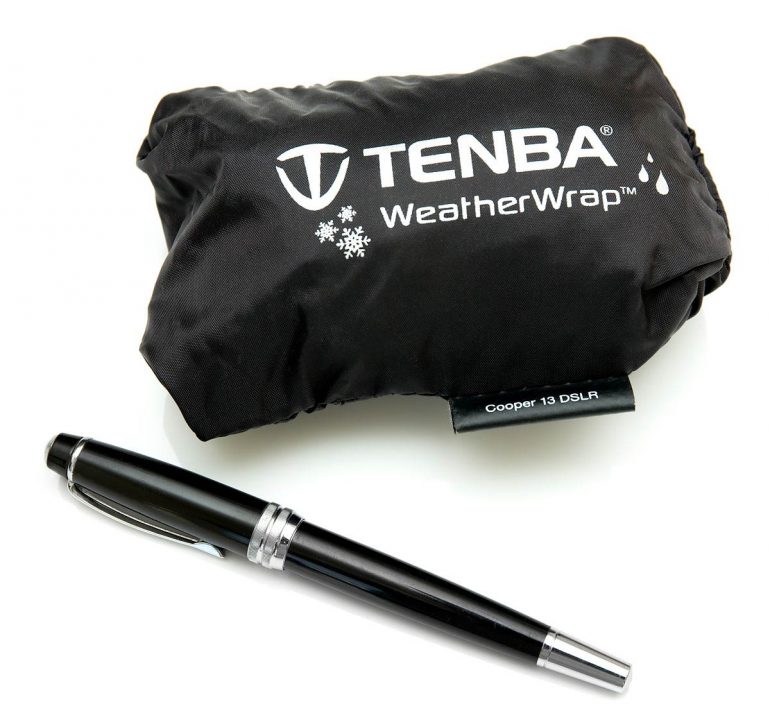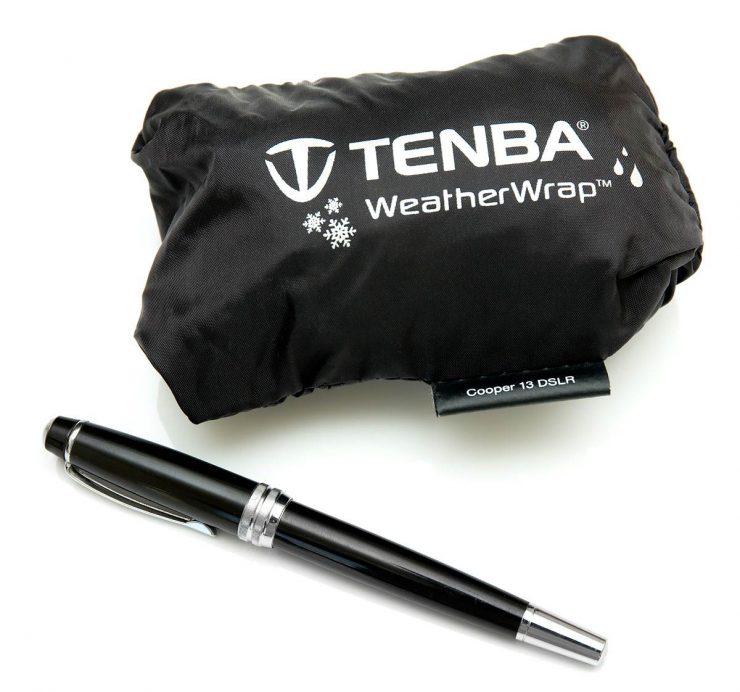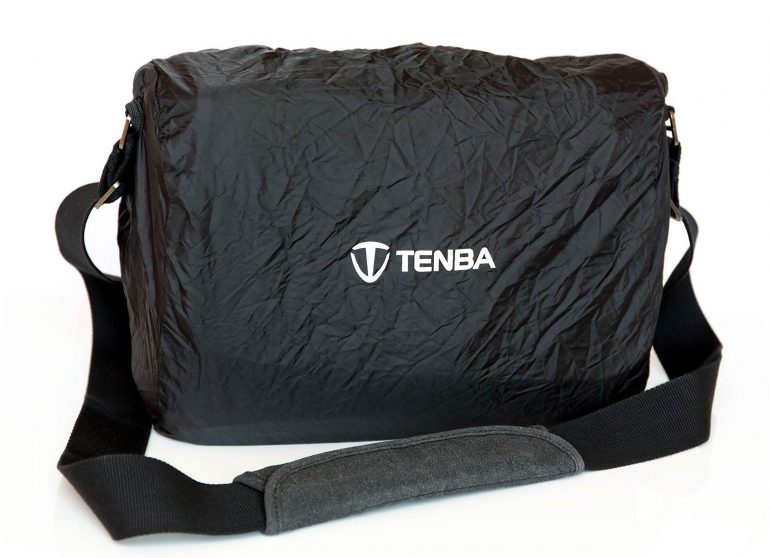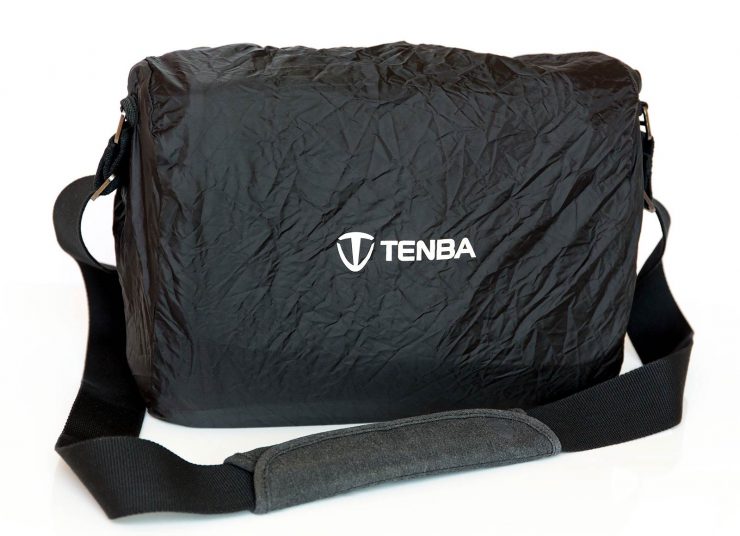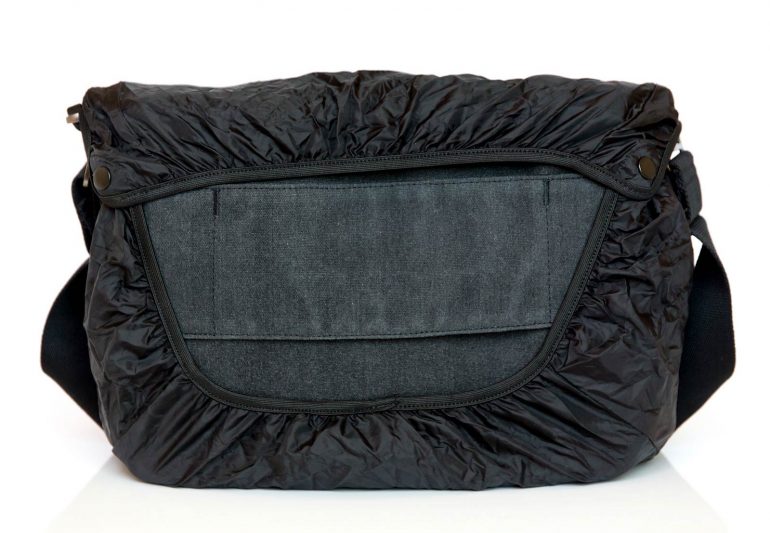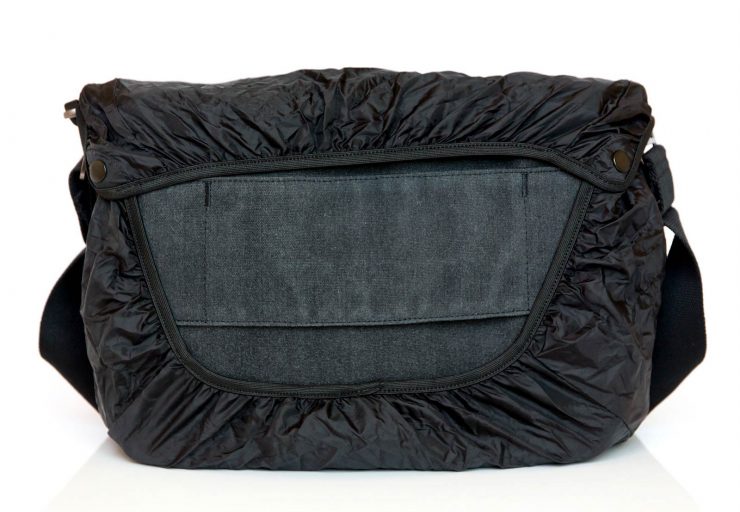 On the other hand, if you're walking in the hot sun and don't want your equipment to overheat, you can turn the reversible rain-fly inside-out! On the inside, the cover has a bright, reflective silver coating that should give you all the sun protection you need. I live in Seattle, so I haven't tested this feature.
The rear opening in the rain cover also permits access to the "trolley strap". If you're zipping through the airport or train station with too much gear, the rear strap allows you to slide the bag over the handle of your roller-bag and cart it along beside you rather than wearing it on your shoulder. I found that it fit perfectly onto my large roller suitcase, but it did not, unfortunately, fit over the handle of my rolling Pelican case (though the slightly larger Urban Disguise 40 did).
Quality
The Cooper series is a luxury camera bag line, and the quality of the bag matches its price: the materials look and feel good, the build is sturdy, and the design is well conceived. Every element of the bag is higher than standard quality, from the intriguing "quiet Velcro" and quality YKK zippers to the waxed and PU re-enforced canvas of the exterior to the silicone-coated, rip-stop nylon of the interior. Even the Weather Wrap is reversible.
Tenba is an American company, but the product is manufactured in China (surprising nobody).
Comfort
Simple physics dictate that a bag with a single shoulder strap is going to get pretty uncomfortable if it gets too heavy. While the Cooper 13 benefits from being a compact and therefore relatively light bag, its strap is not especially wide or well padded. The strap itself is a length of standard 2-inch webbing, but the padding on it is not significantly wider than the strap, and it's pretty stiff.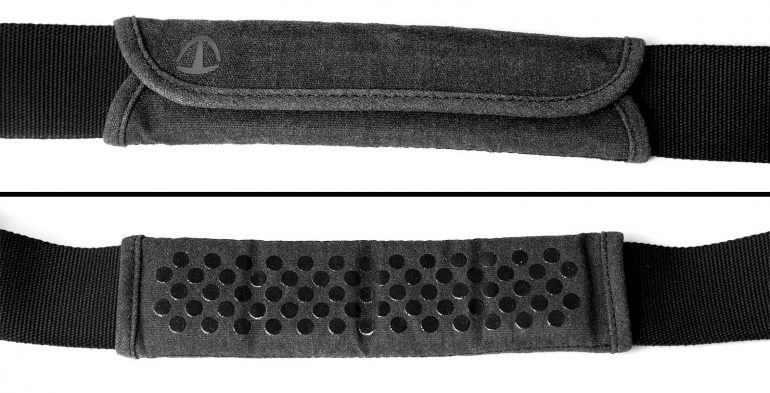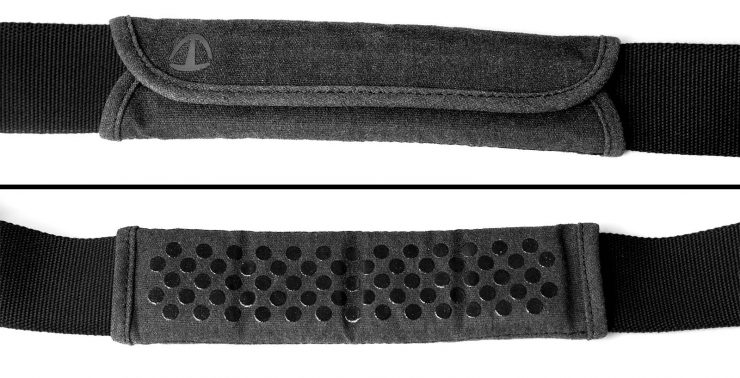 With the weight of my heaviest glass in the bag, I expected this to be a problem, and perhaps it would be if I wore the strap and bag on the same side of my body. However, since I wear it messenger-style, with the bag on my right side (mostly behind me) and the strap over the left side of my neck, the strap actually pulls tight across much of my chest in addition to my neck, spreading out the weight and making it remarkably comfortable. Because the shoulder padding isn't attached to the strap (only wrapped around it), I can slide the bag from it's resting position on my back around to the front of my body to access my equipment with relative ease, while the grippy dots on the padding hold it in place on my shoulder.
All in all, I think there may be a bit of room for improvement here, though I haven't actually experienced any problems as it is.
Value
In order to score well in the "value" department, a product has to exceed expectations for its cost, making the category fairly subjective. It also means that it's harder for an expensive product to get a high score, since we generally expect more when we pay more. Here, a score of 5/10 means that the product met my expectations for its cost.
As such, I'd give the Tenba a 6/10. I expected it to be a nice bag, and it certainly is. It's a fair price for it's quality, and its extra features do make it worth the extra $50 compared to other (professional quality) canvas  bags like the ThinkTank Retrospective 30 (no roller-strap, no top zipper, etc).
You can pick up a Tenba Cooper 13 DSLR or it's mirrorless-oriented cousin the Cooper 13 Slim from the usual places:
Conclusion
The Tenba Cooper 13 is a stylish, thoughtfully designed, and well-built camera bag. Although it's no bargain, its price is commensurate with its feature set and quality. For photographers who are looking for a compact to mid-sized camera bag (especially one that doesn't look like a camera bag) to help lighten their load while traveling or just strolling through the city, I can comfortably recommend the Cooper 13 DSLR. If you own a Fujifilm, Sony Alpha, MFT or another compact camera system, you might consider the slightly more compact Cooper 13 Slim instead.
Review: Tenba Cooper Series DSLR 13 Shoulder Bag
Stylish and Well-Built
The Tenba Cooper 13 is a stylish, thoughtfully designed, and well-built camera bag. Although it's no bargain, its price is commensurate with its feature set and quality.
Pros:
Looks professional and stylish
Made with high quality materials
Strong Feature Set
Cons:
No dedicated storage for Weather Wrap
Strap Padding Mediocre
A Quick Update
It's now been just over three years since I reviewed this bag, and I've used it heavily since then (including trips around the USA, Europe, Africa, and Asia). While the bag does show signs of use (the cotton twill is dirty and worn), there is not a hint of failure. Everything has held up better than I could have expected.
Questions & Comments
Did I miss something? Have you had a different experience than me? Please let me know in the comment section below! I usually answer questions within a day.