ThinkTank Urban Disguise 40 Classic v3.0
Very early in my career as a photographer I realized that it doesn't always pay to be conspicuous: after walking around Hollywood for only a couple of hours with an expensive looking camera and big lens, my car was burgled 1 Actually, it was a good friend's Bronco II. They didn't steal any of his stuff, though. To be fair, I think everyone gets robbed in Hollywood. and all of my equipment (and clothing) was stolen. But even when safety isn't a concern, it can be a good idea to blend into the crowd. People get nervous around photographers, after all.
Perhaps this is what ThinkTank had in mind when they named their high-end shoulder bag line Urban Disguise. The Urban Disguise 40 Classic v.3.0, like all of the bags in this line, is more similar to the style of a nice corporate laptop case than a camera bag. It's not flashy, but it is impeccably constructed and well thought out.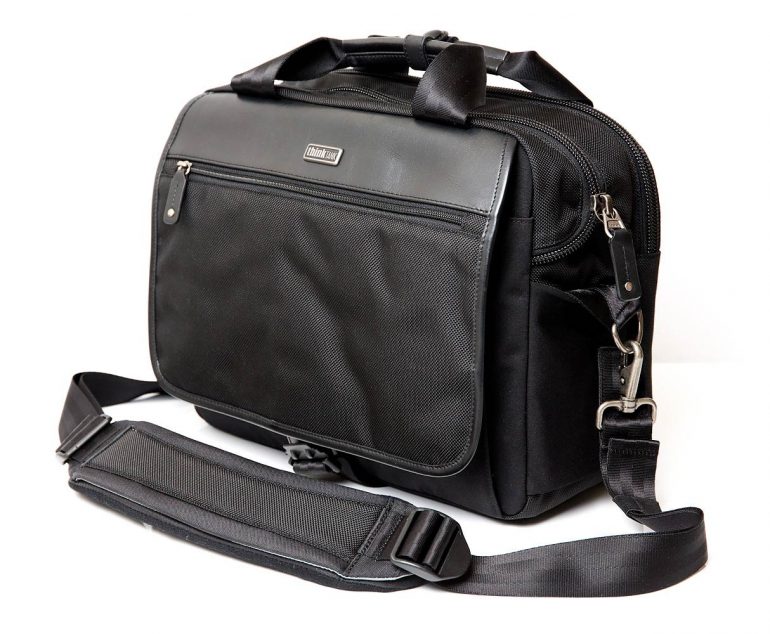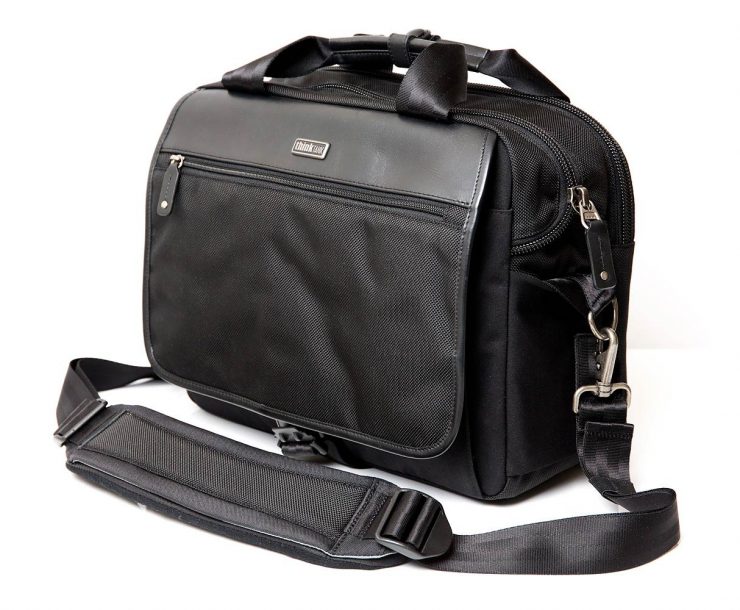 Appearance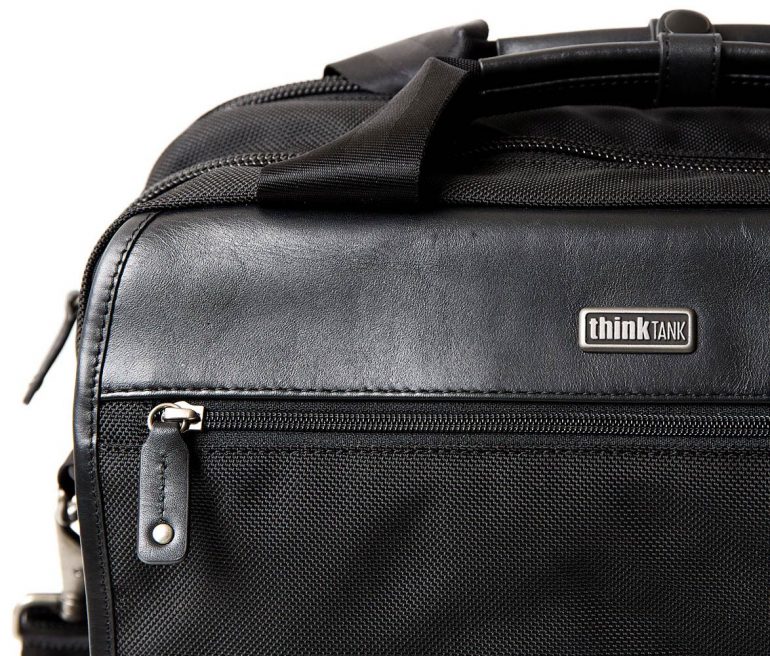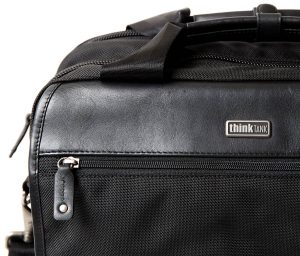 There is nothing wrong with the appearance of the ThinkTank Urban Disguise 40, but it's "classic" rather than fashion forward or trendy. It's black all around, primarily heavy ballistic nylon but with full-grain leather accents, in a style that is likely to find favor with mature professionals rather than students and younger hobbyists, unless they happen to be solidly normcore.
Whereas the recently reviewed Tenba Cooper 13 is a relatively slim messenger bag that would easily pass for a book-bag, the Urban Disguise is more stout with thicker padding, and consequently, it looks a bit more like a camera bag. It certainly doesn't stand out, but this disguise also probably won't fool anyone who takes an interest.
What Will It Hold?
The main compartment of the Urban Disguise 40, divided into thirds, easily fits a full-size DSLR body with a mid-sided zoom attached, a 70-200 f/2.8 zoom in another compartment, and the final third can hold either a pair of smaller lenses (a 16-35 and a 50mm f/1.4, for example) or a couple of flashes and triggers. Larger cameras like the Canon 1DX II or Nikon D5 (or smaller cameras with grips) will not fit unless you get pretty creative2 If you want to carry the body without a lens on it, these larger cameras can be loaded upright, with their backs parallel to the back of the bag. They will also fit this way with short lenses attached. It's not a very efficient use of space, though. . Alongside the padding of the main compartment's front side is a full-width pocket for manuals, papers, and flat flash modifiers.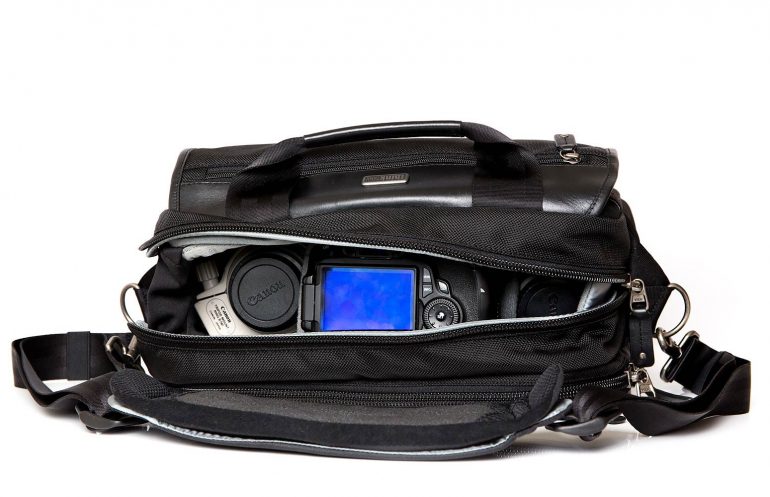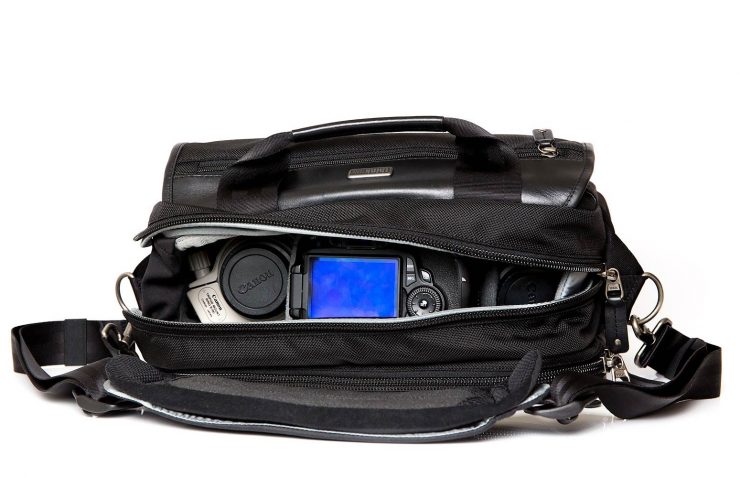 ThinkTank says that computer pocket is designed for 13.3″ screen laptops, but they're being conservative. My measurements put the interior width of the pocket at almost 14.5″ and 9.5-10.5″ deep, which means (according to Pythagoras) that even a computer with a 16.5″ screen might fit, theoretically 3 16:9, if the screen had no bezel . Just to check, I stuffed my 6 year old 15″ laptop into the pocket, and it just barely fit (though it would not be deep enough). The pocket will easily fit most modern 14″ laptops, and the most compact 15″ laptops like the Dell XPS 15 9550 and LG Gram 15Z960 will also fit. Needless to say, my 12.3″ Surface Pro 4 fits easily, and there's also a separate pocket for my 10″ Android tablet.
The front flap of the bag conceals a full-width, accordion-hinged pocket that can hold documents, flash modifiers, and other large but relatively flat objects. It also has a built-in separator that can be used to create smaller compartments or stowed away with Velcro tabs. The flap itself can be held down with Velcro patches (which can be "silenced" with tabs that cover them), a strap and buckle, or both. The exterior of the flap contains another large, thin pocket that contains several small pockets and a clip for keys/IDs/etc.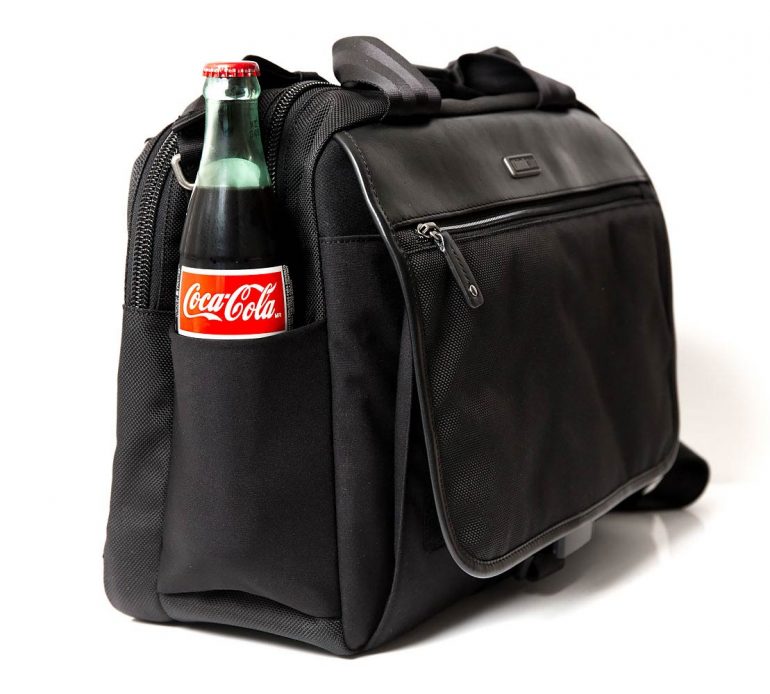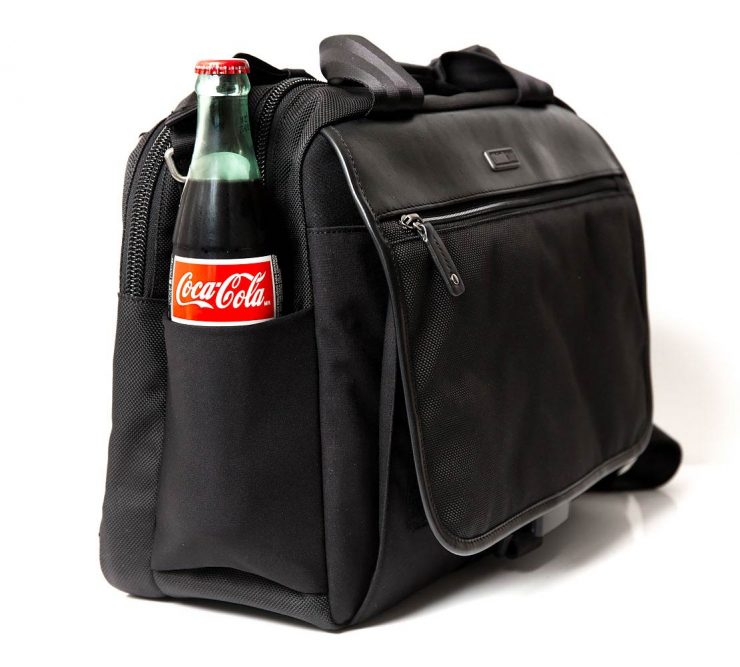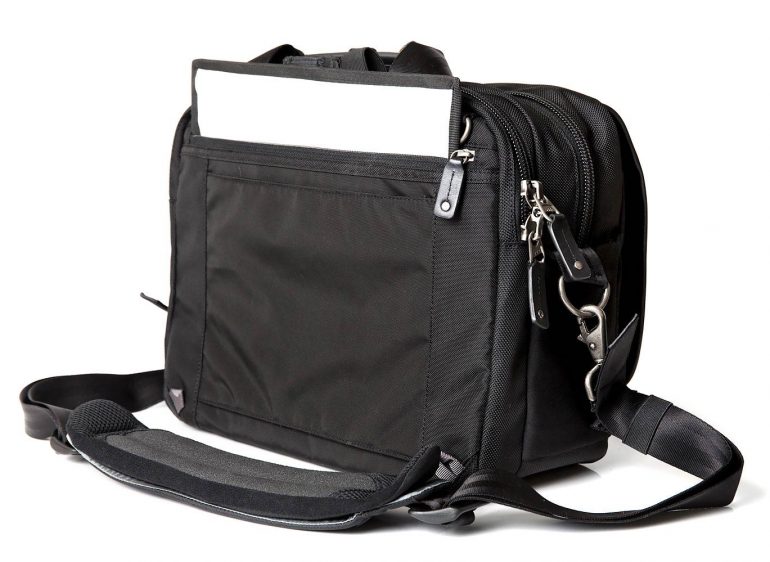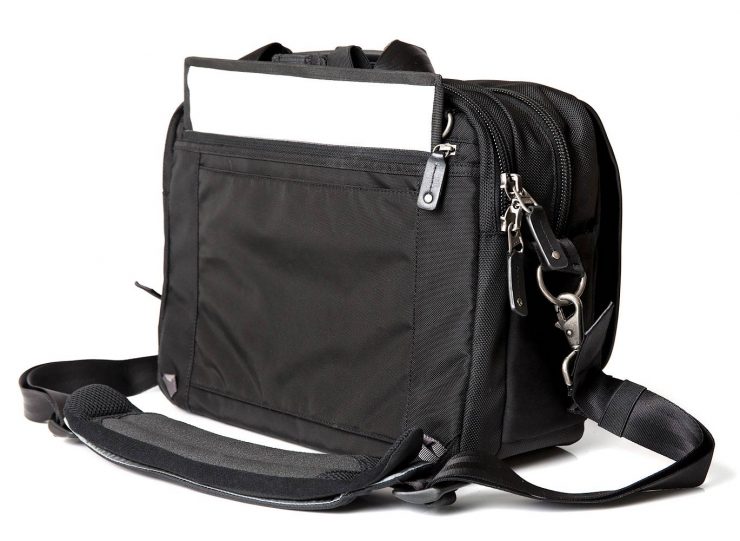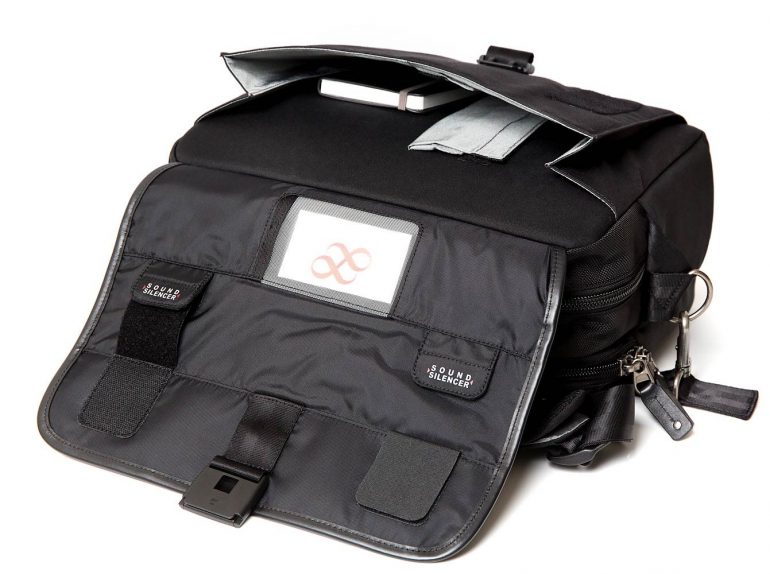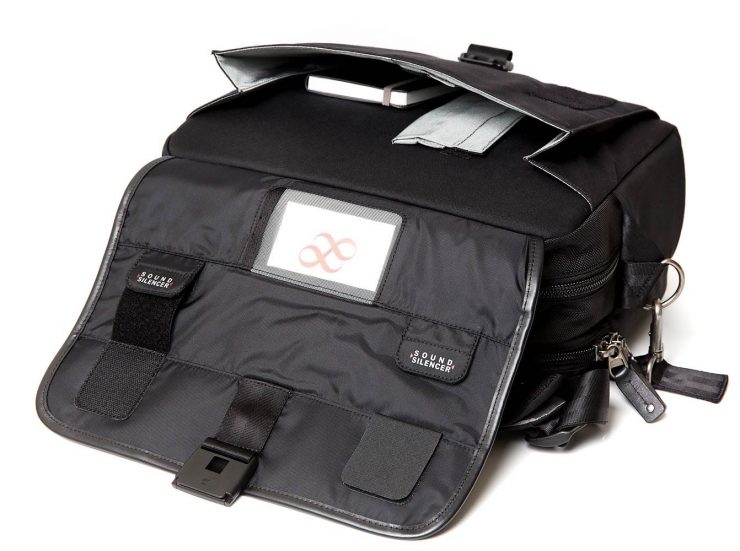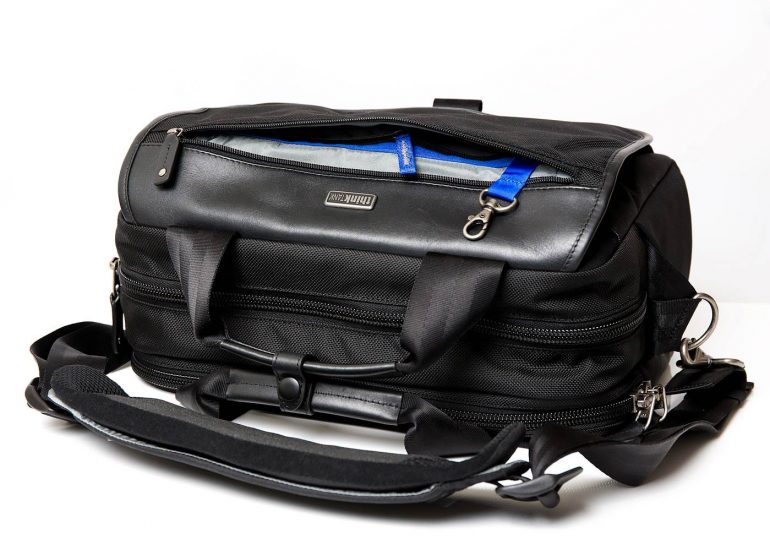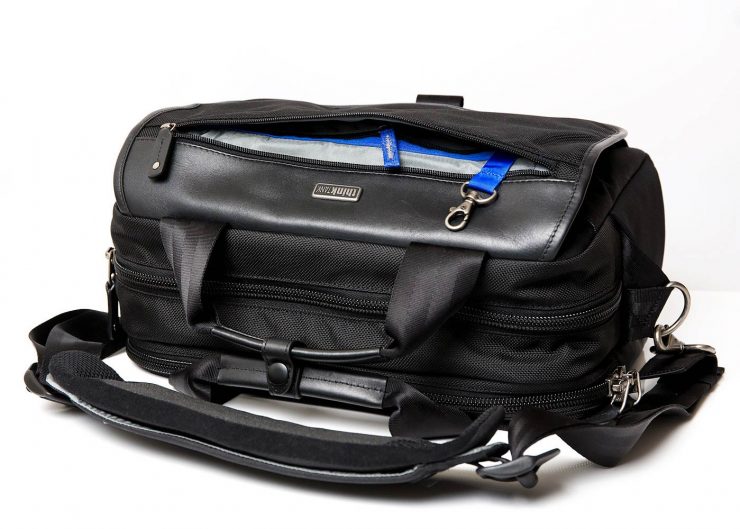 Stretchy end pockets can hold compact umbrellas or bottles of your favorite beverage, and you'll find an additional large, flat, zipper-clad pocket on the back of the bag.
Features
Beyond simply enclosing your equipment, ThinkTank has provided some extra features to make your life a little easier. To begin with, the Urban Disguise 40 includes a rain cover in a bright blue pouch (though the exterior of the bag is already water resistant). With the cover pulled over the front of the bag, two clips latch it together in the back, connecting from the top edge of the opening to two easy-to-find red loops at the bottom. There is, unfortunately, no dedicated storage compartment for the rain cover4 The belt system bags DO have dedicated storage pouches built in to their bottoms. , so I stuff it into one of the end pockets.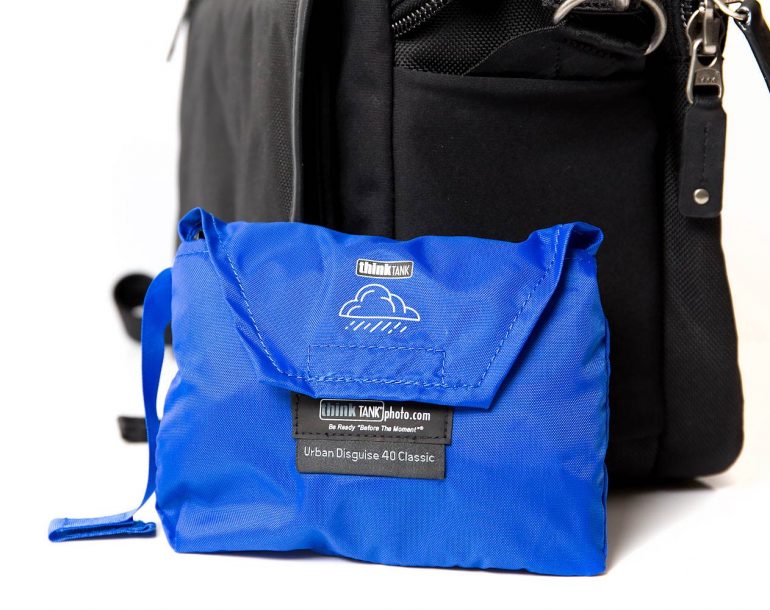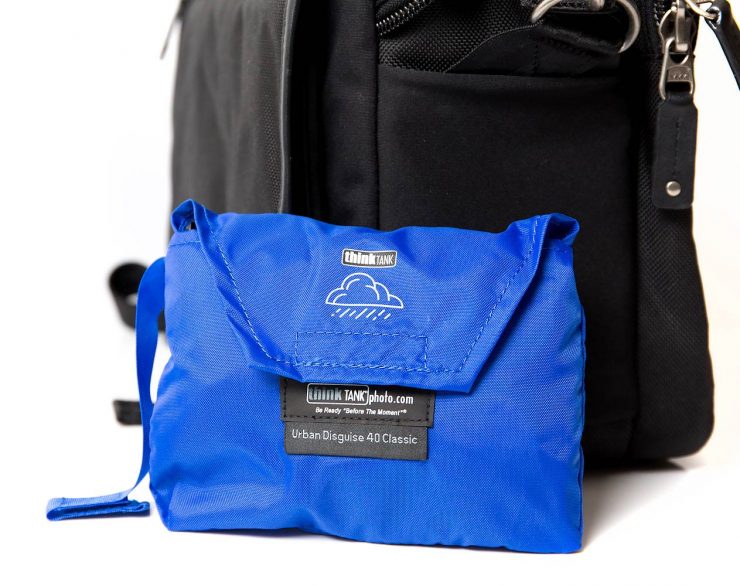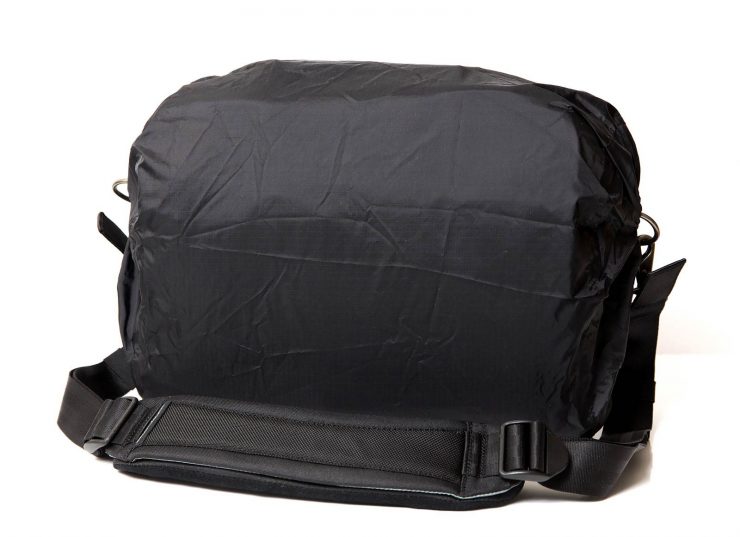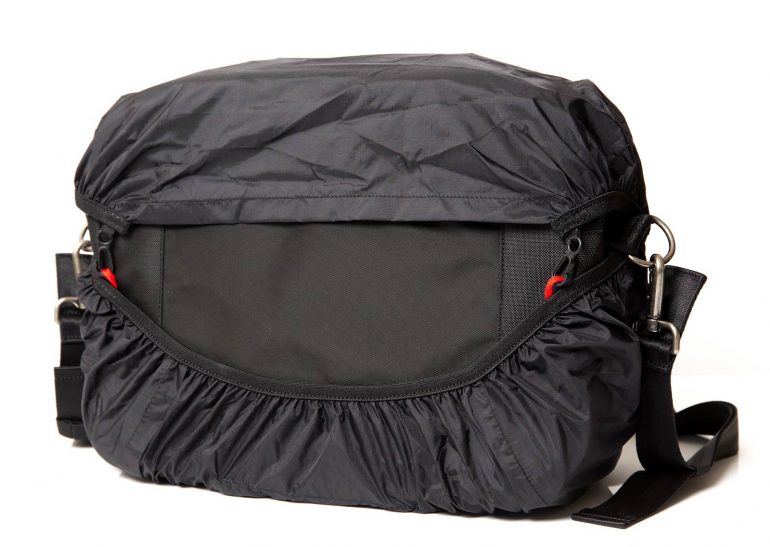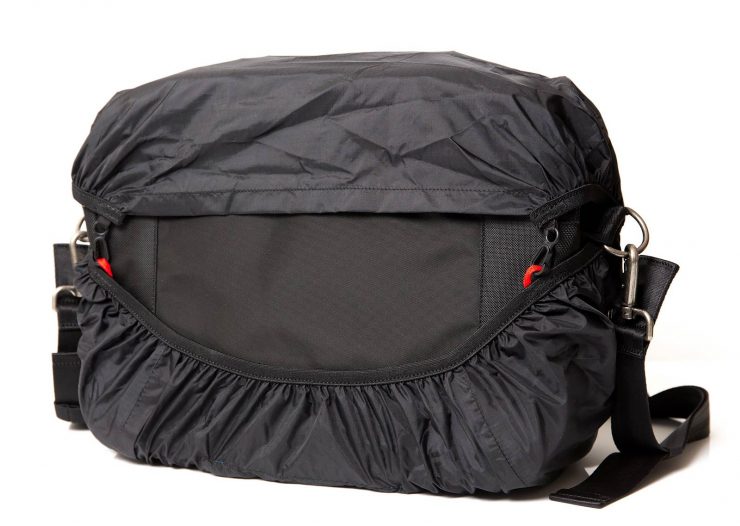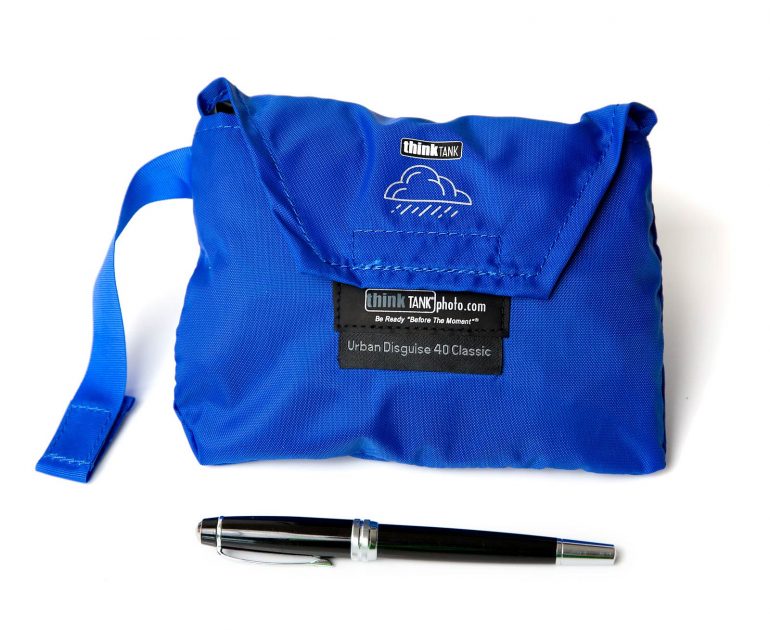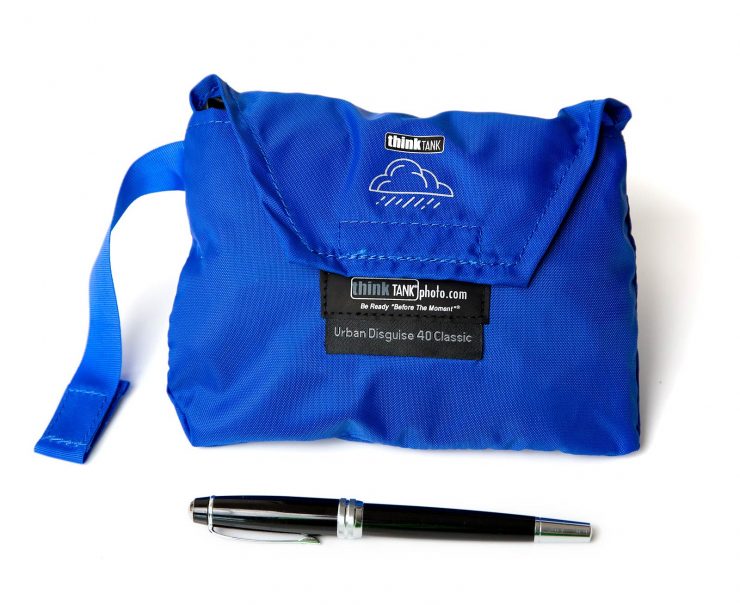 The back of the bag has two clever features: a strap to fit over the handle of a roller bag for ease of transport in the airport, and a set of D-rings and loops that allow you to (a) move one or both ends of the shoulder strap to the back of the bag, which may be more comfortable, and (b) attach the (optional-extra : $35) Backpack Conversion Straps, which would allow you to travel more comfortably over long distances.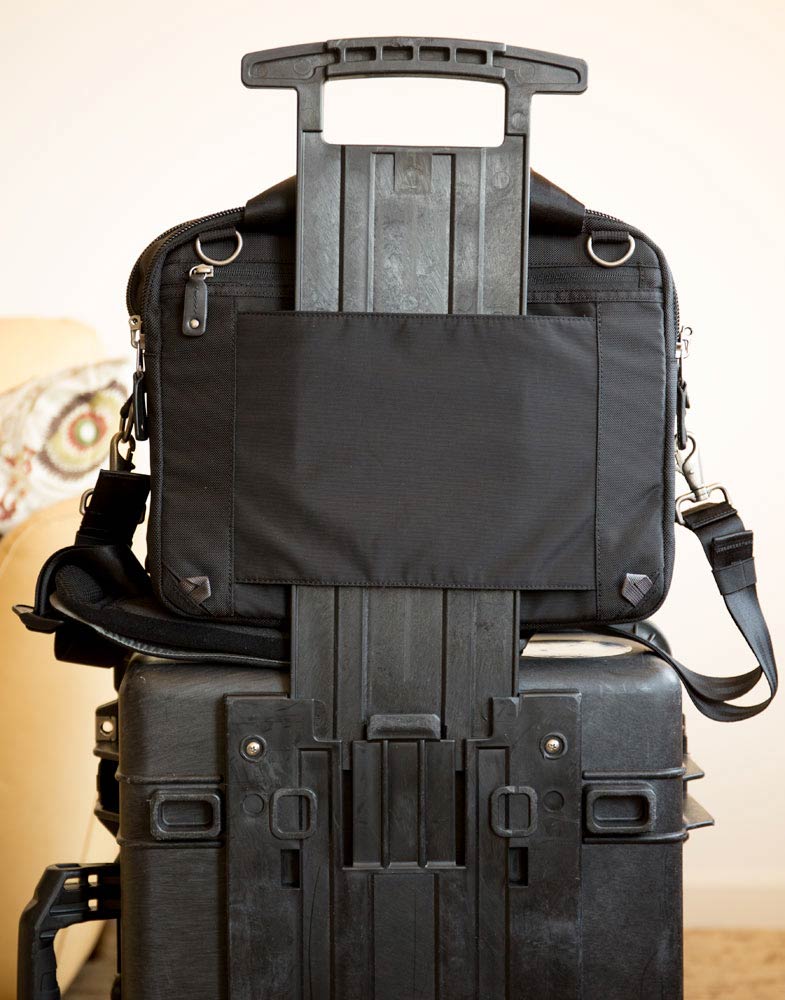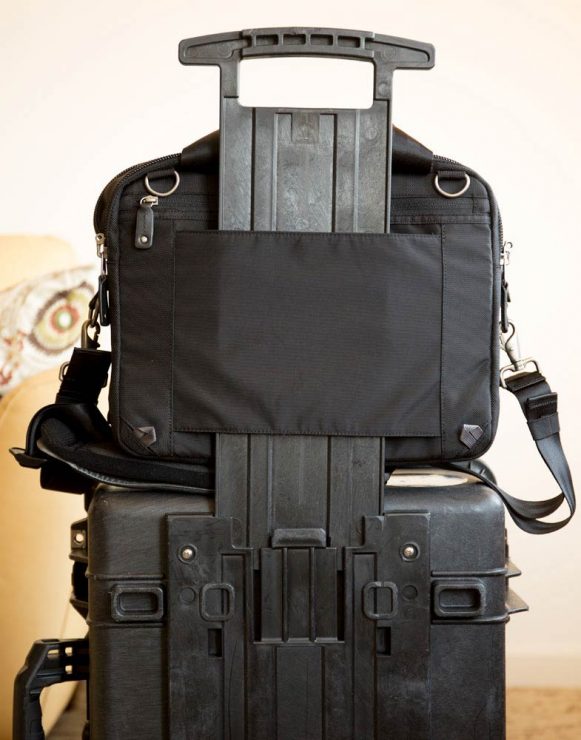 Quality : Materials & Design
Like so many professional photographers, I've been using ThinkTank gear for years5 Notice: I received this bag for review from ThinkTank free of cost. I strive to be unbiased, honest and open with all of my reviews, but I'm only human, and bias can always creep in in subtle ways, so take this review with a grain of salt. I am an advertising affiliate with ThinkTank, so purchases of their equipment will help support this site. That said, I would never provide a good review for a product that I didn't believe in. , and the quality of their products is consistently outstanding. If you're looking for a bag that just works and will hold up under the rigors and abuse of a professional photographer's travels, look no further.
The materials used are first rate: the shell of the case is constructed of 1680D ballistic nylon with DWR (durable water repellant) and polyurethane coatings, with additional leather accents and panels (840 and 420 denier nylon is also used). The straps and handles are actually made from seat-belt webbing! Since zipper problems are the most common reason that camera bags fail, ThinkTank uses high quality RC-Fuse YKK zippers, which fuse the (double-stitched) sewing thread with the zipper's plastic-coil for increased abrasion resistance. Even the thread used to hold the bag together is triple-ply bonded nylon. And if any of the materials fail, they're covered by a lifetime warranty.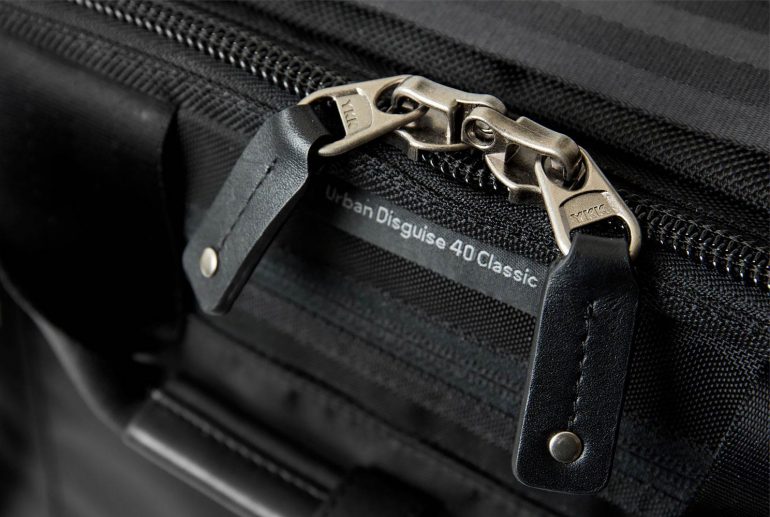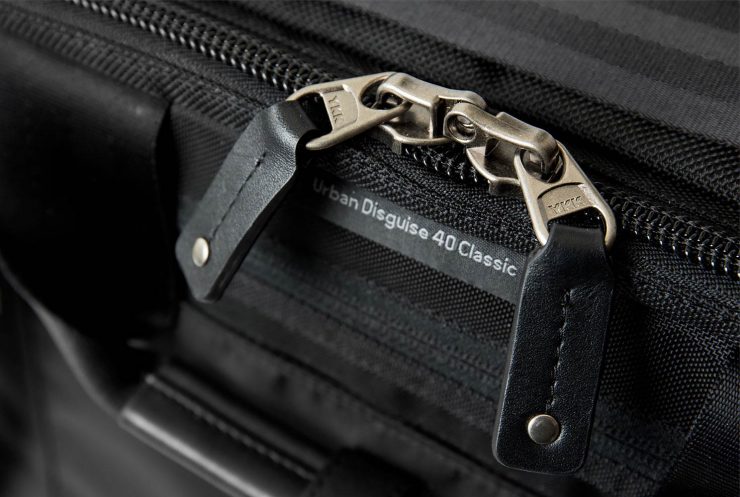 In addition to the bag's features described above, ThinkTank's design team has also addressed numerous smaller details. At both ends of the shoulder strap, for example, a double-thick extension of webbing protrudes between the nylon of the bag and the metal hardware, protecting the bag from excessive wear. Elastic loops on the strap keep the loose ends of the strap tidy after you've adjusted it. Inside the rain-fly, the attachment loops are bright red rather than black, making them easy to find when you're in a rush. This level of attention to detail that is what makes ThinkTank so great.
Comfort
It is the strap of a shoulder bag that primarily determines it's comfort, and the Urban Disguise has a good one. The padded section of the strap is three inches wide, about 50% wider than the Tenba Cooper 13's, and the padding is about 3/4″ thick… very substantial… which helps when the bag is loaded with 10 or 15 pounds of gear.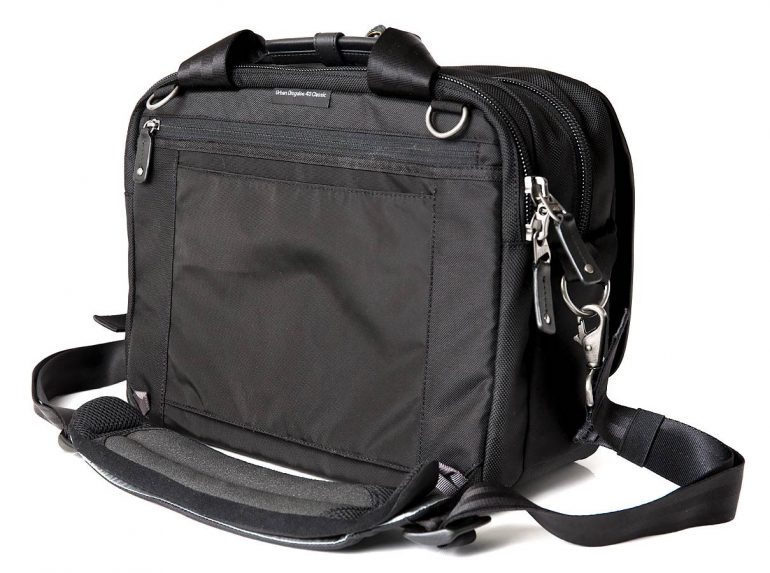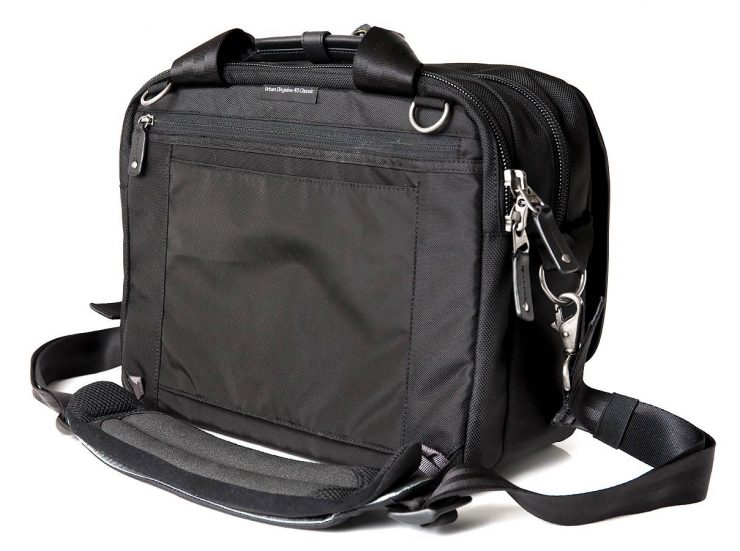 Also worth mentioning, though, are the two D-rings on the back of the bag. Since I prefer to wear the bag more to my rear than my side, I can unlatch the (forward) strap from it's end ring and connect it to the one on the back of the bag, making it rest more comfortably and out of the way of my arm. Clever.
Value
In order to score well in the "value" department, a product has to exceed expectations for it's cost, making the category fairly subjective. It also means that it's harder for an expensive product to get a high score, since we generally expect more when we pay more. Here, a score of 5/10 means that the product met my expectations for its cost.
As such, I'd give the ThinkTank a 7/10, primarily because of its high quality construction and the designers' attention to detail, while it is still less expensive than bags like the (admittedly more fashionable) Tenba Cooper 13 DSLR.
You can pick up a ThinkTank Urban Disguise directly from their website, or these:
Conclusion
While conservative in appearance, the Urban Disguise 40 Classic is full-featured and impeccably constructed. The build quality and stout padding will protect your gear but allow you to access it quickly when it's needed. If you're looking for a compact bag to hold your photo-essentials and are more concerned about functionality than fashion, it's hard to beat the ThinkTank at any price.
If you like the quality of the Urban Disguise but are looking for a more trendy style, you might also consider their new Signature Series, Retrospective canvas messenger bags or CityWalker line. The Tenba Cooper 13 DSLR (read our review) is also a very attractive option.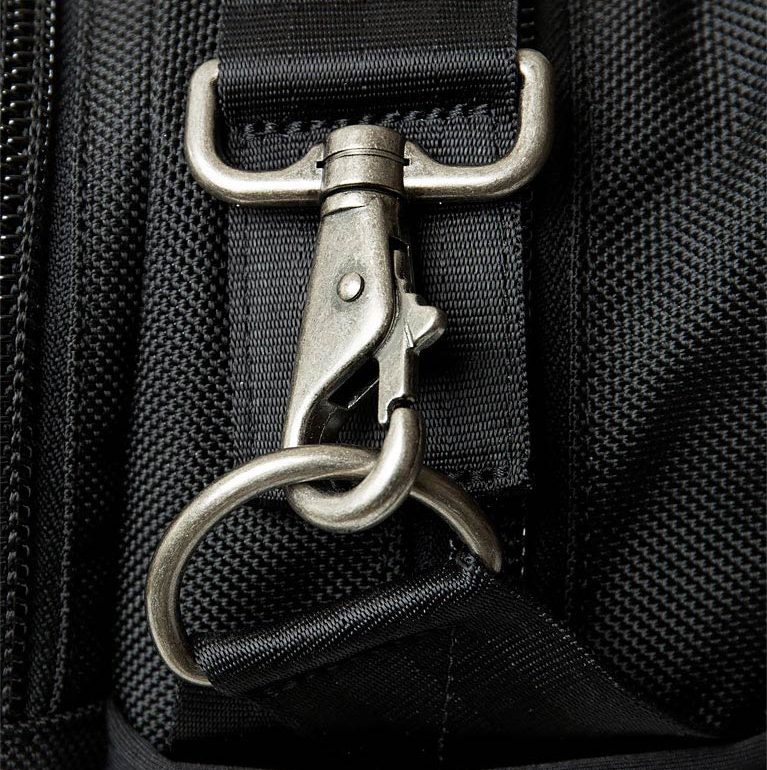 ThinkTank Urban Disguise 40 Classic : Review
Professional Quality
A solid bag that will never let you down, with a simple, classic look.
Questions & Comments
Did I miss something? Have you had a different experience than me? Please let me know in the comment section below! I usually answer questions within a day.
---