Over the winter I started testing the new Tamron 35-150mm f/2-2.8 Lens for Sony E-mount, and I was a little surprised by what I found. The lens deviates from my expectations for recent Tamron lenses, but ultimately, I think that most photographers will be perfectly happy about it. If you don't care about the details, you can skip to the conclusion. Otherwise, let's start with the basics.
The Lens Body and Features
The most unique aspect of this Tamron 35-150mm lens is that it allows so much light through: at 35mm, the lens provides an f/2 maximum aperture (that's twice as much light as f/2.8), which drops to f/2.2 between 40mm and 60mm, f/2.5 beyond 60mm, and f/2.8 beyond 80mm. Designing a lens to allow this much light through (especially a lens that's more than 6 inches long) requires large lens elements, so it should be no surprise that the lens is a bit heavy: it weighs 2.57lbs. This is still less than a common 70-200 f/2.8 lens, but it's not far off.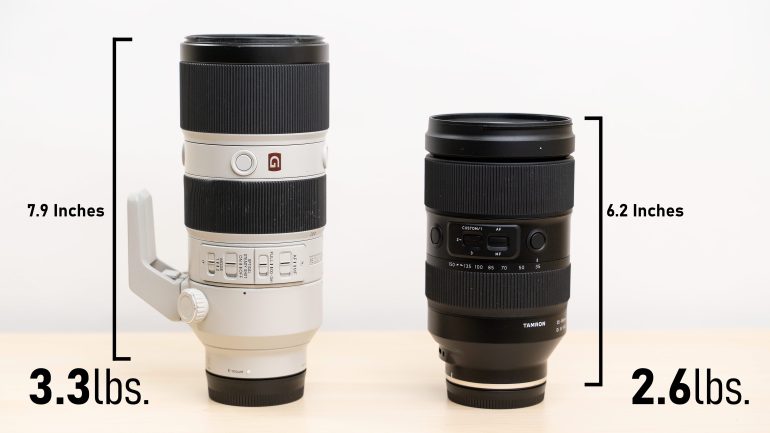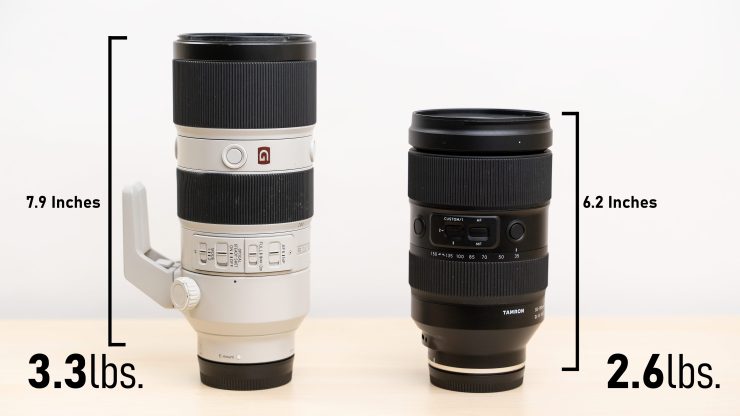 Along with the weight, the lens has some extra girth, forcing Tamron to abandon the 67mm filter threads that have become standard on their E-mount lenses in favor of 82mm threads.
On the plus side, Tamron has opted to provide some manual controls: the lens has an AF/MF switch, a pair of custom AF buttons on the lens, and a three-position switch that can select between programmed functions for those buttons. There's also a zoom lock switch, and the lens hood also has a lock button, which is a nice change. At the base of the lens there's a USB Type-C port that allows you to connect the lens to your computer and the Tamron Lens Utility app to set custom settings and update firmware.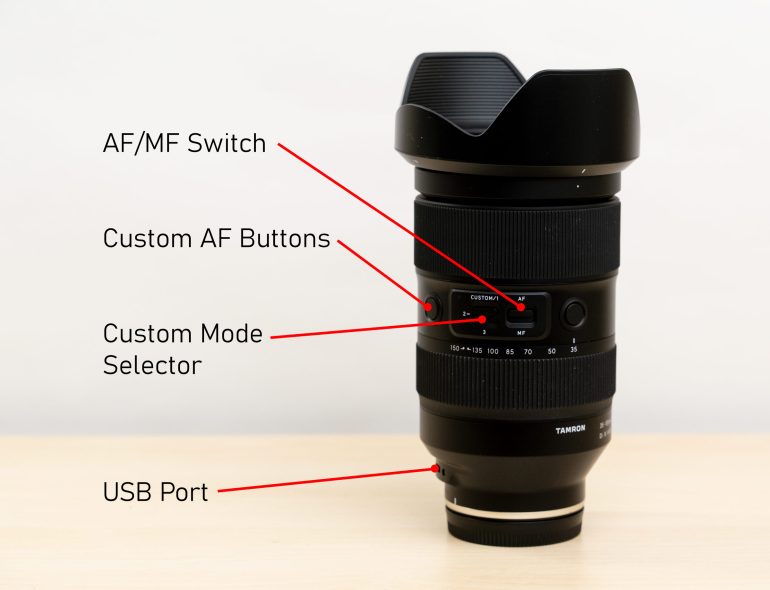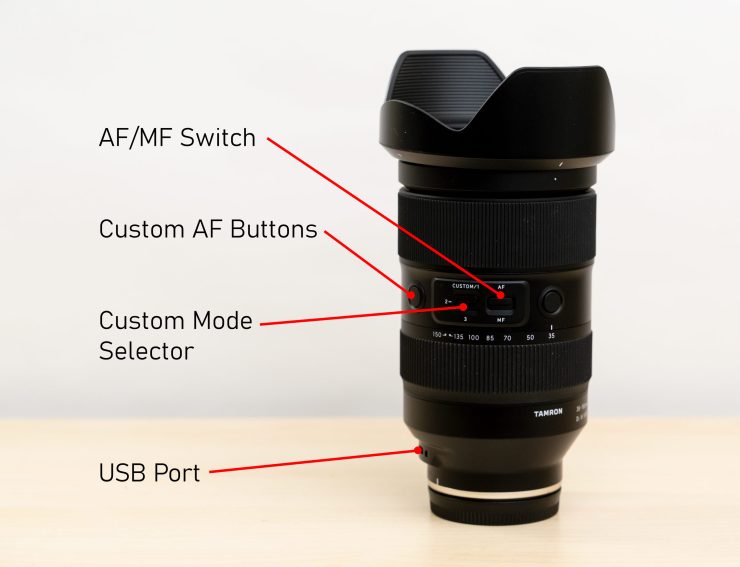 The combination of the custom function buttons and the Tamron Lens Utility give users a considerable amount of control of the feel of the lens. With the Utility, you can switch the function of the focus ring to become a manual aperture ring instead, for example. It's also possible to switch the function of the AF buttons from AF Lock to two Focus Presets, so if you're shooting two subjects and want to switch focus between them at the touch of a button, all you have to do is set the AF fucus presets at those two points.
If there's any drawback with this system it's that you can either have manual aperture on the lens or manual focus, but not both. However, if you don't want to use autofocus, you probably won't be buying this lens in the first place.
Overall, I'm impressed with the sturdy construction and high-quality feel of this lens. As the weight savings over a kit including the Tamron 70-180mm f/2.8 and 28-75 f/2.8 G2 (2.97lbs, combined) is less than half a pound, the real advantage of this lens is that you'll always have a lens on your camera that will cover the majority of your needs while giving you even more light than other zooms, and that convenience will be worth a lot to many photographers.
Resolution & Sharpness
On my Sony A7RIII (42 megapixel), I tested the resolution of the Tamron 35-150mm lens against two of my favorite prime lenses and the Sony 70-200 f/2.8 GM (original), and the Tamron performed remarkably well.
At the 35mm end of the zoom, I compared the Tamron against the Sigma 35mm f/2 | C I-series lens, which I love. I was impressed to find that the Tamron was at least as sharp as the Sigma across the entire frame, at every aperture.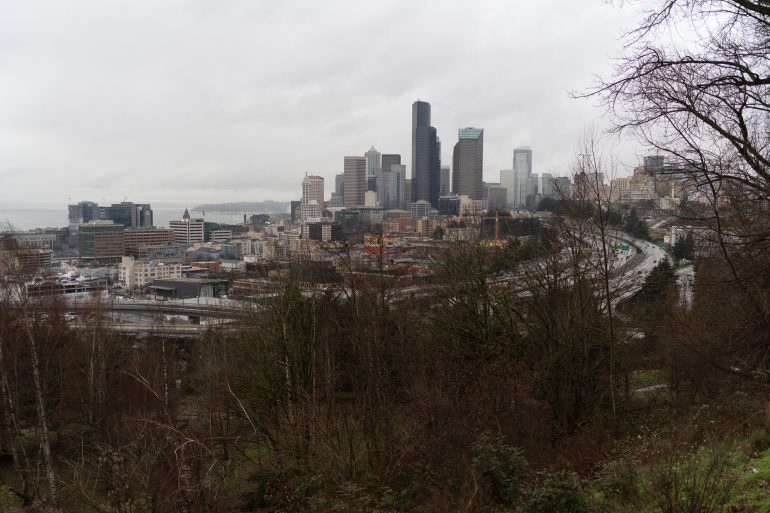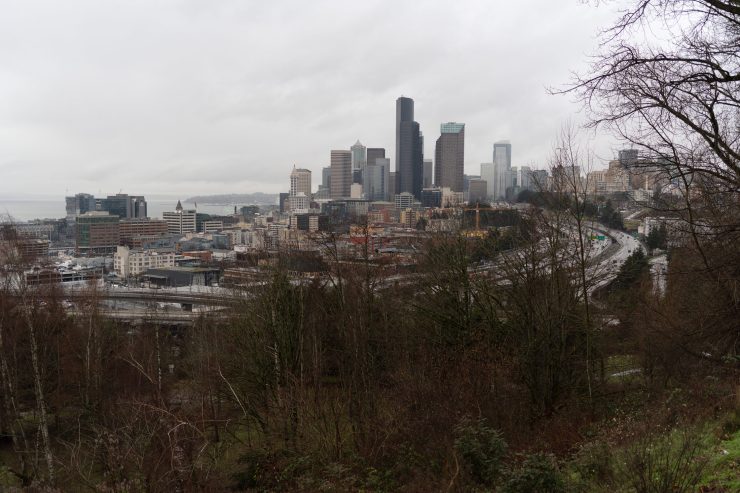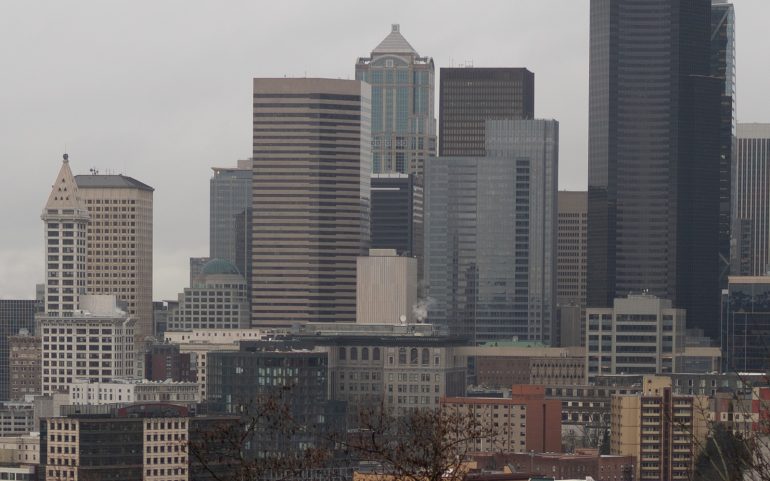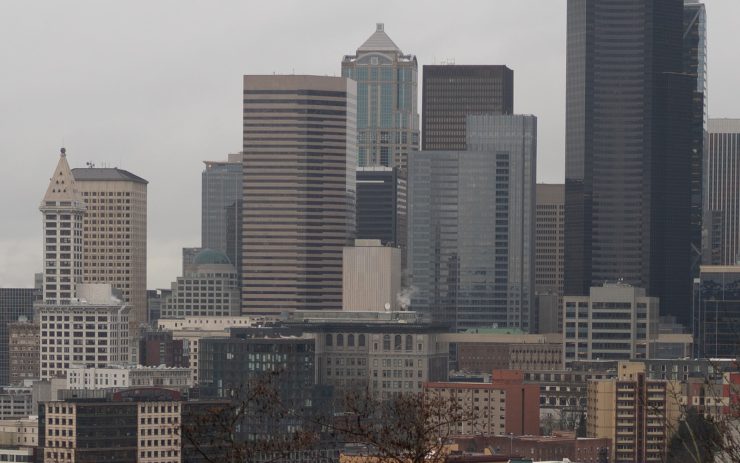 It should be noted, however, that the angle of view of the Tamron lens was significantly narrower than the Sigma, by about 8%. Assuming that the Sigma has a true 35mm field of view, then the Tamron's is closer to 38mm, which is a bigger difference than I'd like to see.
Zoomed in to 70mm, I compared the Tamron lens to a very high resolution Sigma 70mm f/2.8 Macro | A lens. Again, the Tamron matched the resolution performance of the prime lens across the frame at apertures from f/2.8 to f/8, beyond which both lenses are limited by diffraction.
Finally, at 150mm I tested the Tamron against my trusty old Sony 70-200 f/2.8 OSS GM lens (Mark I). Here, the Tamron lens provided visibly higher resolution in the center of the frame at f/2.8, but in the corners of the lens, the Sigma provided better contrast (and thus, sharpness) but either equal or lower resolution. At f/4, though, the Sony caught up in the center and probably surpassed the Tamron in the corners, and beyond that, they were not significantly different from each other.
So, overall, the Tamron gave me excellent performance at every point along the zoom range and at every aperture. Very impressive. It does seem to be sharpest at the wide end, but is still excellent at the telephoto.
Autofocus Performance
To test the autofocus performance of this lens, I shot several high school basketball games in November and December. The light was not great, the action was fast and chaotic, and it ranged from across the court to just a few feet away from me.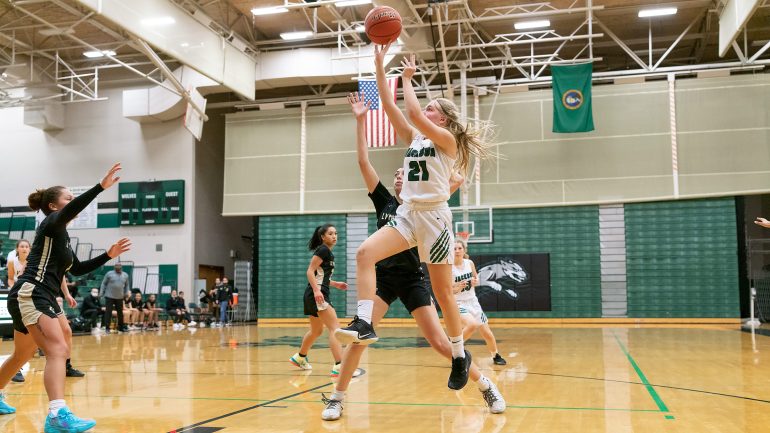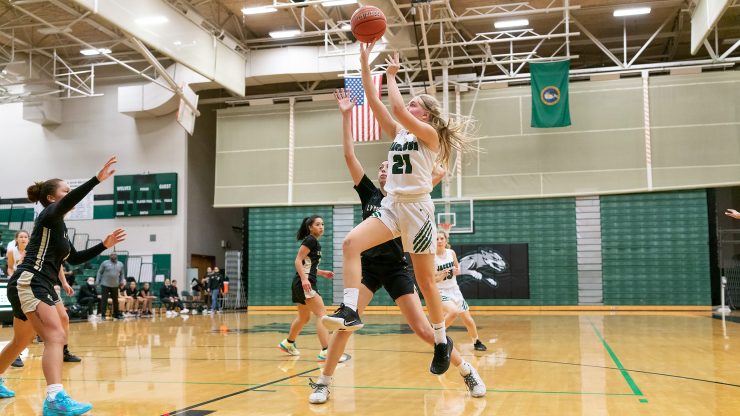 The Tamron 35-150mm f/2-2.8 lens had no trouble keeping up. Even with my older Sony A7RIII, I was able to track players reliably whether they were nearby or across the court and running right towards me. The only time that I lost focus, frequently, was when I was tracking a player and zooming the lens at the same time… and that's a common occurrence with any lens, Sony, Tamron or otherwise, with my camera body. The lens is designed to work with the Sony A1 and A9 cameras, where it performs even better.
I also shot a fair amount of video of basketball with the lens, which is not my strong suit. Again, the lens did just fine.
That said, with my Sony A7RIII, the autofocus did not feel blazing fast; it just felt fast enough. When shooting street photography and other subjects, the lens also worked well, but it didn't feel as fast as some of the new Sony lenses with multiple linear motors.
Bokeh
I'm not a huge fan of bokeh like some photographers can be, but I do notice when there are problems with image quality in the background, so it's worth a cursory discussion.
In general, the Tamron 35-150mm f/2-2.8 produces nice, smooth bokeh throughout the zoom range, though I find it to be better at the wide end. In my experience, Tamron's bokeh rendering can be somewhat "nervous" or "jittery" at f/2.8 in their recent zoom lenses, and in most cases, the 35-150 is better than other Tamron lenses that I've tested over the past two years.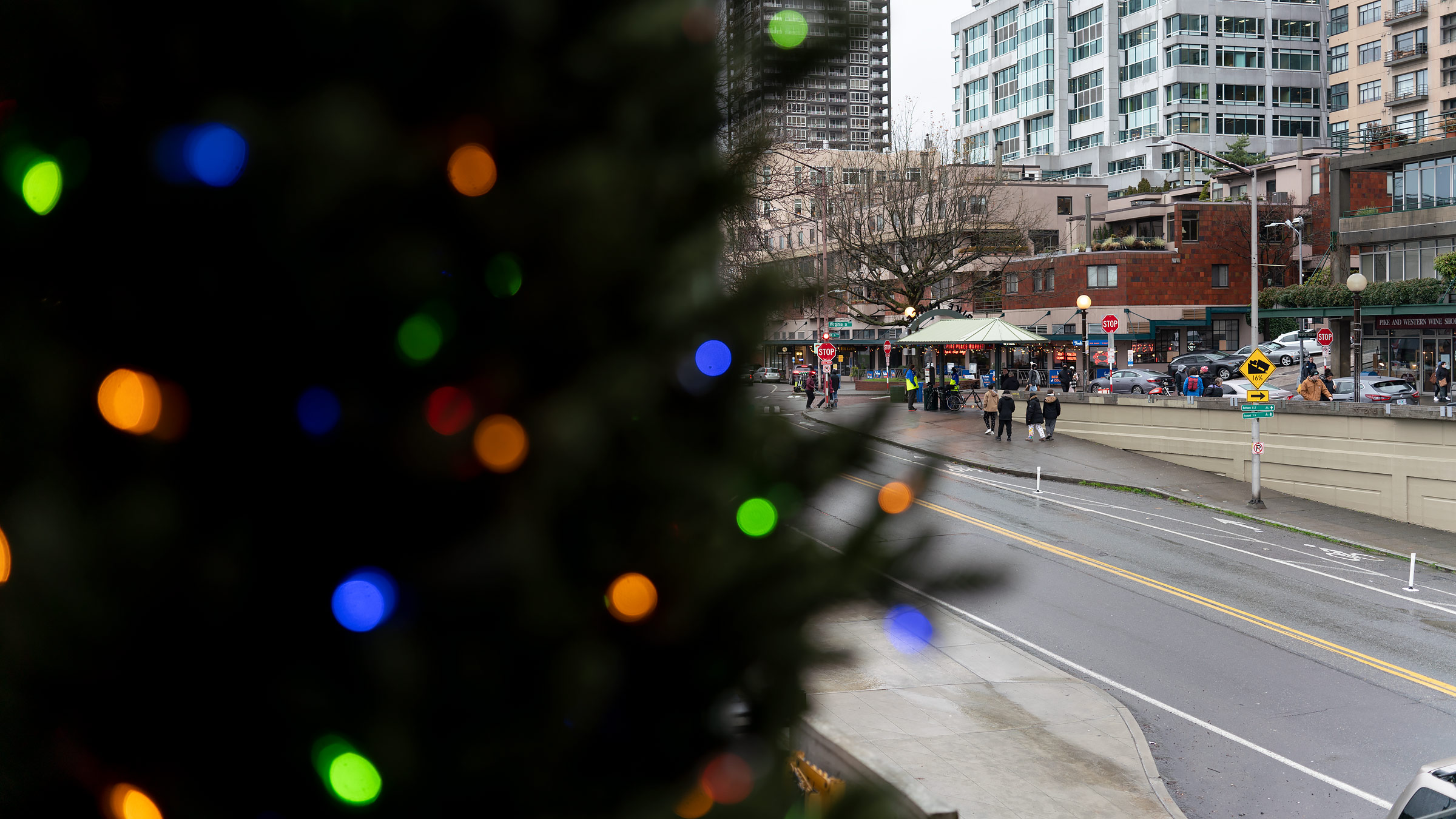 When looking at bokeh highlights at full magnification, the 35-150 does not create any troubling artifacts such as the concentric circles that are often called "onion rings" or other shapes, and highlights are nice and round except at the edges of the frame, where they do pick up a cat's eye shape.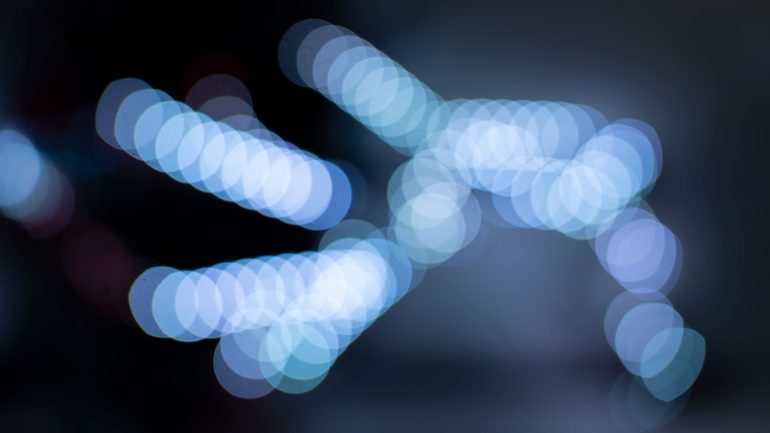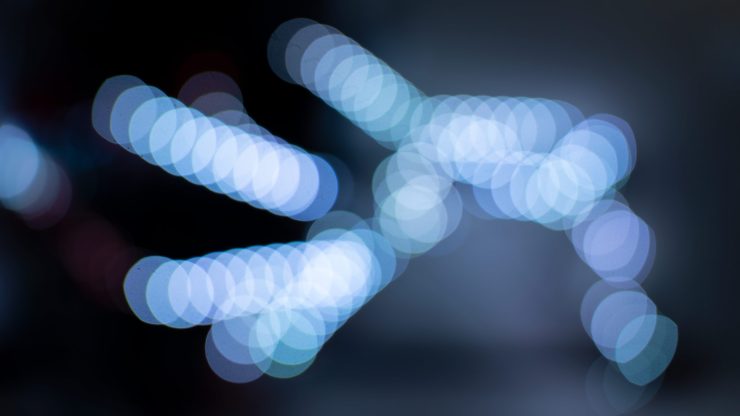 That said, when the lens is zoomed in to 70mm and beyond, artifacts can appear in the highlights in some situations. In this case, with the lens zoomed to about 90mm, the small tree lights in the background picked up an odd bullseye effect, which also turned up in some video that I shot at 150mm.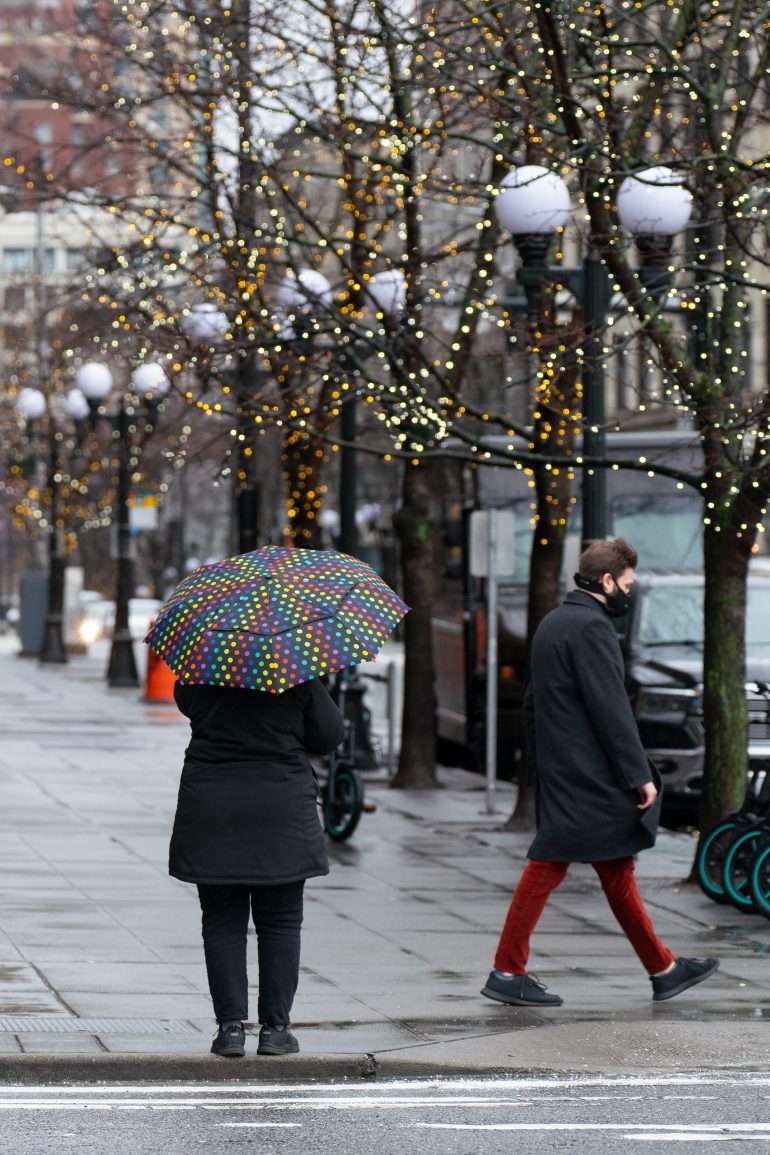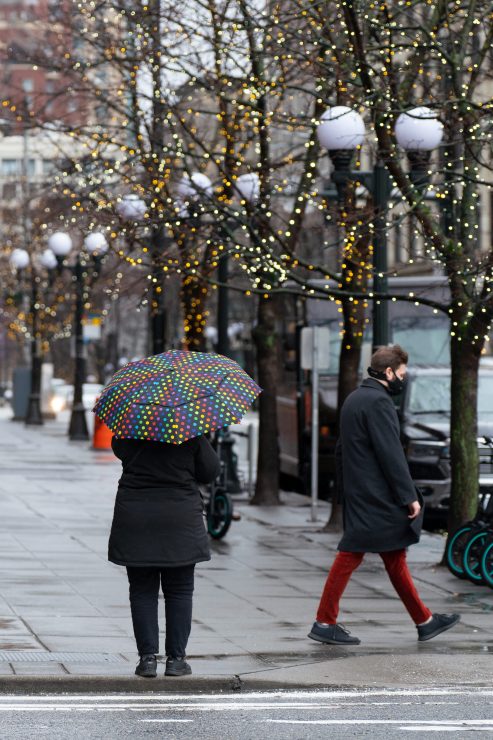 I also discovered that when shooting some light sources (I only noticed it when shooting RGB LED lights, though I don't imagine that it's strictly limited there) I'd get very strong color fringing in the bokeh, well beyond the amount that I could correct in Adobe Camera RAW. However, I didn't encounter this in real world use, so the impact may be less important than it appears here.
Vignetting & Distortion
Vignetting and distortion are best seen in the video above, but both are well controlled by the lens profiles available in camera and in Lightroom. Vignetting is modest for an f/2 lens, with about 1.2 stops of light loss in the corners at 35mm, 0.6 stops of loss at 70mm, and 1 stop of loss at 150mm, all of which is pretty normal. The only irregularity here is that at the 150mm end of the zoom range, vignetting becomes apparent at f/8, which is odd. I don't expect to see vignetting until f/4 and larger, at worst, on an f/2.8 lens.
Distortion is very well controlled for a zoom lens of this range. At the 35mm end of the zoom range there is a negligible amount of barrel distortion that changes to pincushion distortion as the lens zooms in to 150mm. At the 150mm end, the pincushion distortion is moderately strong but is easily corrected.
Value & General Impressions
While most Tamron lenses offer exceptionally high value for their price, the 35-150 is expensive enough at $1899 that you'll need to stop and think about it. The lens costs just a little less than the Tamron 28-70 f/2.8 and 70-180mm f/2.8 combined, and though it offers a little more light at the wide end, it also offers a shorter zoom range (albeit without the need to change lenses).
You'll have to consider which lenses you'd be able to buy for $1900 to meet your needs instead of the Tamron, and weigh that against the convenience of being able to keep one lens on your camera that can do so much. I remember shooting for a couple of days in the Great Sand Dunes National Monument a few years ago and wishing desperately that I had a high quality lens that could cover a zoom range like this because it's impossible to change lenses in the wind-blown sand of the dunes.
For wedding and other event photographers who only get one change to capture an unpredictable moment, there's a very strong case to be made for the value of a lens like this, even at a much higher price. There is often no time to change lenses to capture a moment, and occasionally not even time to grab a second camera body and raise it to your eye (and I've noticed fewer and fewer photographers carrying two bodies these days).
Similarly, if I were taking a trip around the world, carrying only a backpack and a single lens, the convenience of having all of this zoom range and performance in a single place, without ever having to change lenses in the middle of a crowded sidewalk in New Delhi, would be tremendous.
After shooting a single basketball game with this lens, I was loath to give it up again. This zoom and aperture range is about as perfect as I can imagine for shooting in the low-light gyms of my local high-schools, and the lens is even better in professional arenas.
So, the value of this lens is primarily in speed and/or convenience, but you'll need to decide what that speed and convenience is worth for the way that you shoot.
For Video
I've been a photographer for over 25 years, but I don't shoot much video, so I'd recommend looking elsewhere if your main focus is video.
That said, in my tests, the AF performance of the Tamron 35-150 f/2 is excellent when shooting video, and the ability to switch the focus-ring on the lens to a smooth-turning manual aperture ring could be very helpful, as would the pre-focus buttons. I did not test focus breathing.
Conclusion and Final Score
Overall, this lens is excellent in just about every way that I tested, with its only weaknesses being its bulk, price and a bit of occasional bokeh weirdness. Since most professional photographers will have grown accustomed to carrying heavy glass, the modest heft of this lens will likely not be much of a deterrent, and it's easy to see how all of this quality in one place will be a tremendous convenience for a variety of different types photographers.
I would quickly recommend this lens to:
Indoor Sports Photographers
Wedding and Event Photographers
Travel Photographers
Environmental Portrait Photographers
… and anyone else who would benefit from the convenience of being able to keep a high quality lens with this zoom and aperture range on their camera all the time.
Where Can You Find One? Please Comment!
It's now 6 months since I started testing the Tamron 35-150 lens, and they still seem to be impossible to find in stock, due to COVID related supply chain problems. Most retailers have a stock alert list, but I don't see it for sale anywhere. When it goes on sale, it's likely to disappear quickly, so if you're interested in getting one, it wouldn't hurt to add your name to an email list and/or pre-order. Of course, you can pre-order at Adorama or B&H Photo.
Or, if you're in the Seattle area and you'd like to support a local camera store, it's also listed at Moment.
If you have any questions, please let me know in the comment section below! I can usually answer questions within a day, so if I've missed anything above or you have questions related to your specific photographic needs, just let me know.
Tamron 35-150mm f2-2.8 Lens Review: Best Lens for Basketball?
Resolution & Sharpness
9.5
PROS
Excellent Image Quality All Around
Great Light Transmission
Useful Zoom Range
CONS
A Bit Heavy for an Every Day Carry Lens
More Expensive than Most Tamron Lenses