Review: ThinkTank Naked Shape Shifter 17 v2.0 Backpack
The Final Word:
Not Cheap, but an Excellent Pack, espeically for ThinkTank modular system owners.
For the past three months I've been giving the new ThinkTank Naked Shapeshifter 2.0 a serious test: I've hiked with it in the stony mountains of Croatia, fought the crowds in Prague and Cologne's Photokina, and strolled the streets and airports of Switzerland, Austria, Portugal, Hungary, Morocco, and coast to coast in the USA. I've dragged it through planes, trains, buses, subways, and taxis.
Normally, I don't like to travel with untested equipment. Nobody wants to get stranded in the middle of a Moroccan medina with a broken zipper or strap buckle, or be forced to walk for miles with an uncomfortable pack digging into his/her back. However, I've used ThinkTank gear long enough to know that their quality is likely to be top notch, so it seemed like a risk worth taking when the package arrived at my door just a couple of weeks before my flight to Lisbon1 I received a review copy of this backpack, free of charge. I always strive to be honest and unbiased in my reviews, but as usual, take everything you read on the internet with a grain of salt. I've tried to not let the price affect my review. .
This is what I've learned about it.
Quality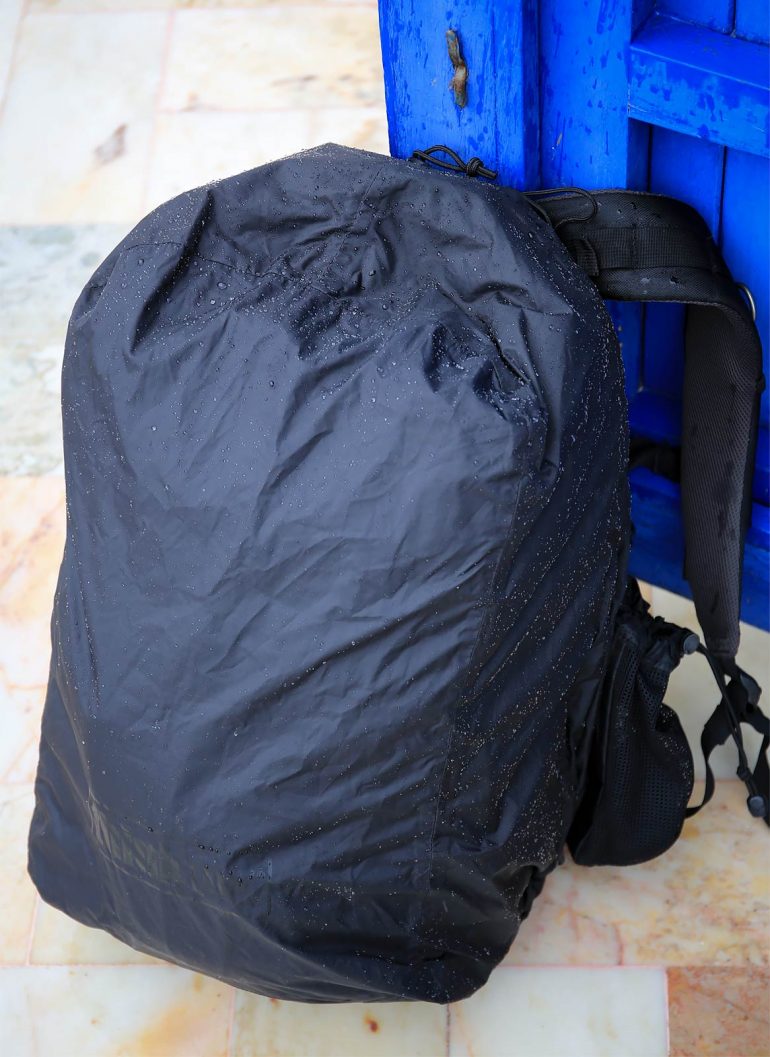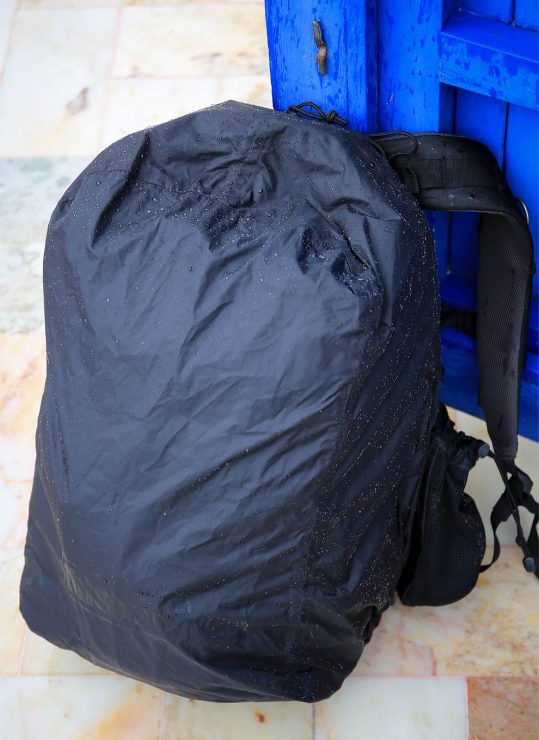 ThinkTank's build quality is the main reason why I (and so many other professionals) choose their gear. Every piece of their equipment that I've tested is built for hard, serious use, and the Shape Shifter is no exception.
With backpacks, the most common points of failure are the zippers, so that's where I begin focusing my attention. As usual, ThinkTank has used high-quality YKK RC-Fuse zippers. They gave me no problems, and remained smooth and strong after months of use.
The exterior is constructed of three different types of rugged cloth, including a 600 denier twill and what feels like a PVC cloth panel (lighter black tone) along with various lightweight meshes and nylon webbing. All of this has a polyurethane coating and a DWR (durable water resistant) coating, and is held together with 3-ply bonded nylon thread. It's a sturdy bag.
Despite the coatings, the bag itself is not waterproof. I was caught out in a heavy rain in Dornbirn, Austria for about a half hour before taking shelter in the train station, and I didn't take the time to stop and cover the Shape Shifter with its rain fly. As a result, the paper contents of my front pockets ended up getting a little damp. Nothing was seriously damaged, but it was a good reminder to use the included rain fly when the weather is bad. (A couple of months later, I walked through the rain in Essaouira, Morocco, with the rain fly on, and it kept everything crisp and dry).
Appearance
The ShapeShifter is all black, though reflections on the different materials used sometimes make the front-center panels appear to be dark grey. Its look is classic: understated, discreet, and professional. The interior is light grey, with ThinkTank's typical blue trim.
The "Shape Shifter" part of this pack's name comes from the fact that it has a zipper that compresses the bag into a thinner shape, much like the zippers on some luggage that you can let-out to give yourself some extra space… but in reverse.
When zipped up fully, its thin profile hugs the back, making it much easier to maneuver in crowds or tight spaces. This is nice; even in the city, you won't look like you've just stepped out of the woods with a bulky hiking pack.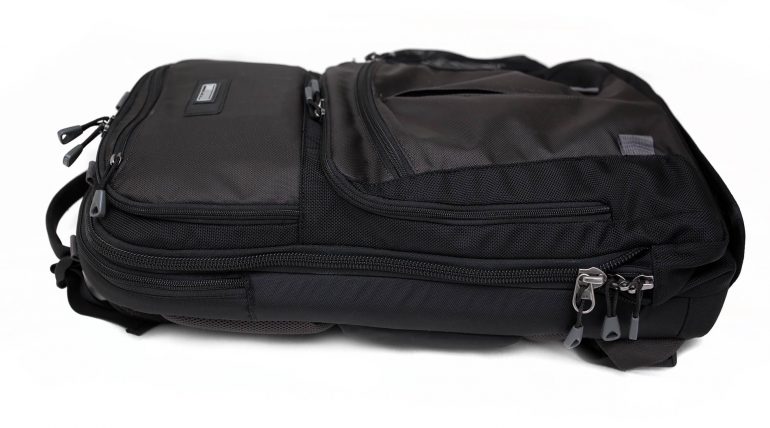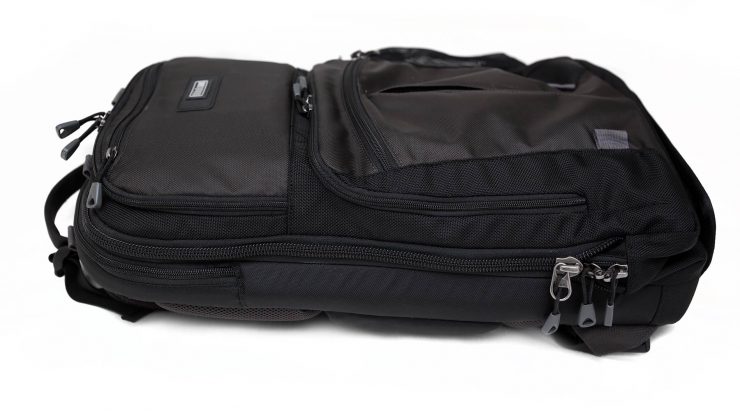 Comfort
I must have walked a hundred miles with this pack on my back over the course of the past two or three months, sometimes on mountain roads, sometimes on trails, sometimes on beaches or city sidewalks, but wherever I was, I found that the backpack was nice and comfortable. The padding on the back of the bag is thick and soft, but well-spaced enough that a little bit of air manages to get in (though I still got pretty sweaty). I usually used the chest strap and used the waist-belt on longer hikes. I did wish that there had been a little bit of extra padding right at the very bottom of the pack, but overall, I was happy with the comfort of the straps and the back of the bag. It was especially comfortable when compressed with the Shape Shifter zipper.
Features & Storage
The Naked Shapeshifter is unusual for a camera backpack because it doesn't come loaded with lots of little dividers and compartments for your equipment. Instead, it comes with an open area with a few rails so that you can arrange and attach your ThinkTank modular components. I used my old Quick Change modular system components, and four of them fit into the space perfectly for the equipment that I wanted to carry with me.
Behind the main compartment is a laptop sleeve with two pockets, one for a large laptop (at least a 17″, but I don't think I've ever seen a laptop that wouldn't fit in this thing) and another for a tablet. Since I don't usually carry a tablet (my Surface Pro 4 was my main computer while traveling), I found that the second pocket was perfect for storing my Wacom Intuos tablet.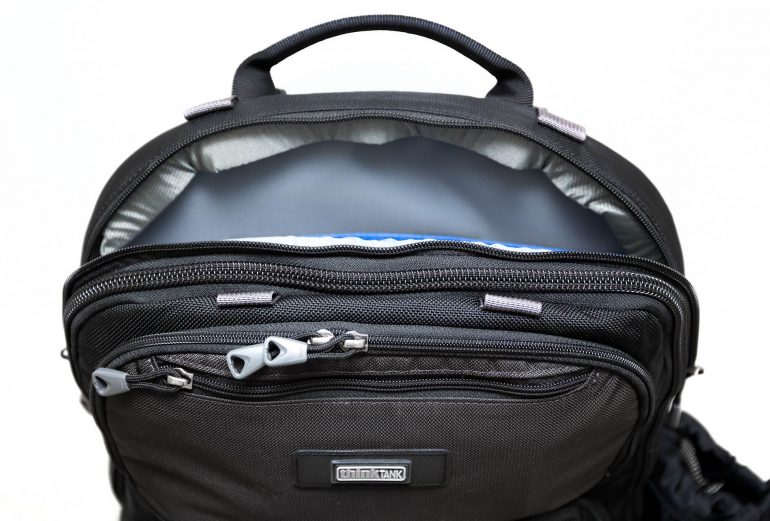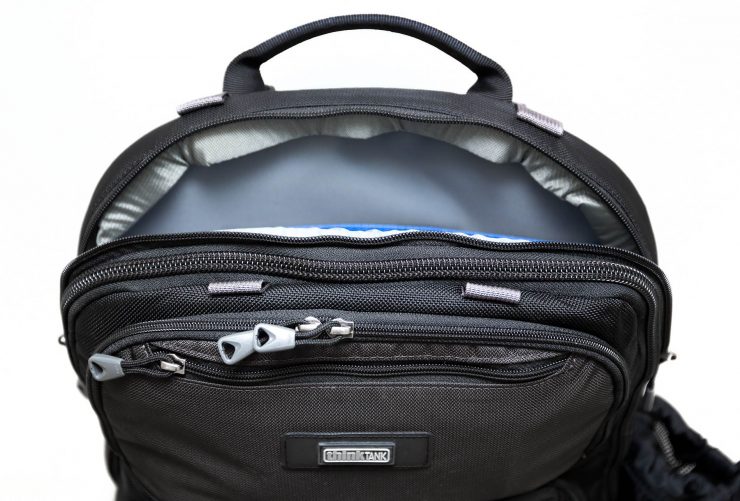 Inside the main compartment flap you'll find a large, mesh zippered pocket which is perfect for filters, cables, memory cards and the like, and below that are two elastic-topped square pockets that fit my power adapters and battery chargers perfectly.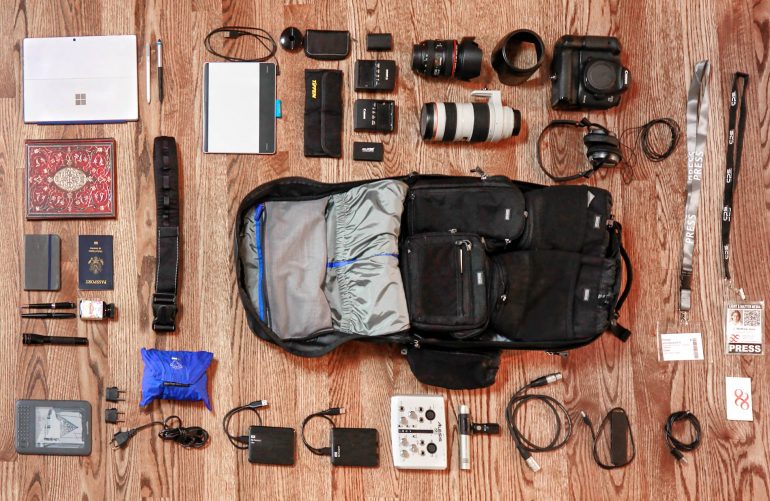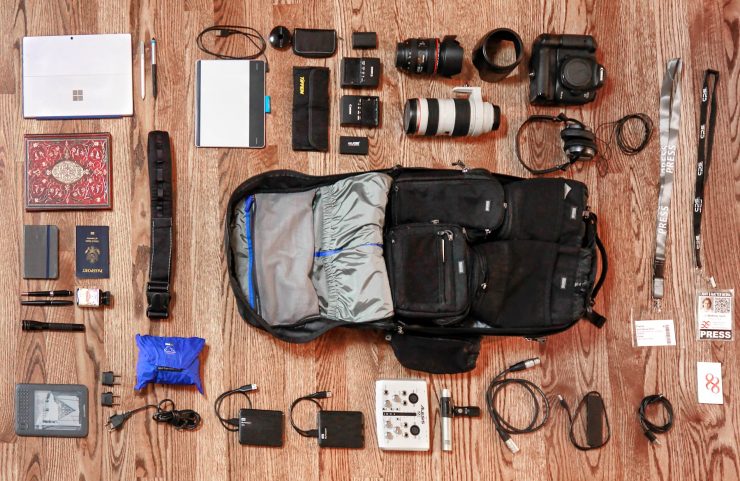 The exterior of the front flap has four more zippered pockets, two at the top with multiple dividers for pens and notebooks and other things to which you might want quick access, and two larger pockets opening in the center of the bag (one of which is intended to hold the feet of your tripod, if you're packing one, but which usually held my rain fly).
The back side of the pack has a couple of important features too. Because the Naked Shape Shifter is intended to hold the modular components for a belt system, it only makes sense that the backpack is designed to work with a modular belt. You can simply remove the provided waist-belt, open the Velcro that holds down the lower padding, and slide in your modular-system belt.
Also on the back of the pack you'll find that the middle section of padding also functions as a luggage strap so that you can easily manage your backpack on top of a rolling suitcase. Here I have it attached to my Pelican case.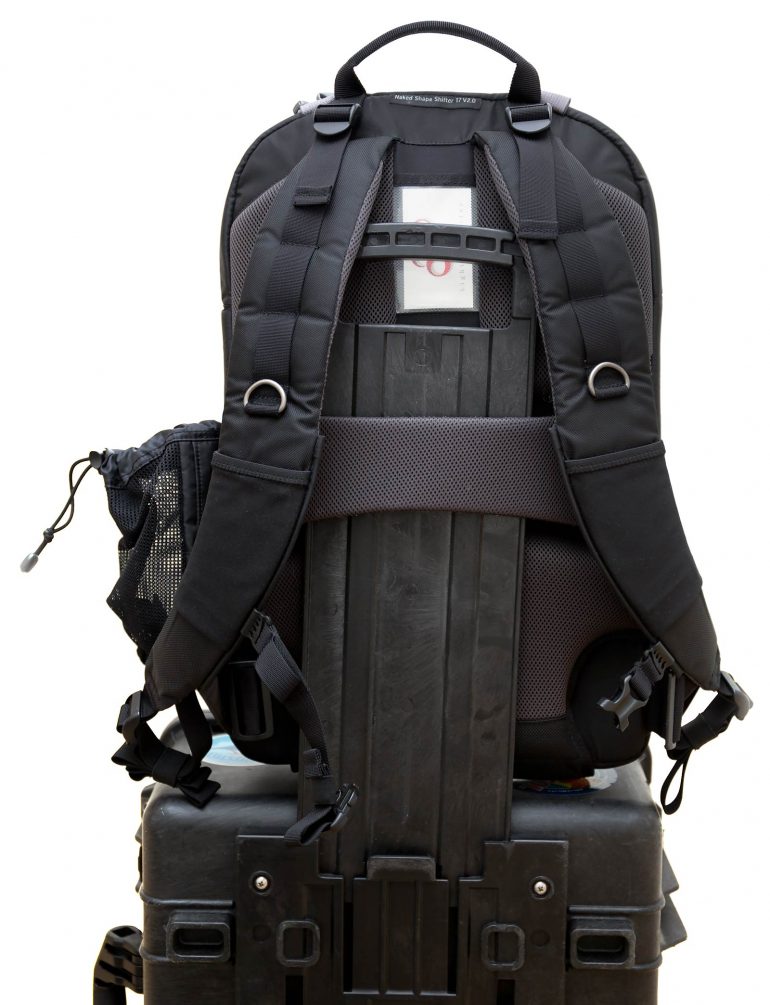 Finally, the Shape Shifter comes with two straps that can be attached to the front and used in conjunction with the middle-front pocket to carry a tripod.
It's also worth mentioning that the Shape Shifter comes with mesh water-bottle holder that can be attached to the side of the pack for easy access. In eastern Europe and Africa, where tap water is sometimes questionable, this was great for holding a liter or 1.5 liter bottle of water while I was walking around all day. Much handier than I'd anticipated.
Overall, the bag is a good size: big enough that I can fit my essential gear into it, but not so big that it becomes a burden to carry once I've loaded it up, though it does start to get there when my tripod is added on.
Value
The Shapeshifter isn't exactly cheap at about $220, but you do get what you pay for. As I've said, this is a high quality piece of gear that will last you for many years to come, even with hard use. And if you use a belt system already, there's nothing like it on the market: it's efficient and flexible.
In my grading system, if you get what you'd expect for the price you pay, the equipment earns a 5/10. That's an average score. Because of the ThinkTank's build and quality, I give it a 6.5/10.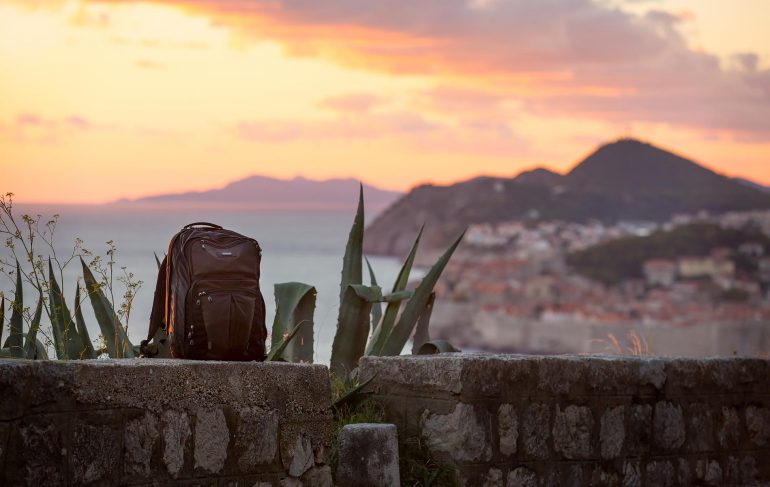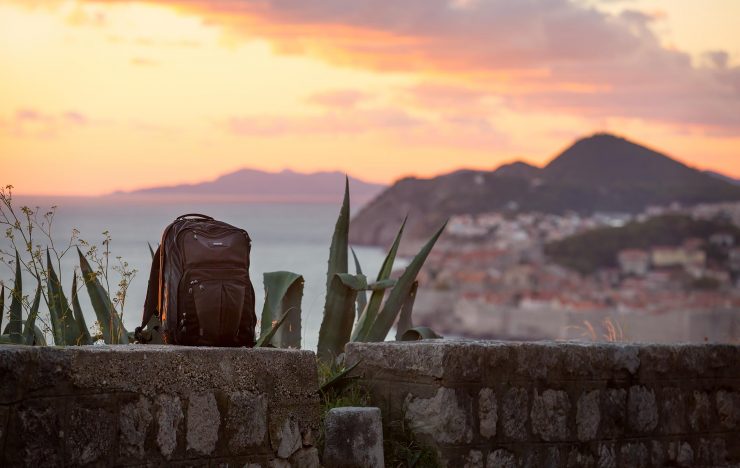 Conclusion
The Naked Shape Shifter 17 v2.0 is a well built, well though-out pack that is a perfect compliment to the company's modular system; for those who use the modular system, I highly recommend this bag. The bag is flexible enough to be used as a camera bag or a standard day-pack, and even though it's intended to hold your camera body flat without a lens, it can be used as a traditional camera bag and hold the body with a lens on, if needed [this is not the case with the other Shape Shifters, only the Naked].
If you don't own a modular system, then the Naked version probably isn't the best pack to get… unless you're sure that you also want a modular belt system. I love mine, especially when shooting events.
Strangely enough, the "Shape Shifter" part of this bag has been less used than I'd expected. Though I did occasionally zip up the bag fully when getting on a plane or navigating crowded events, I usually kept it so packed with equipment that compressing it simply wasn't possible. This means that the Shape Shifter is probably more useful as a single-day event shooting pack than a travel pack, if you want to use it as intended.
As always, you can purchase the ThinkTank Naked Shape Shifter v2.0 online from the ThinkTank website. The current cost is about $219.75. Additionally, you can find the ThinkTank belts and modular system sets, including the quick-change bags (like the ones I used) or the Modular Skin set.
Overall Score: 8.3 out of 10
Not Cheap but an Excellent Pack
Questions? Comments?
As usual, I'm interested to hear any questions or comments that you may have about this review or this backpack. Just let me know in the comments section below!