For the past month, I've been testing the Think Tank Modular Component Set V2, a collection of cases that work together to form something like Batman's utility belt. I'll cut to the chase now and simply state that  I've been pretty impressed with it, and unlike many of the pieces of equipment I've reviewed (I'm looking at you, LensBaby), I wouldn't hesitate to recommend this one. It has all of the lightweight convenience of a fanny-pack without the general dorkiness. More seriously, it is well built, capable of protecting your gear, comfortable, and flexible enough to be well suited to a wide variety of shooting situations, but particularly those where you'll be working in tight quarters. Before I get too far ahead of myself, let me start with some of the details.
What's in the Set?
The set includes four main components and a storage case for them. They are:
Lens Changer 50 V2
Lens Changer 75 Pop-Down V2
Strobe Stuff
Speed Changer V2
One of the Think Tank belts is required to complete the system; but you can choose between the Pro Speed Belt or the Steroid Speed Belt (each of which is available in multiple sizes), depending on your needs.
The Think Tank Lens Changers
The Lens Changers are robust, lightly padded lens pouches with elastic draw-string tops. The LC 50 V2 is the smaller model, designed to fit most wide to mid-range zoom lenses (24-70 f/2.8, for example) or mid focal-length prime lenses (85mm, 105mm, etc).  The pouch is deep enough that most lenses in this size range can be stored in the pouch with the lens hood attached in working-position (rather than reversed) so that lens changes can be made as quickly as possible. Similarly, LC 75 V2 is designed for lenses in the 70-200mm f/2.8 size range. This component has an additional pop-down features, which allows the pouch to extend and extra three inches or so when a retaining zipper at the bottom of the pouch is unfastened.  When fully extended, the component can accommodate a 70-200mm f/2.8 lens with the lens hood or tele-converter attached.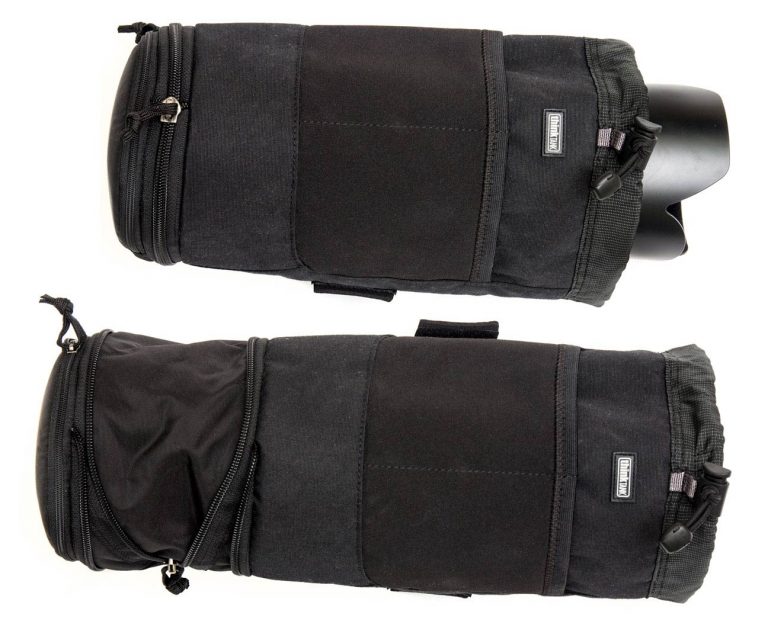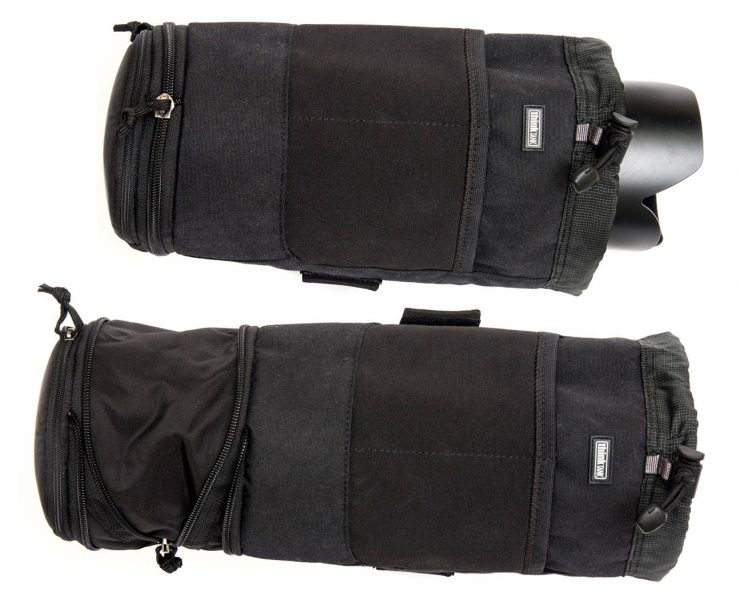 So, what makes these pouches better than the ones that the lenses come with? First of all, these are designed to be used with a Think Tank belt, and can locked into a single position or  slide freely from side to side, and because of the unique belt attachment system,  each component can also be added or removed individually without removing components on either side of it. The system can be seen in operation in the video below:
Not only are they more convenient to use, they also fit your equipment better for field use, as mentioned above. With my Canon 70-200 f/2.8, for example, the stock case only fits the lens with the hood reversed, and when it comes down to it, fitting the lens into the pouch via the front-top dual zipper opening is somewhat cumbersome compared to simply dropping the lens into the top opening of the Think Tank bag.
Finally, the Lens Changers (and all of the other Think Tank Components) have waterproof rain-flies stored in a zipper pouch at the bottom of the case, so if you find yourself stuck out in nasty weather, you can quickly cover your equipment and be sure that it will stay safe and dry.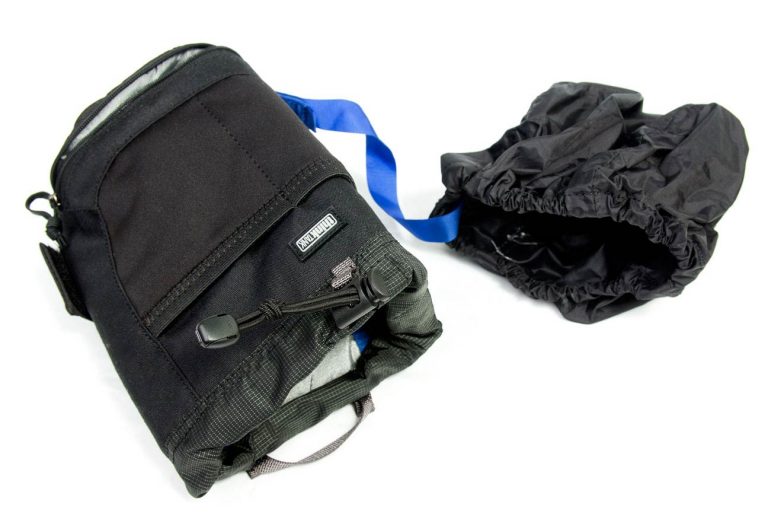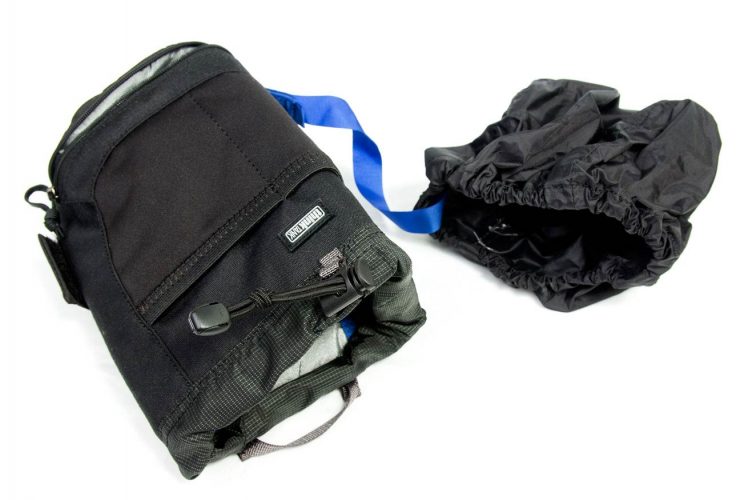 I should also mention that inside of each Lens Changer is a padded tongue near the opening that can quickly cover an exposed lens element and protect it from incidental contact. Additionally, both models also are fitted with stretchy pockets on the front that easily accommodate 77mm filters and lens caps.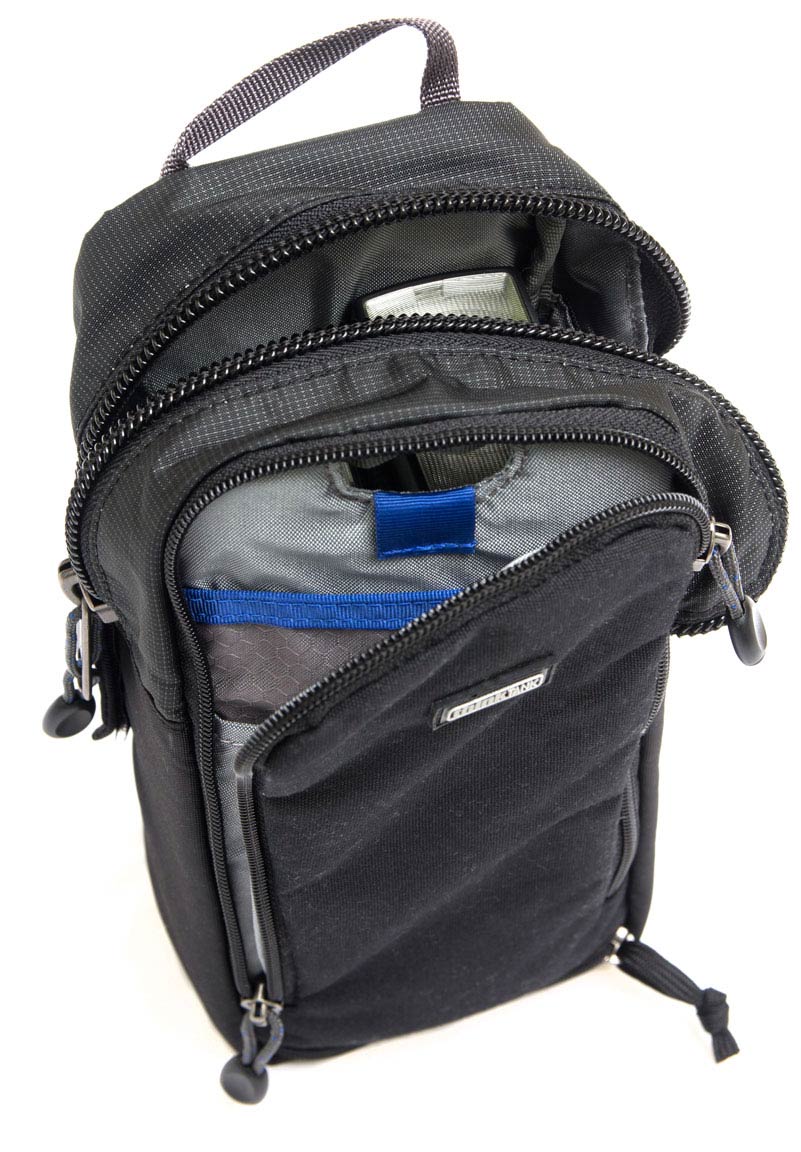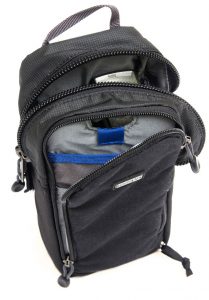 Think Tank Strobe Stuff Module
The purpose of this component is probably clear from its name: it's intended to hold flash units and larger external battery packs like the Quantum Turbo series, or the lower-voltage Canon CP-E4 or Nikon SD-9.  Rather than a drawstring at the top, the case has zippers at the top for entry into its two main chambers, the main component pouch in the rear, and the thinner compartment in the front. The front compartment contains 5 shallower pockets for cords, radio triggers, batteries and gels,  and there's an opening between the two main compartments for flash cords to pass through. I don't use external packs, so this component has probably received the least testing of the bunch.
Speed Changer V2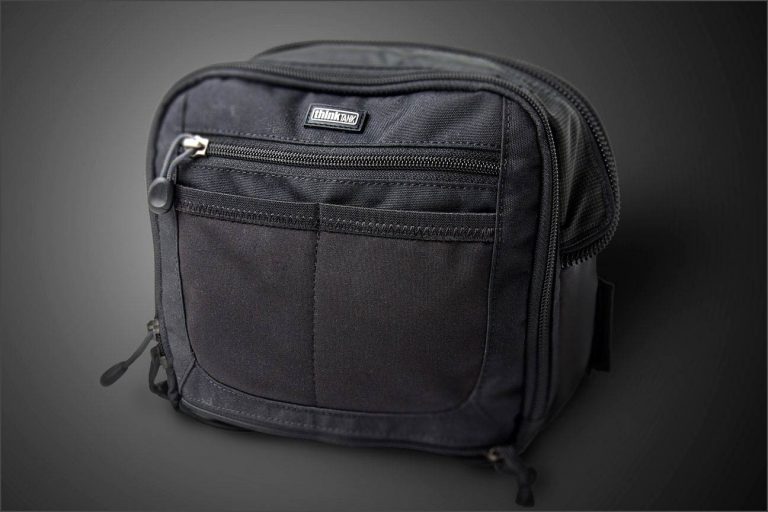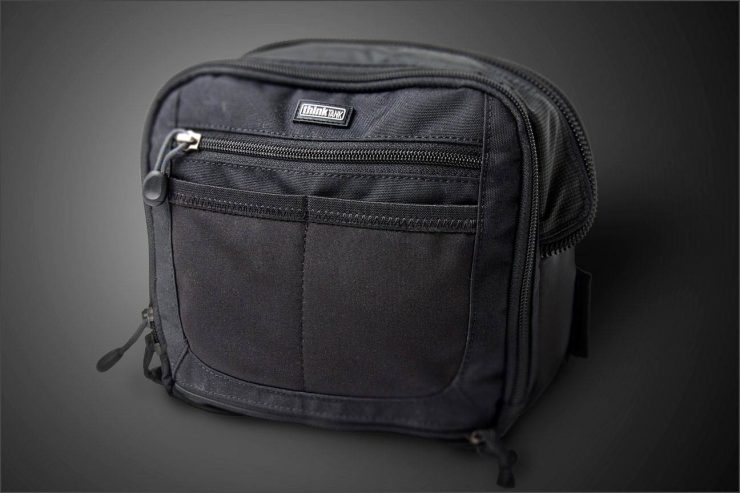 Of all the components I tested, the Speed Changer is probably my favorite. It's similar in design to the Strobe Stuff Component, with a larger rear compartment with a thinner companion in the front. On the front face of the component are two additional Spandex pockets, each about the size of a business card.
Unlike the Strobe Stuff, though, the larger rear component of the Speed Changer is further partitioned into 4 sections with 3 padded, movable dividers. These sections are the perfect size for Speedlites… easily carrying 4 of them with room in the front pouch for cords, Pocket Wizards, batteries,  and other accessories. For me, this is a much more organized, convenient way of traveling with my strobes than using the Strobe Stuff component. However, it's also great for holding small lenses (short primes: 50mm, 24mm, etc), tele-converters, battery grip cartridges, and bulky strobe modifiers (grids, Sto-fens, etc). I usually carry two strobes, a battery grip cartridge, and a tele-converter/50mm, though your perfect configuration will undoubtedly differ according to your shooting style.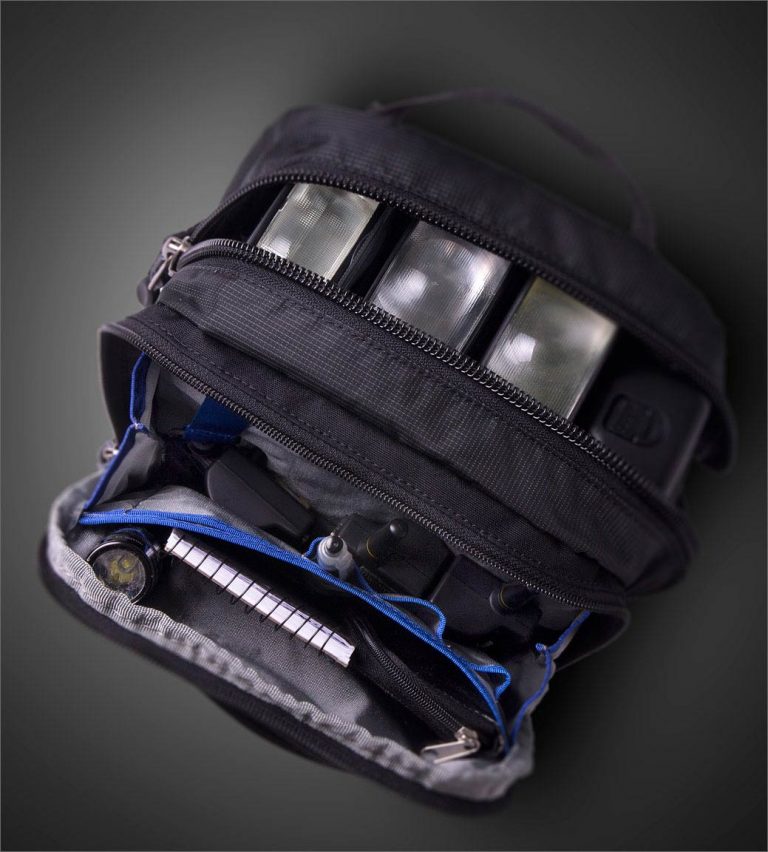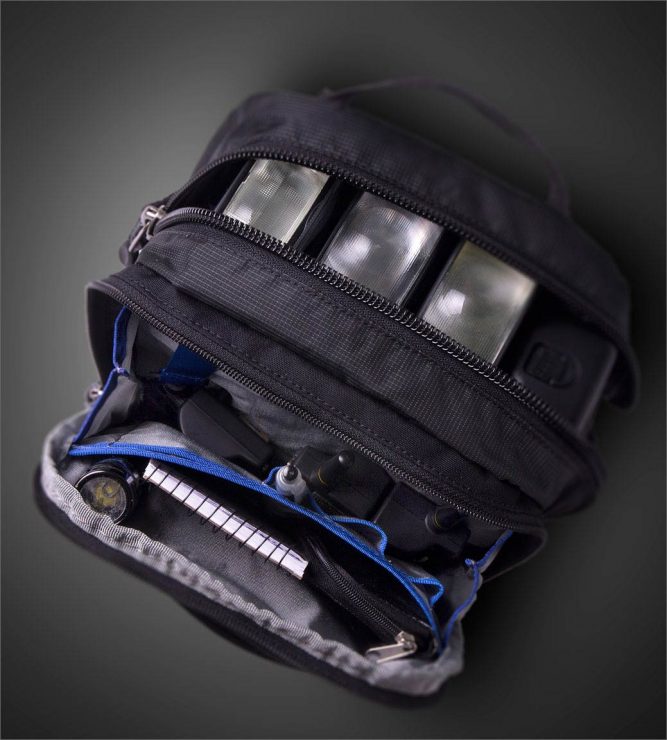 The front compartment contains 3 large pockets, a smaller pocket, and divisions for pens and pencils. In this section, I carry my notebook, phone, gels, batteries, and radio triggers, along with my Mini-Maglite, Leatherman Tool (got it in 1990) and a box of matches. Packed this way, I'm prepared for just about anything I encounter. And, of course, there's a rain-fly.
In the Field
Though I was never a Boy Scout, I'm still the kind of person who likes to be prepared. Consequently, I tend to over-pack when I'm on the job. If I'm shooting a wedding, for example, I take a huge camera backpack and a separate case for my strobes, just in case. In practice, this means that I usually haul all of my stuff to some central location, and then return to my bags as necessary to make equipment changes.
The Think Tank Component system is a perfect addition to this system. I can easily carry my most commonly used equipment around my waist, and very rarely return to my equipment base-camp to make changes. I've tried carrying a smaller backpack for the same purpose, but found it too inconvenient to access to be practical. I've also tried a smaller shoulder bag, which was both uncomfortable (on my neck, shoulders, and back) and awkward, particularly in a crowd or tight quarters. With the Think Tank system, the weight rests on my hips where it is hardly noticeable.
In fact, the comfort of the system during extended periods of use is equally as important as its utility, in the final analysis. In the past month or so, I've taken a few hikes with the Think Tank System to shoot wildlife: two shorter trips (4-5 miles) and one a bit longer (10.5 miles). Here in Florida and in the Southwest, I generally carry a Camelback hydration backpack that's intended for snowboarders, since it gives me quick access to water, and the snowboard straps can easily be adjusted to carry a tripod, and its interior is large enough to carry some basic supplies and a couple of extra lenses, filters and maybe a flash. It's relatively comfortable, especially when its belt is used, but if I happen upon something that requires a different lens (a macro, for example), I have to take off the backpack to access it, which is a problem when shooting a subject that may scurry off.  I've found that transferring some of that weight from the backpack to the Think Tank belt makes a considerable difference in comfort; by the end of a trip, the backpack hardly weighs anything, and the weight on the belt isn't a problem… and of course, always having access to my equipment there on the belt reduces the risk of losing those opportunities.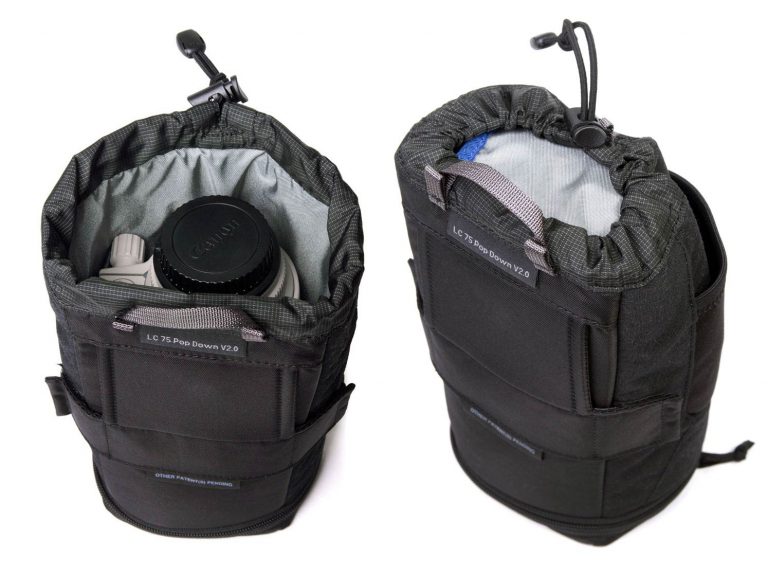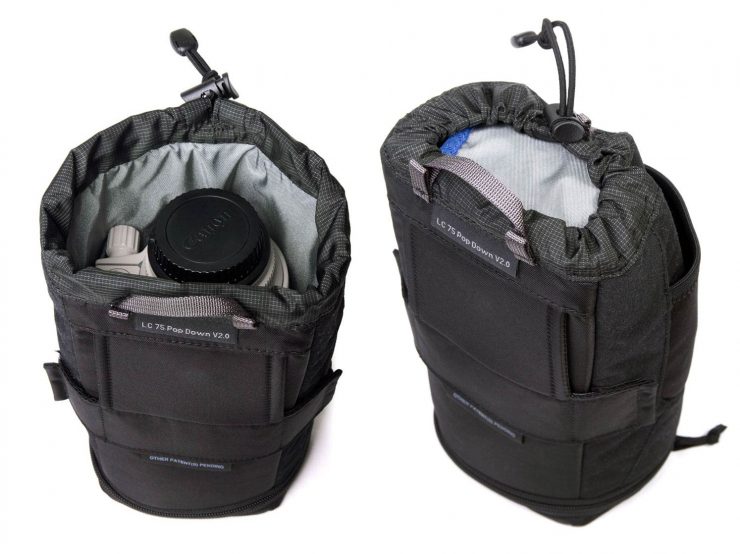 Problems With the System
Though I've been very satisfied with the Think Tank Modular System so far, it's not without its problems.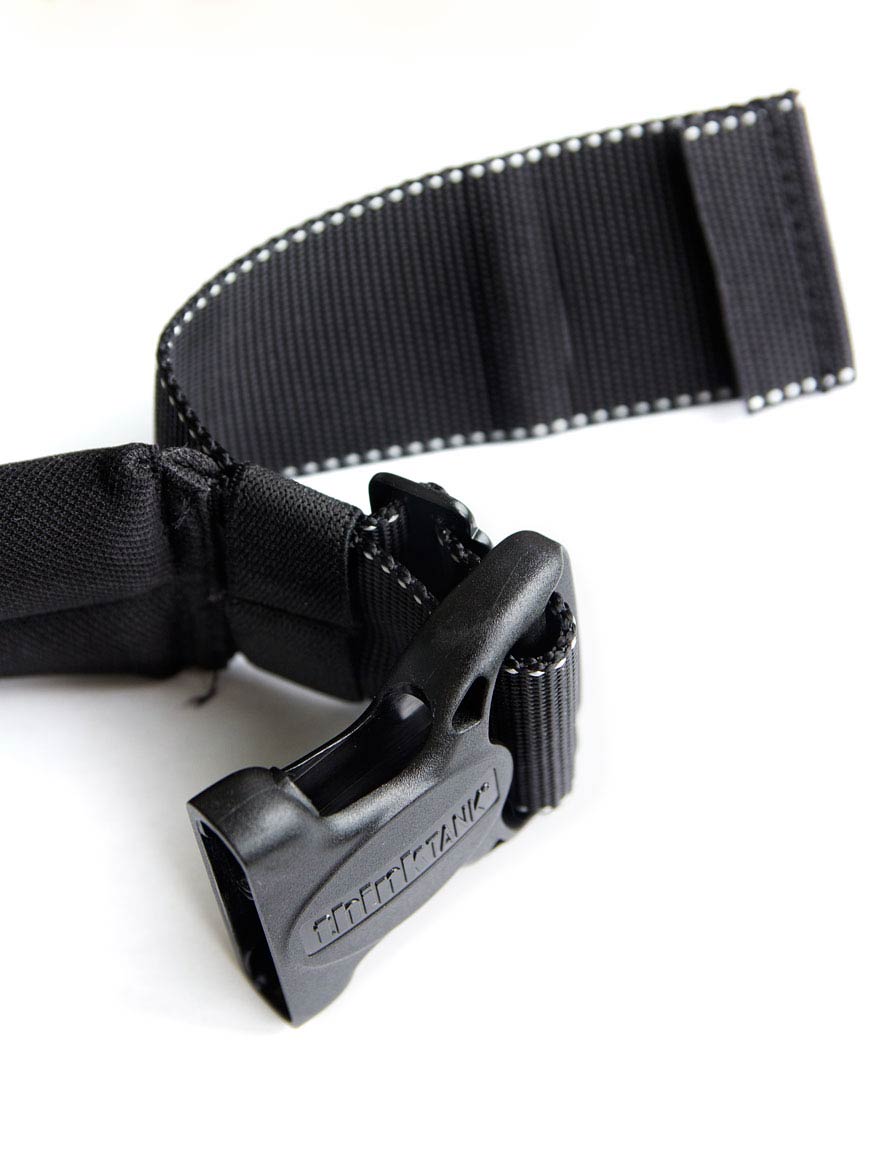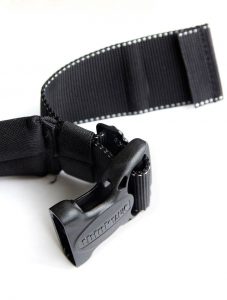 First, there's the issue of belt fitting. There are four sizes of the Pro Speed Belt: a Small-Medium, a Medium-Large, a Large-XL and an XL-XXL. The S-M claims to fit waist sizes 27-34″, and the M-L sizes 32-42″, but these measurements are based on true waist measurements, NOT pant size, which are typically 2-5 inches lower than true sizes. I usually wear jeans with a 30″ waist, but when ordering the belt, I measured my waist as 34″. My only real option (especially if there's a chance that I may put on a couple of pounds) was to go with the M-L, and I did. Unfortunately, the system of buckles and locks makes it very tricky to get the  belt cinched down small enough to fit me. After a spending a little time making adjustments, I did get it down to a size that was comfortable and secure, but I'd be surprised if someone with a 32″ waist would really be satisfied with it.
Perhaps this only means that I chose the wrong size belt, and even there, it works and it's comfortable. That said, I'd recommend a little more size overlap between belts for those of us that fall right in the middle.
My second concern is with the Lens Changers. The main compartments of the Lens Changers are, essentially, open-mouthed pouches. Like many photographers here in Florida, I frequently shoot beach weddings and beach portraits, and sand is a constant concern. It is perhaps a little optimistic of me to think that it's possible to keep sand out of my equipment entirely. Sand just seems to get everywhere.
Think Tank has addressed this issue with the "Skin" Modular System, which has a flap over the top of the openings, so again, this may be a problem with my product choice rather than the product itself. Either way, if you're thinking about buying something from Think Tank, you might consider the Skin System if you work in similarly sandy or otherwise dirty conditions.
Conclusion
I can unreservedly recommend the Think Tank Modular Set, particularly for shooting indoor events. For those working in harsher conditions, the Modular Skin Set might make more sense. Though I don't use the Strobe Stuff component as much as some of the others, the pricing of the Set still makes it more reasonable than selecting the remaining components by themselves.
As a final note, I'd like to remind everyone that I am an advertising affiliate with Think Tank, which means that if you order from them by following a link through this site, you'll get a free gift. It also means that this review, despite my best efforts, may not be completely unbiased, so take it with a grain of salt, as you would with anything you read on the internet.