Best Photography Gifts for 2010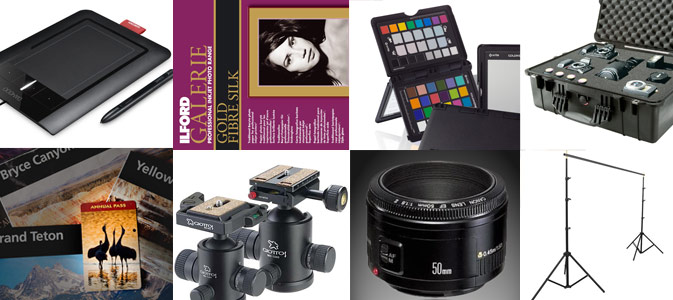 Some of you may think that I'm jumping the gun a bit. It is, after all, only the first week of November… and usually this sort of thing doesn't start to appear until after Thanksgiving.  As it turns out, though, my birthday is right around Thanksgiving, so I'm starting my wish-lists early.
Usually when these types of lists appear in our favorite photography magazines, they contain a bunch of the latest new gizmos from the magazine's advertisers (useful or not), plus a bunch of stuff that nobody could actually afford to give as a gift ("The Leica S2 is the perfect gift for the photographer on your list this year… etc."). But I don't have any particular advertisers, and I like there to be some chance of actually getting the stuff on my list… so I've put together this list based on actual presents that I've received in the past and have turned out to be wonderfully useful, and things that I'd really like to receive this year. I've tried to keep the list focused on items that cost less than $100, or maybe two. If you're planning on spending much more than that, I hope that you have a better source than me!
Generally Cool Stuff
Really Useful Stuff
Tripod Ball-Head ($90+): If your tripod came with a tilt/pan head, you're probably wasting a lot of time… especially if you're a landscape photographer. It is so much faster and easier to use a ball head that it makes using a tripod easier (and thus, more likely), which will always help your photos. Ball heads will last a lifetime, practically, so it's worth not getting the cheapest thing you can find. I do like the Giottos MH-1302 Pro ($90) series for backpacking, since it has a hollow ball to reduce weight, and it supports an 18lb camera (or the MH-1301 for a little extra heft). The prices go up from there, all the way to the Arca-Swiss Cube, at over $1600.
Studio Backdrop Kit ($60+): This is virtually a necessity for the beginning portrait or commercial photographer. They're easy to pack up and move to location, can be fitted with muslin or rolls of seamless paper, and the price can be very reasonable, depending on how many backdrops you want with it. With black, white, and chroma-green, it's about $139. Smaller kits are as little as $60, but a good solid option from B&H is $99.
Collapsible Background ($40): Sometimes, you just need a quick backdrop for a few headshots, and an attractive natural background isn't available. This is a great thing to keep in your camera-bag; light, cheap,  looks clean … and springs out to 5 x 7 feet. A black and white one is useful, as the white side can be used as a reflector too.  A studio grey looks very sharp, though ($64).
X-Rite Color Checker Passport ($99): If accurate color is critical to your work, this type of things is extremely important. The X-Rite is exceptionally easy to use (it's worth watching the video, here). X-rite also makes some less expensive options.
Monitor Color Calibrator ($75): This is another essential for the digital darkroom. Monitor calibration is one of the most important parts of color control in your workflow, and there are relatively inexpensive options available, such as the Spyder 3 Express. Other solid options are the Eye-One ($199) and Eye-One LT ($149). If the photographer doesn't have a good monitor, see my article on the subject, here: Monitors for Photo Editing.
Pelican Case ($42):  So, you're traveling with thousands of dollars worth of camera equipment.  Maybe on a plane. Maybe you're heading down a river in a raft or kayak. Either way, it will be safe in a Pelican case; they're waterproof and impact proof. If I remember the tag correctly, they're guaranteed against everything but bear attack and 3-year-olds. The smallest size suitable for a single body and maybe a lens or two, costs about $42, but a more useful size is the Pelican 1450 or 1550.
Remote Release ($20+): These are not very expensive usually, and very important, but can be tricky to give as gifts because they are sometimes model-specific, so make sure that you know what camera it will be used on. The Canon RS-80N3 ($47) works for most Canon models except the Rebel series, which have cheaper options. The choices are not so clear cut for Nikon.
Memory Cards ($25+): It's hard to get enough, especially if you do extended shoots (all day weddings) or hiking trips. SD cards are getting faster and coming down in price, with Class 10 16G cards at only $25, and 32G Class 10 for about $58. CF cards are still much faster, but more expensive: 32G at about $83, and 16G about about $60.
Extra Camera Batteries ($37): Extra batteries are endlessly useful. It's usually worth it to buy name-brand. For Nikon, EN-EL3e is a common one, and costs about $38. For Canon, the BP511A is common, and $37.
Fine Art Paper : Buying fine art paper is a little like trying to buy underwear for someone; everyone has their own personal taste, and it really helps if you're familiar with the person's tastes. That said, it's hard to go wrong with Ilford Gold Fibre Silk or Epson Hot Press Bright. The Moab papers are very popular with people who like matte and textured finishes, it seems. Paper may not seem like an exciting gift at first, but for a photographer, what is better than actually producing the fruits of all our labors?
For The Flash Photographer
The Safety Option
If all else fails, or if you just can't make up your mind and don't want to risk a present that wouldn't be appreciated, there's always the gift card. As a photographer, my two favorites are:
Amazon.com – Since they have one of the largest selections of photography equipment available (not to mention books and everything else), and usually the best prices.
B&H Photo – Since they have more than anyone I know in the realm of photography, and their prices are usually as good as Amazon's.
I'm biased there, though, since they're also my advertisers, but I did choose them to work with for a good reason. :)
Please help me ADD to the list! If you have a good idea that isn't on this list already, and is moderately priced, leave a comment and let me know!