With the new line of X2 cards from Eye-Fi, the company clearly has one thing in mind; streamlined transfers to your iPad or Android tablet. The latest round of tweaks make it quicker and easier to get your photos from your camera to your iPad with something they call 'Direct Mode'.
Taking photos with a DSLR is fun, but sharing them from one leaves a lot to be desired. If your camera uses SD cards and you have an iPad or Android tablet, you might want to take a look at Eye-Fi's latest offerings; the X2 line of cards. Compact Flash users don't dispair, an inexpensive SD-CF adapter like this one may be all you need to join the fun. If you haven't joined the tablet crusade and are sticking with a laptop as your travel companion, you're not out in the cold, these cards will work for you too!
Three different cards are available at prices ranging from around $40 to $90. Like the previous generation of cards, these can automatically upload photos to Flickr, Facebook, and numerous other destinations. A popular feature for many users is 'Endless Memory' which removes pictures from the card once they are safely transferred to their destinations.

The latest line of cards dubbed 'X2' was updated to include a new feature called 'Direct Mode'. Unlike the previous generation of cards that required a WiFi connection to transfer pictures through, this generation of cards can create their own WiFi access points. Enable Direct Mode on the card, place the card in your camera, and it creates an access point your device can connect to and download pictures from automatically.
Typical uses include photo shoots or weddings where each picture you take is transferred to an iPad within a few seconds for others to see. The availability of third party apps such as photo party upload that allow sharing the photos on social websites increase the base functionality offered by the cards and included software.
To get everything going, you'll need:
An Eye-Fi X2 card (pro version required for RAW transfers)
Eye-Fi Center software for your computer
Free Eye-Fi account
Eye-Fi app for your device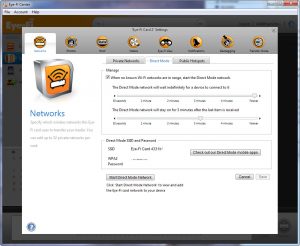 Setup of the software is fairly straightforward. Step by step instructions for Direct Mode are available on the Eye-Fi website for both iOS and Android users. In theory, you should be transferring pictures within a few minutes. In reality, things weren't quite as smooth as they should have been, but you should be able to get things going within 15 minutes or so. I found I had to restart both Eye-Fi Center and the iPad app once or twice even though it didn't say to on the guide.
After doing some testing, here are some things to keep in mind:
Only the pro cards can transfer RAW files
RAW transfers take some time; around 15 to 20 seconds for an 18MP RAW based on testing
Eye-Fi cards will drain your battery at a faster rate
Some cameras (my 60D for example) have the ability to turn the Eye-Fi features off for battery saving
Pictures taken with the Eye-Fi feature off are transferred when the setting gets turned on
Direct Mode only works when the card detects no wireless networks in range that it can connect to
Photos will only transfer to one device at a time, so transferring to multiple iPads or an iPad and and iPhone isn't currently possible
Conclusion
Transfer times for lower resolution JPGs are well within acceptable time-frames, but RAW transfer times are a little higher than they should be. The convenience of transferring images wirelessly for quick viewing without lugging along an access point can't be overstated. Compared to the iOS camera kit, my nod goes to the Eye-Fi, as it's one less thing to carry around, potentially lose, and doesn't require me to stop taking pictures to see them on somethings besides the (fairly small) on-camera LCD.
Eye-Fi Connect X2
Eye-Fi Mobile X2
Eye-Fi Pro X2
Price
$40
$60
$90
Card Capacity
4GB
8GB
8GB
File Formats Supported
JPG, Video
JPG, Video
JPG, RAW, Video
Bundled Features
Upgradable to Pro Level
Upgradable to Pro Level
WPS GeoTagging,
1 Year Hot-Spot Access