Sony a35 And Sony a55 Compared
The Sony SLT a35 may have been designed to replace the a33, but it is now poised to replace the a55 in popularity. When the Sony a55 was released a year ago, along with the a33, digital photographers were introduced to a technology that has been mostly ignored since the 1960s: fixed pellicle mirrors. The two cameras were very popular, but being the first generation of digital "SLT"s, as Sony has dubbed them, they were not without their problems. Having built on a year's experience, though, Sony has now released the SLT Alpha-35 ($599), a camera so similar to the a55 that its improvements may catapult it ahead of the a55 ($749) in the public's eyes.
What's New in the a35?
The a35 has two major differences from its predecessors. First, it has shed its articulated LCD in favor of a fixed back. This means that the camera is less expensive to build (and costs the consumer less), and is also slightly more compact… though all of the SLTs are quite small to begin with, significantly smaller than Canon's smallest SLR, the T3.
The second, and probably more important difference, is the new 16 megapixel sensor. Though the a55 was already fitted with a 16 megapixel sensor a year ago, Sony claims that the new version of the sensor is much more energy efficient, which should help deal with two of the major problems that plagued the older models: heat and short battery life.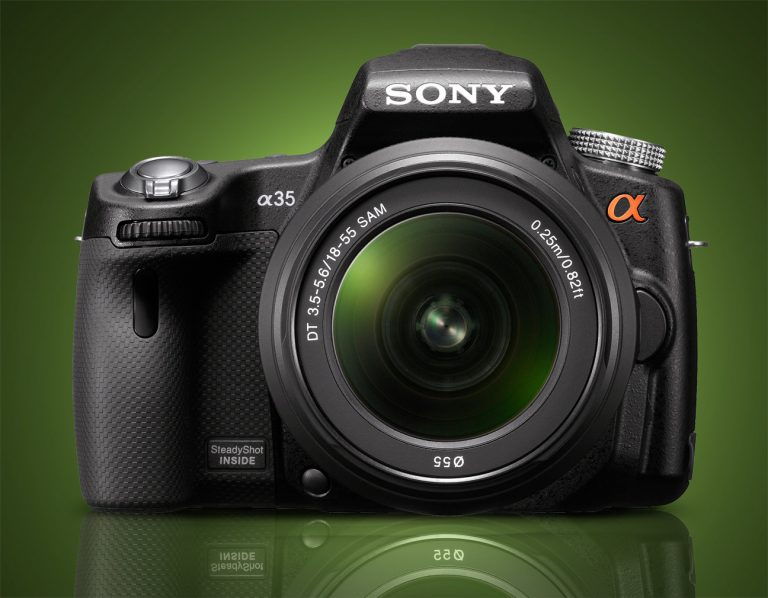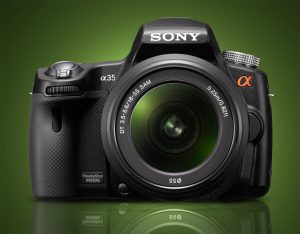 Although in-body image stabilization is great for consumers who don't want to pay for the feature in lenses, there is also a drawback; the mechanism surrounding the sensor not only creates heat, but makes it difficult for heat to be dissipated from the sensor into the camera's frame. In the Sony a55, this created problems with overheating while shooting video, causing the camera to periodically shut down, particularly in warm climates. Heat also causes digital noise, so photos and video taken when the sensor was running hot could be unusually noisy.
Sony claims that the sensor found in the new a35 is efficient enough that they've removed the 9 minute video record time limitation, increasing it to 29 minutes. When shooting in live view, the battery life of the a35 is approximately 10% longer than that of the a55, shooting an estimated 420 compared to the a55's 380. These estimates include a percentage of the shots being taken with the built-in flash, so actual numbers may be much higher. When using the electronic viewfinder (EVF), the difference is even more dramatic: 440 shots with the a35 vs. the a55's 330. This difference is deceptive, though; the a55 contains a much higher resolution EVF (1.4 megapixels) than the a35 does (1.15 megapixel). Consequently, the a55 is significantly more energy efficient while shooting in live-view than it is with its EVF, while the a35 is more efficient using its EVF. If both cameras used the same EVF LCD, I suspect that we'd see a performance difference of about 10% rather than 25%.
It's also worth mentioning that the Sony a35 ships with some new digital processing options, essentially picture-style presets. However, a firmware update providing the same functionality to the a33 and a55 was released concurrently, so this isn't really much of a selling point for the newer camera.
Sony SLT Similarities
Setting these differences aside, the Sony a35 and a55 are very similar. Below, I've compared many of the important features of these cameras, along with the popular Canon T3i, which is in the same general price range. Use the arrows in the bottom left corner of the table to scroll between pages.
Sony Alpha a35
Sony Alpha a55
Canon Rebel T3i
Amazon Price (body)
$599
$749
$699
Body Material
Polycarbonate
Polycarbonate
Polycarbonate
Electronic Viewfinder Resolution
1.15 million pixels
1.4 million pixels
n/a
Rear LCD Size / Resolution
3.0"
921,000 pixels
3.0"
921,000 pixels
3.0"
1,040,000 pixels
RearLCD Articulated?
No
Yes
Yes
Battery Life
440 shots (evf)
420 shots (live view)
330 shots (evf)
380 shots (live view)
440 shots
Image Stabilization in Body
Yes
Yes
No
Sensor Size
15.6 x 23.4mm (APS-C)
15.6 x 23.4mm (APS-C)
14.9 x 22.3mm (APS-C)
Crop Factor
1.5x
1.5x
1.6x
Sensor Resolution
16.2 Megapixels
16.2 Megapixels
18 Megapixels
ISO Range
100-12800
100-12800
100-6400
+12800
Total AF Focus Points
15
15
9
Cross-Type AF Sensors
3
3
1
Metering System
1200 Zone evaluative
1200 Zone evaluative
63 Zone Point Linked Evaluative
9% Center Weighted
4% Spot
In-Camera HDR
Yes
Yes
No
Max Frame Rate : JPG
7 fps (high-spped mode)
5.5 fps (continuous hi)
10 fps
3.7 fps
Shutter Speed Range
1/4000th - 30 sec.
+bulb
1/4000th - 30 sec.
+bulb
1/4000th - 30 sec.
+bulb
Maximum Flash Sync Shutter Speed (standard flash)
1/160th sec.
1/160th sec.
1/200th sec.
Available HD Video Frame Rates
1080i @60 fps
1080p @ 30fps (no 24fps yet)
1080i @60 fps
1080p @ 30fps (no 24fps yet)
PAL and NTSC
24/25, 30 at 1080p
24/25, 30, 60 at 720p
Media Type
SD / SDHC / SDXC
SD / SDHC / SDXC
SD / SDHC / SDXC
Weight
415g
492g (with battery, SD card)
570g (including battery)
Viewfinder Coverage/Type
100%
Electronic
100%
Electronic (1.4 million pixel)
1.1x magnification
95%
Optical
0.87x magnification
Built-In GPS
No
Yes
No
Built-In Wireless Flash Control
Yes
Yes
Yes
As you can see, beyond the lack of an articulated LCD, the a35 is almost identical to the a55. And with the new sensor, the a35 should produce longer videos, better images, and more of them. So why would you pay an extra $150 for an a55?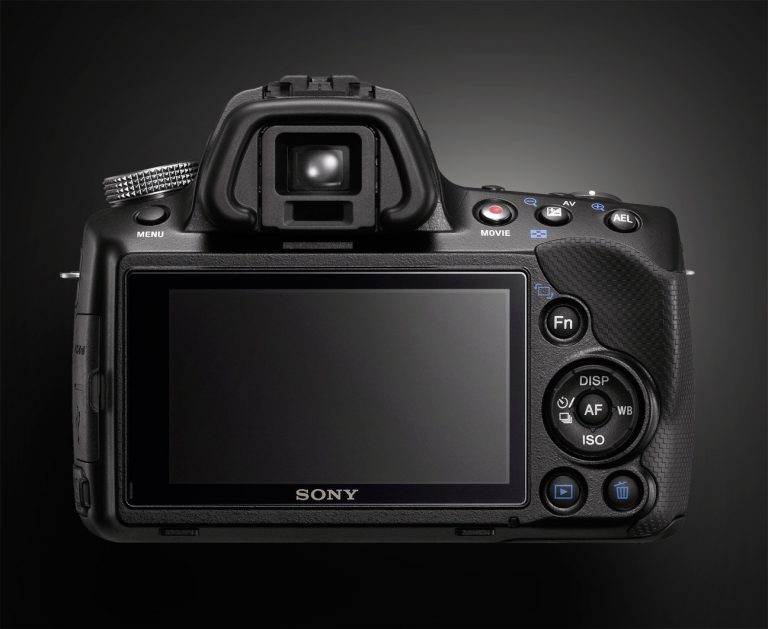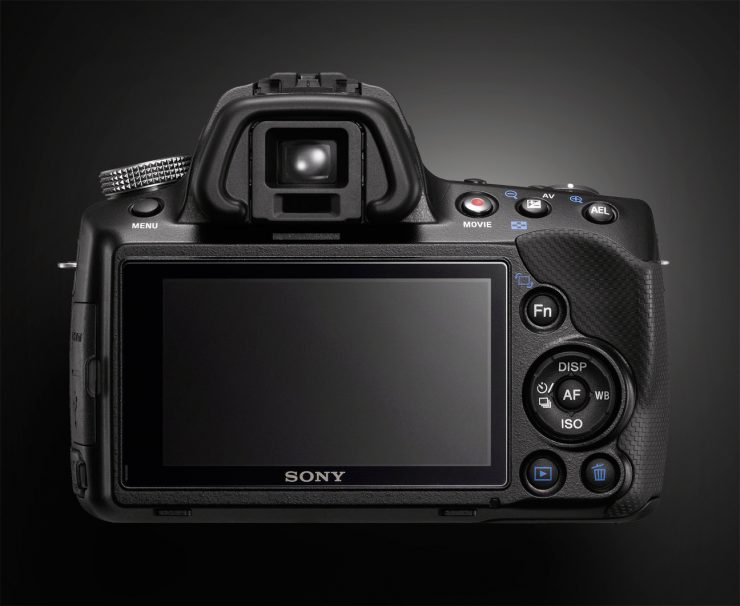 Well, there are still a couple of reasons. First, the a55 can still shoot 30% faster, at least in high-speed mode. For those of you who live and die shooting action, this may be important to you. However, at 7 frames per second, the a35 is still faster than virtually every sub-$2000 SLR out there, so this may not be a big drawback for most of us.  Additionally, the a55 has built-in GPS, which may be more of a "cool" function than a necessity, but it's the kind of thing that I'd probably pay extra money for.
Conclusion?
It should be clear, I think, that or most of us it would make more sense to buy the Sony a35. The fact that Sony has two cameras on the market that are so close to each other in feature set and price leads me to believe that the a55 is also going to be replaced before too long, perhaps by an a60.
The Sony a35 is now available for pre-order from Amazon.com, B&H, Adorama, and many other popular photography outlets. It is expected to begin shipping this month.