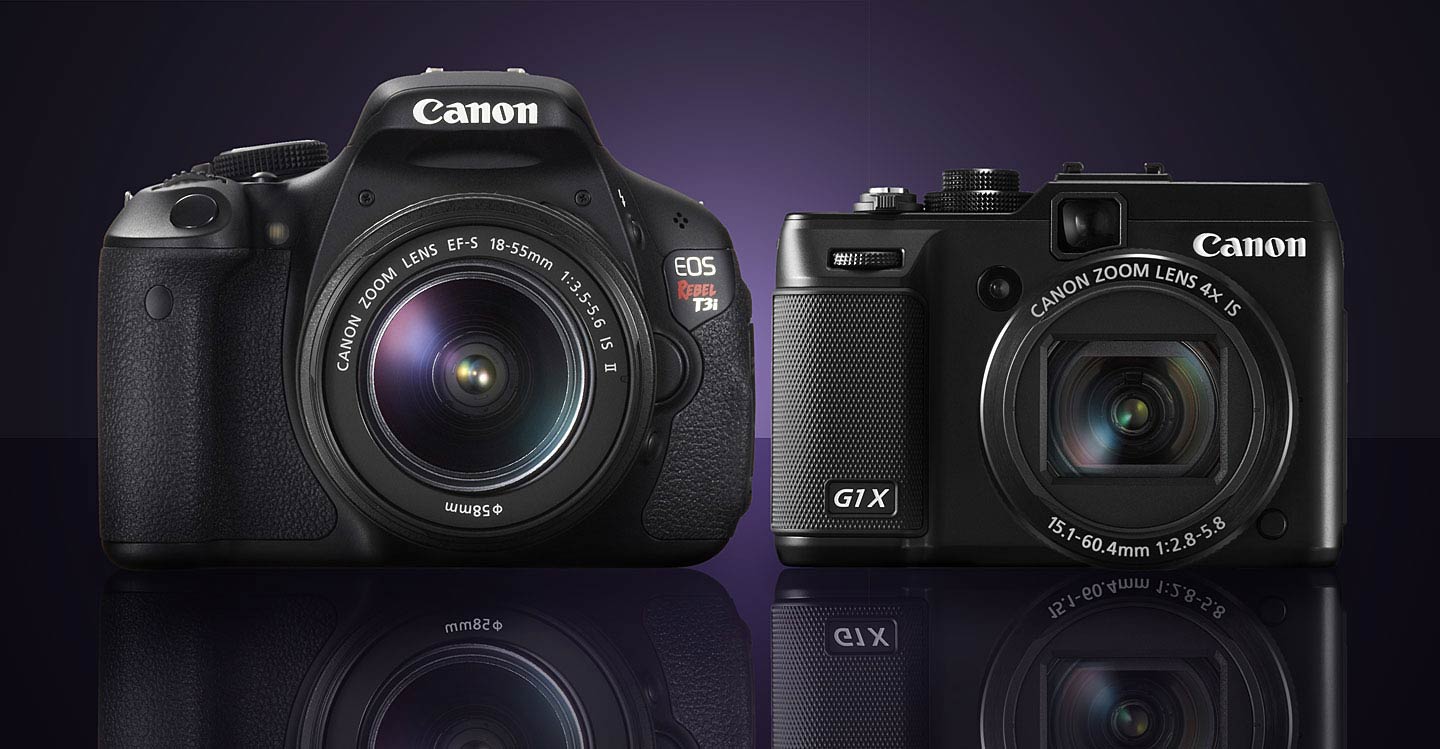 Photographers looking for a small but powerful camera will find the new Canon Powershot G1X an intriguing option. Whether you're a photo enthusiast looking for improved image quality and flexibility, or a professional looking for a compact, less conspicuous backup camera, the Powershot G1 X might be a good choice. But if the Powershot G1X is going to be your main camera (or only camera), then you're left with a difficult choice: Should I buy the Powershot G1 X or the Rebel T3i? The prices are similar, and SLRs are better… right? That is exactly the question I'll address below.
I've been considering the purchase of a large-sensor point and shoot for a year or so. As much as I like Sony's NEX series cameras, they have three major drawbacks for me: 1) there is no optical viewfinder, and even today's improved LCDs are difficult to see in full daylight 2) they use a weird, proprietary hot-shoe, so 3rd party flashes and flash triggers (Pocket Wizards, Radiopoppers, etc.) won't fit without the purchase of adapters, and 3) they are not really very compact. Though the bodies are small, the lenses can be quite large, so they end up looking like a soup can pasted onto a credit card.
The Powershot G1X solves all of those problems. It has an optical viewfinder (rangefinder, not TTL), it has a standard Canon hot-shoe, and it is small enough to fit into a pocket. But how does it compare to the popular Rebel T3i? The table below should give you an idea of how the two cameras differ:
Canon Powershot G1 X
Canon EOS Rebel T3i
Current Price
(updated daily)
$366.99
$
Sensor Size and Resolution
14 x 18.7mm
14.3 Megapixels
14.9 x 22.3mm (APS-C)
18 Megapixels
Image Formats
14-bit RAW
JPG
14-bit RAW
JPG
ISO Range
100-12800
100-6400
+12800
Image Processor
Digic 5
Digic 4
LCD Size and Resolution
3.0"
922,000 pixels
3.0"
1,040,000 pixels
Lens focal length (Converted to 35mm field of view)
15.1-60.4mm f/2.8-5.8
28-112mm (converted)
N/A, Uses Interchangeable Lenses.
Standard kit lens is:
18-55mm f/3.5-5.6
29-88mm (converted)
Shutter Speed Range
60 - 1/4000th Sec.
30 - 1/4000th sec, + bulb
Max. Frames Per Second
4.5
3.7
Highest Video Resolution
1920 x 1080 (24 fps)
1920 x 1080 (24, 30 fps)
Full Time Auto-Focus for Video
Yes
No
Wireless Flash Control
(built in wireless eTTL)
No
Yes
Battery Life
(LCD ON/LCD OFF)
250
700
~190
~500
Weight/Dimensions (inches)
17.3 oz. (without battery)
4.60 x 3.17 x 2.55 in.
18.2 oz. (body only)
5.2 x 3.9 x 3.1 in.
Compatible Flashes
Canon EX Series
Canon EX Series
.
Sensors
One of the major differences between compact cameras and SLRs, historically, has been sensor size. Although large sensors tend to be expensive, they produce less digital noise in low-light and they can also produce shallow depth of field, allowing you to shoot a portrait with the subject in focus, but with the background blurred 1 This also depends on the focal length and aperture of the lens . Although Micro 4/3 cameras have been popular for years using an intermediate sized sensor, manufacturers have recently begun to produce compact cameras with even larger sensors. The Powershot G1 X uses a sensor that is slightly smaller than an the APS-C sensors found in SLRs, but is still significantly larger than the Micro 4/3 format, and quite a bit larger than the sensor found in the mystifyingly designed Nikon 1 V1 which, for reasons I can't explain, does not even have a hot-shoe to make use of Nikon's amazing CLS flash system.

The large sensor of the G1 X will allow the camera to produce high quality images in much lower light than any of the previous Powershot G series cameras, and indeed, allows a top ISO of 12800. In comparison, the G12 had a top ISO of 3200, requiring 4-times more light to produce the same photo. This new generation sensor, however, does not appear to out-perform that of the Canon T3i, which has a top native ISO of 6400.  Initial tests indicate that the performance of the G1 X sensor is just on-par with current Canon APS-C 18 megapixels sensors, though it is better than the other compact and hybrid cameras tested (Nikon, Olympus, Panasonic)2DxOMark tested the sensors according to their published standards, which should be taken with a grain of salt. In this case, there is nothing unexpected..
Advantages of the Powershot G1 X
Though it may seem counter-intuitive for a compact camera, the Powershot G1 X has several advantages over its SLR cousin, the Rebel T3i. Although the T3i is capable of accepting a vast number of lenses, many beginners simply buy the kit lens and don't change it because they don't want to carry around multiple lenses. As such, it's worth considering how the G1 X compares with a T3i as it is used by many people. Its advantages can be summarized as follows:
The G1 X is smaller and lighter than the T3i body with the kit lens, and much more so when the T3i is fitted with the an equivalent lens.
When it comes to shooting action sequences, the Powershot is capable of higher frame rates than the T3i .
At the wide angle end of its zoom range, the G1X is a half-stop brighter than any common kit lens for the T3i, and at its long end, it is not significantly darker. f/5.8 is not even 1/4 of an f-stop (f/6.2) less light than f5.6. f/5.6 and f/5.8 can be considered equivalent for practical purposes.
The lens on the G1 X is wider at the wide-angle end and offers more magnification at the telephoto end than the kit 18-55 lens for the T3i.
If you want to shoot full HD Video, the Powershot will let you do it with full-time auto focus, operating much more like a traditional video camera, while the T3i generally requires manual focus 3

Like other Canon SLRs, the T3i does have contrast-detection auto focus while shooting video, but it is so slow and inaccurate as to be useless under normal shooting conditions

.
Although Canon provides a sync speed of 1/250th of a second for external flashes, previous G-series cameras have used an electronic shutter at high speed settings, and have therefore been able to sync (using pocket wizards) with external flashes at 1/2000th of a second or faster, at full flash power. This isn't possible with the mechanical shutters of SLRs, though they can get greatly diminished flash power using high-speed-sync. I expect the same to be true of the G1 X, since Canon acknowledges that it will sync at 1/2000th with the built-in flash. This is very important for photographers looking to overpower the sun with speedlites outdoors.
Advantages of the T3i
Despite the Powershot's wealth of advantages, the T3i still has some very important advantages for those who would make use of them.
Lenses. Expensive though they may be, the T3i can use any Canon EOS lens made, including large aperture portrait lenses, ultra-wide angle zooms, and super-telephotos. Though many casual shooters don't use them, pro shooters who want a backup body will still be able to use their lenses with a T3i, but not a G1 X. Although the G1 X is the smaller camera, the size and weight difference between a G1 and a T3i body wedged into a camera bag are minimal.
Responsiveness. Though this is hard to quantify completely, the shutter lag and AF speed of point and shoots tend to be slower than SLRs, and this has been true in the past with the G series, and is important for capturing action.
If you plan on using wireless eTTL flashes, they can be controlled with the built-in pop-up flash
Though the G1 X does have an optical viewfinder, it's a rangefinder (it doesn't show the view through the camera's lens), so its borders are not perfectly accurate. However, rangefinders tend to be brighter than SLRs' reflected viewfinders.
Believe it or not, the SLR is currently less expensive than the point and shoot, even with the kit lens included.
Buy the Canon Powershot G1 X If…
I'd recommend the Powershot G1X to two types of photographers:
If you're a serious photographer or journalist who wants a compact camera for discreet shooting in typical situations (not high speed action), for quickly shooting high quality video with auto-focus, or want the benefit of using off-camera flash at full power with high shutter speeds, then this camera is a great option. However, it is not a suitable camera as a backup body for professional work because the limitations of its lens. For that you'll want something like a T3i, which will be able to handle the full range of lenses as your main SLR.
If you're a photography enthusiast and want to capture high quality images while taking more control than is afforded by lesser cameras, but you're not willing to lug around an SLR or its lenses, then the the G1 X would also be a great choice. If your main goal is to shoot sports and action, though, an SLR like the T3i equipped with a suitable lens would make much more sense. It's also worth keeping in mind that cameras like the Sony NEX line offer even larger sensors and have interchangeable lenses for more flexibility, making them a good intermediate sized camera, if you're willing to give up an optical viewfinder.
Questions? Comments? Arguments? Let me know in the comment section below.