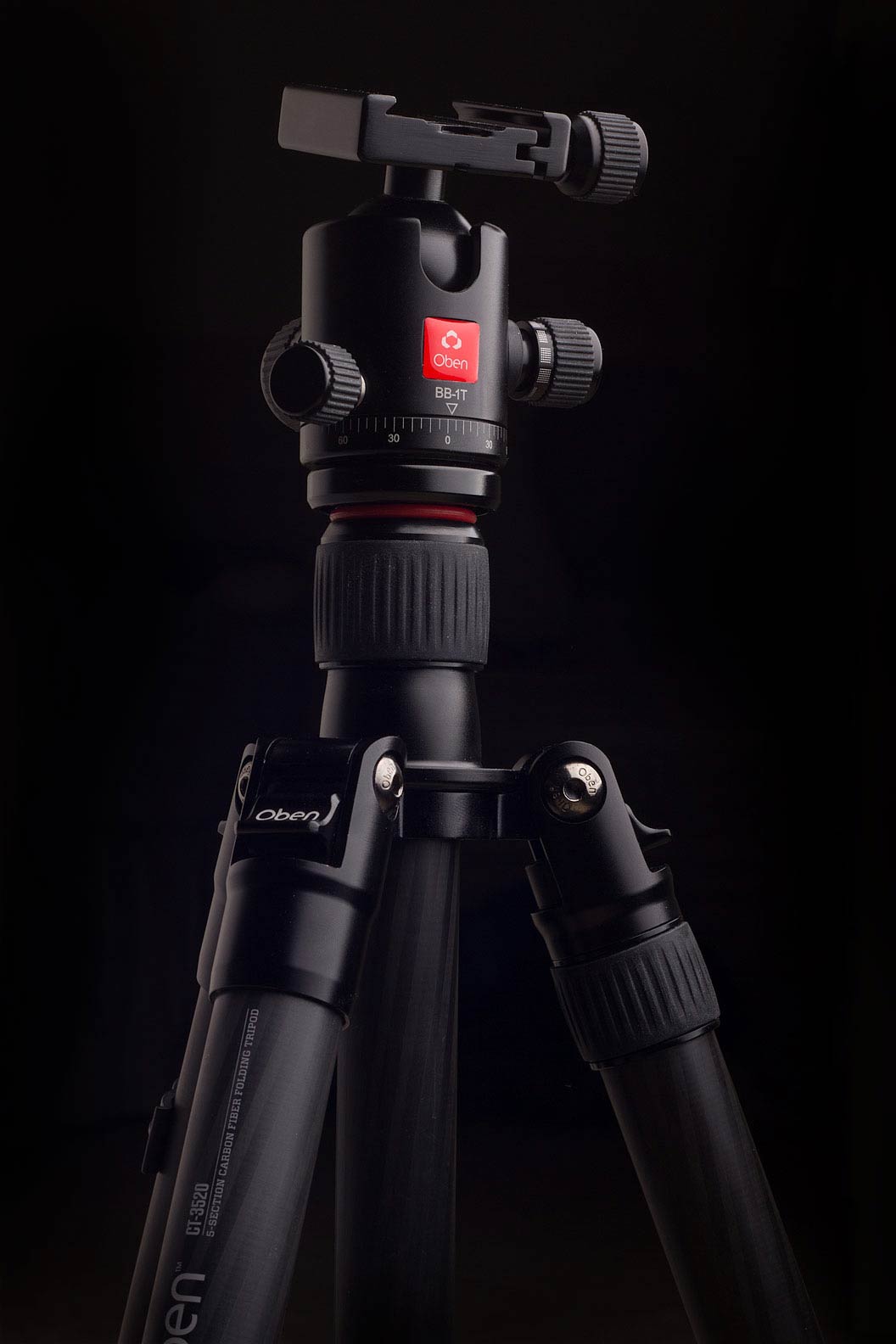 For a few months, I'd been looking for a new tripod to replace my trusty old Slik U-212 when an Oben CT-3520 carbon-fiber tripod fell into my lap: I won it at the recent PhotoPlus Expo. Professionally, I mostly shoot events and don't use a tripod, but I do also shoot quite a bit of landscape photography and wildlife, so I needed a lightweight tripod that would be steady in the back-country. At first blush, this tripod looked as though it would be great: strong, lightweight, and compact. As usual, though, it wasn't quite that simple, and the head and legs deserve to be considered separately.
The Oben CT-3520 Tripod Legs
The Good: Let me start with the good things. The carbon fiber legs feel sturdy and tight; even though there are 4 sections per leg, the joints don't wobble, which was an initial concern. The multi-position angle-locks at the top of each leg are equally sturdy; there is no rattle or play. And more than feeling sturdy, the legs are rated to hold 22 lbs (10kg), enough for all but the largest lenses made today.
The tripod itself is also very lightweight; it feels quite a bit lighter than my aluminum Slik, particularly after I've been hauling it around for a few hours. For travel, the legs can be folded up to surround the ball-head, reducing the overall length to a mere 16.6″ (42cm), yet when extended, the camera reaches a comfortable eye-height (without the center column raised, I have to lean down only 4 or 5 inches), and I'm a bit over 6 feet tall.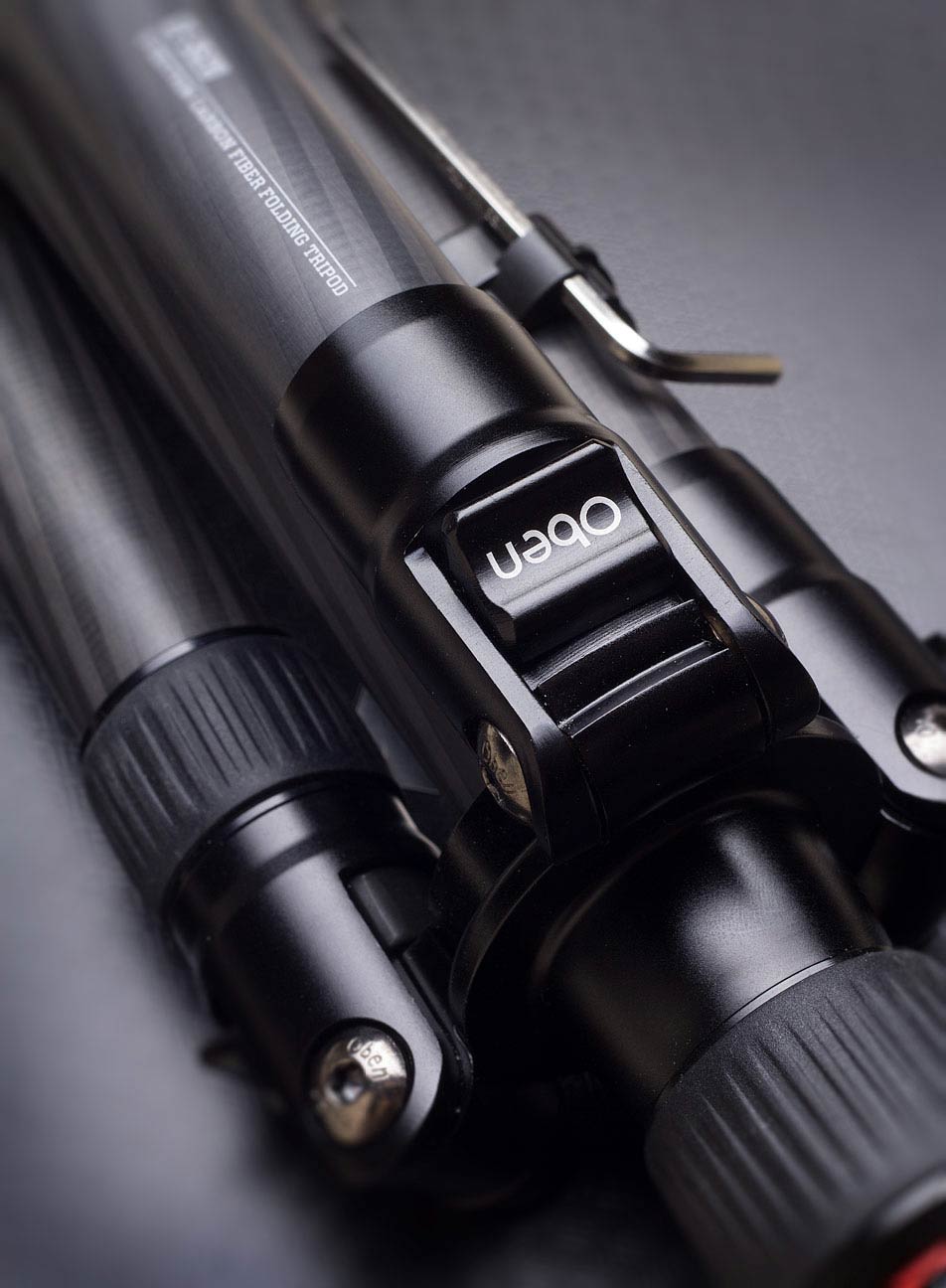 Speaking of the center column, the CT-3520's column offers a hook at the base, allowing you to hang a weight (camera bag, sand-bag, etc) for additional stability, which is important for a lightweight tripod in windy conditions. The column is also quickly reversible so that you can mount your camera upside down for getting ground-level shots, and as you'd expect, the column has a choice of common threads on the mounting stud for the ball-head, so you can use virtually any head on the market.
As an unexpected and potentially useful bonus, one of the legs can be twisted off of the tripod base and screwed into the the bottom of the (detached) center column and ball-head for use as a sturdy monopod. Since I already have a collection of aluminum monopods (with only a single leg, the extra weight is negligible), I don't know whether I'd bother using this one, but the option is nice to have. I've played around with it a little, and it works just like any other monopod; nothing special about it, but nothing wrong either.
The Bad: My major gripe with the tripod is that the legs use twist-locks instead of flip-locks. This is a matter of personal preference to some extent, but based on some important grounds: with 4-section legs, there are 12 locks total, and not only is it faster to use flip locks, you can tell at a glance whether a particular joint is locked or not. It's frustrating to get the tripod set up with a large lens and image composed only to find that the tripod is creeping down because one of those joints wasn't tightened down all the way, and since there's no visual cue, you may have to re-tighten several joints before you find the loose one. When hiking in the snow, I find flip-locks easier to operate while wearing big gloves or mittens, and when shooting in the desert or on the beach, I find that twist locks get sand in them more easily, and they're harder to clean out afterwards.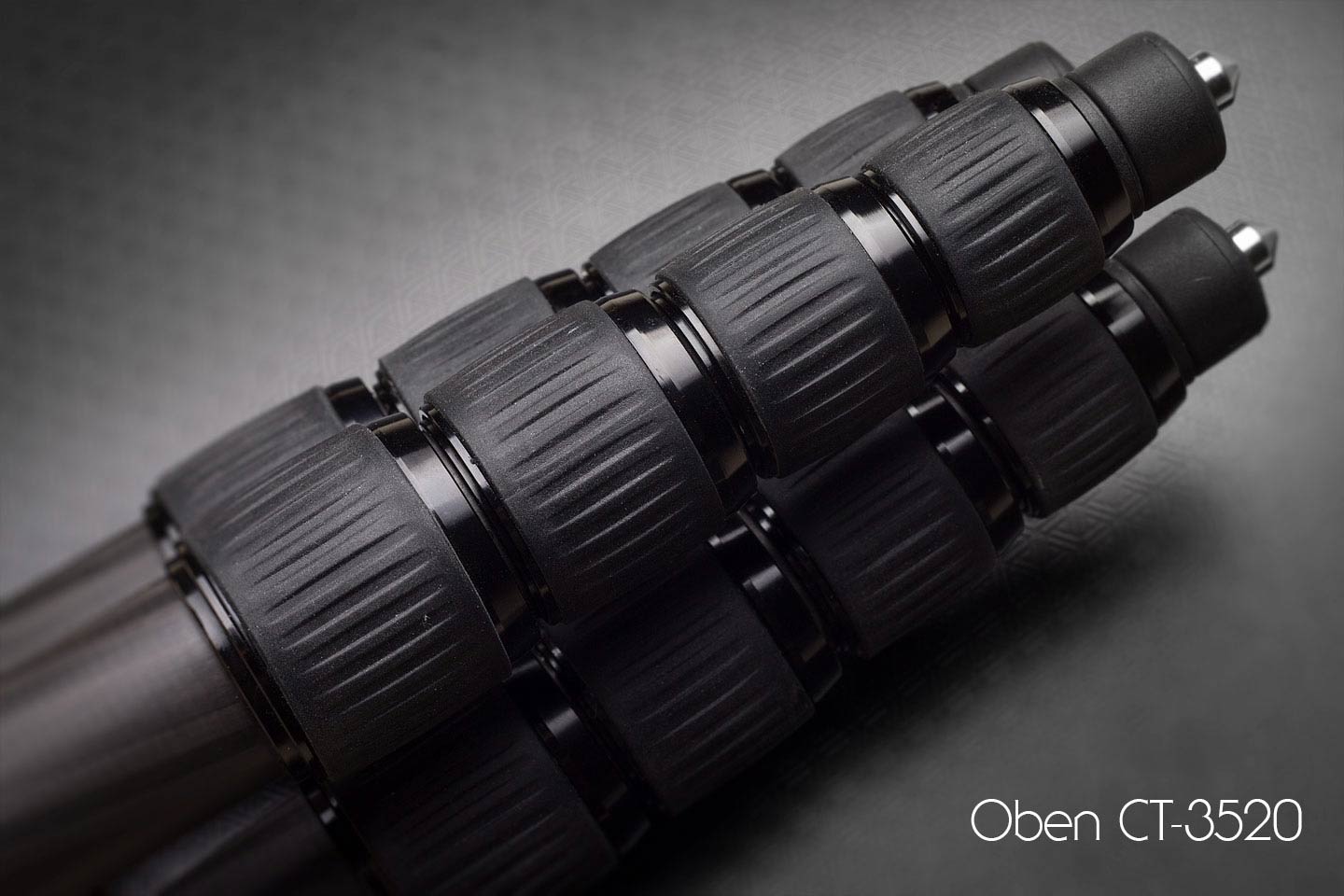 Regardless, if you like twist locks, the ones on the Oben CT-3520 work just fine; they feel well dampened and smooth when they turn, and they lock tight.
The Other: A couple of other things are worth mentioning, though I'm not sure yet whether they're good or bad. First, there is no crank to raise or lower the center column, only a twist-lock. The absence of a crank makes adjustments faster, but of course, it reduces the precision of movement. I rarely use the center column (it should be avoided when possible, since it reduces stability), but I can't think of a time when I've needed a crank, so this system is fine with me.
The other is that the foot-spikes actually retract into the end of the leg when the rubber shield is twisted, as opposed to the more common method in which the rubber foot is a sleeve that twists in and out to cover a stationary spike. I have not attempted to disassemble the foot unit, but to me this seems as though it must be a more complex (more moving parts) mechanism, and therefore it is more likely to fail. At this point, though, I have not experienced a problem with them.
The Oben BB-1T Ball Head
The Good: In general, the Oben BB-1T has the quality that you'd expect from a mid-price, Chinese made ball-head. It has three adjustment controls: one small knob at the base to control the horizontal pan, another small knob to control the drag/ease of movement of the unlocked head, and a third, larger knob to lock or release the ball. All of the knobs feel well-oiled and turn smoothly, and their rubber rings  are comfortable and grippy. The head does have two spirit-levels, one on the knob for the quick-plate lock, and the other in the saddle of the quick release plate (making it impossible to see when the camera is mounted).
The quick release plate itself is Arca-Swiss compatible (luckily, we shall see), so finding additional quick release plates is easy and inexpensive.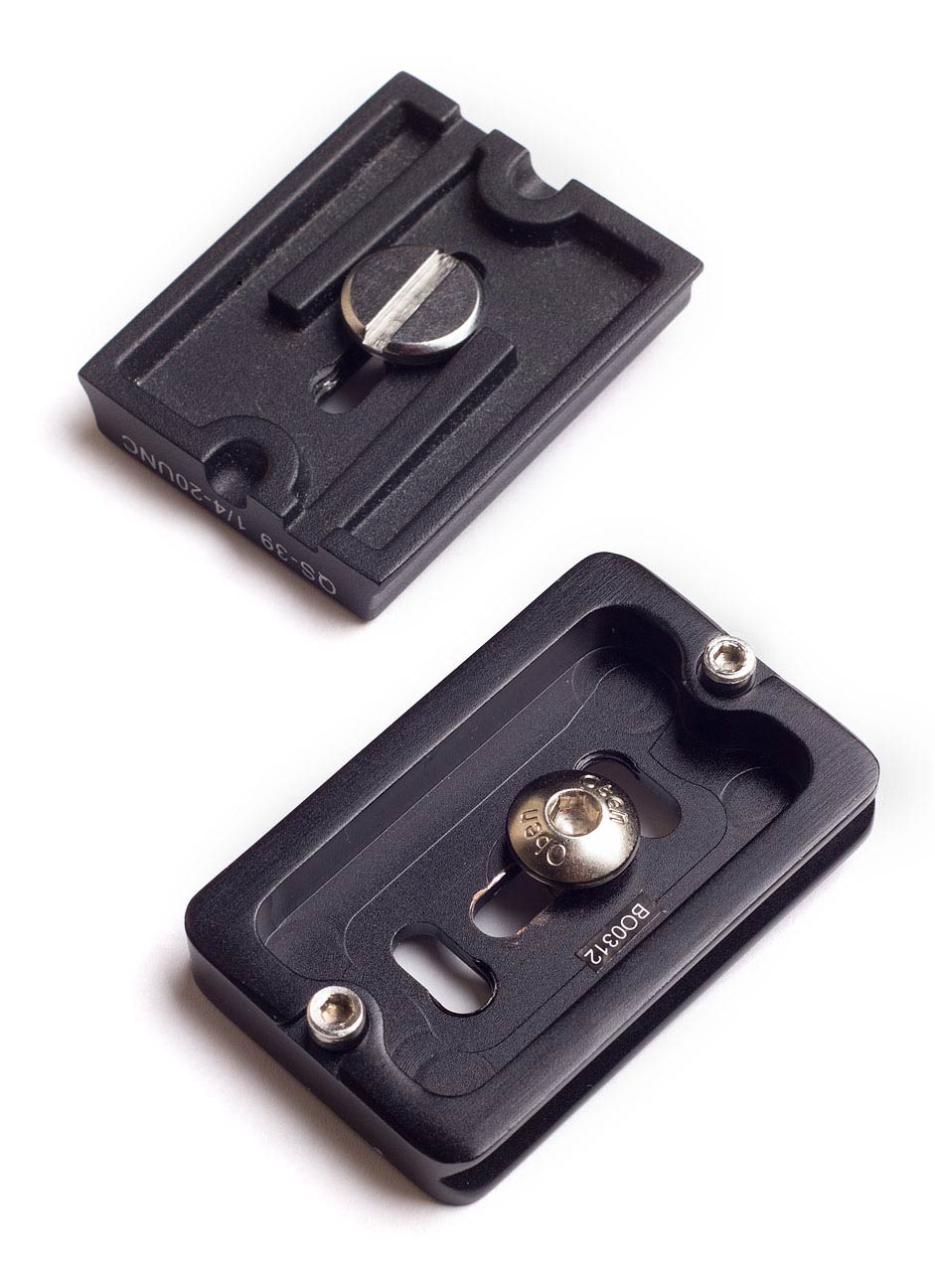 The Bad: The fact that the most commonly used spirit-level can't be seen while the camera is attached is a little annoying, but this is not too unusual with ball heads. Unquestionably the most daft element in the BB-1T design is that the screw on the quick release plate requires you to use a hex-key (allen wrench) to attach the plate to your camera! Though they do provide one with the tripod, it is exactly the type of thing that will get lost when you're out in the middle of nowhere, and how many of us carry spare hex sets? Typically, if a quick release plate screw doesn't have a D-ring so that it can be twisted by hand, it will at least have an oversized flat-head screwdriver slot so that we can use a handy coin or Leatherman Tool. The use of a hex-head screw is ill-conceived, but luckily, easy to remedy. Since the plates are Arca-Swiss compatible, numerous replacements can be found for as little as $6. In fact, the Desmond P-70 looks almost indistinguishable from the Oben QR-20 plate, and at a cost of only $15, we can forgive their use of Comic Sans to label it. Or perhaps even better… you can just replace the screws in your Oben plates with more practical, D-shaft versions, like these.
The Verdict:
As long as you're willing to spend a few dollars on an extra quick-release plate or two, then this tripod / ball-head combo is very suitable for backpackers or travelers who want something that is light-weight, compact, yet strong and stable. That is, of course, if you prefer (or at least don't mind) twist locks. Personally, as much as I like the tripod, I will probably keep looking for a model with flip locks.
The CT-3520 can be purchased with the BB-1T at B&H Photo for $469.95.
[This tripod has been superseded by the Oben CT-3521, which has 5 leg sections rather than 4, and is slightly more compact when folded. I haven't used it but from what I've read, everything that I've written below should apply to it as well.]