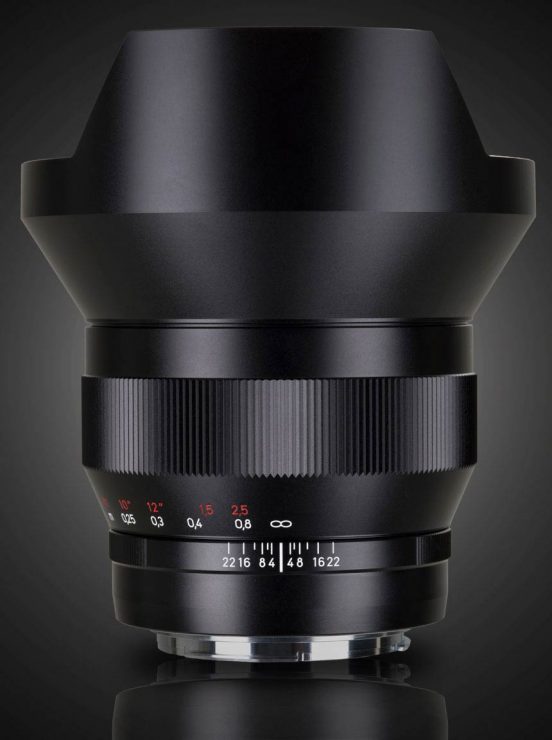 Despite their outstanding reputation, I've usually ignored Zeiss lenses on this site. There are two reasons for that: first, they're manual focus, so their appeal to most photographers is limited, and second, their prices are still spectacularly high. However, they do have a loyal following, and not without reason. For those photographers and film-makers who can work with manual focus, the lenses are optically excellent and (arguably) have the best build-quality in the industry.
The new Zeiss Distagon 15mm lens is worth a moment of our time, though. It is a full-frame lens, and as such, we usually expect heavy barrel distortion at such a wide angle. The Zeiss lens, though, provides a 110-degree, wide angle field of view, with very minimal distortion, and because of the two aspherical glass elements used, they claim that chromatic aberration is virtually non-existent.
As with all Zeiss lenses, the barrel and mount are entirely constructed of metal. The 15mm f/2.8 has an integrated metal lens hood to protect the front element from damage and stray light, and when the lens is not in use, it can be covered by a specially designed (and stylish) metal lens cap.
The cost? A mere $2950, currently available for pre-order at Adorama in both Canon EF and Nikon F mounts, expected to ship in May. If you're a Leica shooter, a similar lens has been available in the M mount for some time, at $4600.
I probably would still have ignored this lens, though, had I not seen the following video. It's not that it contains anything particularly interesting or insightful about the lens itself, though it does have a few examples of photos taken with the lens. No, it was the presentation.  As some of you know, I spent a year in the early 1990s living in Austria, and I have a bit of a soft-spot for the German language. For some reason, though, I find this chap's accent and pronunciation charmingly amusing, and anything that can make me chuckle within an hour of my waking up in the morning is worth sharing here.