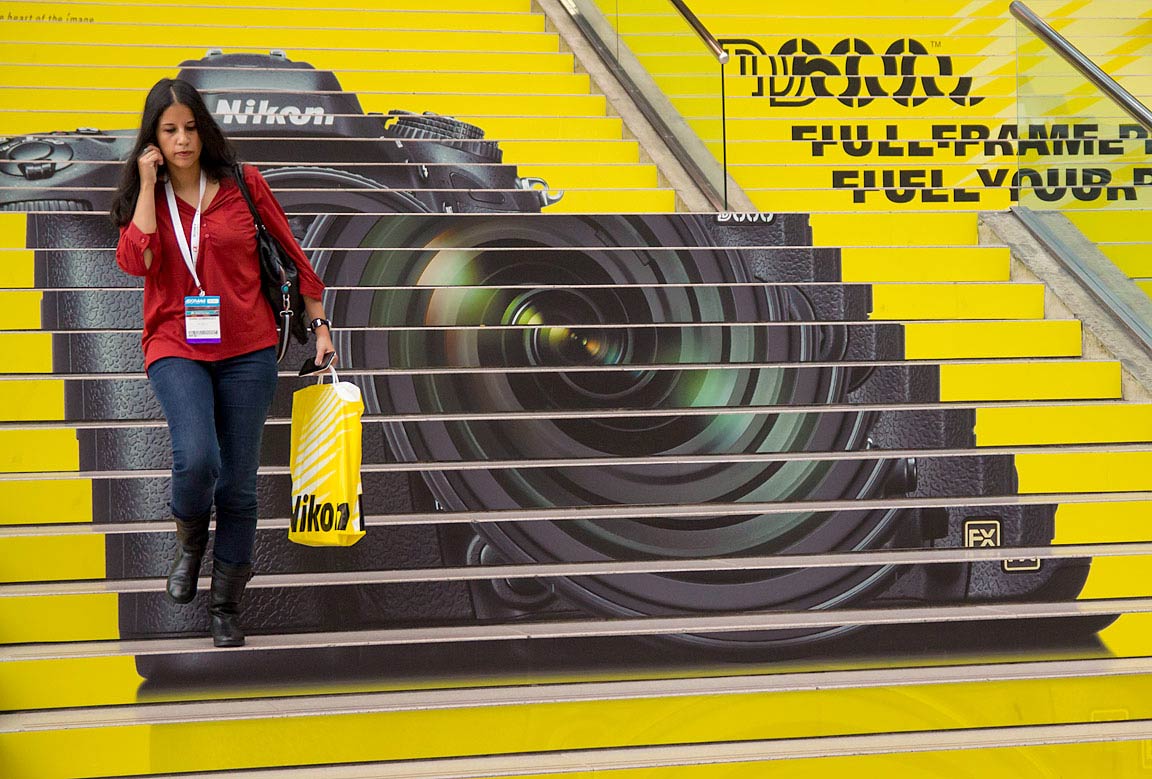 Last evening I returned from New York City and the PDN PhotoPlus Expo at the Javits Center, which was a truly wonderful experience. If you have an opportunity to attend next year, don't hesitate to take it!
With three days of product exhibitions, free photography presentations and equipment demonstrations,  seminars by remarkable photographers,  and gorgeous photo galleries to view, there was more to report on than any single person could begin to cover, so I won't try. I will, however, mention a few of the highlights of my own visit, undoubtedly peppered with a little commentary as well.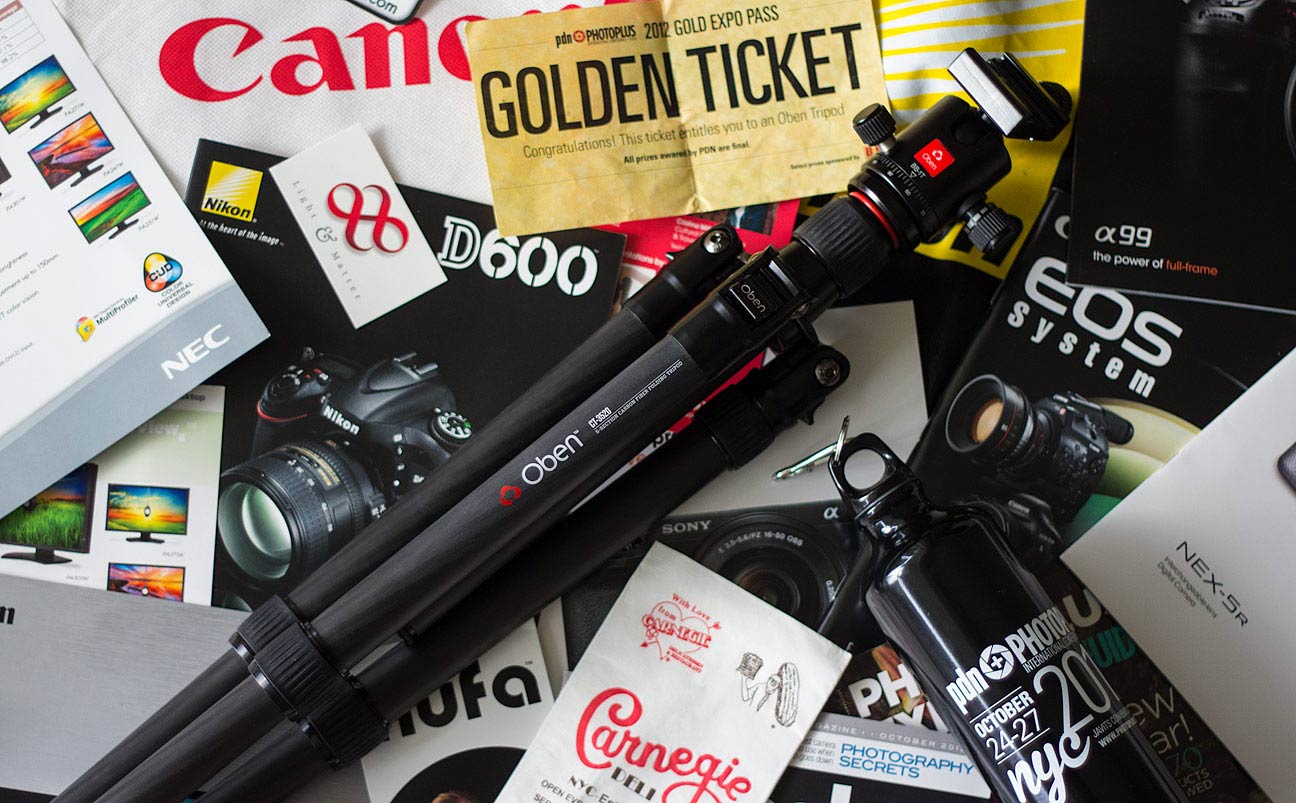 I started off the first day of the Expo on a good note; I had purchased the Expo Gold Pass upgrade, which entered me to win a variety of different prizes…. and when I picked up my kit from the Gold Pass lounge, I discovered that I had won a new Oben CT-3520 carbon-fiber tripod. I'll write a full review of the tripod at some point, but so far, I'm pleased with it… it should be great to carry for hiking.
Tamron
One of the first booths that I visited was Tamron's, where they were eager to show off the new 70-200 f/2.8 Di VC USD and 24-70 f/2.8 Di VC USD lenses. I spent time with each of them attached to a Canon 5D Mark II body, and if the AF speed was any slower than my Canon "L" lenses, I couldn't tell the difference, and they were completely silent (though the venue was loud… so that's not saying much). Unfortunately, I wasn't allowed to save images from the 70-200 for comparison, but in the camera, they looked nice and crisp.
As I expected, the staff were not able to tell me what they expected the price to be on the new 70-200mm, and no official price is available. One went so far as to hazard the guess at $1200-1500, but he insisted that there was no official information behind it.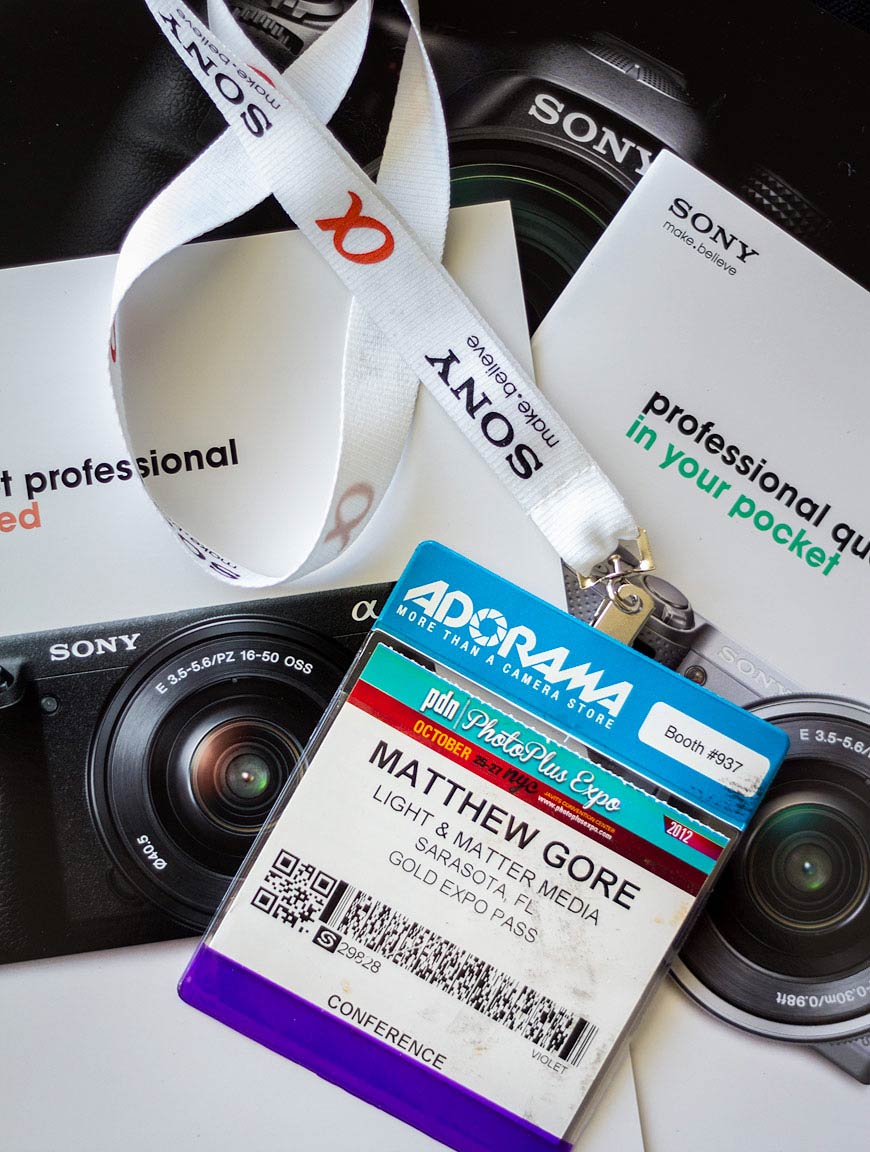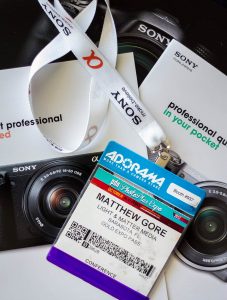 Sony
In addition to the Sony a99, which is an impressive machine despite it's homely appearance, I was able to play with the NEX-6 and the NEX-5R. Again, I was forbidden to insert an SD card, but I didn't find anything in either camera that would deter me from purchasing one; in fact, the NEX-6 is now on my Christmas list.
Just as interesting as Sony's equipment was the lineup of speakers that they had arranged. I didn't have the time to sit and listen to all of them, but I did enjoy the tips and photos presented by Andy Katz and Christina Mittermeier.
Panasonic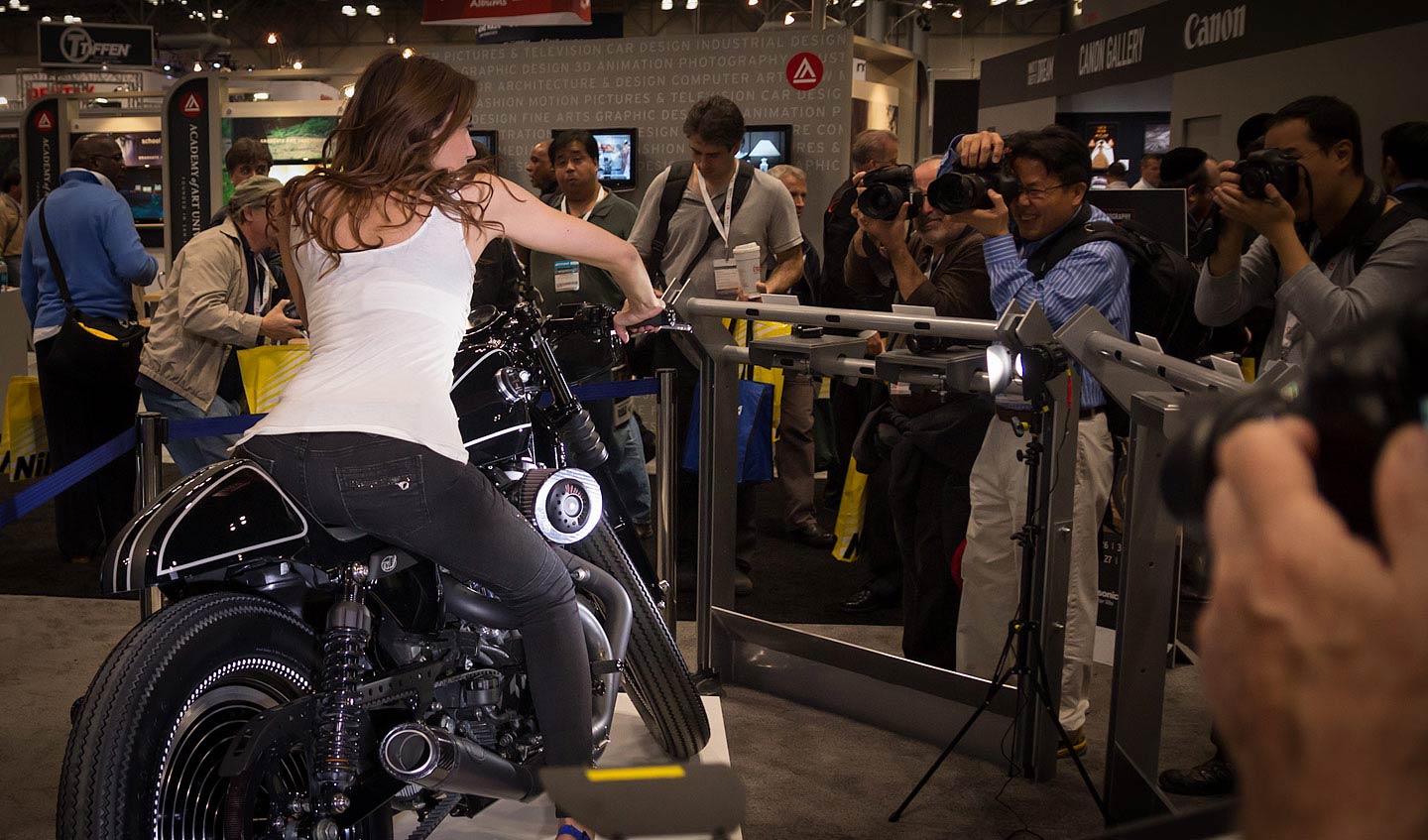 I'll admit that I'm not a big fan of any Panasonic equipment in particular, though I'm sure that it's great for the right market segment…. some people swear by it. They did, however, have a great display: a semi-circle of their cameras surrounding a model on a cafe-style motorcycle. She seemed to be very popular with photographers, many of whom didn't bother to use the Panasonic equipment to take pictures. I tried the GH3.
Nikon
Nikon had one of the largest exhibits in the Expo, as you might expect. Not only did they have an elevated platform for testing their super-telephoto lenses, they had a small stage with a variety of dancers for testing their smaller cameras and additional areas with still-life setups for testing SLRs. I spent a little time playing with a Nikon D600 fitted with a 28mm f/1.8 Nikkor lens. The camera was nice, but not spectacular… but Nikon had no problem with my inserting an SD card into their cameras to take test images home for further evaluation, which is always nice.
Nikon also had an area for presentations, but I didn't have time to stop and watch. I caught about 10 minutes of one, and it looked great, though.
Canon
Though Canon did provide some SLRs and lenses for testing, their priority at the Expo seemed to be video. I tested a Canon 1D X and a 5D Mark III attached to one of the new $11,500 EF 400mm f/2.8 IS II lenses, which was spectacular, though a little out of my price range. They did have large displays with video cameras (one was a movie set of a living room with a car crashed thought the wall)  and their EOS Cinema line, as well as their Pixma-Pro printers.
Perhaps the best part of the Canon Exhibit was their presentation stage, which was continually running with presentations from working professionals, from talented photojournalists to studio photographers, and of course, there was a healthy dose of discussion about video.
Fujifilm & Olympus
Fujifilm had all of their latest cameras on display, and I spent some time playing with the Fujifilm X-E1, though they had taped the SD-card slots shut so that nobody could actually take home photos from their pre-production models. Compared to the Sony EVFs, I was not overwhelmed with the clarity of those found in the Fujifilm cameras, though they were certainly functional.
The Olympus exhibit was nearby, and they did allow me to use my own SD card in an OM-D E-5, which was a surprisingly nice camera (though in general, I prefer the larger sensors in the Fujifilms). The autofocus in the Olympus was shockingly fast.
NEC
I spent a good deal of time at the NEC exhibit. It's been a few years since I've had a chance to work with the latest professional editing monitors, and the current NEC models are stunning. It's always difficult to buy new monitors for photo editing because so few shops actually stock high-end monitors, making it difficult to experience them in person, and looking at specs and images online is very limiting.
NEC had an excellent presentation system, with side-by-side 8-bit and 10-bit monitors and gradient-rich test graphics which could be moved between screens to demonstrate the tonal differences (the 8-bit monitors showed quite a bit more banding than I would have expected). I was very impressed with the PA241W and the PA301W, and the Spectraview II calibration system, which not only corrected color, but also removed hot spots on the screen.