My trips to Connecticut don't always go as planned. Hurricanes tend to be a problem 1 Including Sandy and Irene, of course. The third was actually not so recent; it was in the early 1990s. One night, the storm blew in and hit Norwalk, CT hard enough that it set off an old WWII era air-raid siren. It blared all morning and into the afternoon before the city tracked down the retired person who knew how to turn it off. , for example.  On my most recent visit, I staved-off the storms but spent more time than I'd anticipated making trips to the hospital (just visiting), and I ultimately curtailed my plans to drive around the state and photograph the autumn colors with my grandfather.


Our plans were not completely jettisoned, though. We spent a gorgeous late afternoon investigating Weir Farm in Wilton, CT, a National Park and Historic Site that's dedicated to painting. I'd been within two miles of it dozens of times and had no inkling of its existence, so the discovery was a wonderful surprise. The grounds contain pathways between gardens and fields bounded by low stone walls, historic buildings and a barn, and a half-mile walk around a placid pond in the woods. When we arrived, the sun was low enough to back-light the trees with a warm glow, but by the time I reached the pond, the light was only reaching the tops of the trees on the far side. I'm looking forward to my next visit; I'll get an earlier start.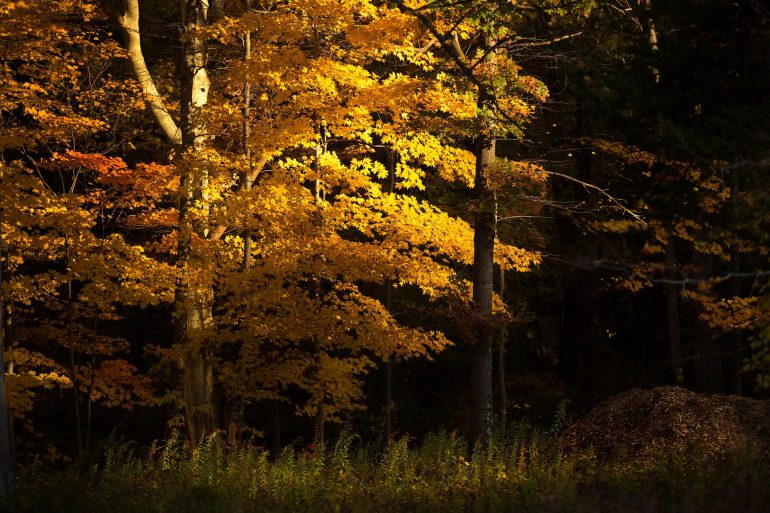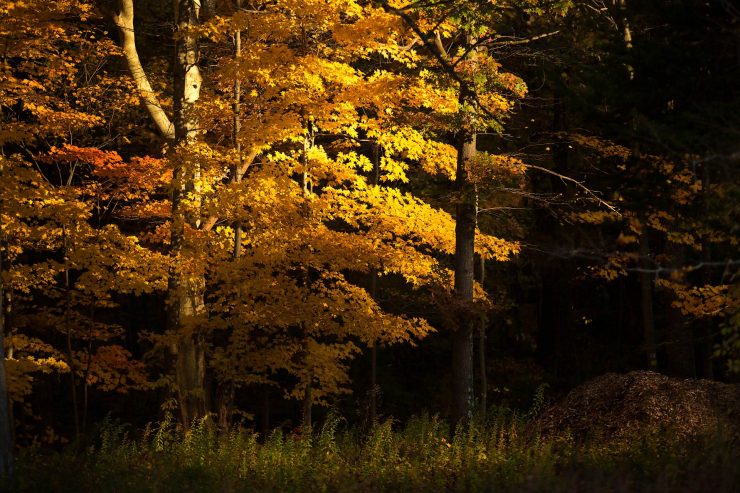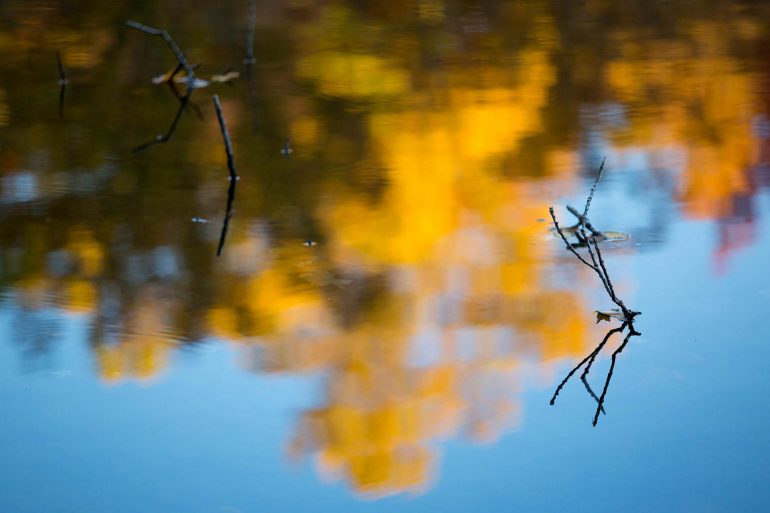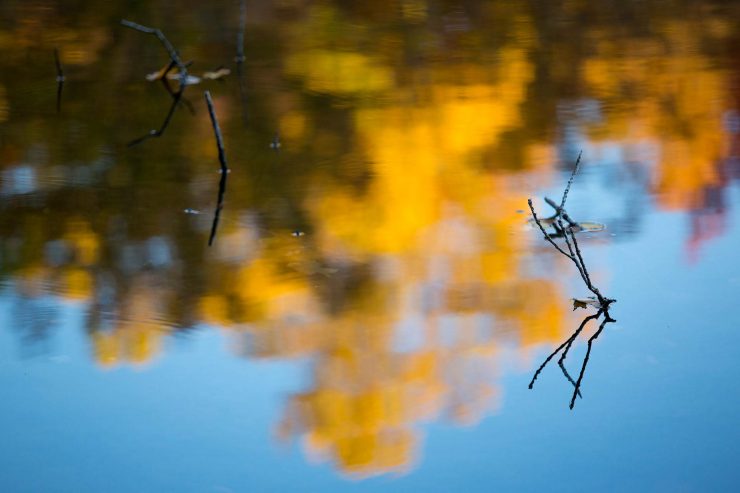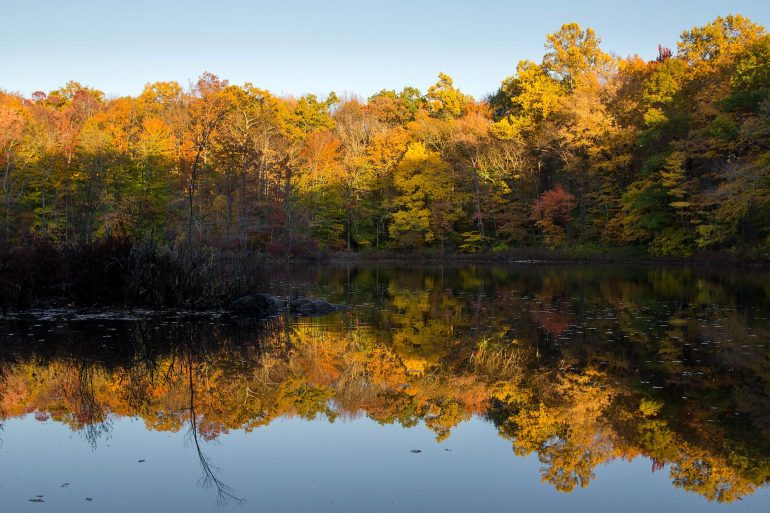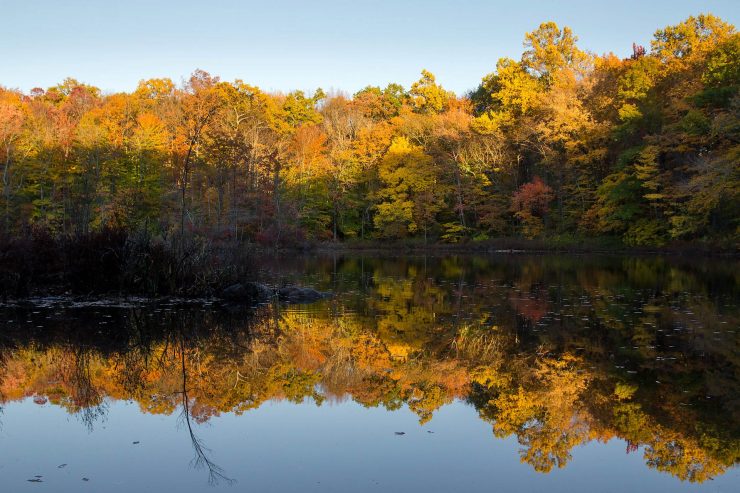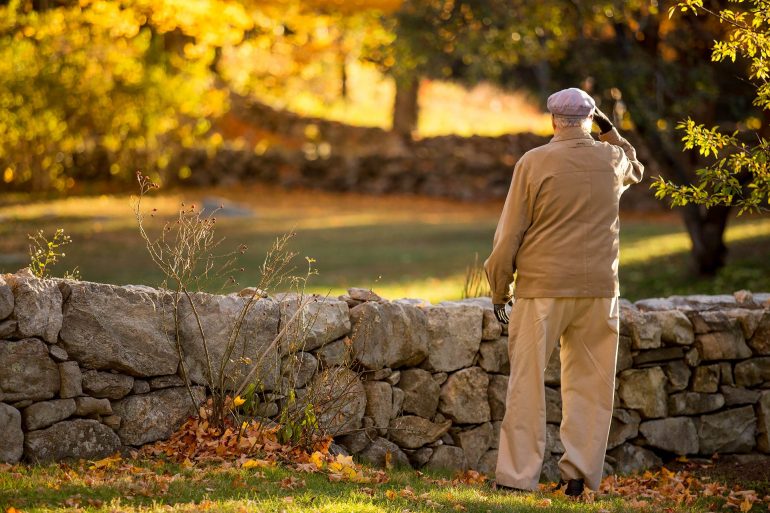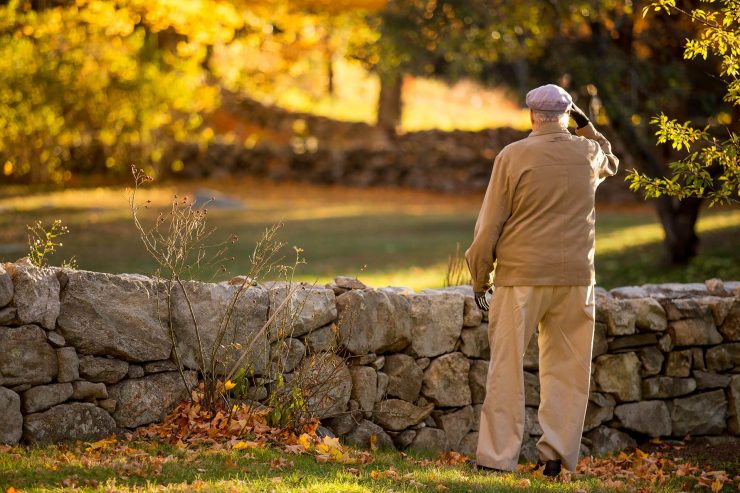 The weather was less cooperative the following day. My grandfather and I drove north to Madison and Clinton, eventually stopping at a colonial-era cemetery. I thought that I'd captured a few shots that I liked, but once I saw them on my computer screen, I decided they weren't what I'd hoped. Beyond the cemetery, we proceeded to Old Saybrook. The light was still glimmering off the water when we stopped at Saybrook Point. Birds and rocks became excellent silhouettes against the water, below the cloud front that was rolling in from the southeast.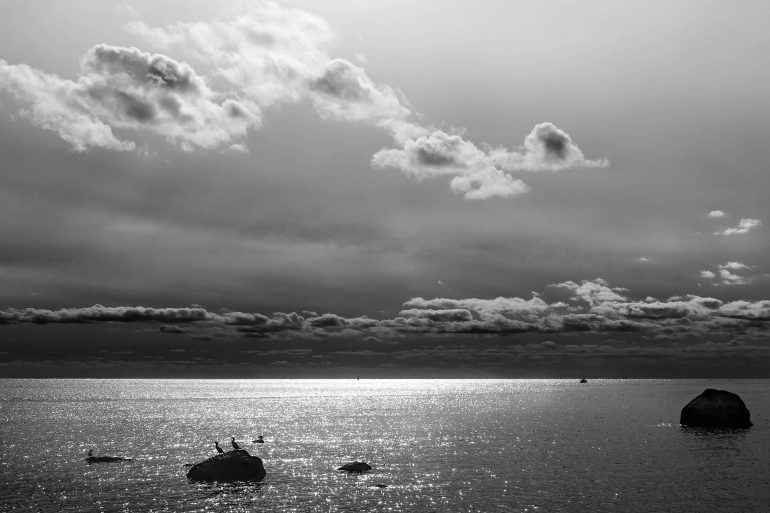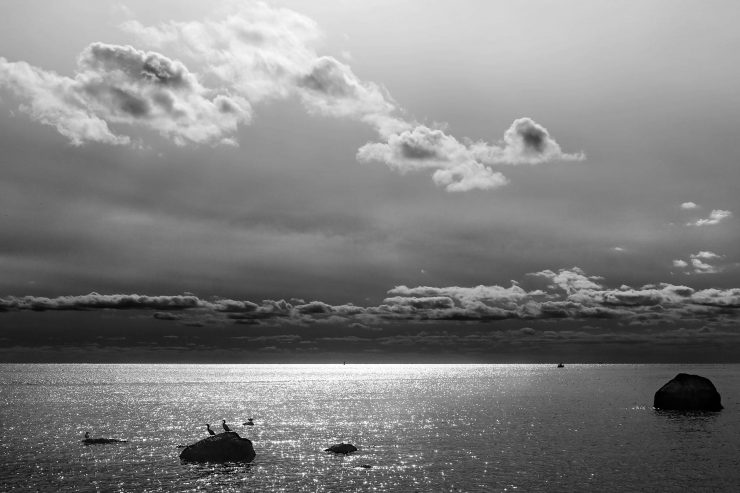 We pushed on to the Church in the Wilderness, a rustic 215 year old Episcopal church in Killingworth. The building was attractive and the surrounding forest and gorges were also very pretty, but we had lost the light. The overcast sky made the light and colors flat, and I didn't take any pictures at all. We didn't give up, though, and ferried across the Connecticut river at Chester, past Gillette Castle, up the river past some rolling farmland, and back across the river on the Rocky Hill ferry.
Before reaching our final ferry, I stopped to take some photos of a nearby farm. If we had been in the South, I'd have guessed that this was a tobacco farm with drying barns, but I don't know whether that's an option in Connecticut, and it was impossible to tell this time of year. Unfortunately, the light was still very flat. I took a few photos, but moved on.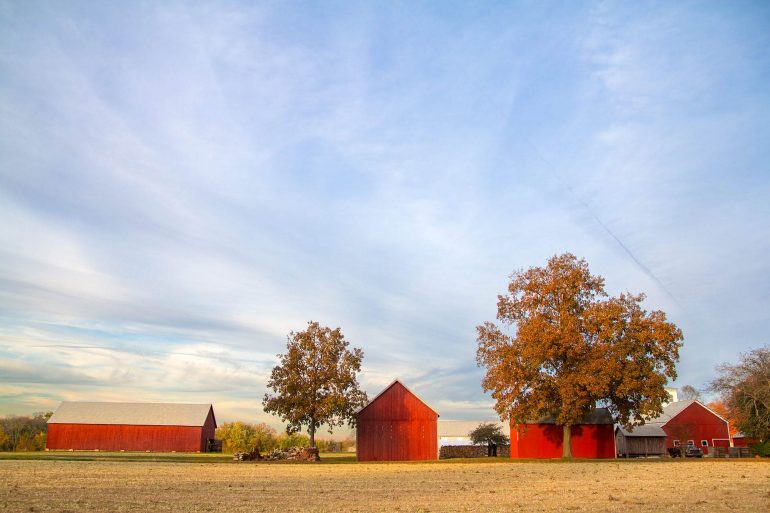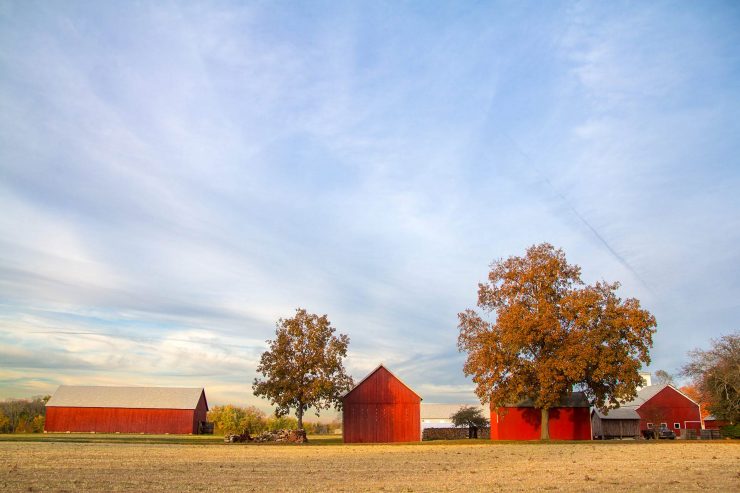 This image was taken primarily as a reminder for future trips, and it's is therefore processed as more of an artistic rendering of what I hope to find at the scene in the future than a true-to-life capture. I usually try to avoid such heavy handed post-processing, but I actually like how the shot ended up this time. In case you're curious, this is the difference between how I've processed the image and how it came out of the camera as a RAW file.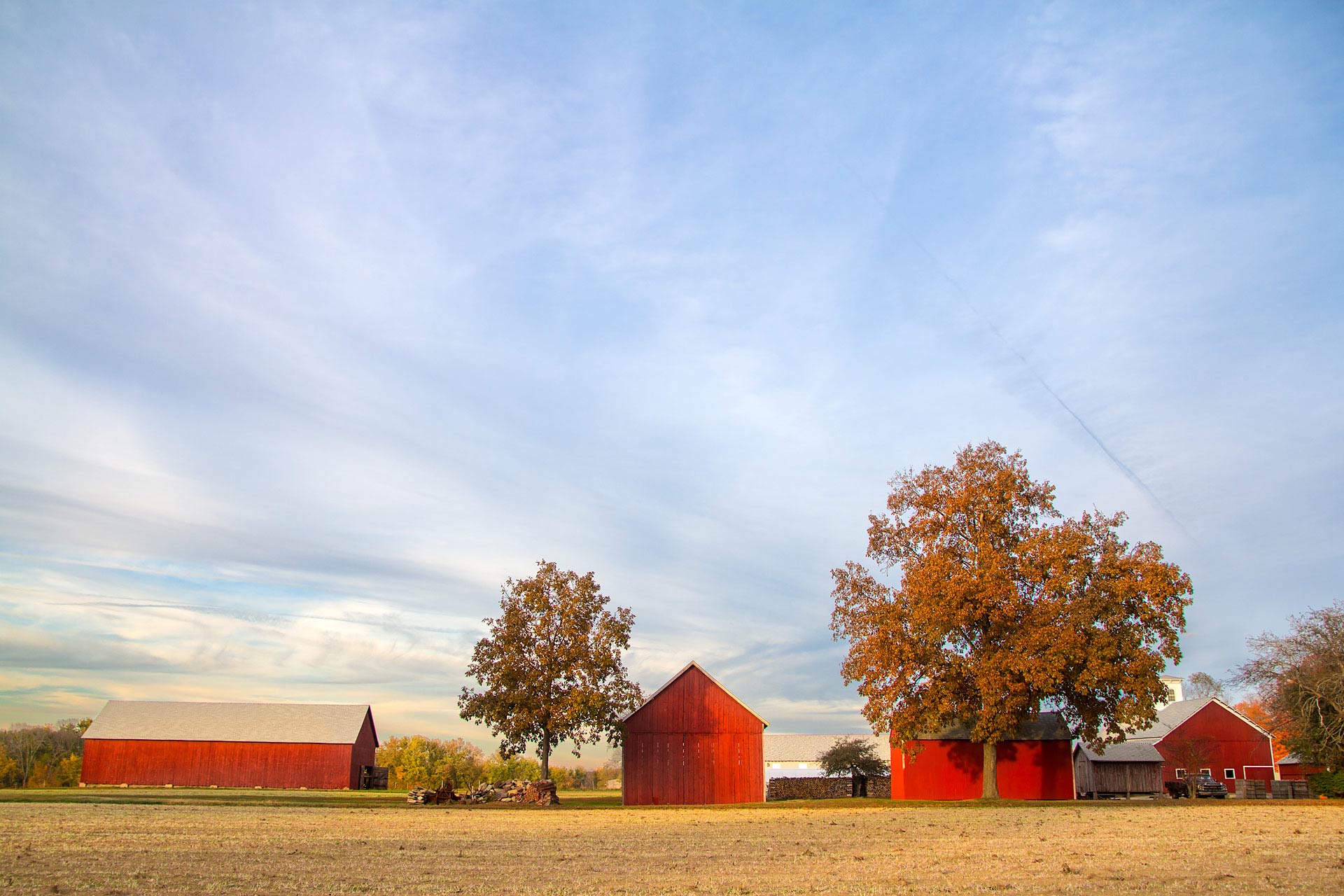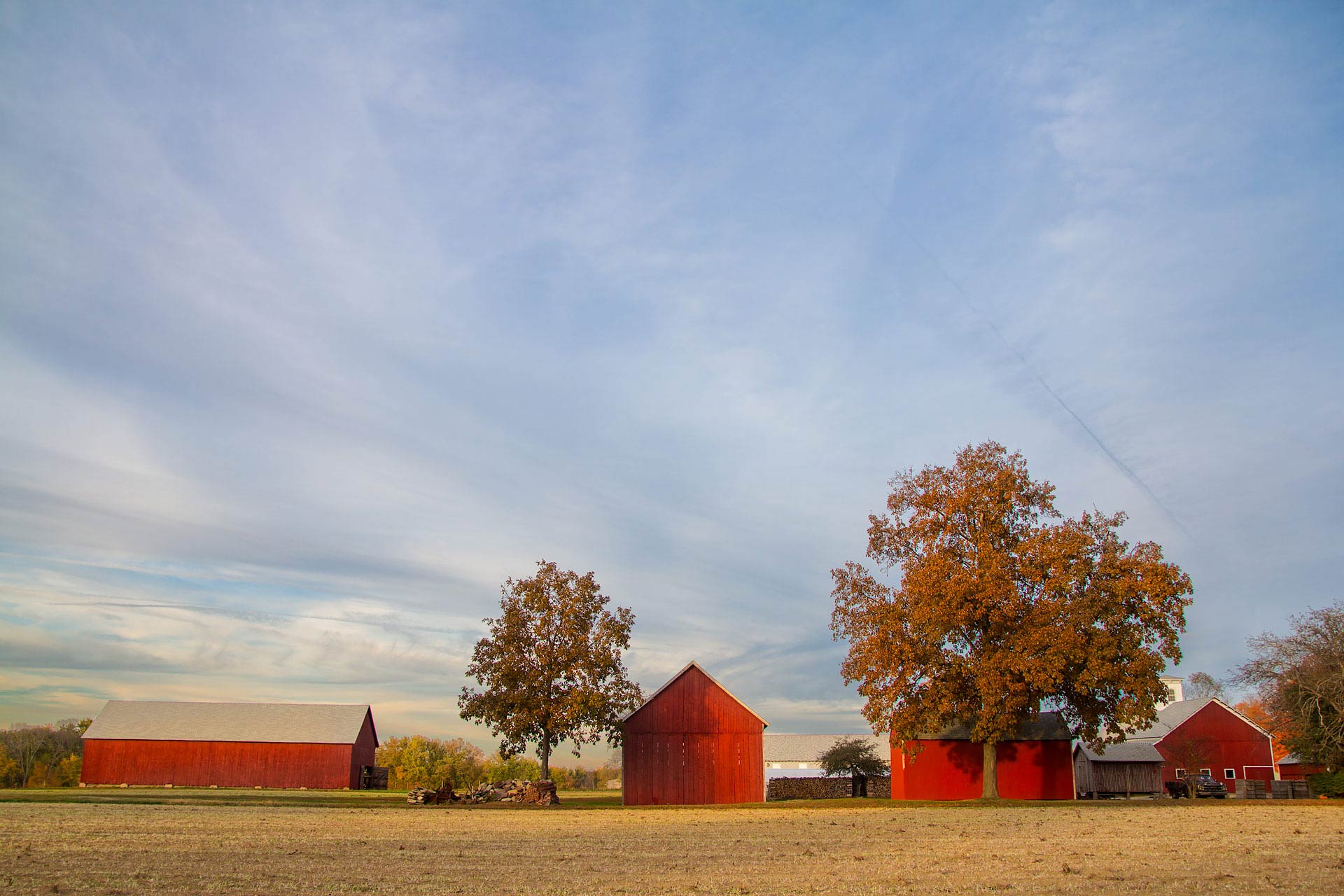 Even when I wasn't driving around the countryside, I found that Connecticut was full of beautiful fall colors. When I wasn't able to find a whole landscape to shoot, there were still plenty of details and textures.