This morning, Sigma announced the latest addition to their "ART" series of lenses: the 20mm f/1.4 DG HSM. At f/1.4, the maximum aperture of this lens sets a new record for the largest aperture available for an ultra-wide lens of this focal length.
Sigma's previous ART series lenses have been consistently remarkable, with optics and lens designs that match or best the optics of Canon and Nikon, and sometimes at half the price. The line includes the world's only f/1.8 zoom lens (the 18-35mm f/1.8 for APS-C) and the only f/2 zoom lens for full frame (24-35mm f/2), along with astoundingly sharp prime 24mm, 30mm, 35mm and 50mm f/1.4 lenses.
The 20mm f/1.4 is designed with today's "ultra-high" megapixel cameras in mind, according to Sigma. Its design uses 15 lens elements in 11 groups, including an FLD element and five SLD glass elements. Its nine aperture blades are rounded to produce smooth bokeh, and while it does boast a brass mount for durability, there has been no mention of weather sealing. As usual, the lens contains Sigma's fast HSM (hyper-sonic motor) for fast AF performance.
Although no official mention has been made, it appears that the front lens element is very convex, protruding far enough into the (apparently fixed) hood that this lens will not accept standard, threaded filters.
We'll have a chance to check out the lens next week at the PhotoPlus expo in New York, and it should begin shipping in late November at a cost of $899. You can pre-order it at Adorama  with free shipping for Canon, Nikon, or Sigma mounts.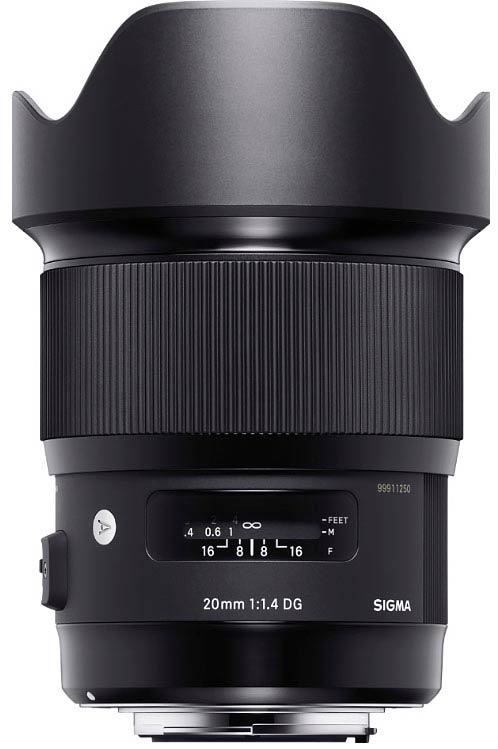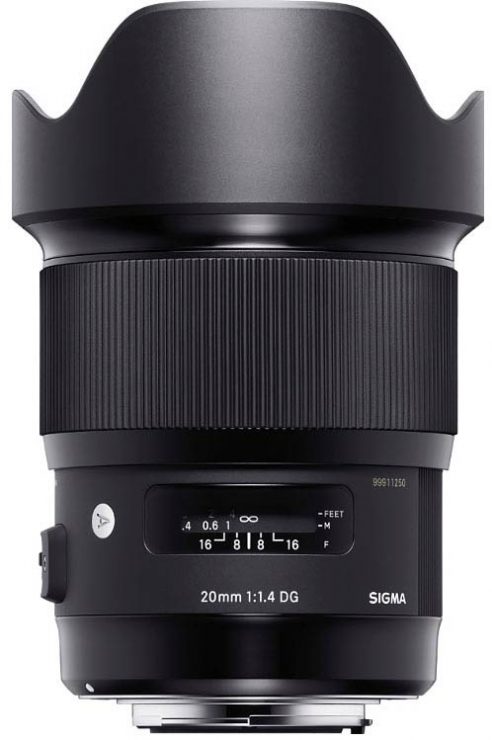 [10:00 AM PST : This article has been updated to include additional information about the appearance of the lens hood and lack of filter threads.]