After months of beta testing, this morning ON1 is launching Photo RAW 2018, the latest incarnation of their RAW processing and digital asset management (DAM) software that has been hugely popular since it's inception last year. The new version has focused heavily on improving the software as a DAM, also releasing a mobile app and integrating cloud platforms for access to images while on the road.  You can download the free 30-day trial here, and see if you like it. The main highlights of the new release are as follows:
ON1 Photo for Mobile
Improved Highlight Recovery
ON1 HDR
Pano Stitching
Versions (Virtual Copies)
Selectively Add or Remove Noise
Blur and Chisel Mask Tools
Global Mask Editing Tools
Luminosity Mask Updates
Color Range Masks
Paint with Color Brush
Updated UI
Additional Camera & Lens Support (Nikon D850, Sony A7R III)
This quick video is worth checking out:
Option for Replacing Lightroom
Replacing Lightroom has been a popular theme recently, especially after Adobe's announcement that they'll discontinue support for non-CC versions of the software, making perpetual periodic payments to Adobe the only option. Skylum Luminar 2018 (formerly Macphun) announced that in early November that their 2018 version will be a complete, RAW processing engine with lens correction and look-up-table (LUT) support for color grading, with an emphasis going forward on asset management. ACDSee is now promoting a professional quality DAM and RAW editor as well.
ON1 has been a player in this game for a year already, and has made significant progress. While Adobe users have been languishing in front of their monitors while Lightroom loads previews or spends your lunch hour switching to the develop module (both issues addressed in Lightroom CC to some extent), ON1 Photo RAW has been a zippy fast file browser and editor, loading thumbnail images almost instantly and switching to the RAW module in just moments.
The Elephant in the Room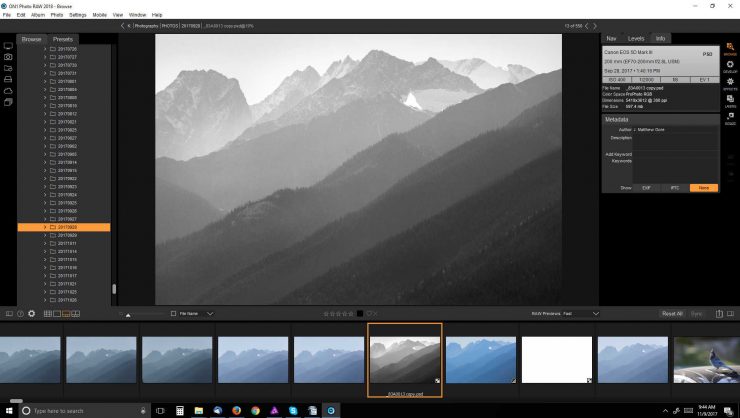 Whether ON1 Photo RAW 2018 meets all of your needs as a photographer, there's still a looming drawback to making the software switch: you'll lose all of your years of Lightroom adjustments. If you're just getting started, this is no big deal. Adjustments with both programs are non-destructive, so you can always re-process images that you want to use again. But if you have years of adjustments in your library, and you've spent months of your life perfecting your images in Lightroom, you will probably be hesitant to throw that work away.
Of course, this is a problem when switching to any software, not just ON1.  One solution is to export your images from Lightroom as 16-bit TIFF files. They'll no longer be adjustable, but at least you won't lose the work. You will dramatically increase the size of your image archives on your hard-drive, too.
Price & Availability
ON1 Photo RAW 2018 is available now for download as a free trial and a purchase price of $119, the same cost as getting the Adobe Photographer's Plan for a year. However, if you already own any ON1 app, you can upgrade to ON1 Photo RAW for $99.