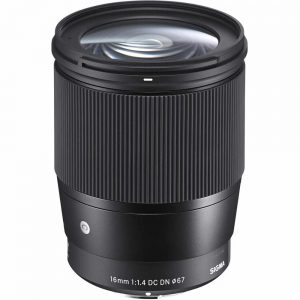 If you shoot Sony E-mount (APS-C) and have been waiting for a high quality, large aperture, wide-angle lens, the Sigma 16mm f/1.4 DC DN "Contemporary" series lens will be available at the end of the month for a retail price of $449. Simga announced the pricing this morning, with "the end of November" as the official time of availability, but the product listing at B&H Photo is more specific with November 22nd as the expected date.
Of course, the Sigma lens is also available for micro-4/3 mount, where it will provide an equivalent 32mm field of view, and despite all of the MFT manufacturers out there, this will be the first 16mm f/1.4 lens available for the mount.
You can pre-order now from B&H for $449.