Early this morning, Canon announced their entry into the full-frame mirrorless camera market with the EOS R body and four RF-mount lenses. As the third major player in the full-frame mirrorless market, it is inevitable that comparisons will be made with the existing competition: Sony and Nikon. Compared to the A7III and Z6, Canon's EOS R has a couple of major improvements, but also some troubling oversights.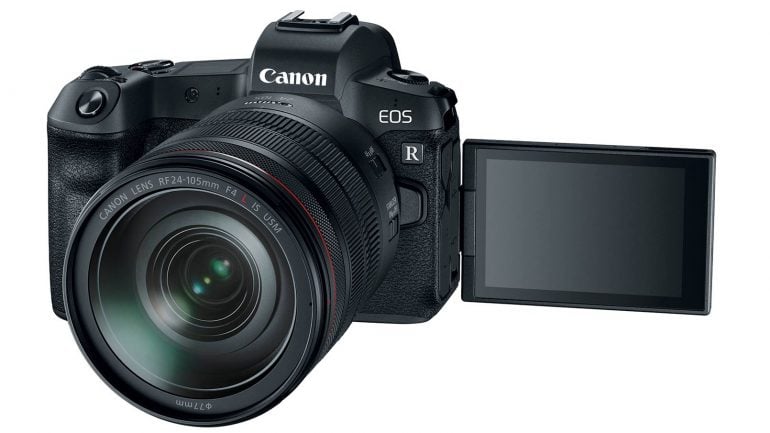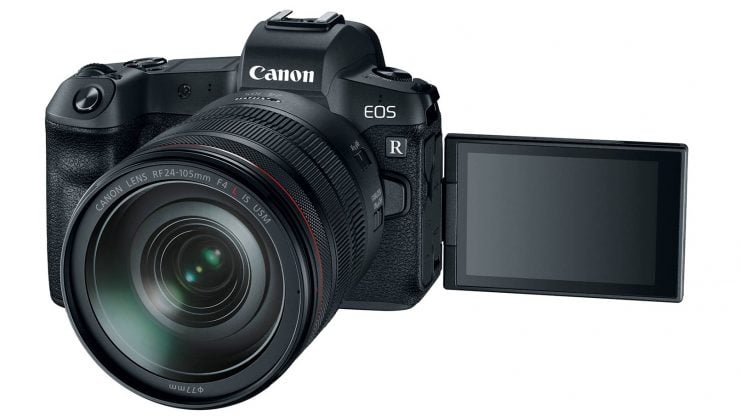 The Good, In a Nutshell
Canon has a lot of experience with on-sensor, dual-pixel autofocus, and the AF system on the EOS R is a beast, with over 5,600 autofocus points, covering nearly the entire frame (100% vertical, 88% horizontal), with excellent sensitivity in low light. AF should be very fast: .05 seconds, optimally. Sensor resolution is slightly higher than the others. Photographers who shoot in bursts will have a virtually unlimited buffer when shooting Dual-Pixel RAW files.
Vloggers will be happy with the rear LCD monitor that can be flipped to the side to face forward for monitoring selfie-video. 12 EV dynamic range for C-log video, 10-bit HDMI output.
The Bad, In a Nutshell
Unlike Sony and Nikon, Canon has not adopted in-body image stabilization (IBIS), so stabilization will have to be built into lenses or will be entirely absent. Top ISO is slightly lower than the others, frame rate is only 8fps for stills, and the body has only a single SD card slot.
Video performance is a problem. 4K video shooting is cropped to about 1.7x (using the center of the sensor), and there is no 120fps capability at 1080p.
This will be a matter of opinion, but my impression is that the controls of the EOS R are going to seem unfamiliar to existing EOS DSLR users. The main thumb dial is moved, an odd slider has been introduced next to the viewfinder, and the mode dial is gone.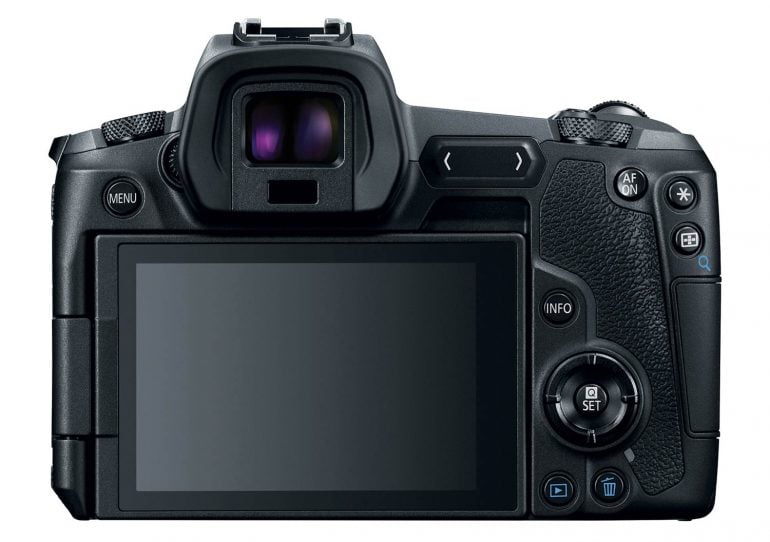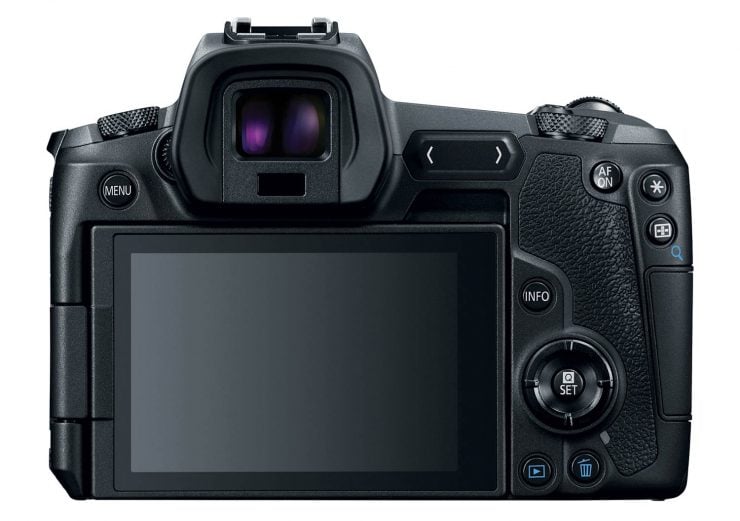 The General Specs, Compared to Nikon and Sony
Canon EOS R
Nikon Z6
Sony A7III
Price (Body)
$2299
$1999
$1999
Len Mount
RF-Mount
Z-mount
E-mount
Sensor Resolution

30.3 Megapixel

24.5 Megapixel
24.2 Megapixel
ISO Range
100-40000
100-51200
(50-204800)
100-51200
(50-204800)
Autofocus Points (total)
5,655
273

1118

AF Light Level

-4.5 to +19.5 EV (with f/2 lens)

-2 to +19 EV (with f/2 lens)
-3 to 20 EV (with f/2 lens)
Frame Rate
8fps
(14-bit RAW, Dual pixel RAW)
12fps
(12-bit RAW or JPG)
10fps
(14-bit RAW)
Buffer Size
Dual-Pixel Compressed: Unlimited
78 compressed RAW
47 uncompressed RAW
n/a (estimate around 40)
89 compressed RAW
40 uncompressed RAW

Built-In Image Stabilization
None
5-axis, 5 stops
5-axis, 5 stops
Anti-Flicker
Yes
No

Yes

Silent/Electronic
Shutter option
Yes
Yes
Yes
Shutter Speeds
1/8000 - 30 sec
1/8000 - 30 sec
1/8000 - 30 sec
Flash Sync Speed
1/200th sec.
1/200th sec.

1/250 sec.

Full Frame 4K
NO (1.66x crop)
YES
YES
Video Resolution
4K (3840x2160), 1080p, 720p
4K (3840x2160), 1080p, 720p
4K (3840x2160), 1080p, 720p
Max 1080p Framerate
60fps
120fps
120fps
Video Format
MOV/MP4
H.264/MPEG-4
MOV/MP4
H.264/MPEG-4
XAVC S, AVCHD format Ver. 2.0
H.264/MPEG-4
Clean HDMI Out
USB-C Out
Yes: 10-bit 4:2:2
Yes: 3840 x 2160 (24/30p),(4: 2: 2 10-bit HDMI output)
Yes: 3840 x 2160 (24/30p), YCbCr 4:2:2 8-bit / RGB 8-bit
Log Profile
C-log
N-log
S-log2, S-log3
Heaphone Jack
?
Yes (3.5mm stereo)
Yes (3.5mm stereo)
EVF Type
Quad VGA
3,686,400 pixel
Quad VGA
3,686,400 pixel
1.3cm XGA OLED
2,359,296 pixel
EVF Coverage
100%
100% @ 0.8x
100% @ .78x
EVF Frame Rate
?
60fps
60fps
Rear LCD
3.15"
2,100,000 pixel
3.2"
2,100,000 pixel
3" Touchscreen
921,600 pixel
Swivel Angles
Flip out to side, PROBABLY 180 up, 90 degree down rotation
Up
Down
Up 107 degrees
Down 41 degrees
Body Size
135.8mm x 98.3mm x 67mm
134 mm x 100.5 mm x 67 mm
126.9 mm x 95.6 mm x 62.7 mm
Weight
(with battery and memory card)
660g
675g
650g
Media
1 SD Card Slot
(UHS-II)
1 XQD Card Slot

2 SD Slots (1 UHS II)

Battery Type
LP-E6N
or
LP-E6 (shorter life)
EN-EL15b
or
EN-EL15a (shorter life)
NP-FZ100
(2280mAh)
CIPA Battery Life
(EVF Shooting)
~350-430
depending on power mode
~310 shots


~610 Shots

Connectivity
USB-C, Wi-Fi (2.4 and 5GHz), Bluetooth
USB-C, NFC, Wi-Fi (2.4GHz), Bluetooth
The New Lenses
Canon announces four RF lenses with the EOS R: the RF 35mm f/1.8 IS STM, the RF 50mm f/1.2, 28-70 f/2, and 24-105 f/4 IS USM. The RF mount is not interchangeable with the EF mount, though they are very similar in size (54mm).
One of the reasons that mirrorless cameras have become so popular is that their bodies are relatively compact. Canon has done everything that they can, it seems, to make up for it with big, heavy lenses (Sony has done the same thing, to some extent).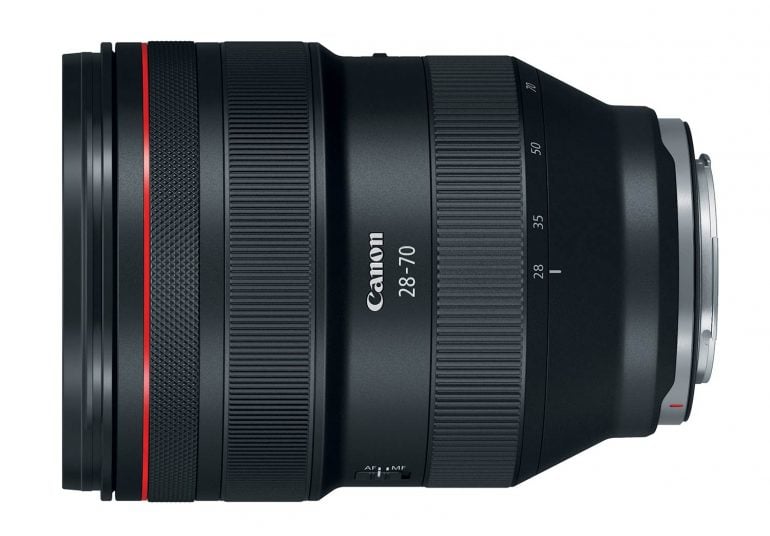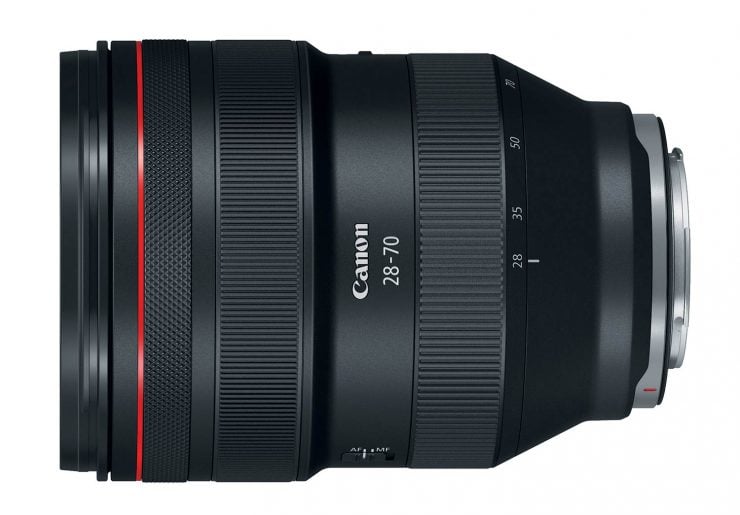 The 28-70 f/2 is among the largest aperture zoom lenses available for a full-frame camera, and you'll pay for it in size and weight (and dollars: $3000). It weighs in at over three pounds… nearly twice as much as the 24-70 f/2.8L II, and about the same as the 70-200 f/2.8L IS II.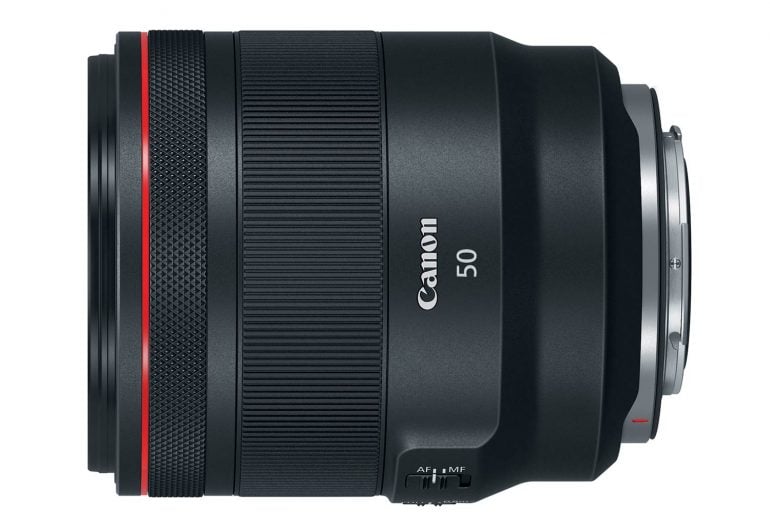 The RF 50mm f/1.2 has nothing in common with its EF counterpart. The RF lens is designed with 15 elements in 9 groups, while the EF design contains 8 elements in 6 groups. And with so much glass, the weight has increased too: it weighs 950g, it weighs about 65% more than the EF (580g).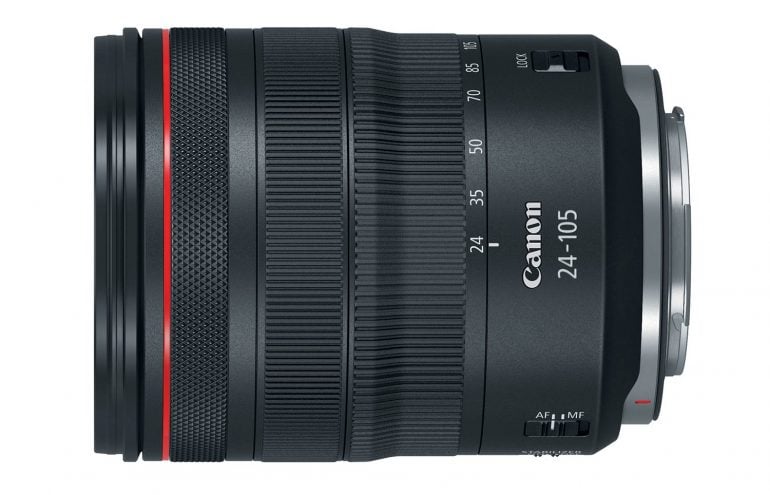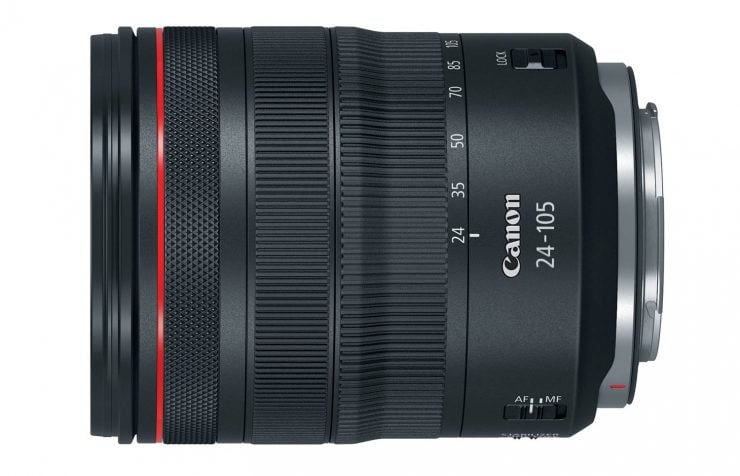 However, the weight increase of the RF 24-105mm f/4 IS STM lens is modest. It weighs in at 700g, compared to the EF STM version's 525g, and the EF USM II version is actually heavier, at 795g.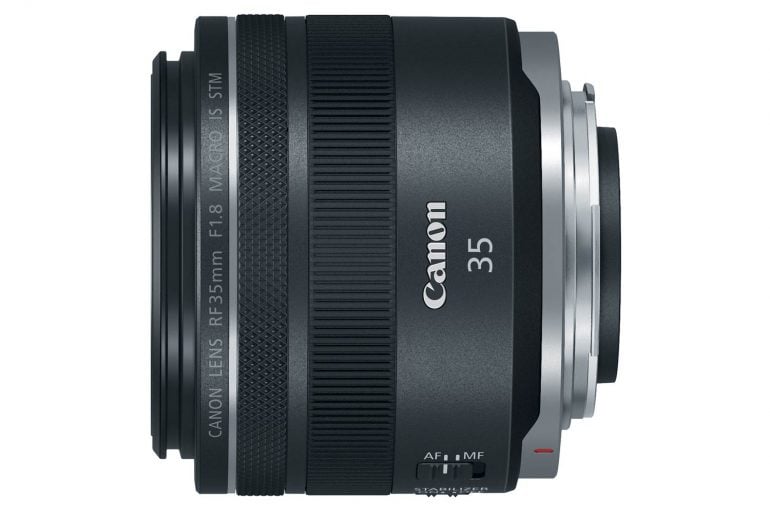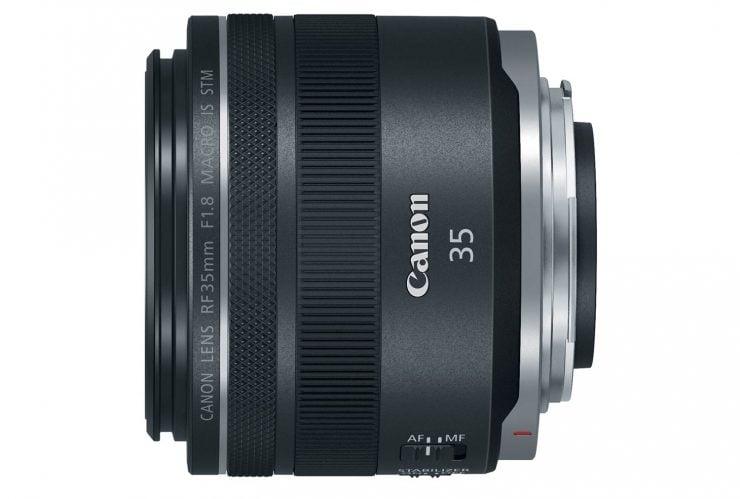 The 35mm f/1.8 is the only lens of the group that truly has a weight advantage over the SLR models. Canon's 35mm f/2 IS has a slightly smaller maximum aperture than the RF, and also weighs about 335g, while the RF 35mm f/1.8 weighs a mere 305g. It is worth noting, though, that the EF lens is weighed down with excellent image stabilization, which the RF lens lacks.
Prices and Availability
The EOS R camera will be available in late October, according to the Japanese press release, at $2299 for the body only, or $3399 with the 24-105 f/4 kit lens. The 50mm f/1.2 lens will be available in October, also at $2299, but you'll have to wait until December for the rest of the lenses. The 28-70 f/2 will cost $2999, the 24-105mm f/4 will cost $1099 when purchased separately, and the 35mm f/1.8 Macro will cost $499.