This morning, On1 officially announced Photo RAW 2019, a major upgrade to the raw-processing and asset-managment software. Probably the most important new feature is the ability to import Lightroom catalogs while retaining their editable, non-destructive adjustments that you've spent years making, a huge benefit to those who are looking to switch away from the Adobe ecosystem. I've been using it on my Surface tablet for almost three years because of it's fast performance compared to Lightroom and Bridge, though it's only one of several options on my workstation.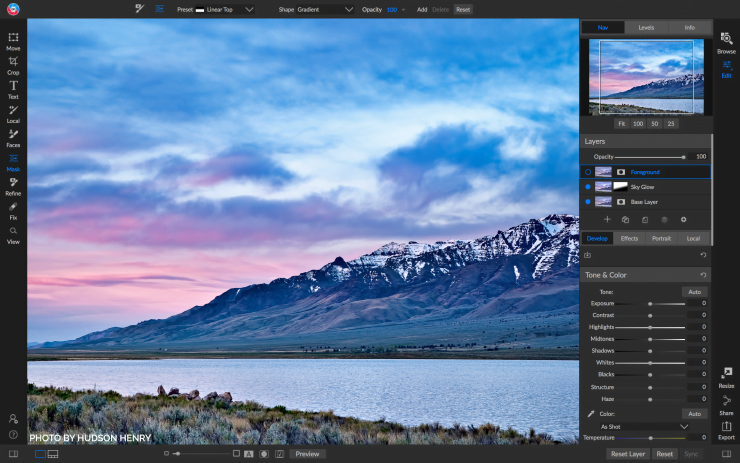 However, that's not all that has changed. For photographers who wish to do their editing in a single program, On1 has added a non-destructive, layer-based editing workflow, added a portrait-retouching tab, improved their masking tools,  and added a text-tool (still missing from Lightroom) to help photographers create posters, ads, fliers, and mixed text and photographic art more generally. Of course, it will not have the pixel-level editing capabilities of Photoshop (not to mention the paint brushes, vector/shape tools, 3D tools, video editing, etc) to make it a replacement for photographers who make serious use of all of Photoshop's depth, but for many casual users, it may get the job done.
The 2019 version also improves overall performance (including RAW conversion) and adds support for new cameras like the Nikon Z7. You'll still find On1's library of presets to quickly apply a particular style or find a starting point for an edit. Other notable features include an HDR workflow, focus-stacking, and auto-layer alignment, and a master keyword list for organization. You can also use it for tethered shooting.
Try it For Free
If you'd like to give it a try, the new On1 Photo Raw 2019 is available for download as a free trial from their website.  Or, if you'd simply like more information about the software and its features, you can check out their new product page, here.