Fujifilm officially announced the Fuji GF 100-200 f/5.6 R LM OIS WR lens for their GFX medium format cameras this evening after the lens had been leaked online last week. Because of the larger sensor on a GFX camera, the f/5.6 aperture of the lens provides depth of field similar to an f/4 lens on a full-frame 35mm sensor and a zoom range like an 80-160mm (to be specific, f/4.2, 79-158mm), which is ideal for portrait work, though Fuji is pushing it as nature and landscape lens.
The new lens boasts ultra-high resolution, suitable for 100 megapixel or greater sensors, with 20 lens elements in 13 groups. If you happen to be hand-holding it, its optical image stabilization system should provide 5 full f-stops of shake reduction. Along with a fast, quiet autofocus motor, the lens is heavily weather-sealed for those who work out in the elements. It weighs about 2.3lbs and has a filter ring diameter of 67mm.
Price & Availability
The medium format lens will cost $1999 from your favorite online retailers and will ship in mid February. You can check whether it's available for pre-order from Adorama, here, though it was not at the time of writing. Purchasing through these links supports the website.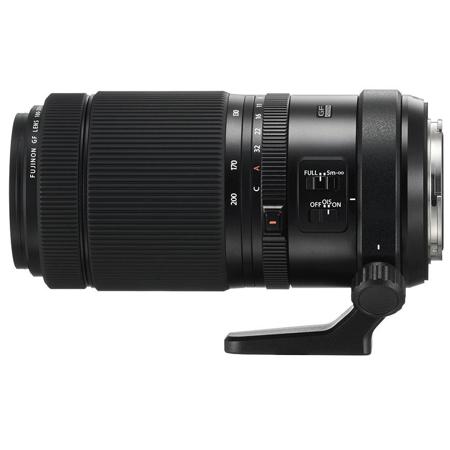 GF 100-200mm f/5.6 R LM OIS WR Zoom Lens
$1999
BUY NOW