Canon announced the 26.2 megapixel EOS RP mirrorless full-frame camera this evening at the lowest price of any new mirrorless full-frame camera on the market. Rumors over the past month have suggested that Canon would announce a budget priced EOS R camera costing around $1500, but Canon has been even more aggressive with their pricing, knocking it all the way down to $1299. But will a low price be enough to entice buyers to switch to the EOS R ecosystem?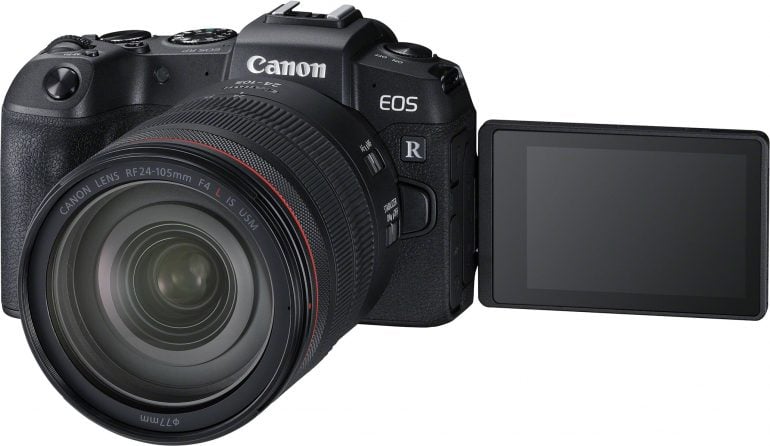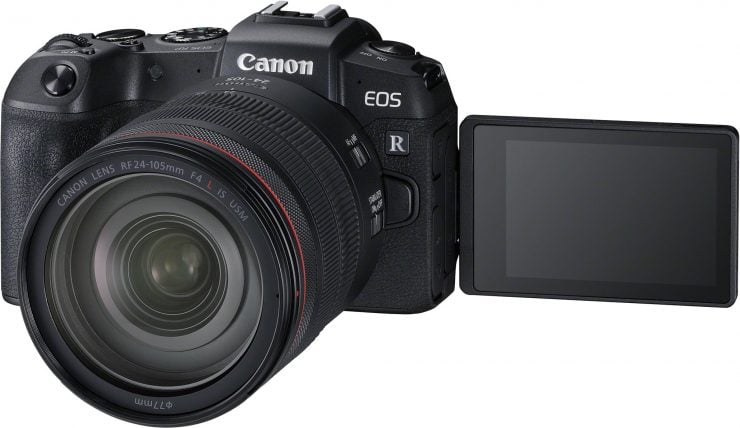 Probably. Canon has the largest user-base out there, and many will be looking to switch to mirrorless while staying with a familiar system.
Unfortunately, beyond the low price there is very little to recommend the EOS RP. It has two main selling points: its low price, and its low weight. As most compact full-frame on the market, the camera weighs 25-30% less than its competitors (except the Panasonic, which weighs more than twice as much as the EOS RP). This low weight comes at the price of battery life, however, with a battery life rated at about 20% lower than the Nikon and 60% lower than the Sony. The EOS RP also ditches the top-LCD screen found on the EOS R, as well as the rear thumb-slider pad.
If you don't like small camera bodies, you can buy an extension grip with one of three different accent colors (black, red, blue) for about $80.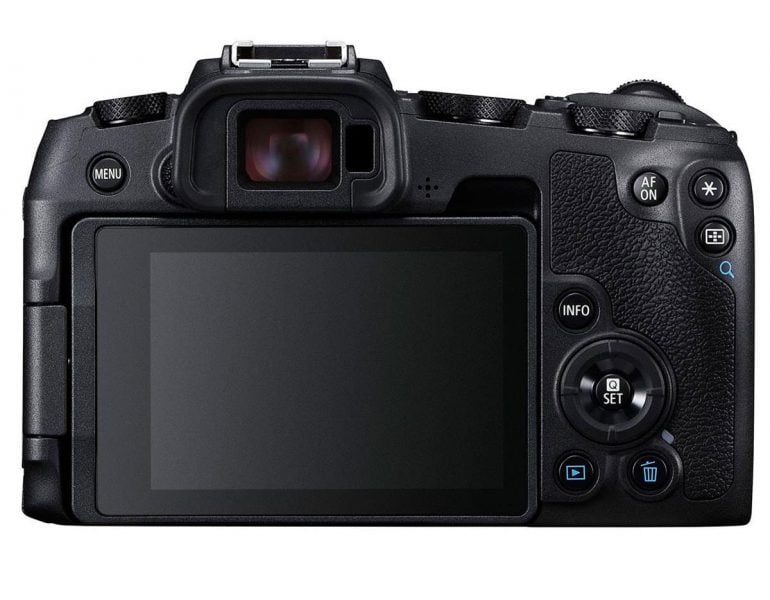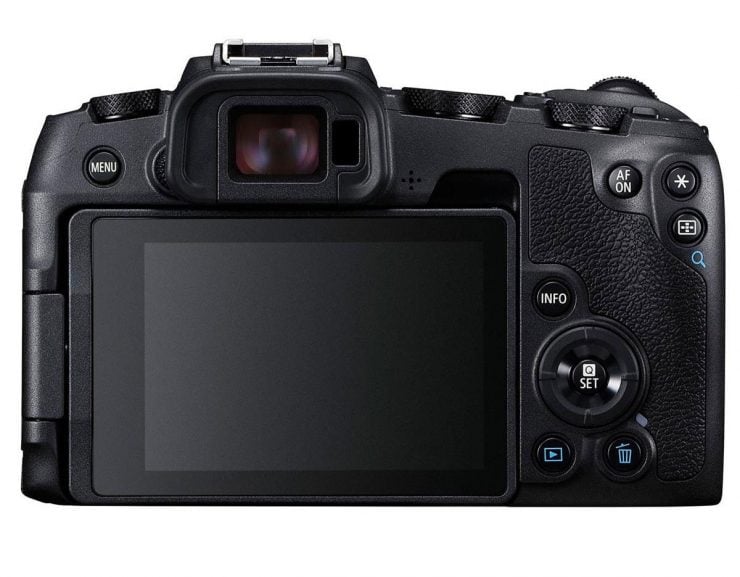 But when it comes to performance, the Canon EOS RP is nothing new. Its 26.2 megapixel sensor appears to be identical to the one found in the Canon 6D Mark II, and the removal of the mirror-box has not improved its framerate for shooting action, which reaches only 4fps with focus tracking (slower than the 6D II). And while the EOS RP can shoot 4K video, it still does not shoot full-sensor 4K like Nikon and Sony's cameras, nor does it support high-frame rate shooting or C-log video.
Lets take a look at how it compares to the EOS R, Sony's A7III and Nikon Z6.
Canon EOS RP
Canon EOS R
Nikon Z6
Sony A7III
Price (Body)
$1299
$1,842.39
$
$1,698.00
Len Mount
RF-Mount
RF-Mount
Z-mount
E-mount
Sensor Resolution
26.2 Megapixel

30.3 Megapixel

24.5 Megapixel
24.2 Megapixel
ISO Range
100-40000
100-40000
100-51200
(50-204800)
100-51200
(50-204800)
Autofocus Points (total)
4,779
5,655
273
1118
AF Light Level
-5 to +18 EV
-4.5 to +19.5 EV (with f/2 lens)
-2 to +19 EV (with f/2 lens)
-3 to 20 EV (with f/2 lens)
Frame Rate
5fps
4fps with AF tracking
(14-bit RAW)
8fps
(14-bit RAW, Dual pixel RAW)
12fps
(12-bit RAW or JPG)
10fps
(14-bit RAW)
Buffer Size
50 compressed RAW
Unlimited JPG
Dual-Pixel Compressed: Unlimited
78 compressed RAW
47 uncompressed RAW
n/a (estimate around 40)
89 compressed RAW
40 uncompressed RAW

Built-In Image Stabilization
(still photos)
None
None
5-axis, 5 stops
5-axis, 5 stops
Anti-Flicker
Yes
Yes
No
Yes
Shutter Speeds
1/4000 - 30 sec.
1/8000 - 30 sec
1/8000 - 30 sec
1/8000 - 30 sec
Flash Sync Speed
1/180th
1/200th sec.
1/200th sec.

1/250 sec.

Full Frame 4K
NO (1.56x crop)
NO (1.66x crop)
YES
YES
Video Resolution
4K (3840x2160), 1080p, 720p
4K (3840x2160), 1080p, 720p
4K (3840x2160), 1080p, 720p
4K (3840x2160), 1080p, 720p
Max 1080p Framerate
60fps
60fps
120fps
120fps
Video Format
MOV/MP4
H.264/MPEG-4
MOV/MP4
H.264/MPEG-4
MOV/MP4
H.264/MPEG-4
XAVC S, AVCHD format Ver. 2.0
H.264/MPEG-4
Clean HDMI Out
USB-C Out
Yes: 8-bit 4:2:2
USB-C Out
Yes: 10-bit 4:2:2
Yes: 3840 x 2160 (24/30p),(4: 2: 2 10-bit HDMI output)
Yes: 3840 x 2160 (24/30p), YCbCr 4:2:2 8-bit / RGB 8-bit
Log Profile
None
C-log
N-log
S-log2, S-log3
Heaphone Jack
Yes
Yes
Yes (3.5mm stereo)
Yes (3.5mm stereo)
EVF Type
1.3cm XGA OLED
2,359,296 pixel
Quad VGA
3,686,400 pixel
Quad VGA
3,686,400 pixel
1.3cm XGA OLED
2,359,296 pixel
EVF Coverage
100% @0.7x
100%
100% @ 0.8x
100% @ .78x
Rear LCD
3" Touchscreen
1,040,000 pixel
3.15"
2,100,000 pixel
3.2"
2,100,000 pixel
3" Touchscreen
921,600 pixel
Swivel Angles
Flip out to side, up, down, forward facing
Flip out to side, up, down, forward facing
Up
Down
Up 107 degrees
Down 41 degrees
Body Size
132.5 × 85.0 × 70.0 mm
135.8mm x 98.3mm x 67mm
134 mm x 100.5 mm x 67 mm
126.9 mm x 95.6 mm x 62.7 mm
Weight
(with battery and memory card)
485g
660g
675g
650g
Body Material
Magnesium, Aluminum, Resin/Fiberglass
Magnesium Alloy
Magnesium Alloy
Magnesium Alloy
Media
1 SD Card Slot
(UHS-II)
1 SD Card Slot
(UHS-II)
1 XQD Card Slot

2 SD Slots (1 UHS II)

Battery Type
LP-E17
LP-E6N
EN-EL15b
or
EN-EL15a (shorter life)
NP-FZ100
(2280mAh)
CIPA Battery Life
(EVF Shooting)
~250 shots
~350-430
depending on power mode
~310 shots


~610 Shots

Connectivity
USB-C, Wi-Fi (2.4 GHz only), Bluetooth
USB-C, Wi-Fi (2.4 and 5GHz), Bluetooth
USB-C, NFC, Wi-Fi (2.4GHz), Bluetooth
With a price of only $1299, we wouldn't expect the Canon EOS RP to match the specifications of the more expensive cameras on the market, but photographers who have needs beyond those of a casual shooter, it's easy to see from the table above that an additional $700 (or less with current rebates) can make a significant difference.
New Canon RF Lenses
What Canon's new EOS R system will have going for it is a collection of incredible lenses. The anticipated additions to the lineup include the "holy trinity" of professional photojournalist lenses: the RF 24-70mm f/2.8L IS, RF 70-200mm f/2.8L IS, RF 15-35mm f/2.8L IS, all of which are stabilized (which is good, because the EOS R bodies are not). We also get a pair of prime portrait lenses, the RF 85mm f/1.2L and RF 85mm f/1.2L DS, and a non-L all-in-one zoom, the RF 24-240 f/4-6.3.
The RF 70-200 f/2.8 design looks unusually compact, raising the question of whether Canon is using diffractive optics, or whether the lens is just oddly proportioned and larger than it seems. While Canon has made some excellent 24-70mm and 16-35mm lenses in the past, they have never made f/2.8 versions with image stabilization, so the addition is appreciated in the new lenses. With the 15-35 f/2.8 IS, Canon has also stretched the lower zoom limit a bit further than they managed with the popular Canon EF 16-35 f/2.8L III. They're all USM lenses.
The "DS" in the second designation of the 85mm stands for "de-focus smoothing", which is an optical design feature that is intended to create smoother bokeh from a lens that would already have very shallow depth of field at f/1.2.
Canon's new RF 24-240 f/4-6.3 IS USM is the type of lens that will be popular with travelers and other photographers who want to carry a single lens to cover the most important zoom range but don't plan on shooting action in low light. Usually this type of convenience also comes with a trade-off in image quality, but modern optical engineering has made some remarkable advances, so time will tell.
Pricing & Availability
The Canon EOS RF body is expected to begin shipping Feb 27th at a price of $1299, and it can currently be pre-ordered from your favorite retailers: Amazon, B&H, and Adorama (still no out of state sales tax?).
The lenses, on the other hand, have been announced as under development, and they're anticipated for sometime in 2019, but prices and even general time-frames are not yet available.
What do you think? Will the low price of the Canon EOS RP help convince you to make the switch to the EOS R system? Will you stick wit your DSLR until a better body comes along? Have you already made the switch? Let me know in the comment section below!
---
---