Fujifilm announced the third iteration of their top-of-the-line rangefinder body this morning, in three body styles: black, DR Black, and DR Gold (DR indicates a "Duratect" metallic finish, and costs an extra $200). All three bodies are heavily weather-sealed magnesium alloy skeletons with a strong and lightweight titanium skin. The X-Pro2's 24 megapixel sensor has been updated to a 26 megapixel backside illuminated X-trans CMOS 4, and the rear LCD now flips down 180 degrees to face forward.
In addition to updates in the body and sensor, Fuji has improved the hybrid viewfinder, which can switch between optical view and EVF with the flip of a switch, or a small EVF can be displayed within the optical viewfinder frame to preview exposure while shooting in real-time. Also included is a 200Hz refresh-rate mode called "smoothness priority", which is ideal for tracking fast moving subjects.
A unique, always-on 1.28″ additional rear LCD (called the "Color Memory LCD") will now be found on the back of the camera and will display color and exposure settings, optionally in the style of a film box end. [For those of you who didn't use film cameras, most cameras before the 1990s had a slot on the back to hold the end flap of a film box, which reminded the photographer which type of film was in the camera.]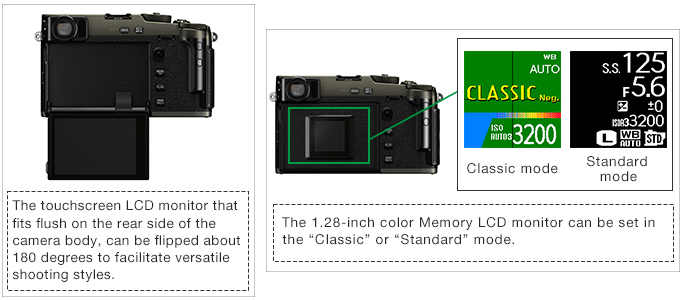 The Black version of the body will cost $1799, while the two DR versions will run about $1999. A grip extension and a leather case will also be available as optional accessories.
As usual, pre-orders are open at B&H Photo and Adorama, but no firm shipping date is currently available.