Samyang AF 85mm f/1.4 DLSM
Today Samyang announced that their autofocus 85mm f/1.4 lens will now be available for full-frame Sony E-mount. Though a Canon version is already on the market, the Sony-E version is not simply a re-mount: the optical formula and body design have been significantly altered.
Samyang (marketed under the name "Rokinon" in North America) has long been known as a Korean manufacturer of budget-oriented but high-quality manual focus lenses, but in 2016 they began producing autofocus lenses. The 85mm f/1.4 is the sixth in the lineup that also includes a 14mm f/2.8, 24mm f/2.8, 35mm f/2.8, 35mm f/1.4, and a 50mm f/1.4.
Some of these lenses, unfortunately, have been plagued by complaints of loud and slow autofocus performance, particularly the 50mm f/1.4. With the new 85mm f/1.4 lens, Samyang has attempted to rectify the situation with a new fast and silent AF design utilizing what they call "Dual Linear Sonic Motors", or DSLM, which sounds remarkably similar to the dual linear motor system used in the new Sony 135mm f/1.8 GM lens.
Optically, the 85mm f/1.4 for SONY has changed significantly compared to the earlier design for Canon EF. The optical formula of the Canon variant contains 9 elements in 7 groups, with one Hybrid ASP glass element, while the Sony-E version contains 11 elements in 8 groups with 4 high-refractive elements and one ED element. As a result, the new lens weighs about 15% more (568g) than the Canon version (485g), though they are both still relatively compact for modern 85mm f/1.4 lenses (the Sony GM and Canon EF L IS weigh 820g and 950g, respectively).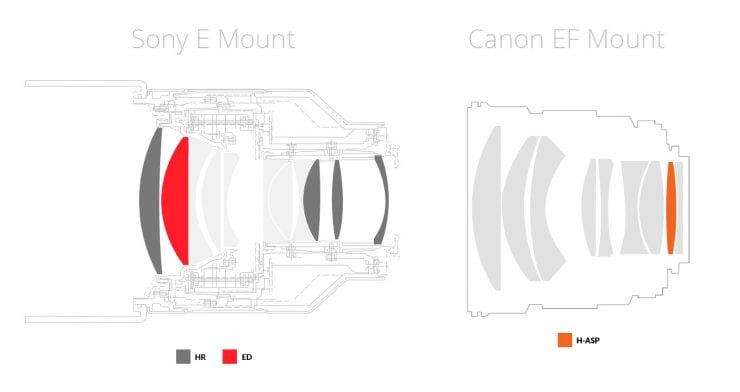 It's also worth noting that Samyang has taken the extra step of weather-sealing the new lens, making it much more practical for professional use.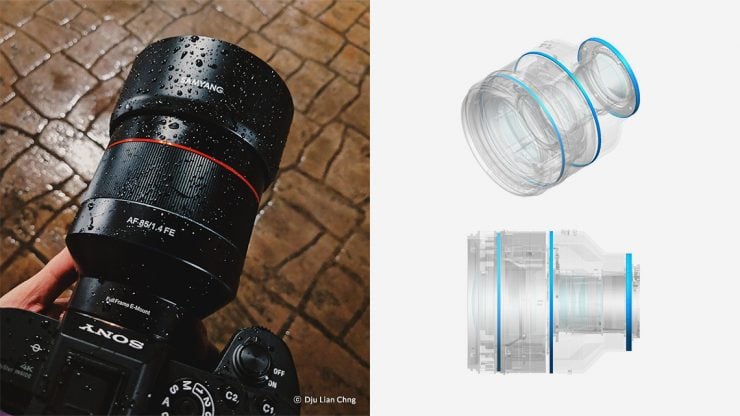 Price & Availability
Currently, no firm USA price or shipping date is available. However, a UK price of £599.99 is listed with at least one UK distributor, identical to the EF-Mount version. The variant for Canon EF Mount costs $599 at B&H and $649 at Amazon.