Like many of you, I've been using PNY Elite microSD cards for years: they're reasonably fast, they're cheap, and they're available in useful sizes, so when I saw the PNY PRO Elite cards, I was cautiously optimistic: are they really better, or is this just marketing? PNY sent me one to test out, and this is what I found1As always, this post is NOT sponsored, and it is as honest and unbiased as I can possibly make it. PNY did not have any editorial input, and I didn't and won't receive any payments from them, but the memory card was free for me to review..
The Basics
PNY PRO Elite microSDXC cards are Class 10, U3 and V30 rated cards which PNY claims to have read speeds of up to 100MB/s and write speeds up to 90MB/s, which is not too shabby for UHS-I cards… but they are UHS-I. Full-size SD cards are becoming more common with a UHS-II interface, but they're very rare in microSD sizes. UHS-II cards (if you can find them and your devices can use them) support transfer speeds of 275 MB/s or more. The PRO Elite cards are also A2 enabled, which means that you can run apps from them if you have one installed in your phone or device. PRO Elite cards range in capacities from 32GB up to 1TB, although sizes below 256GB are uncommon.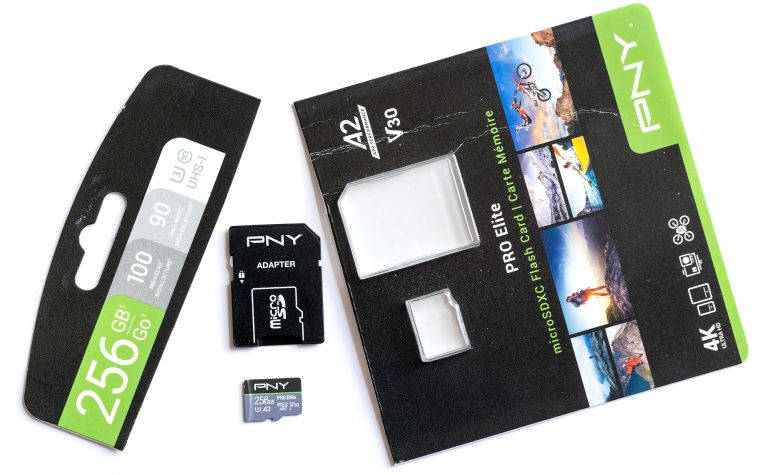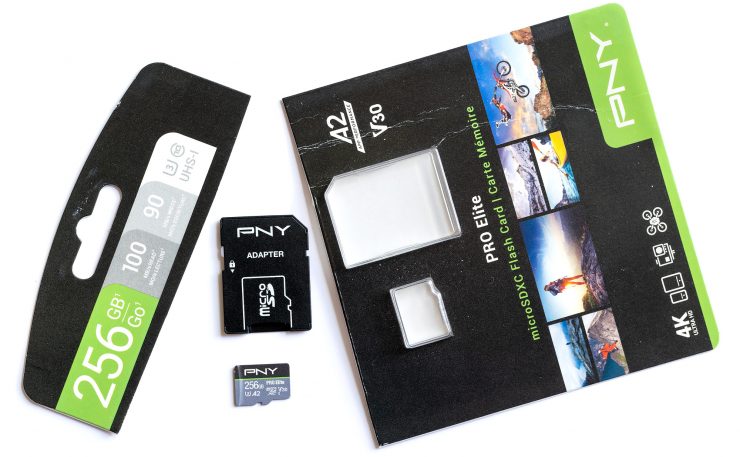 Compared to the Elite Series Cards
If these numbers sound familiar to you, it's because they're pretty similar to the numbers claimed for the standard PNY Elite cards, which also claim 100MB/s read speeds, and they're Class 10 but U1. U1 cards must have write speeds of 10MB/s and U3 must be capable of 30MB/s, both of which are well under the 90MB/s capabilities claimed by the PRO Elite.
So, the most obvious difference between the "Elite" cards and the "PRO Elite" cards is their capacity, with a 128GB maximum for the Elite line, and 1TB maximum for the Pro Elite.
But that's not the whole story.
Although the PNY Elite cards do claim read speeds of 100MB/s, it's hard to find write speeds beyond "Class 10, U1". I measured two different PNY Elite cards in my Surface Pro card slot, and found that their sustained write speeds are right around 65MB/s. This is a little slower than the new cards claim, but in real world use, it's probably not something that you'd notice very often.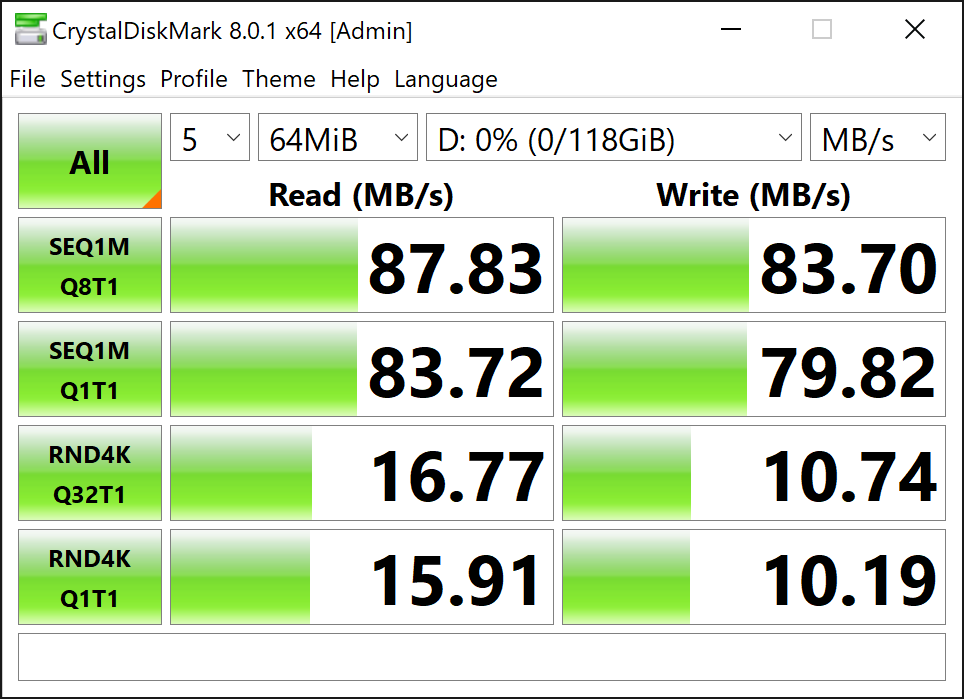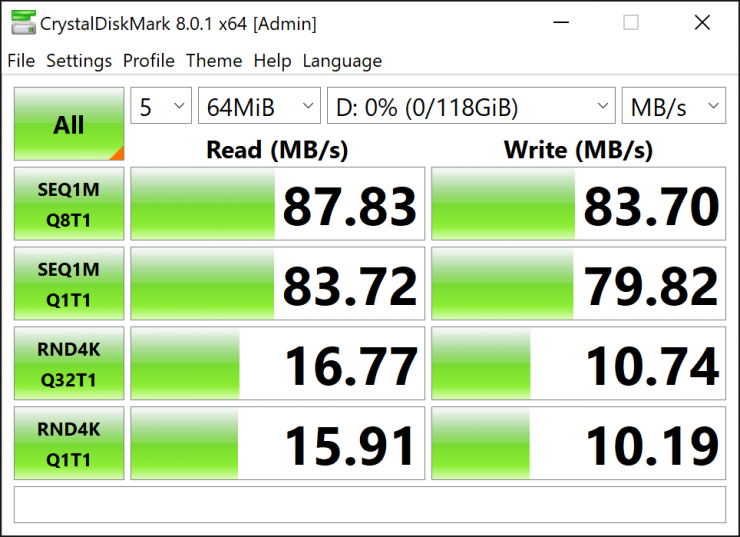 In addition to the two PNY cards, I decided to test a few 32GB cards made by Sandisk (Ultra) that I keep around for my field audio recorder, a zoom H1n (which claims to only support cards up to 32GB). These are also Class 10, but are A1 rated rather than A2.
Gathering all of the information together, this is what I found: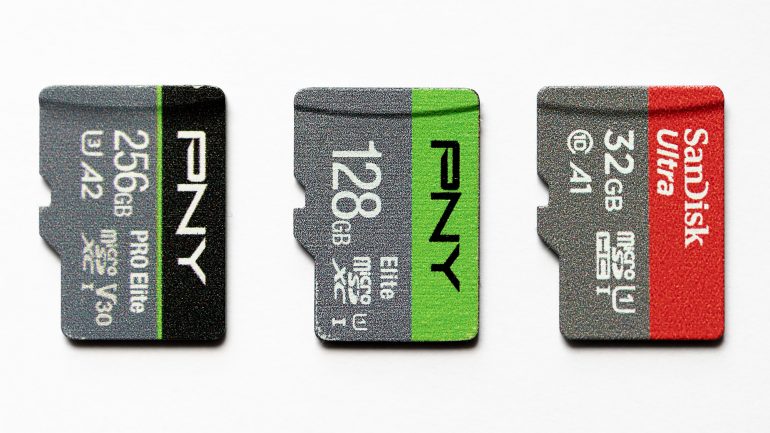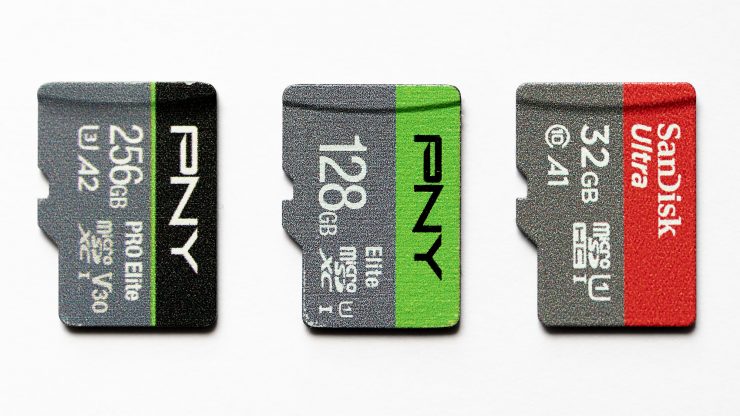 In the chart above, higher is better.
The take away from all of this is that when it comes to sustained read speeds, all of the cards are pretty similar, but the new PNY Pro Elite cards are dramatically faster than the others tested here at random read and write speeds, and the older PNY Elite cards perform miserably in that category. The sustained write speeds of the PNY cards are quite good, while the Sandisk Ultra is significantly slower.
And for benchmarks, I'll leave it at that.
In Real World Use
I shoot occasional video to my microSD card in my phone at 4K resolution, and I've never had any trouble with a card keeping up, so I didn't expect anything different from the PRO Elite card, and there wasn't. I needed to come up with something more challenging.
Luckily, the PNY PRO Elite comes with an SDXC card adapter, so I was able to test out the card in my Sony A7RIII. I don't know whether this is supposed to work; my Canons do not support microSD cards in adapters, but I had no problem with this setup in my Sony.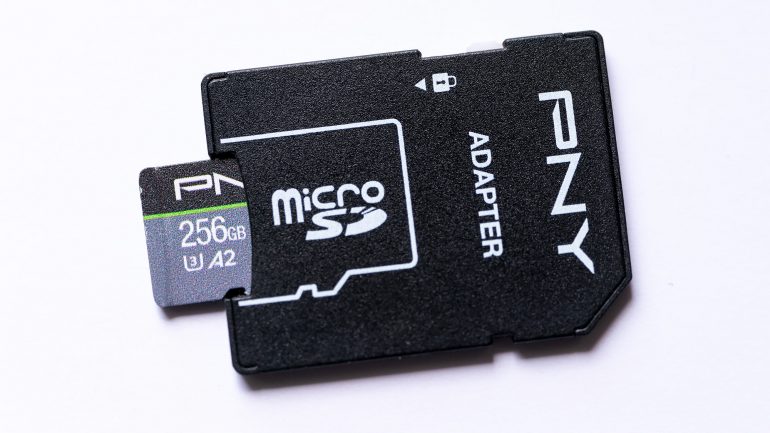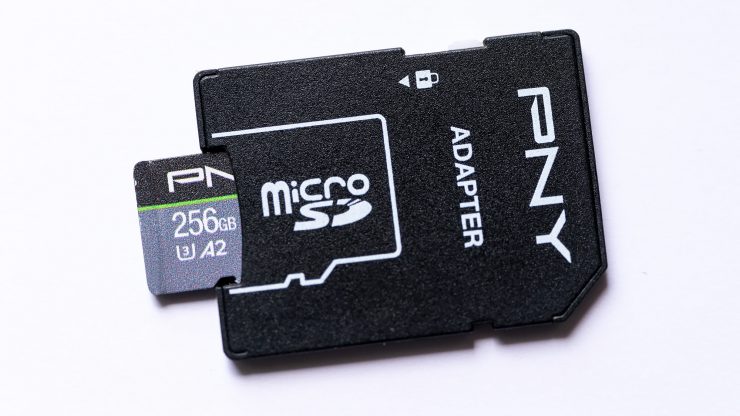 I shot several bursts of 42 megapixel RAW files, and they wrote to the PNY PRO card without issue, and the buffer cleared with reasonable speed. So I decided to step it up a bit, and shot some 4K XAVC S 30p 100M video. It worked. I started off with a clip of just a few seconds long, and when that worked, I shot a clip for about 3 minutes long, with the resulting file weighing in at 2.2GB. Again, no problem at all.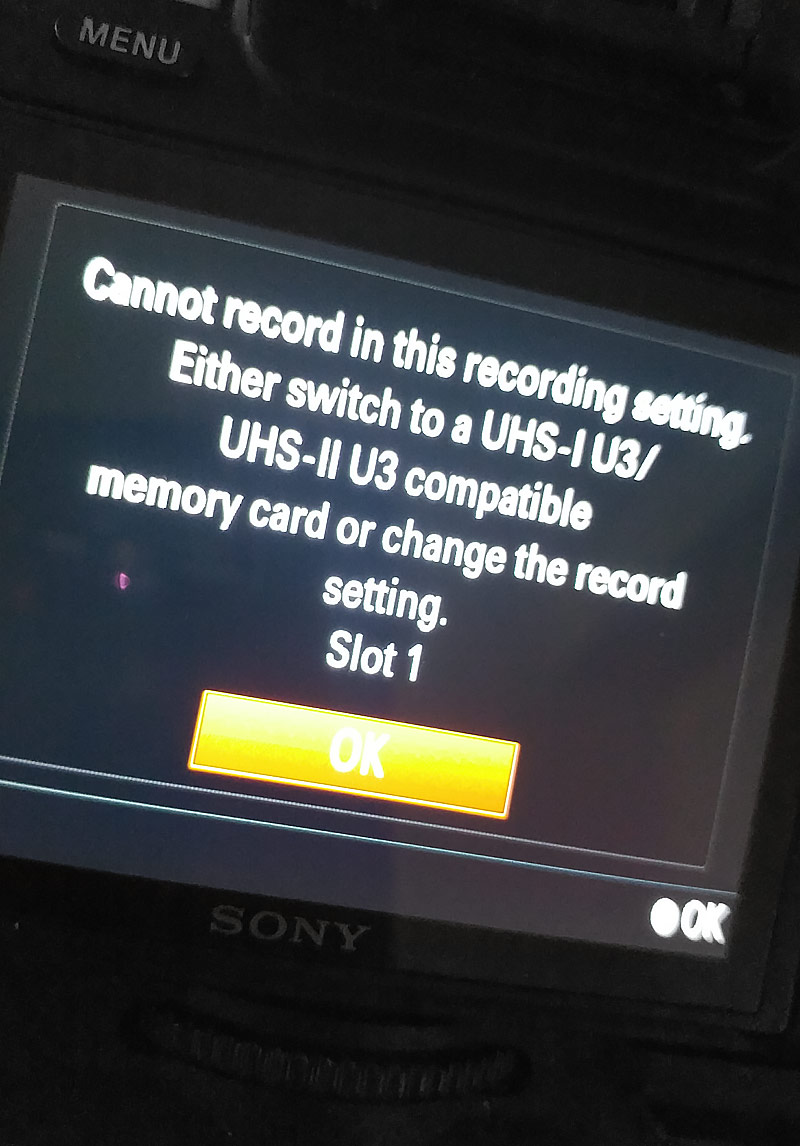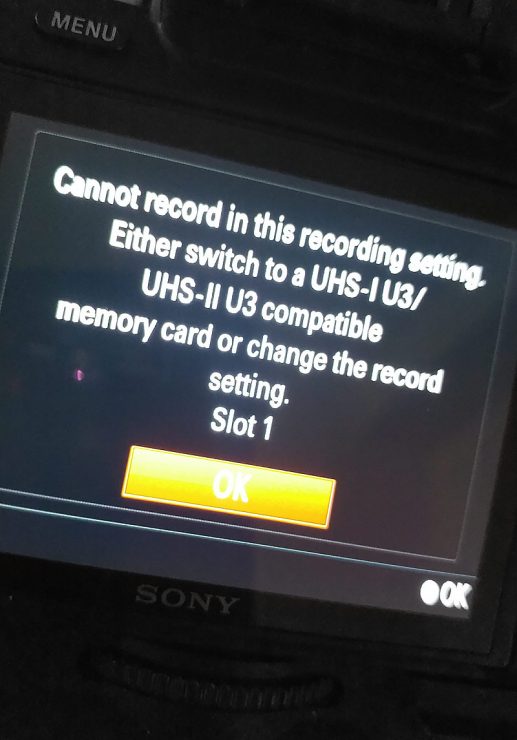 Of course, the Sony normally uses UHS-II cards, with 300MB/s read and write speeds, so I'm not about to switch to a microSD card with 1/3rd of that speed (getting the files to my computer will still be faster with the UHS-II card), but it's nice to know that if I have an equipment failure or lose a card in the field, I can use this PNY PRO Elite microSD card as a backup, and of course, it will work in devices that are designed for microSD… phones, drones, GoPros, etc.
Just out of curiosity, I also decided to try the old PNY Elite card in my Sony A7RIII. I thought for a moment that it would also work: I shot a few bursts of photos, and they did write to the card, although the buffer cleared at an agonizingly slow rate. But when I tried to shoot the same type of video, I just got an error message: "Cannot record in this recording setting." So, the PNY PRO Elite has a clear advantage after all.
Conclusion
I was skeptical that the new PNY PRO Elite cards would be significantly different from their older cards, but in fact, they perform significantly better. The new cards offer a dramatic improvement in random read and write speeds, and their improved speeds allow them to be used for recording video in high bitrate devices that the old cards could not handle.
So, if you're in the market for a new microSD card, go ahead and get the PNY PRO Elite card: it gets the job done.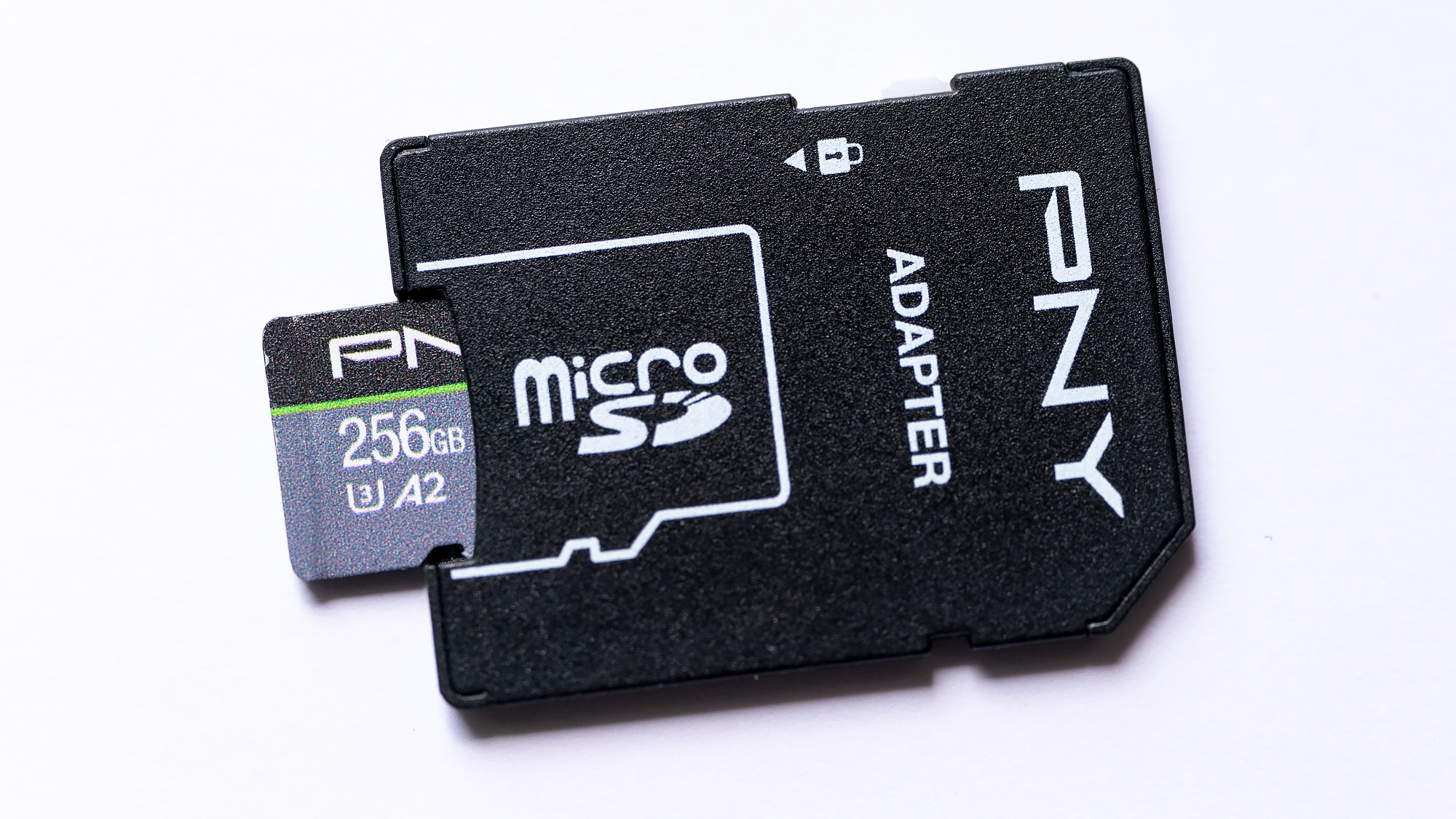 PNY PRO Elite MicroSD Cards: Are They Good?
PROS
Good data transfer rates
Works for 4K video, even in a full-frame camera
Very large capacity cards available
CONS
A little more expensive than the older cards
Not as fast as UHS-II cards