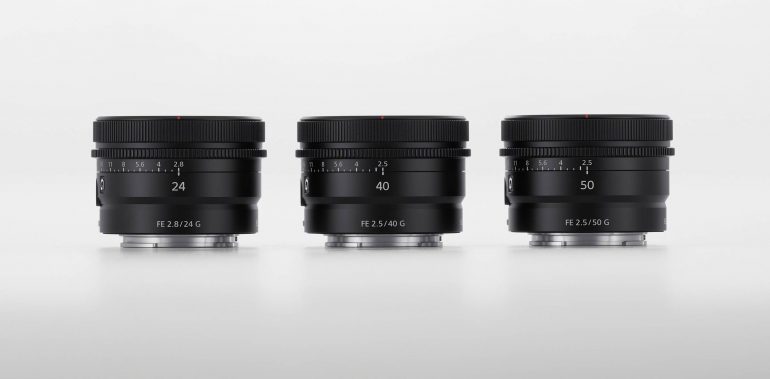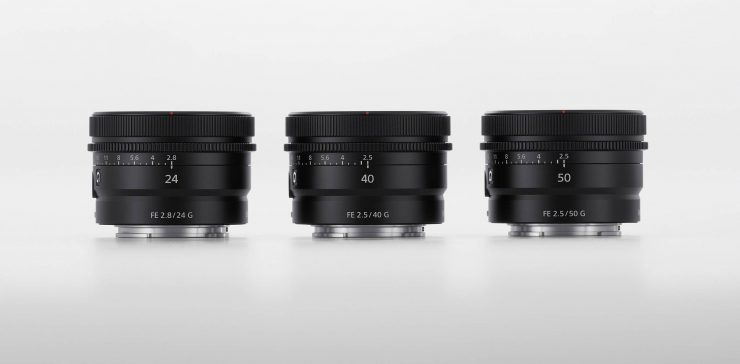 After announcing an ultra-large aperture lens lens week, Sony has come back this week with a trio of compact lenses with modest maximum apertures: the Sony FE 24mm f/2.8 G, 40mm f/2.5 G, and 50mm f/2.5 G. Despite the modest apertures, Sony's marketing emphasizes the "beautiful bokeh" produced by these lens designs, and the sample images indicate that they've done a good job.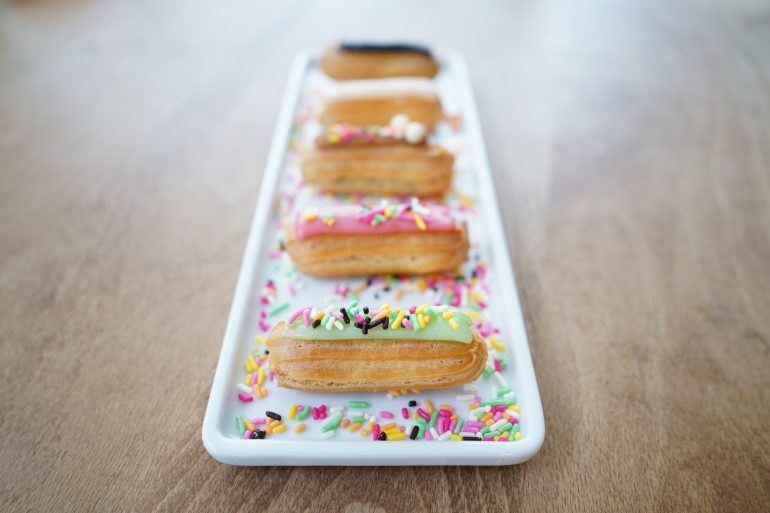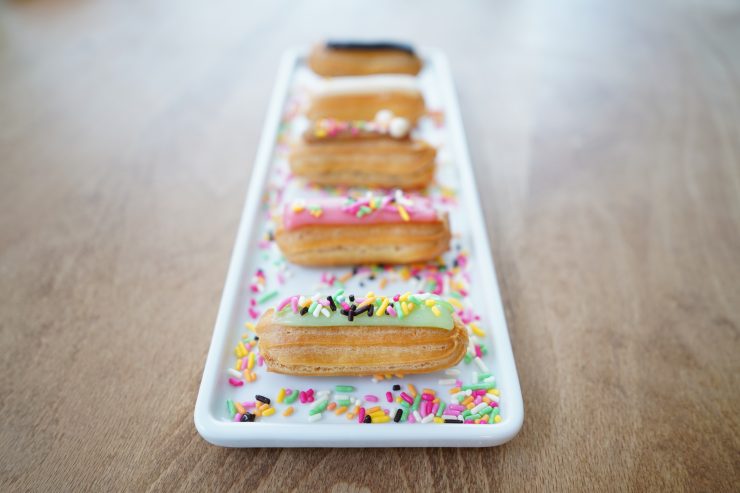 Optically, Sony claims that the lenses will provide excellent edge to edge performance with no color fringing due to their use of aspherical elements and special ED glass, and "state-of-the-art" optical design.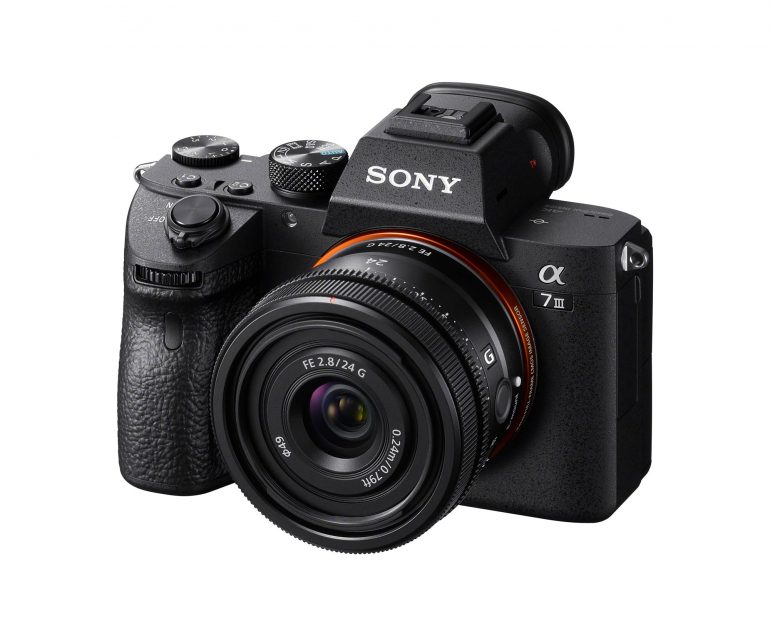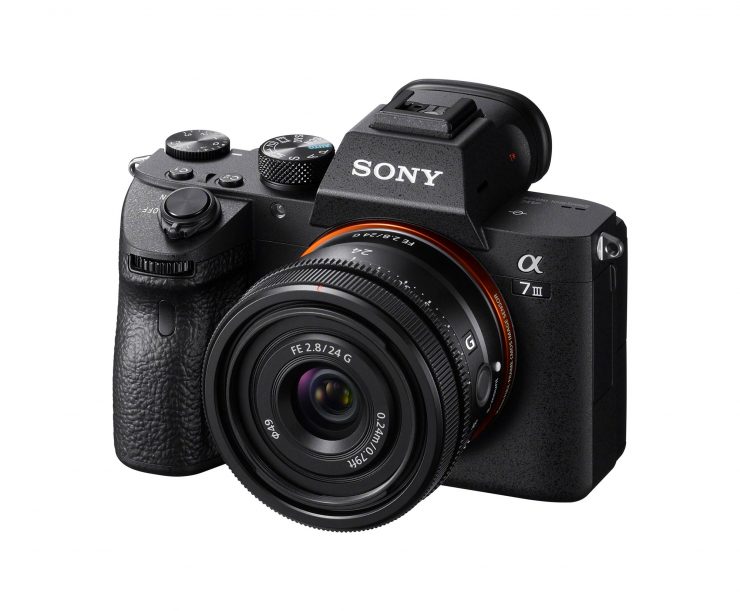 The three lenses are housed in a stylish new aluminum housing (that is reminiscent of cinema lenses and Sigma's new "I" series of lenses) and are all the same size and roughly the same weight (at 5.7 oz., the 24mm weighs slightly less than the other two at 6.1 oz.), with 49mm filter threads, which Sony points out is an advantage for those shooting from a gimbal, indicating Sony's expected use of these lenses for video. All of the lenses have dust/weather sealing, an AF/MF switch, a manual aperture ring that can be de-clicked, and an exposure lock button
Autofocus is achieved with a pair of linear motors in each lens, making them quiet and exceptionally fast focusing.
This strategy of releasing sets of compact, smaller aperture lenses for Sony E-mount has been done recently by third parties, with mixed results.
Tamron announced a set of inexpensive lenses at 20mm, 24mm, 35mm f/2.8 lenses in late 2019, all built inside the same exterior shell to keep costs low, and they now cost only $199 each (down from the initial price of $350 each, if that says anything about Tamron's success at selling them). These lenses are actually quite nice at that price, but Tamron didn't design their bodies with video-shooters in mind, so there's no aperture ring or even an MF/AF switch, making them somewhat less attractive.
Similarly, Sigma recently announced a series of compact lenses in their new "I" series of "C" series lenses, including a 24mm f/3.5, 35mm f/2, and 65mm f/2. Like the new Sony series, these lenses have beautiful all-metal bodies with manual aperture rings (NOT de-clickable) and a premium feel, but they're somewhat expensive for lenses with only moderately large maximum apertures, and the f/3.5 of the 24mm is a bit disappointing.
Price and Availability
All three of these lenses will cost about $600 each in the USA, and they'll be available in May. Obviously the means that you could buy the entire set of three aforementioned Tamron lenses for the price of one of these, so you'll need to decide whether the features or build quality of these lenses justify the cost for the type of work you do. Similarly, the Sigma 35mm f/2 will cost just $40 more than the Sony 35mm, but will provide a full f-stop more light (but not a de-clicked aperture ring).
Pre-Orders will begin tomorrow, on March 24th, at Adorama.
I'm a big fan of this 24mm lens already… it's on my list of lenses to order. The other two are interesting, but I own the 35mm f/2 Sigma and there are a lot of good options around 50mm already, so they won't entice me as easily.