Today we take a look at Godox's Vlog Kit VK2-UC.
Many photographers now explore other media and reach out to their audience by doing videos, behind-the scene features, interviews or more direct vlogging. And while modern cameras do perfectly well for filming videos, sometimes it's more convenient to rely on a cell phone, in order to free up the main camera for other purposes.
This is a reason why products like Godox's vlogging kit CK2-UC can be so useful. At a low price, this kit lets vloggers step up their video recording capabilities beyond what the cell phone itself offers.
The kit comprises a mini tripod, cell phone clamp, USB-C microphone (an option using the 3.5 AUX headphone jack is also available; the kit is called VK-AX in that case), a compact LED panel with diffuser, as well as shields for the microphone and a charging cable for the LED panel. A soft carrying case completes the package.
Mini Tripod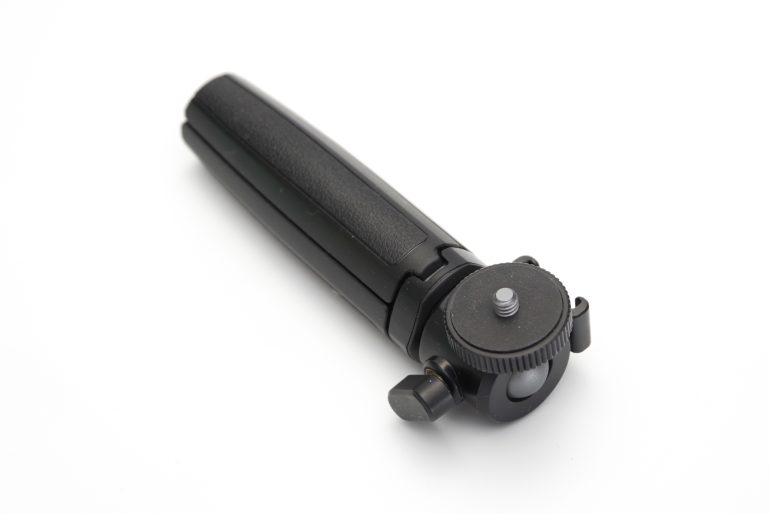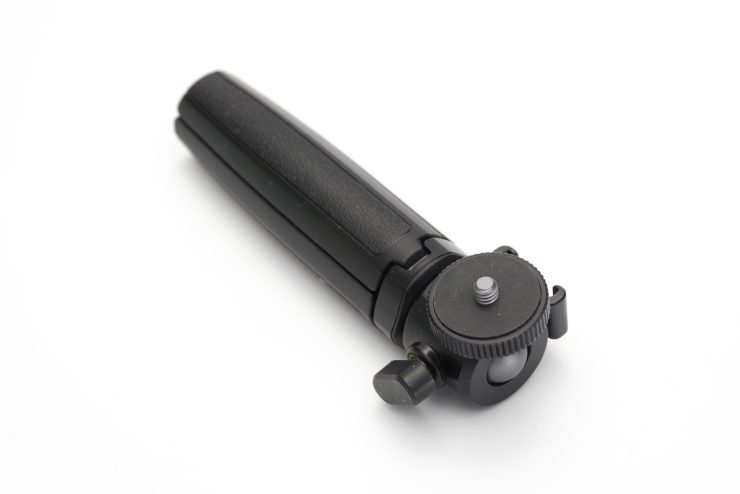 The mini tripod (model MT03) folds down to 14 cm (5.5 inches), making it easy to carry around. It is very light but doesn't appear flimsy despite this. The ballhead is of course small, but very stiff. I can't make it move by hand when clamped down.
The plastic legs collapse to a tight volume thanks to their almost triangular shape. They lock together when closed. The bottoms are covered by a small grippy pad. The legs open to a single angle.
The tripod's "center column" is made of thin metal. It it made of four sections and can raise the top plate from a minimum of 22.5 cm (5 inches) to a maximum of 30 cm (almost a foot).
The last section should be prevented from sliding out of the column shaft by a plastic stopper. On our test unit this stopper frequently popped off. It's not a big deal, but clearly the weak point of the tripod. This center column does not lock, but is held in place by a good deal of friction.
The small tripod head bears a flash cold shoe on one side.
One neat feature is that, with the center column extended and the legs folded, the tripod acts as a decent selfie stick.
Smartphone Clamp
The smartphone clamp (model MTH02) is also made mostly of plastic. It is reasonably compact and surprisingly full-featured. The bottom shows a metal screw-hole for a standard tripod plate screw (the mini tripod has a matching screw, of course).
The clamp section connects to the main shaft on a pivoting joint. It can be locked or pivoted around 360°, with 16 "clicks" over the whole rotation (3 between each 90° position).
The clamp itself is solid. Its back is smooth plastic, and each "jaw" is covered in soft rubber with indentations to hold the phone in place. Each end also features a flash cold shoe.
LED Panel
Called Video Light LED6Bi, this bi-color LED panel packs quite a punch. It is 6.5cm (2.5 inches) to a side, and 3 cm (1.25 inches) thick. It is powered by a built-in Li-ion battery. It charges via a USB-C port on the back side.
The bottom features a locking cold shoe, complete with a tripod screw-hole, so it can be mounted directly on the mini tripod (or any other tripod). Each of the three remaining sides ALSO bears a cold shoe, to attach extra equipment if desired.
The front is made of an array of 64 LED emitters, in a in-color pattern.
The back shows the charging port to the top left, alongside the battery status indicator. The power switch is at the top right. Center right is the brightness control. There are 10 brightness levels. A small status LED next to the charging port will blink twice when extremes are reached. Bottom left is the color balance control. It also has 10 adjustment levels, going from yellowish to cold white by changing the relative power of each LED array.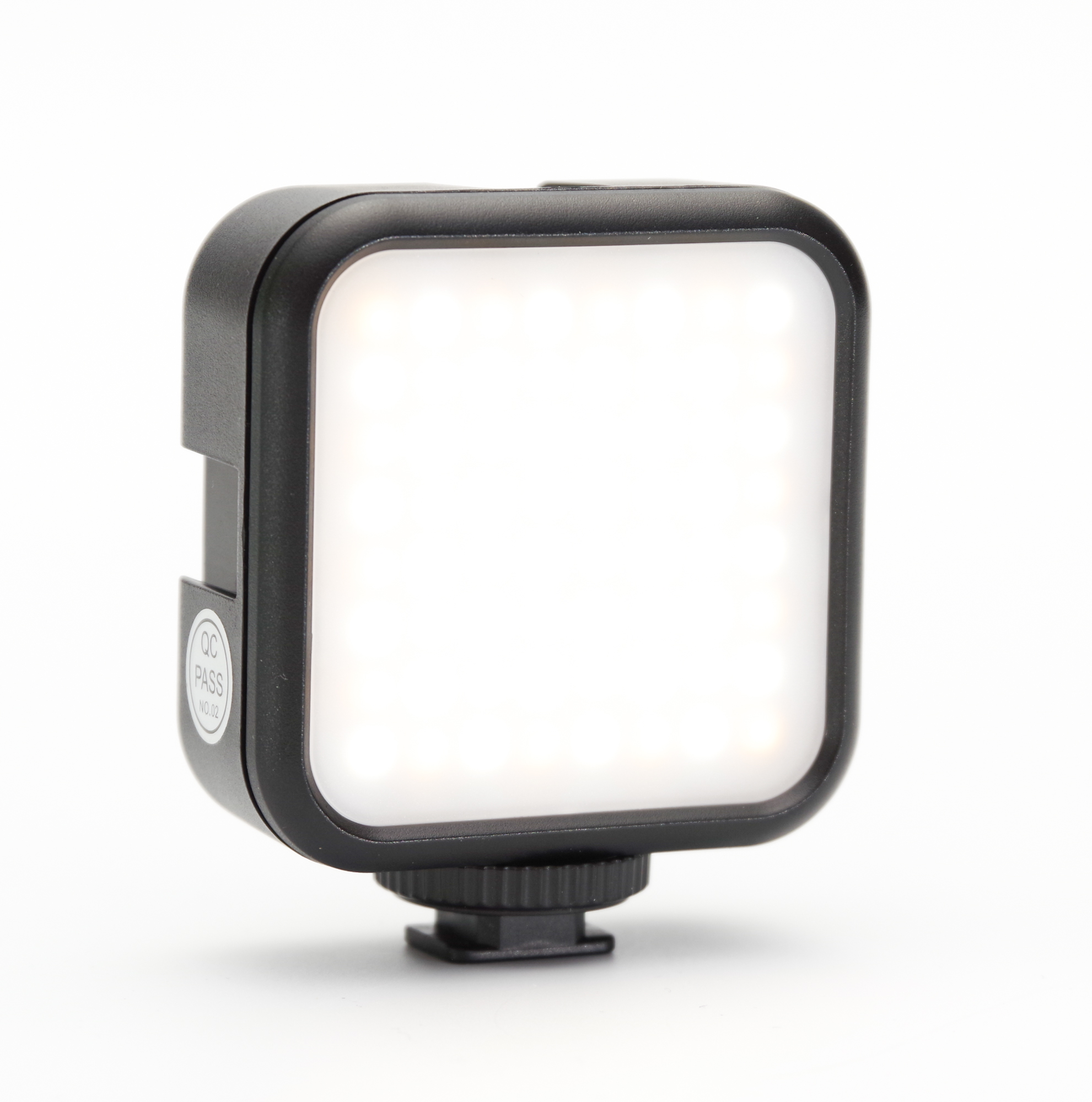 The LED panel ships with a removable diffuser, a simple white plastic shell which does improve on the light quality, to uniformize the output and prevent individual LED sites to be visible. It clicks in place clearly when mounted.
Microphone
The microphone (model Geniusmic UC) has the potential to be the most useful element in this kit but it falls a bit short through no flaw of its own.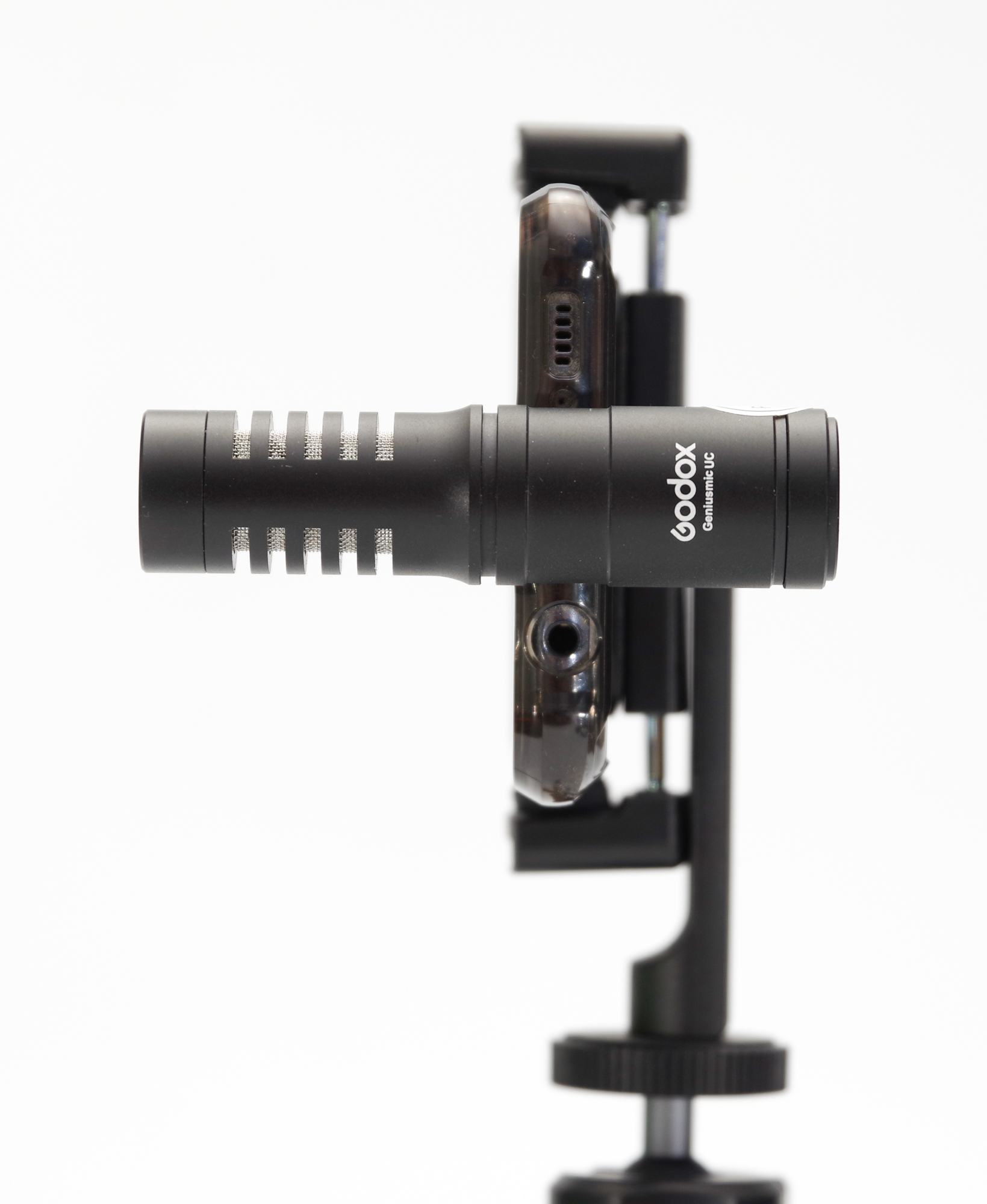 It is smaller than a lipstick case, at about 8 cm (3 inches) long. This model plugs directly into the USB-C port, where it gets its power. The microphone features a grille on one side; it is partially directional. The other end bears a 3.5 mm audio connector.
The microphone is light and compact, and stays nicely in place when plugged in, despite the lack of a clamp.
It ships with a foam wind guard and a furry wind cap. These do make a difference when recording outside.
The microphone is easy to use, as there is nothing to it except plug it in… that's true in theory. In practice, not all phones or all apps support external microphones. For instance, my Galaxy s10e's camera app does not support USB-C microphones, only Bluetooth or wired (through the headphones jack). More recent phones, namely those without a headphone jack, will normally support USB-C. In that case (again speaking for Samsung), microphone selection will only be available in the "Pro Video" mode. Some apps, such as Facebook Messenger, do not automatically support USB-C microphones. Using more advanced third-party audio or video recording programs will increase the chances of an external microphone to be supported. For users with an older phone, using the VK2-AX option (with the microphone plugging in the audio jack port) will be better.
When the microphone IS supported, it does provide audio recording improvements. The main benefit is that it is directional, helping to minimize ambient noise coming from behind it. Audio quality is also noticeably better, although not overwhelmingly so. This remains a small microphone set somewhat far from the speaker's mouth.
On the mechanical side, the microphone is well balanced and will stay in place unless the phone is shaken. The USB-C mating is more robust than what it looks like. It is not hindered by phone cases, either, thanks to the long plug.
Other Options
Other options on the market include the SmallRig Pro Smartphone Rig ($169), the Rode Vlogger Kit ($149) and the Joby GorillaPod Mobile Vlogging Kit ($219.88). at $94.90, the Godox VK2-UC kit offers similar features at a lower price than the competition.
Summary
My favorite element of the kit is the LED panel. It is bright, versatile, light, and compact. I have used it separately from the rest of the VK-2 kit on many occasions, even once as a flashlight! It is useful for videoconferencing with a computer.
The phone holder is useful, especially thanks to its pivoting clamp. I often leave it connected to the mini tripod to make it faster to set it up. The tripod is just sturdy enough for what it need to do, but would not be strong enough for a heavier setup, let alone an interchangeable lens camera.
The microphone is good, but sadly ahead of the game when used with older phones. Using an adequate app is required to benefit from it.
With the VK2-UC, Godox delivers a well-rounded, minimalist but effective vlogging kit. The components can be used separately or all together depending on the situation. In a world where mobile phones become more and more powerful, and where photographers are often called to also record movies, this simple kit will be a welcome option for many.