To Make More Money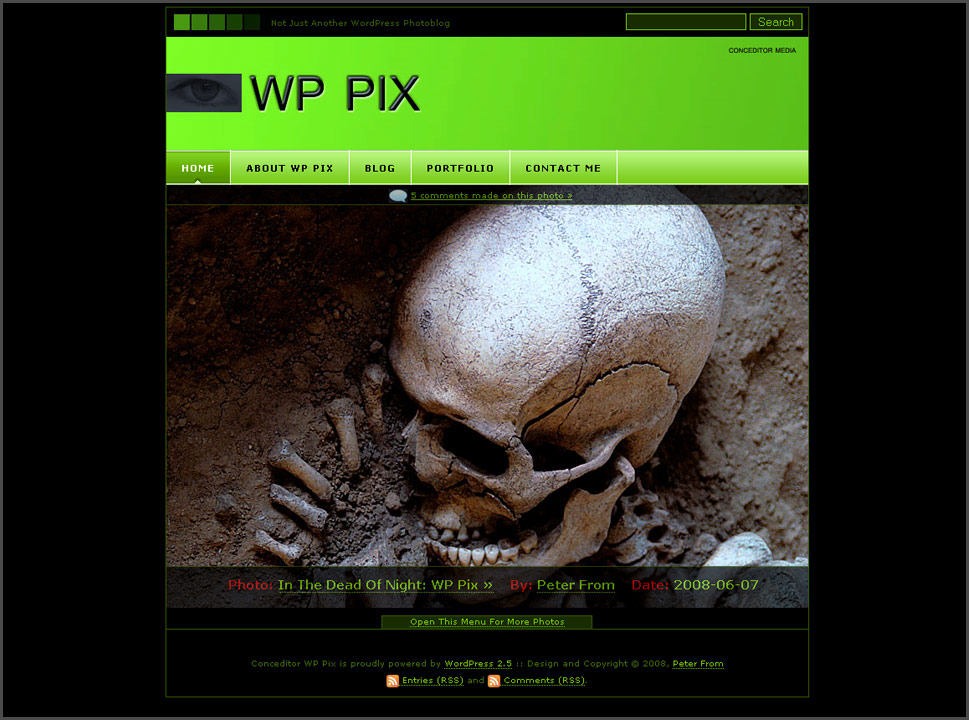 Save your money for new lenses and more pocket wizards – building a good photography website doesn't need to be expensive. In the pages that follow, I'll cover a few basic requirements and several options that you can use to create a feature rich, attractive, and profitable website in the shortest amount of time and for the least amount of money. You don't need to know HTML or CSS or Javascript or Flash… so jump right in! Before long, you'll be online and pulling in (at least a little) cash. It's easier than you might think.
Photography is an expensive hobby… an SLR body, a few nice lenses, a good printer, and the related flashes, software and accessories, and you can spend $10,000 in very short order.  Photographers deserve to make back a little cash. Almost every means of making money with your photography either require or would benefit tremendously from a good website that is dedicated to your photography. Every photographer needs an online portfolio. They need a place to list their prices for services they offer. They need a gallery for their fine art, and a place to get their name into the public realm. Your needs will differ depending on your style of photography and your goals, but there are many commonalities as well.
The First Step: Picking A Host
I know, I know… this part is seriously boring. It is, however, very important. If you already have a host, you can skip to the next section! :)
There are dozens of services out there that will host your photos for you and give you some profit if they sell, etc. Zenfolio
comes to mind. But these services all have one thing in common: they're more expensive and more restrictive than doing it yourself. So let's put those aside for the moment. You can build your own website, unconstrained by format, bandwidth, storage space, etc.
To do so, you need a place to put your website. When deciding on a host there are certain things that I look for:
It should cost less than $7 per month. There's a lot of competition out there, with some hosting available for as little as $3 per month (usually on sale)… so don't over-pay.
It should allow unlimited domain names. Maybe you'll only need one, but you may also find that you have other projects that you could build websites for, and it's always nice to have the options… especially if you have a spouse/partner, best friend, child, family member, club, etc, who could use a site.  I currently have 6 domains on the server hosting this blog, and I may very well add more. Building sites for local clubs or friends is a good way to get your name out further into the marketplace.
It should have unlimited storage space. For many of my clients, I'll upload a zip file of all of the RAW files to a directory on my server so that they'll have access to them after the shoot, and as an additional backup. I regularly shoot 8-16 Gigs at weddings, so you can imagine how storage space can add up. It's also nice to have backups of these files on a remote server! (Backing up your files to your server for the sole purpose of backing them up is technically not allowed, but if they're there for another purpose, it's usually ok).
Unlimited data transfers. This gets even more important with more sites hosted on your server, but I think it goes without saying that your site doesn't do anyone any good if you reach your data limit after two weeks and traffic to your site is cut off (actually, they just start charging you extra money). Lots of modern content makes use of large file sizes; if you want to include HD video on a blog, for example, for examples or tutorials, you'll quickly use a lot of bandwidth…. and the same is true for uploading and downloading those RAW files that I mentioned earlier. Why limit yourself?
Free domain for life with your hosting package. A domain can cost you an extra$10-15 per year otherwise.
So, using these criteria, I've come up with the following list of hosting providers that seem like good choices. Yes, I'm an affiliate with these ones! Choosing them will help support this site, but my recommendations are honest.
1. Bluehost (Regular Price : $83.40/year, $6.95 /month)
I've been using Bluehost for nearly 6 years, and I've been completely happy with their service, so I'm starting my list with them.  In addition to all of the stuff that I mentioned above, they have great tech support (based in Utah), and they've always been able to solve any of my problems quickly. That's a big plus. They are a little more expensive than some of the others in this list.
2. FatCow (Regular Price: $88/year)
Current Special Price: $66/year. I've built 3 websites for clients on FatCow hosting, and they have several benefits. Their cost per year is quite low… currently $66 per year if you buy two years at once ($77 otherwise). They also have remarkably good customer service.  They run entirely on Wind Power!
3. Green Geeks (Regular Price: $83.40/year, $6.95/month)

Green Geeks took the idea of environmentally friendly web-hosting and ran with it. Wind powered (300%), carbon-neutral, high efficiency… and with all of the benefits of other major web-hosts. I've never used them, but it looks good to me. They have been recognized by PC World Magazine, so they're not some fly-by-night outfit.

4. Just Host (Regular Price: $83.40/year, $6.95/month)
Current Special Price: $41.40/year, $3.45/month. Just Host is consistently one of the highest rated hosts available. There are lots of cheap, bad hosts out there… but Just Host is not one of them. They are, however, currently the cheapest host on my short list.  I've never used their services, but I've consistently heard good things about them.
Now, with that taken care of, you're ready to move on to…
Picking A Platform
Once you have a host, you can decide what type of website you want to build. There are several popular choices these days, each with its own benefits. These include traditional html/xhtml sites with a variety of add-ons (such as PHP or Flash-based galleries), blog based sites such as WordPress, content management system sites such as Joomla or Mambo, or shopping cart based sites.  I'll limit myself to discussing the most common options, but many of these can be mixed and integrated as well… so be creative and get exactly what you want.
1. The Blog:
It wasn't long ago that people didn't even know what blogs were… and for a while after that, blogs were pretty limited… mostly just collections of sequential articles. This is no longer the case. With major blogging software such as WordPress, a variety of features are easily available, including static add-on pages, photo galleries, calendars, and countless plugins to sync your blog with outside resources.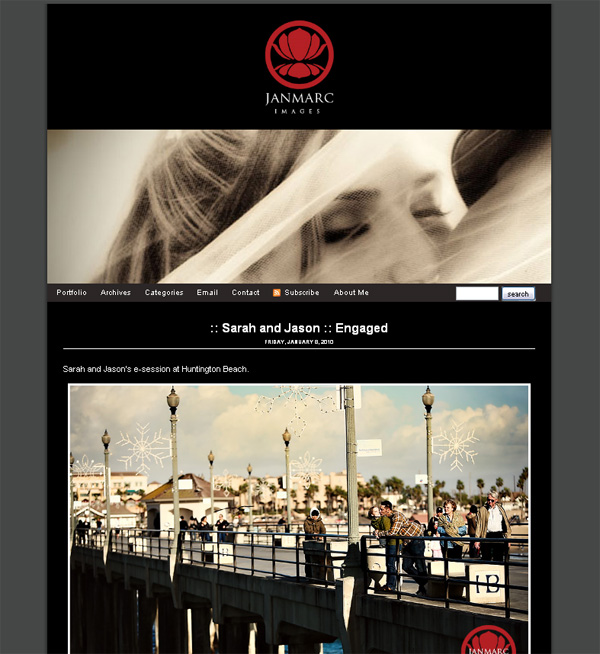 These days, countless photographers use a blog as their main website. For example, www.flashflavor.com is completely blog based, and many sites rely primarily on a blog, such as http://www.janmarcimages.com/blog (whose work I really enjoy).  And of course, there are sites like strobist.com that are simply photography blogs, but have a huge, loyal following and make a considerable advertising revenue.
Since WordPress seems to be the most popular blogging system, and it's completely free, I'll stick to it for my examples. When you first set up your blog, it will look like any other blog… boring. The first thing that you'll want to do is choose a new theme for it. From your WordPress control panel (Dashboard), simply take a look under the "Appearance" heading and choose "Add New Themes" to browse hundreds of free themes. These can be downloaded and then customized by replacing the stock photos and logos they come with, and you'll have something personalized and sharp looking in no time. In addition to the standard WordPress themes, there are many photography specific themes, some of them free, like those from furious photographers (the 2.1 version is free), and some of them are commercial, like those from Photocrati and ProPhoto (both cost around $100).
Since the point of this article is to help you make money (not just spend more), here are my favorite FREE WordPress themes for Photography sites (in no particular order). Some are blog themes with good layout and colors for photographers, others are just photoblogs (ie, posting photos instead of text):
PROS: A blog can be a great showcase for your work, and because they have frequently changing content, feeds, and many keywording features, they can be great when it comes to search engine placement. They're quick to set up and easy to use and maintain… and you get the bonus of user feedback (occasionally, at least). If you want to create a specific page or two, you can list prices for your services, and you can add "About the Photographer" pages in addition to the blog article style posts.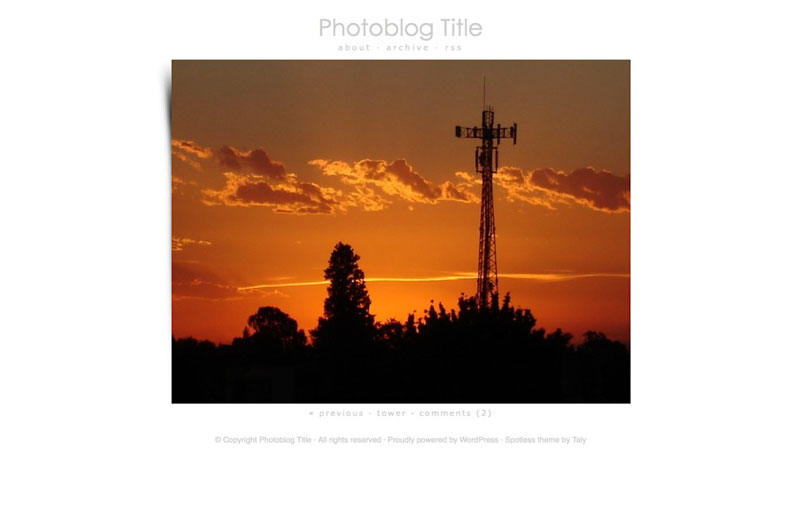 Furthermore, blogs can be helpful at generating advertising revenue… depending on how aggressive you want to be. Anyone can run Google ads, and ad clicks can add up quickly on a popular blog. You can also affiliate with your favorite stores like B&H or Adorama. Don't expect to make a fortune at first, but it's reasonable to expect a $100 check from Google every few months if you get as few as 100 visitors per day. A really popular blog might get thousands or tens of thousands of visitors each day.
CONS: Blogs (at least WordPress) are not great for e-Commerce. There are some plugins available for adding PayPal functionality, and some other somewhat limited and buggy plugins such as "WP e-Commerce". With some playing around, you might get them to work. If you're really interested in selling photos (downloadable stock images, for example) or services, you may be better served by another option.
2. Content Management Systems (CMS):
Using a CMS is a lot like using a blog; in fact, many people consider WordPress to be a CMS. The most popular (and therefore, most well developed and flexible) CMS around is probably Joomla, although Drupal is still quite popular, as are many others such as Mambo.  I've built several sites using Joomla, so I'll stick with it for the purposes of this article, but keep in mind that others are available.
Once you've installed the CMS on your server (a quick process; many web hosts such as FatCow or Bluehost have an automated process to do it for you), you can begin my choosing a template (like a WordPress theme). Each template is divided into several module positions, and you can decide where you want to place photos, articles, and menus. In addition, you can use any of thousands of free extensions to add galleries, menu styles, slide-shows, forms, shopping carts, maps… just about anything that you can think of.
The "posts" in Joomla are called "articles" instead, but can be written in much the same way as blog posts. However, they can be organized by a hierarchy of subjects and categories so that if you decide to create a website for publishing reviews, for example, you can easily create menus to sort your articles by type and brand, for example. There are a variety of shopping carts available (Virtuemart being the most popular)  if you want to sell products or services, including "virtual" products such as digital photo downloads.
Placing ads into Joomla is also simple, if you want to run Google or other affiliate ads. If you're thinking about writing a blog or equipment/product review website, this is a good way to make a little extra cash.
A quick Google search for "Free Joomla Templates" will turn up thousands of results, many of which would easily suit a photography site. Rather than listing my favorites, I'll post a few examples of sites that were built with Joomla (from the Joomla Showcase).
PROS: Like blogs, CMS based sites are very easy to change and update once they are installed… no more difficult than writing an email or blog post. They are very flexible, and you can add just about any type of functionality that you can imagine, if you're willing to put in a little extra time on it. There are a few decent eCommerce solutions available for free. If you run a studio, you can use Joomla to allow customers to schedule appointments online, or at least see when you're available.
CONS: There is a bit of a learning curve after installation (which is simple). Before you start, you might want to take some time on YouTube to watch a few tutorials and get the basic concepts down.
3.  Static HTML / CSS plus add-ons:
If you know a little HTML and CSS (or know how to use Adobe Dreamweaver or KompoZer, a free, open-source alternative), just about anyone can create a basic website homepage.  To get all of the additional functionality that can make a website great, though, you can use a variety of free add-ons for galleries, shopping carts, discussion forums, and of course, blogs.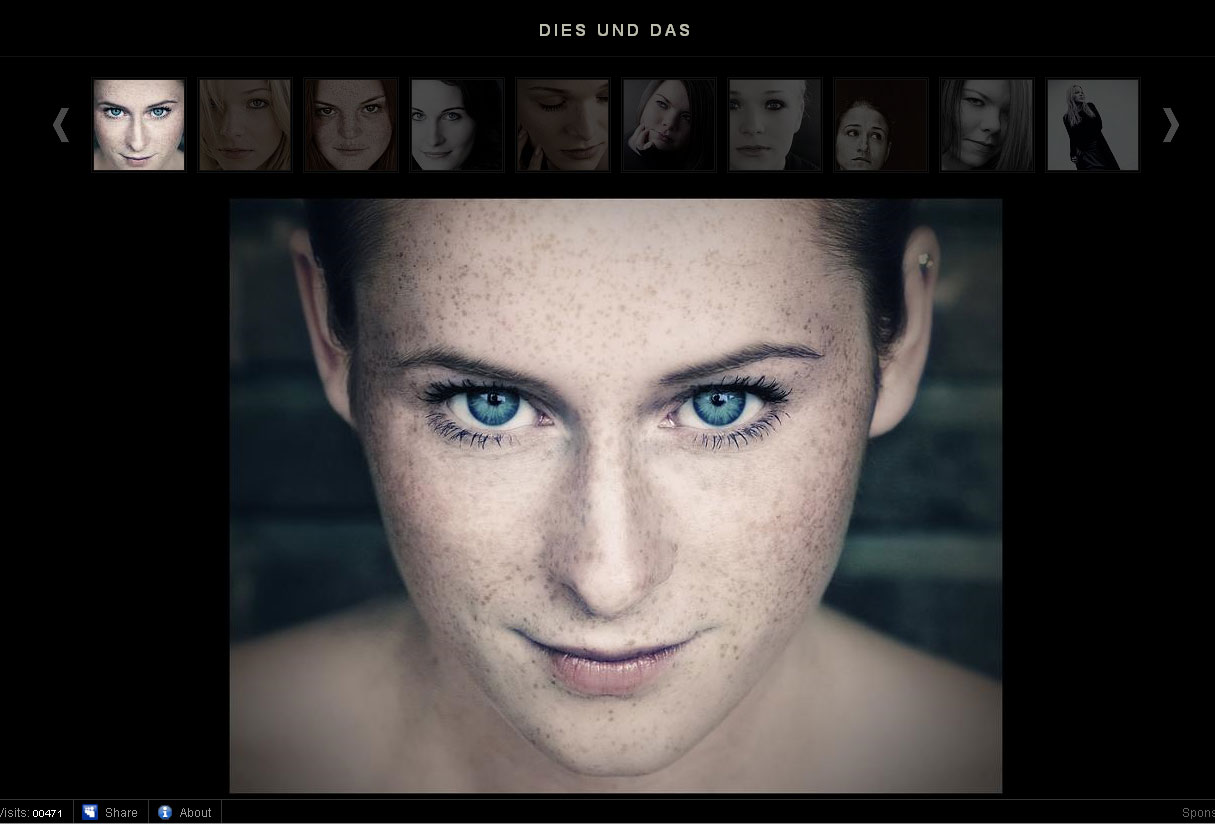 Some popular ones include gallery systems such as:
Gallery 2 (Click here for demo sites) : I've used it, and I like it. Full featured, including Cooliris integration and lots of eCommerce / online printing options (shutterfly, Snap Galaxy, etc)
Coppermine : I've never used it, but it's an option.
Jalbum : A great looking Java-based album system, and very easy to use. Maybe not the best for search engines.  Some PayPal integration available.
If you're looking for a more lightweight, minimalist gallery, without a big database, user-commenting, eCommerce, etc, there are dozens of small, free Flash based galleries that are freely available. "Flash Gallery" is one of them, as is Simple Viewer. And of course, if you're an Adobe Lightroom user, Lightroom will generate Flash or html-based galleries for you (such as this one)… all you have to do is provide your hosting information.
PROS: This is a flexible system and allows you to add different components together from any source.
CONS: It is harder to integrate diverse features into a cohesive website than a single solution (like a CMS), and of course, you need more html knowledge.
4. Zen Cart :
ZenCart can be used as a basis for your entire website… or it can be an add-on to an existing site… or it can be integrated with Gallery 2 (and undoubtedly the upcoming Gallery 3).
Zen Cart is a free, open-source shopping cart system with a very strong community of support. It can be installed and used with minimal knowledge of html/css/php , but you'll get the most out of it if you know how to make some modifications. It is template driven, though, and hundreds of free templates are available. You can easily set up services (wedding packages, sitting fees) as shopping cart items, digital downloads can be sold (if you're selling stock photos, for example), and you can sell prints with the price based on options such as the paper used, the size, finish, etc. The Luminous Landscape uses Zen Cart to sell their video journals.
Since it is primarily a shopping cart, it won't provide all the functionality that Joomla would, but it is better at what it does than any of the Joomla eCommerce modules. You can use it to accept PayPal, of course, but you can also use it to process credit cards through a variety of services, sync with Quickbooks, calculate shipping and sales tax, maintain customer lists for newsletters, sell gift certificates, etc.
If you are primarily interested in selling services and a limited number of photos, this is a good, simple solution. If you're interested in selling several hundred or thousands of photos, I'd recommend integrating with Gallery 2 to handle all of the images.
Naturally, there are also hundreds of options out there for those of you who want to pay more money. There are commercial gallery systems, Joomla templates, shopping cart systems, and yes… some of them may be better than the free ones currently available.  If you are at the point in your hobby (or career) that you're willing and able to spend the extra money, then by all means… go for it. For the rest of you, though, these options will do just about everything you need, and look great while doing it.
If you know of additional good open-source or free (not limited until you purchase the full-version) software solutions for photographers, please feel free to respond to this post and let us all know.