[
For non-video related comparisons of these cameras, please see my previous articles : 5D Mark II vs. the 7D and the 7D vs the T2i.
]
Currently, the Canon EOS 5D Mark II is unrivaled in the world of SLRs for professional quality video production. For those of you who watch the FOX medical drama "HOUSE", you may be interested to learn that the recent season finale (May 2010) was shot entirely with Canon 5D Mark IIs. The 5D's closest competitors, though, are also Canon SLRs, and less expensive ones at that. These are the Canon EOS 7D and the Canon T2i / 550D. New on the scene is the Canon 60D, a model very similar to the Rebel T2i and 7D when it comes to video. There are a few fundamental differences between these cameras and the 5D which may make them more attractive to some film makers, while others may be deterred. I'll quickly discuss these differences below. As always, additional information and further questions are welcome!
Depth of Field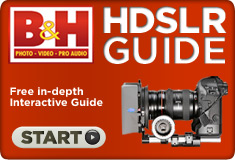 The fundamental difference, of course, is the sensor size. The 5D carries a full-frame sensor, while the 7D and T2i use APS-C (ie, 1.6x crop) sensors. For video, however, this creates a completely different set of problems than it does for still photography. Image quality is NOT a significant difference, as 1080p HD video (1920 x 1080 pixels) is only 2 megapixels. In each of these cameras, only about 10% of the data that can be captured by the sensor will be used, so issues of lens resolution (discussed previously regarding the 7D and 50D), diffraction, etc, that plague the world of fine art photography are simply not field-relevant with video; video resolution is too low to reproduce these problems.
The main issue with video is depth of field. Since HD video resolution is so low, comparatively speaking, most video cameras have very small sensors… many of them less than 1/4 the size of an APS-C sensor. The smaller the sensor, the greater the depth of field… so most consumer grade video cameras produce video in which the backgrounds are relatively sharp in comparison to the subjects, which looks very distinctive and, frankly, cheap. Professional grade video cameras use larger sensors and can use depth of field more creatively, but cost a small fortune. Or a large fortune, in many cases (hundreds of thousands of dollars).


Many professional grade video cameras, costing $100,000 or more, use small 2/3″ sensors. The Sony HDW-F900R CineAlta is a perfect example.
And this is where the Canon SLRs excel. They have large sensors with incredible lenses, and can produce depth of field effects (separation of subjects or subject/background) just as well as film cameras of the past and modern production video cameras. Even APS-C sized sensors (Canon's are about 22.2 x 14.8mm ) in Cameras such as the 7D are much larger than most video camera sensors (the Red One is an exception, with a sensor about the size of an APS-C, and a camera setup can be had for only about $20,000).
Since the APS-C size sensors of the 7D and T2i are both about the same size as 35mm movie film frames (which are smaller than 35mm still photo frames), they produce a shallow depth of field that is very similar to film-based movie cameras. The 5D Mark II has an even larger sensor, and therefore has a significantly shallower depth of field, at least potentially. Regardless of the camera, the actual depth of field will still depend on the focal length of the lens (ie, 24mm lens vs. 200mm lens) and the aperture at which the lens is used. Since all of the Canon cameras can be used with the full line of EF lenses, many of which utilize a maximum aperture of f1.4-2.8, there should be little difficulty in achieving very smooth, shallow depth of field, as long as it's not too bright to use the wide apertures. Shutter speeds higher than 1/250th of a second can produce a choppy looking effect because each individual frame loses motion blur and becomes too sharp.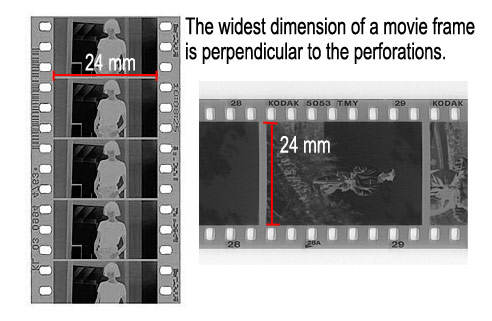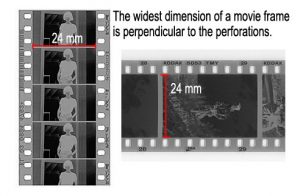 [ I've had a surprising number of objections to my statement that movie frames are smaller than still photography frames. There are different formats to be sure, but typically, movie film travels vertically past the shutter, making the distance between the perforations the widest part of the frame, whereas still photography film travels horizontally, with the distance between the perfs being the narrow side of the frame. Thus, even though an APS-C frame is much smaller than a full frame for photography, it is still about the same size as a Super35 movie frame. In the example illustration at right, you see an old portrait I took of photographer Hiroshi Yamauchi, a friend of mine in the Ohio University Visual Communications program. The movie frames were gratuitously stolen from this site. Film segments are to scale.]
Video Features
The three cameras in question are remarkably similar when it comes to video functionality. The following table highlights the many similarities and a few of the differences between the three models. [Please note: my original comparison table was lost in a database crash. I'm in the process of building a new one… suggestions for feature comparisons would be appreciated]
Canon 5D Mark II
Canon 7D
Canon 60D
Canon Rebel T2i / 550D
Amazon Price
$2499
$1599
$999
$715
B&H Price



$2499
$1599
$999 (rebates available)
$719
Body Material
Magnesium Alloy
Magnesium Alloy
Polycarbonate
Polycarbonate
LCD Size / Resolution
3.0"
920,000 pixels
3.0"
920,000 pixels
3.0"
1,040,000 pixels
3.0"
1,040,000 pixels
LCD Articulated?
No
No
Yes
No
Sensor Size
24 x 36mm (Full Frame)
14.9 x 22.3mm (APS-C)
14.9 x 22.3mm (APS-C)
14.9 x 22.3mm (APS-C)
Crop Factor
none
1.6x
1.6x
1.6x
Sensor Resolution
21.1 Megapixels
18 Megapixels
18 Megapixels
18 Megapixels
ISO Range
100-6400
+12800
+25600
100-6400
+12800
100-6400
+12800
100-6400
+12800
Total AF Focus Points
9
19
9
9
Cross-Type AF Sensors
1
19 (dual diagonal)
9
1
AF Light Level Range
-.05 to +18 EV
-.05 to +18 EV
-.05 to +18 EV
-.05 to +18 EV
Metering System
35 Zone Point Linked Evaluative
8% Center Weighted
3.5% Spot
63 Zone Point Linked Evaluative
9.4% Center Weighted
2.3% Spot
63 Zone Point Linked Evaluative
6.5% Center Weighted
2.8% Spot
63 Zone Point Linked Evaluative
9% Center Weighted
4% Spot
Exposure Compensation
1/2 or 1/3 stops
via thumb dial
1/2 or 1/3 stops
via thumb dial
1/2 or 1/3 stops
via thumb dial
1/2 or 1/3 stops
HD Video Resolutions
1080p
1080p, 720p
1080p, 720p
1080p, 720p
Available HD Video Frame Rates
PAL and NTSC
24/25, 30 at 1080p

PAL and NTSC
24/25, 30 at 1080p
24/25, 30, 60 at 720p
PAL and NTSC
24/25, 30 at 1080p
24/25, 30, 60 at 720p
PAL and NTSC
24/25, 30 at 1080p
24/25, 30, 60 at 720p
Firmware Sidecar Available
Magic Lantern
Magic Lantern Under Development.
No
Magic Lantern Under Development. (Early version adds audio meters only)
Media Type
Compact Flash
Compact Flash
SD / SDHC / SDXC
SD / SDHC / SDXC
Weight
810g (body only)
820g (body only)
675g (body only)
530g (with battery and SD card)
Viewfinder Coverage
100%
100% Frame,
1.0x magnification
96% Frame,
.95x magnification
95%
0.87x magnification
Firmware
One of the great things about using a camera that is controlled by software is that, in this digital age, it opens the door for the possibility of 3rd party improvements. When the Canon 5D Mark II was introduced, film makers were immediately enchanted by its potential in the industry, but the camera was missing several important features for serious video use. Consequently, a team of clever programmers/film makers got together and created a firm-ware upgrade for the 5D called "Magic Lantern".
Magic Lantern isn't a firmware replacement. It is, essentially, a sidecar; a piece of software that runs along side the 5D's native firmware. Full details about Magic Lantern can be found on their website, but it is a FREE download and can be used by anyone willing to try it.
Currently, Magic Lantern offers the following features for the 5D Mark II:
On-Screen Audio Meters
Zebra Stripes
Disables Audio AGC
On-Screen Crop Marks for different aspect ratios
Magic Lantern for the 7D is under development, and is expected to be available soon. You can check the progress on the Magic Lantern 7D development website. Although it is technically possible, I have not yet seen any mention of devel0pment for the Rebel T2i / 550D. Since there are so many similarities between the 7D and 550D, it is quite possible that once the firmware for the former is released, it will be modified to work with the latter.
Conclusions
For the moment, the 5D Mark II is the clear winner for true production work, due in large part to Magic Lantern. However, the dedicated video controls of the 7D (and the price tag) make the 7D a very close runner up, and the development of new firmware may push it over the top. The T2i has the advantage of being even less expensive and produces identical video to the 7D, but may not have the firmware available for professional use any time in the near future. Some people also prefer the fact that it uses SD cards instead of Compact Flash, as they tend to be less expensive and can be locked.
I'll update this post as more information becomes available, and as I have time to absorb it. Please feel free to submit additional questions, comments, corrections and updates!