Ring flashes have traditionally been popular for macro-photography, where their position at the end of the lens allows them to evenly illuminate a small subject that is too close for a top-mounted flash to reach. However, they're also popular in fashion photography; they produce a very distinctive shadow pattern all around the model. They've also become popular in recent years for flash-photographers to use as fill-lights, since they don't produce the harsh shadows normally associated with on-camera flash.
Kenko-Tokina KSR-EF10
However you want to use it, Tokina has announced production of a new unit with an attractive price: about $230 in Japan; quite possibly less in the USA.  The Kenko-Tokina KSR-EF10 Soluis will be compatible with Canon and Nikon, but not the Sony Alpha line, due to their unusual hot-shoe shape. Before you start thinking about jumping onto the ring-light bandwagon, though, let me mention the unit's downside: it appears to be MANUAL exposure only 1 At least, that's how we interpret the Japanese website. The literal translation by Google is: "Does not correspond to the TTL light control etc. and communicate with the camera." ! That's right, the Kenko press-release does not mention eTTL or iTTL metering support, and it only offers 5 stops of power control, from full power down to 1/16th power.  Without TTL exposure, this lens will be very difficult to use for macro photography, especially for moving subjects… so the intended audience must be portrait photographers who are comfortable with shooting in manual mode, ie, Strobists.
Nissin MF18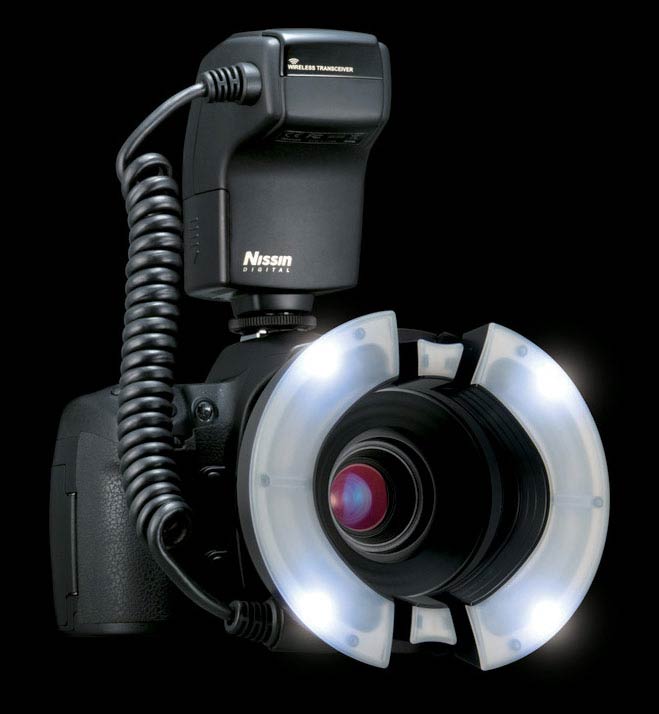 On the other hand, Nissin has released one of the most sophisticated ring-lights that I'm aware of. The new Nissin MF18 Macro Flash is fully compatible with Canon and Nikon's flash systems, including wireless eTTL/iTTL master-unit functionality, so it can be used to trigger other flash units: very useful in the studio. When used in manual mode, it can be adjusted from full power down to 1/64th power in 1/3rd stops, and when in TTL mode, the the flash can adjust its output (down to 1/1024th power) in 1/6th stop increments, and it can be used with high-speed sync. Impressive.
The physical design of the unit is also innovative. In addition to the curved quartz-tube flash bulbs, the lens-mount unit has four LED modeling lights built into the ring, and the ring itself is a split-design that can be expanded to allow use with larger diameter lenses, up to 82mm (bigger than a Canon 70-200mm f/2.8) and as small as 49mm (smaller than a 50mm f/1.8).  It also has a power-pack connector and an X-sync (PC) socket, as well as a micro-USB connector for updating the firmware.  And it still costs about $70 less than Canon's equivalent model, the MR-14EX…. the Nissin MF18 currently sells for $439.
Metz Mecablitz 52 AF-1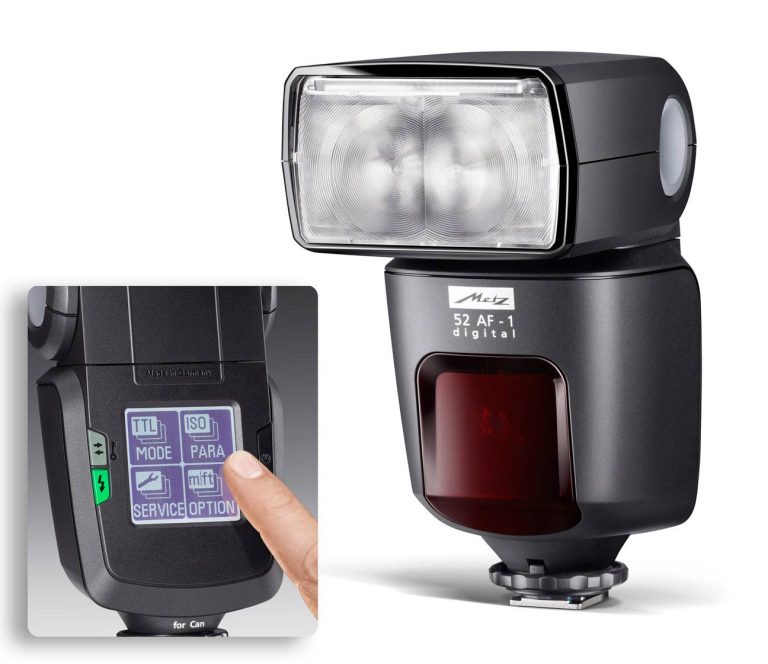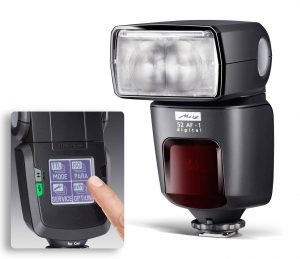 The Metz 52 AF-1's claim to fame? First flash unit with a touch-screen LCD. If you've spent any time with a Canon 580EX, you know how frustrating it can be to have a powerful flash limited by tedious, poorly planed controls. The goal of the Metz unit is to return ease of control to the photographer, though whether they will succeed remains to be seen.
Beyond the LCD, the Mecablitz 52 AF-1 appears to be a solid all-around unit, meeting all of our expectations for a modern speedlite unit: HSS, eTTL/iTTL metering and wireless master/slave functionality, guide number of 52, built-in reflector card, and a locking metal hot-shoe. The price is expected to be around $325 US Dollars.