Seattle May Day, 2013
Shortly after noon on Wednesday, I pulled off of I-5 and headed east towards Judkins Park, the rally site for the 2013 May Day (aka, International Worker's Day) march. I had read that during the previous year's protest a faction in the crowd had turned violent, breaking store windows, throwing things, and engaging in general hooliganism. The police had reacted as they often do, with tear gas, flash bombs, and the expected arrests. I didn't know what I'd find at the park, this year, but I was hoping that it would be interesting.
As it turned out, the atmosphere was pleasant. It was a beautiful, sunny spring day, and the expected crowd of flower-child, protest-march types were hanging around, with a troupe of militant clowns intermingled. There was free food and water, a woman singing in Spanish and playing an acoustic guitar, and there were plenty of leaflets to go around and petitions to sign. Most people chatted and lounged in the sun. It was like a big company-picnic, but surrounded by police and circling helicopters.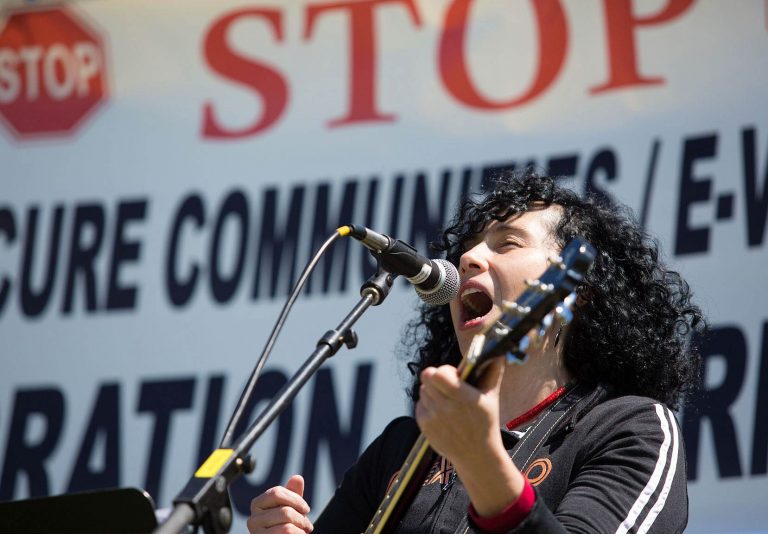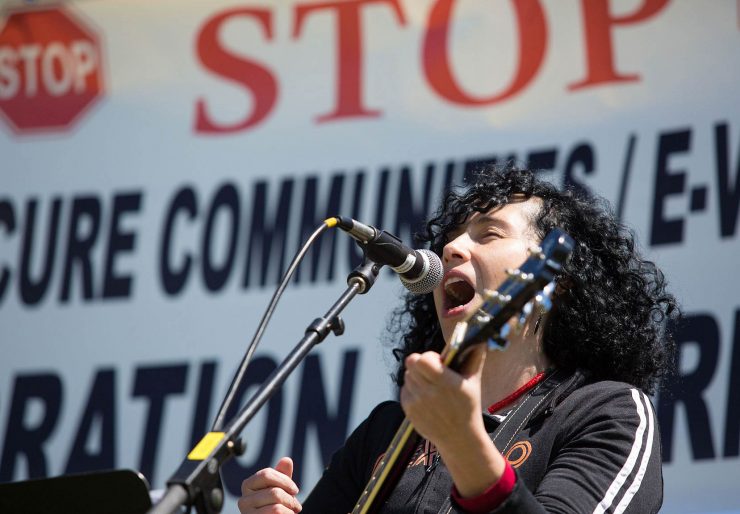 Around 3:00 PM, the crowd started moving. In the lead was a semi truck and trailer emblazoned with the Teamster's Local 174 logo. Not far behind was a group of tribal dancers in traditional garb, and following them was the main marching line of protesters with signs and banners. The vast majority of banners, speeches and slogans were about immigration reform and the rights of immigrant workers, but I also spotted banners about GLBTQ issues and women's equality in the workplace.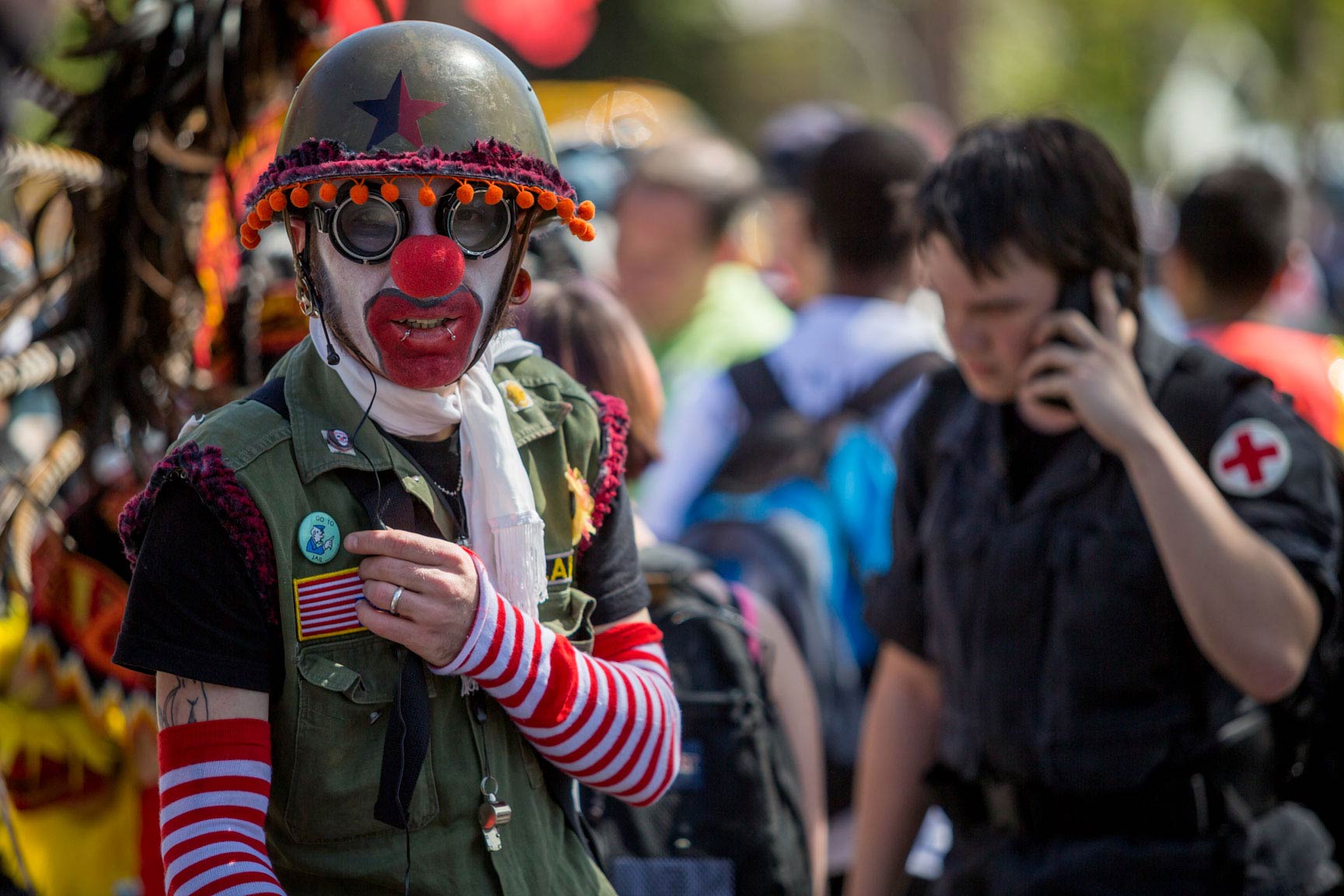 There were plenty of interesting people to photograph, but there wasn't much going on. As we walked north on 4th Ave in, the light started to present some interesting possibilities. The afternoon sun was low enough that most of the avenue was in the shade of the downtown skyscrapers, but at the end of each block, sunlight streamed in from the gaps at the cross-streets. I quickly recognized that this would provide a spotlight effect, back-lighting the subjects against a dark background. I started looking for anyone who was far enough out ahead of the crowd to be able to isolate with the light for a few steps, and found that only the tribal dancers would work… the front line of the protesters was dense and uniform. One of the dancers was carrying a vessel of smoldering embers, its smoke swirling around her body and drifting off across the sidewalks, providing an excellent subject for a back-lit shot. I used the exposure compensation dial on my 5D Mark III to reduce the exposure by 1 and 2/3rds stops, metering on her face, to darken the background and try to maintain some highlight detail while also capturing sufficient detail in the shadow side of the dancer.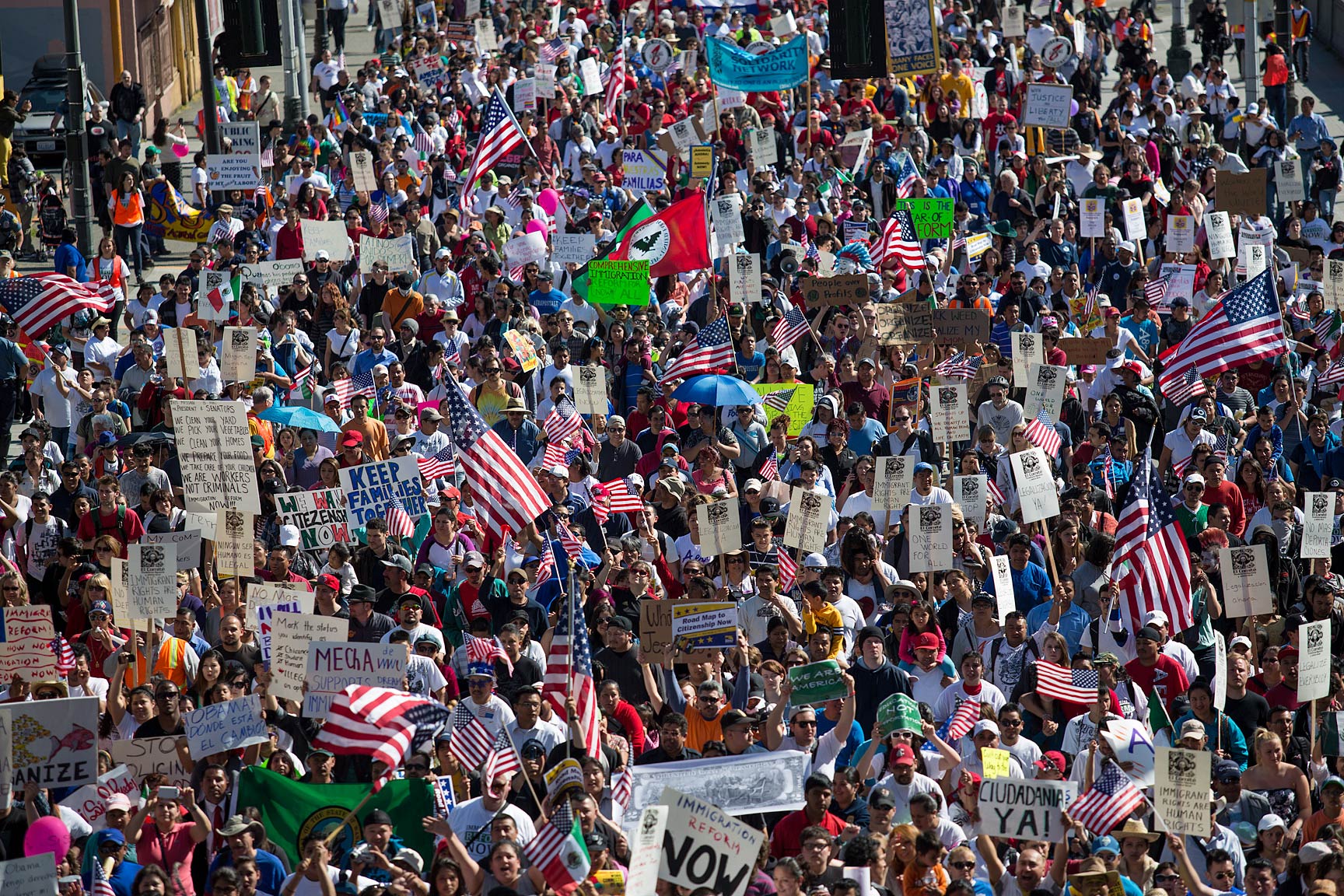 Eventually the caravan snaked around Pike Street and back south towards Federal Building, where it finally came to a rest, and people lingered around and listened to polyglot speeches delivered through megaphones and an ear-piercing PA system. I had enjoyed the walk, occasionally stopping to chat with other photographers, but as the sun got low, the crowd started dispersing, and around 6:00 PM, I wandered off, myself. As I walked past the Seattle Gospel Mission, I noticed that two of the vagrants outside had nicer cell-phones than I do. It might be time to upgrade.
Several hours later I heard that, again, a small group of protesters had started some mischief. There was a little property damage, and a dozen arrests, some flash bombs, and pepper spray. I'll admit it: I regretted having left early.