Best Tablets for Photographers
Several years ago I bought a Google Nexus 10 (Android) tablet, hoping that it would make some of my photography work easier, and it did in some situations: it's great for showing clients images during a shoot, or using as a live-view monitor for my camera. I quickly discovered, though, that it could never be a substitute for carrying a laptop when I'm traveling light. After a long day of shooting on a road trip, I can't open my images in Photoshop for editing, which drives me crazy. With its storage limitations, I can't even import the photos into my library and back them up. Editing with finger-touch would be tedious anyway, though a Bluetooth mouse would help.
But these days we have better options, and there are several tablets that will allow you to travel without a laptop. Which one should you get? First we should consider a more fundamental question:
What Tablet Features Are Most Important for a Photographer?


Software
At the bare minimum, for a tablet to be able to replace a laptop, it has to be able to run the necessary software, including Adobe Lightroom and Adobe Photoshop, or equivalents1 Capture One Pro and Affinity Photo, or even OnOne Photo 10 . Adobe makes a limited version of Lightroom for iOS and Android, but there simply isn't a professional-level, layer-based photo editor for mobile operating systems yet, and although there are probably some serious photographers who can get away with using only the full version of Lightroom most of the time, that's not the case with the mobile version, and I hardly know any who can get away without Photoshop completely. And if you also use After Effects, Premier, and/or Illustrator, then iOS and Android become even more problematic.
Display Quality
For photography, the tablet's display is of paramount importance. Needless to say, color gamut and accuracy are among top considerations. Photographers should also look for high resolution IPS or PLS displays, which have the widest viewing angles (without color shifts). The higher the pixel density, the sharper and less pixelated the photos will appear while editing. Luckily, most of the quality tablets available today have excellent displays.
My four-year-old Nexus 10 tablet has a screen resolution of 2560 x 1600, about 300 pixels per inch (ppi), which was a slightly higher pixel density than the iPad Retina displays at the time. Ideally, I'd like to match or best that, but at a minimum, I'd want a 1920 x 1080 display for any tablet with a 10″ or larger screen (190ppi for a 12″ screen). For comparison, the highest resolution 4K 28″ computer monitors have a pixel density of 160ppi, while 24″ 1080p computer monitors have a pixel density of about 94ppi.
Storage
I probably don't need to explain why it would be an advantage for a tablet to have a full-size SD-card slot. A microSD slot is less helpful, but better than nothing.
Sufficient internal storage for installing the necessary software is important, as well as space for working with large files. For that purpose, I'd say that 128GB of internal storage should be fine, though you can never have too much.
When it comes to image storage, though, only the largest available internal SSD drives are likely to be large enough for storing extended shoots from today's high-megapixel cameras. I fill up 32GB and 64GB CF and SD cards pretty quickly (without shooting video), and I'm not even using a Canon 5Ds R yet. Even though a 1TB internal drive, or even a 512GB, might be fine for importing images during most trips lasting a week or so, you'll still need to consider a backup drive. A USB port to connect the tablet to an external drive (or two, if you opt for a smaller internal drive) is, therefore, necessary.
And just as a matter of convenience, I'd like to be able to connect a USB memory stick to be able to pass off files to clients or friends, among other things.


CPUs and Battery Life
You'll find three basic categories of CPUs in Intel-based tablets: Atom, Core M, and Core i7 (including i3, i5, and i7).
Core i7 Family are the most powerful, but also draw the most power, run the warmest and generally require a fan (though it may only turn on now and then).
Core M are not quite as powerful as i7/i5 processors of the same generation, but are still very capable processors. They don't require a fan and they use less power2

though it's worth mentioning that this doesn't seem to translate into better battery life, for some reason

. They're used in some popular laptops like the MacBook Pro and Asus Zenbook.
Atom processors are generally small and cool running, but are generally intended for mobile devices like phones and are not well suited to running CPU intensive programs (like Photoshop). Consequently, I've tossed all Atom based tablets out of the running, with one exception.
There's not much to be said about battery life beyond the obvious: the more there is, the better. Unfortunately, there doesn't seem to be any consensus about how to test and report battery life, making meaningful comparisons almost impossible.
Input Devices
I had never given much thought to how tricky it is to edit photos on a touch screen until I tried to use Photoshop without a mouse on a touchscreen monitor. Detail work, and even making curves adjustments, can be nearly impossible.


Most tablets support Bluetooth input devices, but I prefer to use a Wacom tablet for editing work. A USB port on any tablet would make that an option, but a high-quality "pen" device would be even more convenient. In this case, high-quality would mean supporting at least 512 levels of touch sensitivity 3 This is a little arbitrary, since I don't know how many are truly necessary or even helpful, but the cheapest Wacom tablets support 512 levels, and they've always been sufficient for my retouching work and a precision point.
It also really helps to have a keyboard if you're accustomed to using keyboard shortcuts while working in Photoshop, not to mention its utility in writing blog posts, emails, keeping notes, etc., but since the topic under discussion here is tablets and not laptops, this won't be a requirement.
Which Tablets are the Best for Photographers?
First, let's get this out of the way: all Apple and Android devices are ruled out by the software requirements. The iPad Pro is cool and powerful, but it doesn't run Photoshop, so it's a non-starter. Until the iPad Pro can run OSX and Photoshop, or Affinity Photo, it's not really a professional device, in my book. [Update: Affinity Photo will be available for iOS later this summer, they say. So, the iPad Pro will move up in the standings.]
So what's left? Windows 10 devices.
Let's take a look at the major players, sorted by screen resolution (best first):
Make/Model
(Announcement Date)
Screen Size/
Resolution
Pixels Per Inch
Internal Storage
CPU
RAM
Ports
Pen Input
Weight
Base Price

Dell XPS 12 (4K)
(Oct. 2015)
12.5"
3840x2160

352

256GB
Core M5 6Y54
8GB
SD Card
2x Thunderbolt 3
Yes
(Dell Active Pen)
1.75lbs
$847 at Amazon
HP Pro Tablet 608
(June 2015)
7.9"
2048x1536
326
128GB
Atom x5-8500
2 - 4GB
MicroSD Card
1 USB-C
Yes
1024
0.79lbs
$429 from HP
Microsoft Surface Pro 4
(Oct. 2015)
12.3"
2736x1824
267
128GB - 1TB
Core m3-6Y30
Core i5-6300U
Core i7-6650U
4 - 16GB
Full-Size USB 3.0
Micro-SD Card
Mini-DisplayPort
Yes
1024 levels
1.73lbs.
$799 at Amazon
Microsoft Surface Book
(Oct 2015)
13"
3000x2000
267
128GB - 1TB
Core i5-6300U
Core i7-6600U
8 - 16GB
2 Full-Size USB 3.0
Full Size SD Card
Mini DisplayPort
Yes
1024 levels
3.34lbs with keyboard
Microsoft Surface Pro 3
(May 2014)
12"
2160x1440
216
64 - 512GB
Core i3-4020Y
Core i5-4300U
Core i7-4650U
4 - 8GB
Full-size USB 3.0 MicroSD card
Mini DisplayPort
Yes
1.76lbs
$699 from Microsoft
or
$559 from Amazon.com

Samsung Galaxy TabPro S
(January 2016)
12"
2160x1440
216
128GB
Core M3
(Dualcore 2.2GHz)
4GB
USB-C
Yes
1.53lbs
$799 at Amazon

Lenovo Ideapad Miix 700
(Sept. 2015)
12"
2160x1440
IPS
216
256GB
Core M3
Core M5
Core M7
8GB
1 USB 3.0
1 USB 2.0
Micro HDMI
MicroSD
Yes
(active pen)
1.7lbs
$489 - $549
Dell Venue 11 Pro 7140
(Nov 2014)
10.8"
1920x1080
204
Up to 256GB
Core M-5Y10C
Core M-5Y71
8GB
USB 3.0
Mini HDMI
Yes
256 levels
1.57lbs
$699
HP Spectre x2
(Oct. 2015)
12"
1920x1280
IPS
192
128 - 512GB
Core M3
Core M5
Core M7
4 - 8GB
2x USB-C
MicroSD
Yes
(Wacom)
1.87lbs (tablet)
2.68lbs (w/ keyboard)
$799
HP Elite x2 1011 G1
(January 2015)
11.6"
1920x1080
or
1366 x 768
IPS eDP
190
or
135
128 - 512GB
Core M-5Y71
Core M-5Y51
Core M-5Y10c
8GB
MicroSD
(USB on keyboard)
Yes
Wacom Pen
1.92 lbs
+
1.71 lbs (power keyboard)
$1459
w/ Power Keyboard


Best Overall Tablets
It may not come as much of a surprise that Microsoft's own Surface Pro 4 is probably the best option when it comes to Windows tablets. The display is excellent, rating even higher than the (also excellent) Apple iPad Pro, especially in color accuracy, where it ranked as the highest ever measured. It can be equipped with the most powerful processor (the Core i7), the most RAM, and the largest SSD drive, and its full-size USB port makes adding additional storage and accessories a snap. The new Wacom pen is capable of 1024 levels of pressure sensitivity for easy control of Photoshop tools, and of course, it runs Windows 10. It may not have the highest pixel density, but considering that 28″ 4K computer monitors have a pixel density of only(!) 160ppi, the Surface Pro's 276ppi will still look amazing. You can configure and purchase it directly from Microsoft starting, or if you prefer ordering with Prime shipping, they're at Amazon.com for the same prices.
Some users have reported problems, and although Microsoft claims to have fixed them all with software updates, they persist in some models. My Surface Pro 4 is the i5 model with 256GB SSD, and I have not experienced any significant problems with it, and the battery life is good (5 hours of constant use, roughly).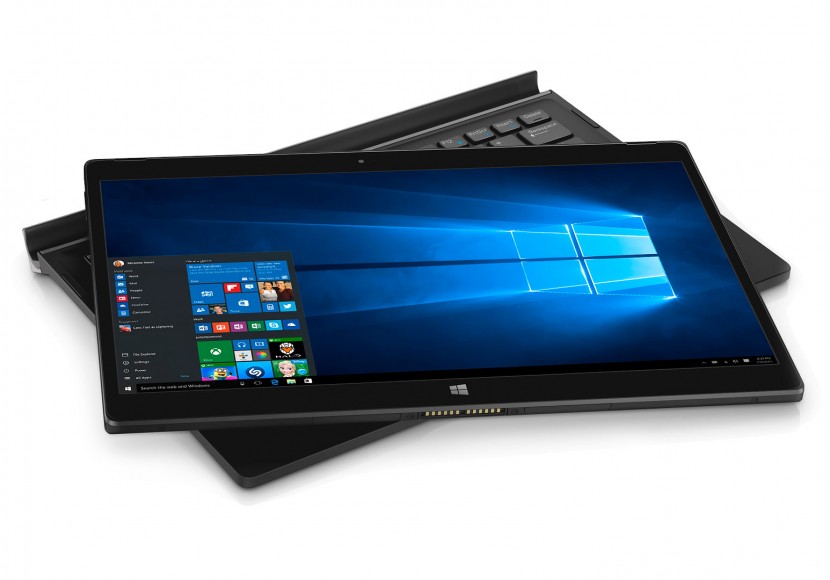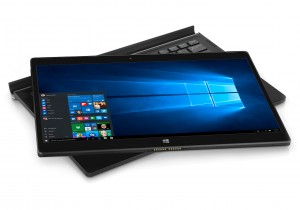 [Updated 6/20/2016] While the Dell XPS 12's impressive 4K display originally made it a top contender, early customers had a variety of problems with the software. It seems that it's mostly been fixed with updates, although users still point to erratic battery life. However, now that the price has dropped several hundred dollars (from $1250), the Dell is a very tempting deal.
Get the 4K version (or check on customer reviews) from Amazon for $629.
Best 'Might-As-Well-Be-A-Laptop' Tablet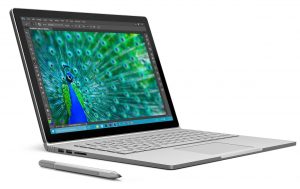 Yes, it has excellent specs and looks pretty slick, but the Microsoft Surface Book is also just as large and heavy as most laptops, and even more expensive. It doesn't really count, here, because its keyboard (which holds most of the battery power) is so important as to be indispensable.
Still, if you're looking for a laptop that can occasionally function as a tablet, the Surface Book is as good as it gets. Buy direct from Microsoft, or from Amazon.com for the same price.
Best Compact Tablet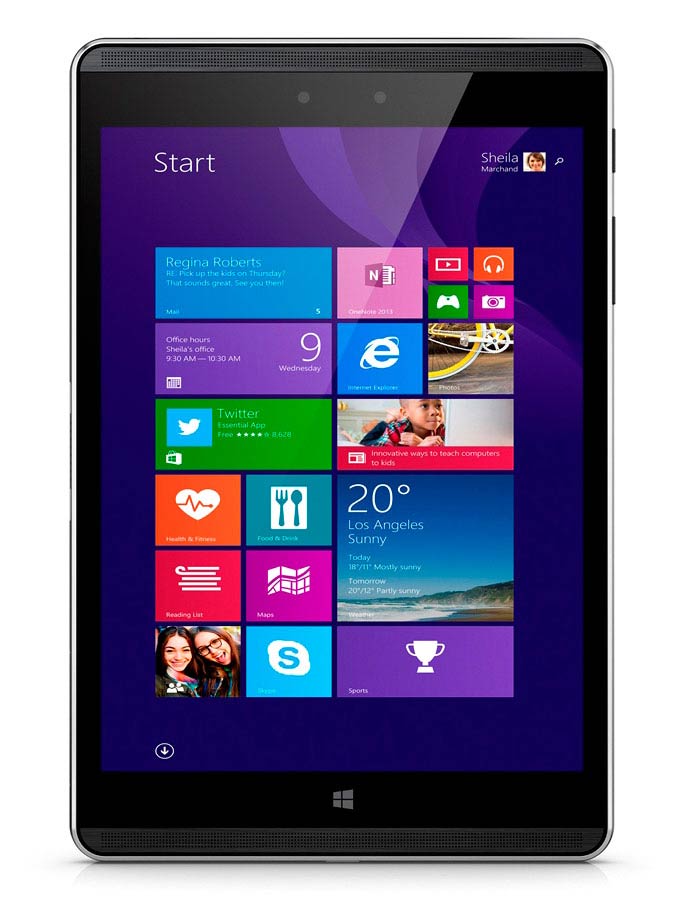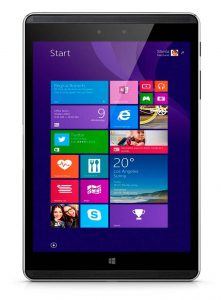 Perhaps you're hiking the Pacific Crest Trail and every ounce counts. Maybe you just have a bad back. Whatever the case may be, if size and weight are the most important to you, but you still want a tablet with all the benefits of Windows 10, the HP Pro Tablet 608 may be perfect for you. Its 8″ screen is smaller than those of the other tablets listed here, but it weighs a full pound less than the larger tablets, too. And that screen has a pixel density that's even higher than the Microsoft Surface devices, making your images even smoother. Oh, and it only costs about $430 directly from HP, when it's available.
Despite its size, the HP Pro 608 is still well equipped with a USB-C port and MicroSD slot, and an optional pen device ($50) that provides 1024 levels of pressure sensitivity. A dock and a keyboard cover are also available.
The downside to all of this compact prowess is a hit to processing power: it will not be a joy to spend hours in Photoshop on this device. Benchmark tests indicate that the 608's Quad-Core Atom processor will take about 20% longer to process files when multi-cores are used compared to a (two core) Core M5Y10, and about twice as long for processes that only use a single core. However, if you don't require the tablet to do much heavy lifting, or if you have some patience, the HP Pro 608 tablet will still get the job done.
Good But Less Expensive Tablets
It should be apparent from the table above that there are still quite a few other good options for photographers, each having its own strengths and weaknesses. Many of them are less expensive than the new Surface Pro 4 line and are worth considering.
The Lenovo Ideapad Miix 700 is a good option; it is very similar to the older Surface Pro 3, with the same size and screen resolution, but comes with a better keyboard and an extra USB port. Although the Lenovo uses Core M processors, they compare very favorably to the older generation of i3/i5/i7 processors used in the Surface Pro 3, so performance should be similar but with less noise and heat. At Amazon.com, prices currently range from $ for the base model up to $ for a model with twice the RAM, a larger SSD, and a faster processor.
Nearly the exact same thing can be said of the HP Spectre x2 (2015 model), although its screen resolution is a bit lower and the base model costs about $100 more than the Lenovo. It has an excellent keyboard and two USB-C ports, and the latest Core M processors. It can purchased directly from HP, starting at $799.
Additional Considerations
Unless you buy a tablet with a massive internal drive (512GB or 1TB), you're going to want additional storage space for your images. In fact, even if you can fit them onto your internal drive, you should still back-up your images to an external drive, in case your tablet is stolen or destroyed. Luckily, storage is not very expensive these days.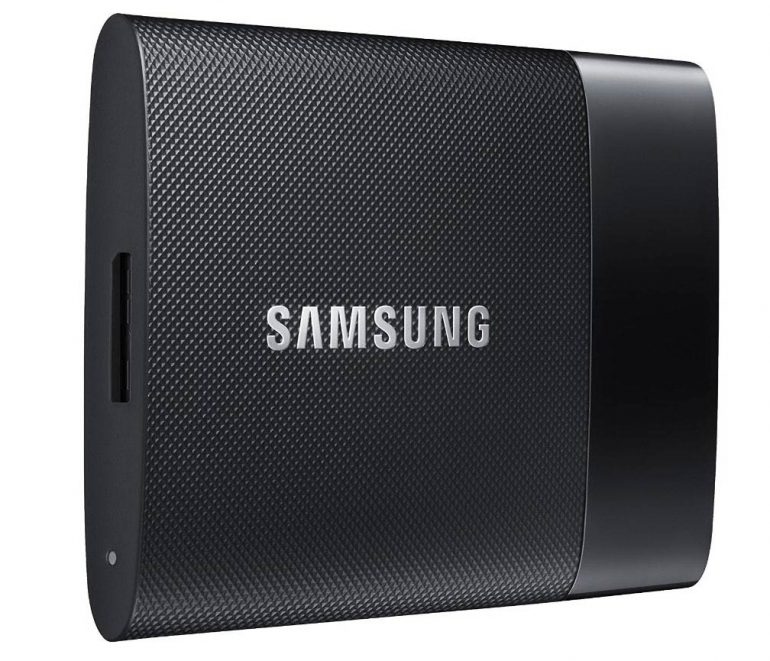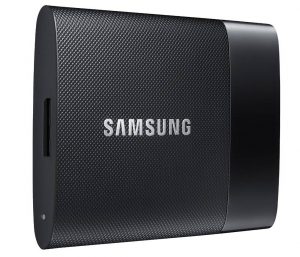 Since we're talking about tablets, we'll assume that you're on the move, which means that you won't want an external drive that requires external power. Instead, a portable drive that is powered through the tablet's USB cable would be most practical. These are now quite inexpensive: a 1TB drive costs only $60, and a 2TB drive costs only $83 from Amazon.com. These are compatible with all Surface Pro 3 and Surface Pro 4 tablets, but may require driver updates with some tablets. Sustained write speeds will be around 60-75 MB/sec.
Even better than standard hard drives, though, are external SSDs. Because they have no motors or moving parts, they require less power to operate (saving your tablet's battery), they're small and lightweight, and they're faster to access and transfer files (also saving time and battery power). But they're more expensive: a 500GB drive will run $180, and a 1TB drive about $370. However, you can save some cash by purchasing an external drive enclosure (about $15) and buying an SSD separately to put in it, in which case a ~1TB drive will cost about $220. Either way, sustained write speeds will be around 500 MB/sec.
Comments and Questions
Know of something that I missed? Disagree? Think that iPads are a serious option? Think that Android tablets can get the job done? Let me know in the comments section below.