While Marrakech is a desert market city, Essaouira is a coastal fishing town. I had read good things about it, and it was cheap: about $15 per night to stay there, including a good breakfast, and the bus from Marrakech (about 200km) cost $8.
I checked out of my fancy riad in Marrakesh and walked to the bus terminal, somehow managing to traverse several major roads and surviving. There were crosswalks, but the locals seem to take these as a sort of joke, or perhaps as cross-hairs in the road to assist with their aim at hapless foreigners. As you approach these roads there is an endless stream of cars and taxis and motorcycles and donkey carts, all weaving around each other, and none even pretending to slow for foot traffic. The reptile part of my brain forbade me from simply stepping into the road to see what would happen.
And then, of course, some locals would come along and just strut right out into traffic, and somehow the cars would miss them and the buses would fail to flatten them. Each time I came to a busy road, I just waited for a woman with children trying to cross the street and tagged along.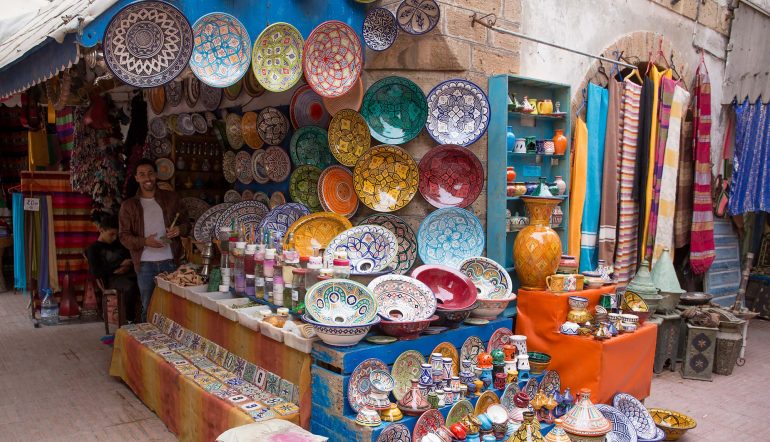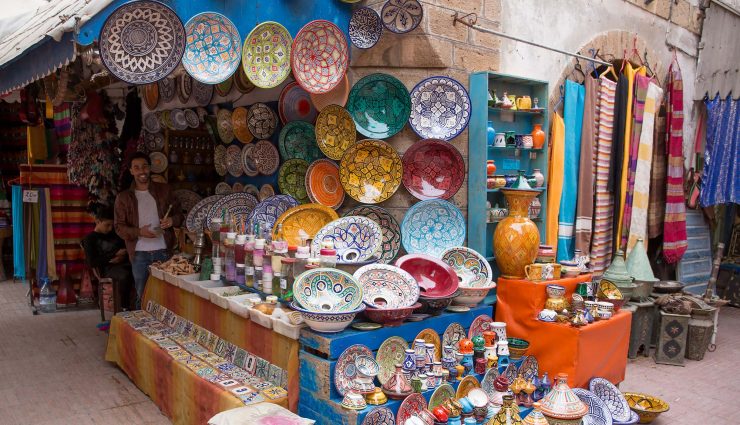 Essaouira also has a walled old city, but its markets are much less dense than those in Marrakesh. Instead of the beautiful blue and white ceramics from Fes, the markets were generally filled with the colorful, less expensive pottery from Safi1 Though much of it is very pretty, the Safi kilns churn out bowls in a variety of bright colors on top of a red-clay base. It doesn't seem as sturdy as the thicker porcelain from Fes, and they seem to be aimed mainly at tourists. , just up the coast. For the first time in Morocco I saw that the shops and stalls often had prices on their goods! No haggling required at least for some things. The real interest in the city for me, though, was outside of the walls in the fishing harbor.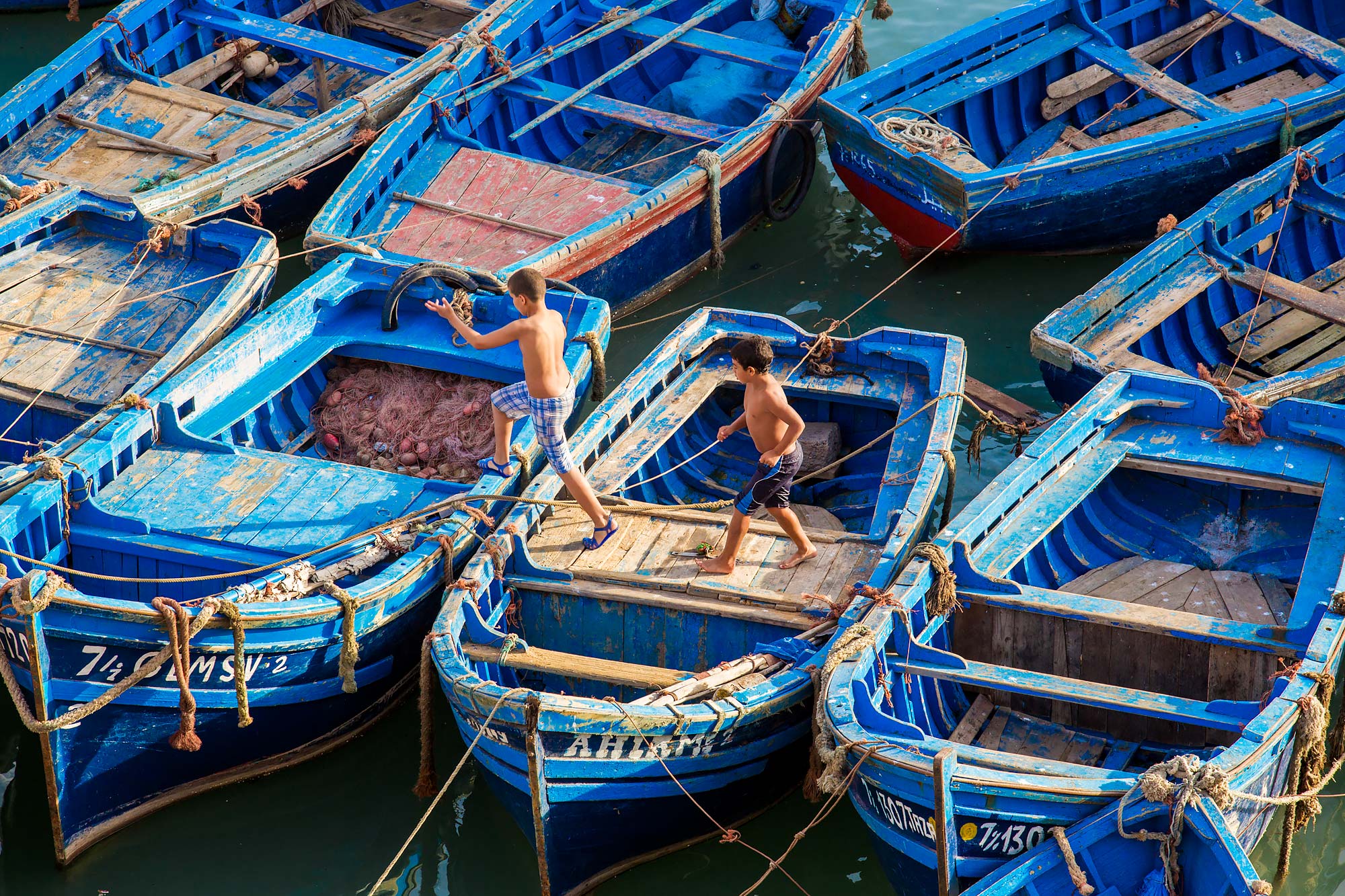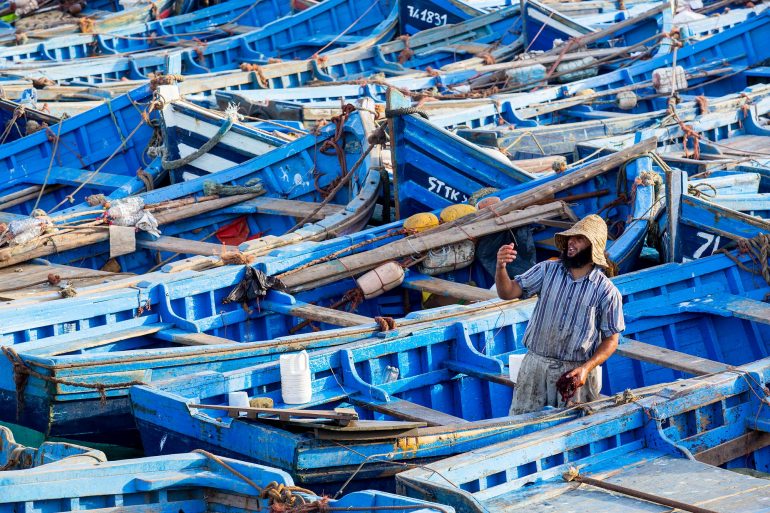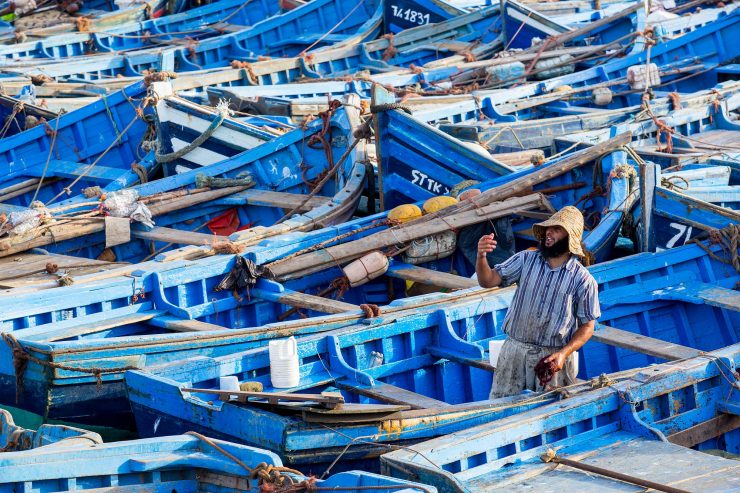 On the day of my arrival, the harbor was bustling: dozens of identical blue boats were moored in the harbor, having just returned from the full day of fishing. Kids played on them and jumped into the water, while the road leading along the east side of the harbor was lined with fish stands: I saw numerous eel-like fish, big fish, small fish, crabs, sharks, octopi and squid. The smell was pretty strong, but not unbearable.
I returned in the morning, but clouds had rolled in, and then it started raining… and rained for the rest of my stay. Had I been better prepared, I'd have loved to go out in the rain and see what was going on there, but I was traveling light, with only one camera body and no protective gear for myself, so I didn't risk it.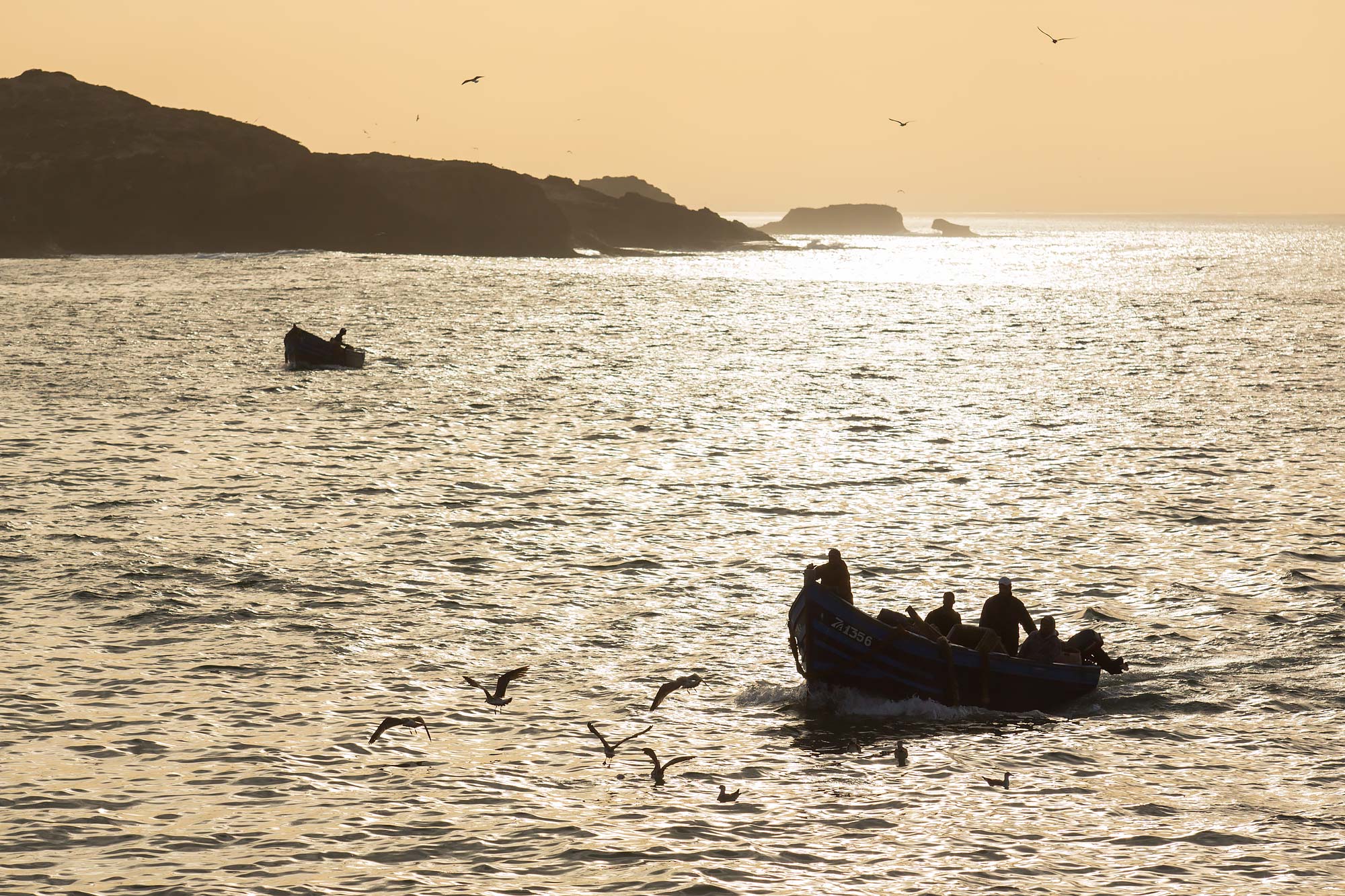 During a break in the rain, I also took a long walk around the outside of the wall. The jagged rocks were fascinating, and the dark skies over the city wall were also striking. I kept hoping for a sun break to give me some sense of drama, but no luck.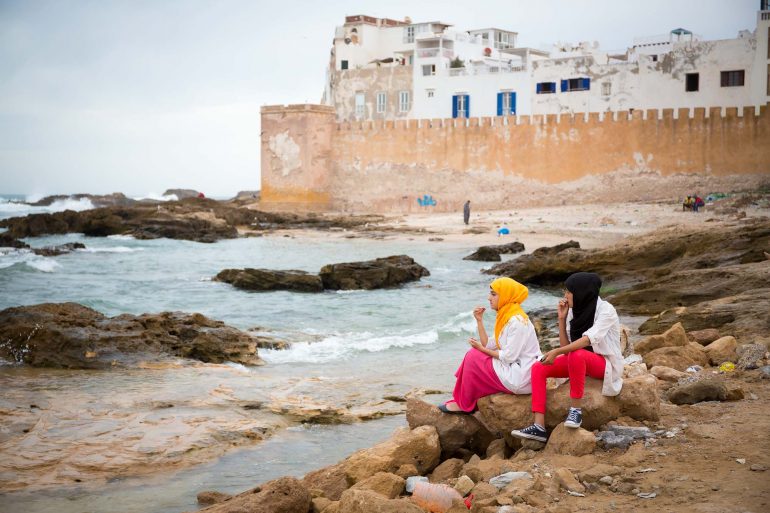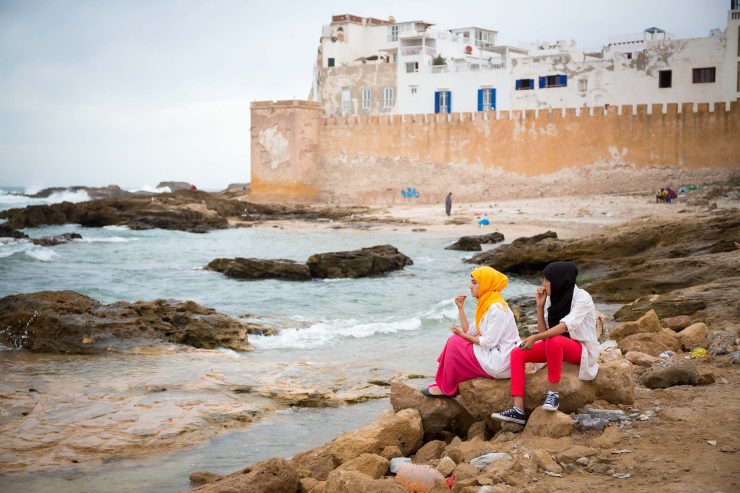 I also took a walk along the sandy beach south of the old town, checking out the different styles of swimwear. Adult men played soccer in staked out areas of the sand while kids watched. As I was heading back to my room, I watched for a while as a man tried to coax his wife down to the water's edge, but she wouldn't budge. I liked the reflections they made on the wet sand.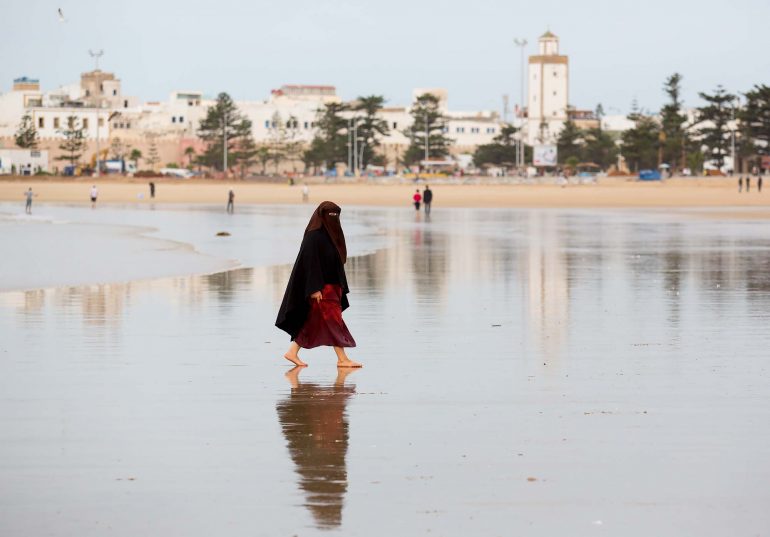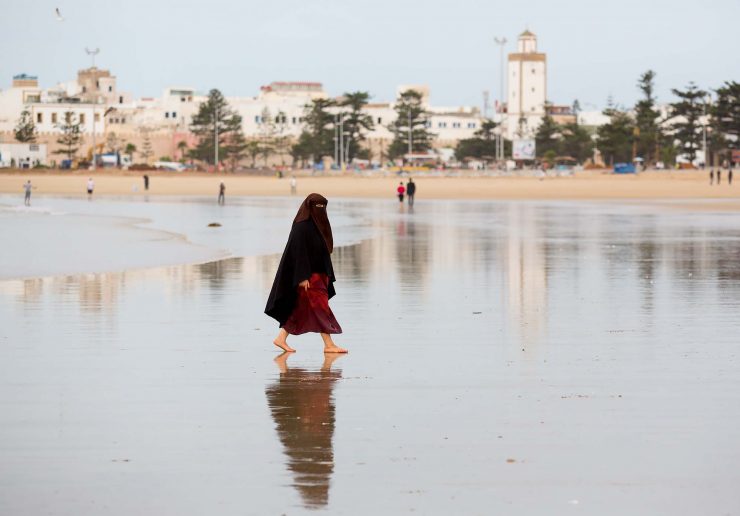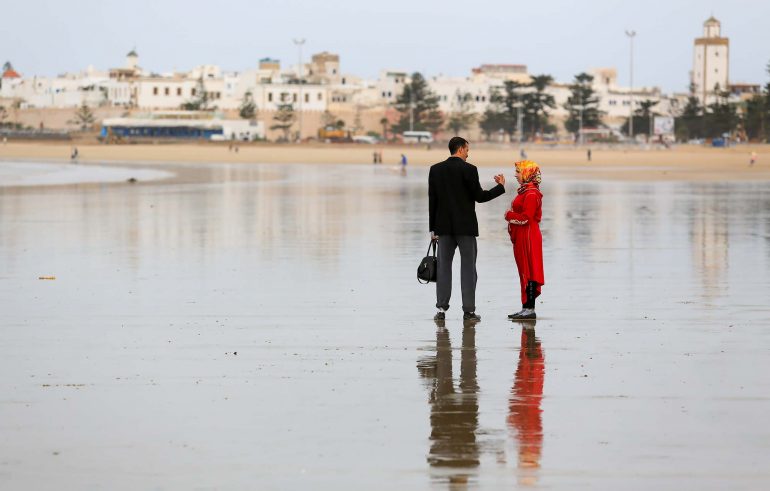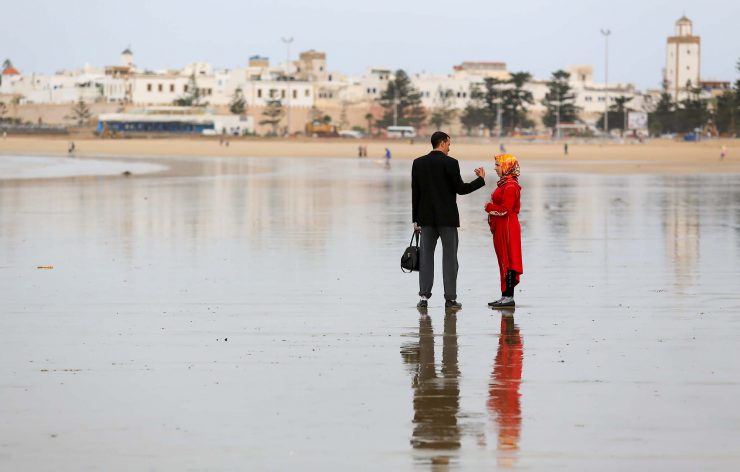 After only a couple of nights in Essaouira, I realized that I needed to get back to Marrakech to take the train to Tangier, where I was catching a ferry to Barcelona, Spain. The next time I visit Morocco, I could easily spend a couple of weeks in Essaouira. It's a pretty little city, and the harbor is packed with all sorts of interesting characters and beautiful sights. And nobody got upset about having their photos taken.
Though I loved my hotel in Tangier, my experience with the city was not especially good, and perhaps consequently, I was not very happy with the photos that I took there. I'll probably end this narrative here. With a cat or two. There were plenty of cats around the harbor, and they were healthy.