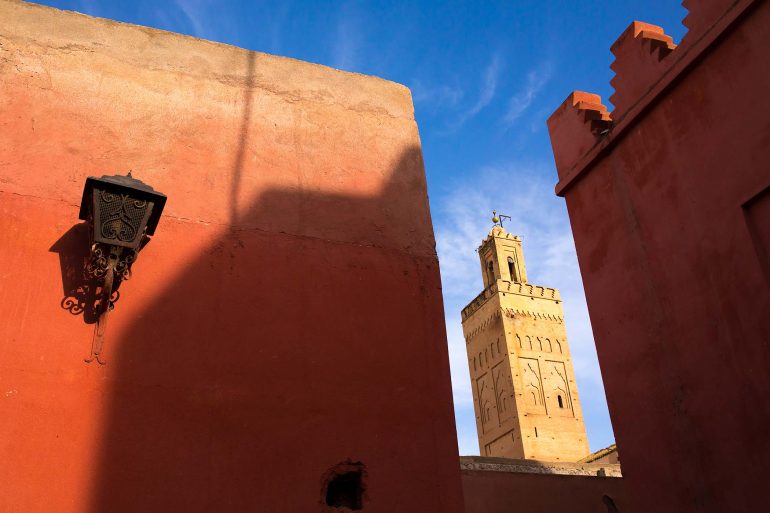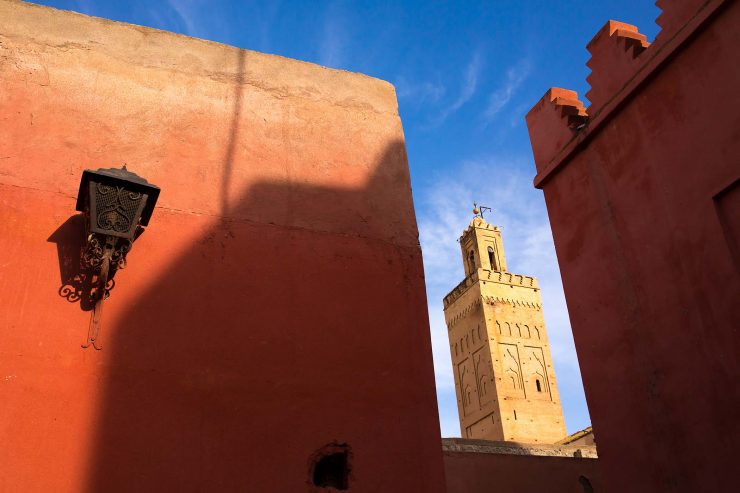 If you travel to Marrakech, you'll learn very quickly that Moroccans don't like having their photos taken, which is unfortunate, because you'll see so many interesting people and faces. Of course, it's not uncommon all over the world for people to be camera-shy, but Moroccans can be very vehement. If you lift a camera to your face, most of the locals in Marrakech will quickly turn away at the very least; others will lift a hand to shield their faces, while others will shout "No! No!" One butcher shook his knife at me. If you take a photo without permission, you're likely to invoke flashes of anger bordering on violence. This can be true even if you're just photographing someone's shop.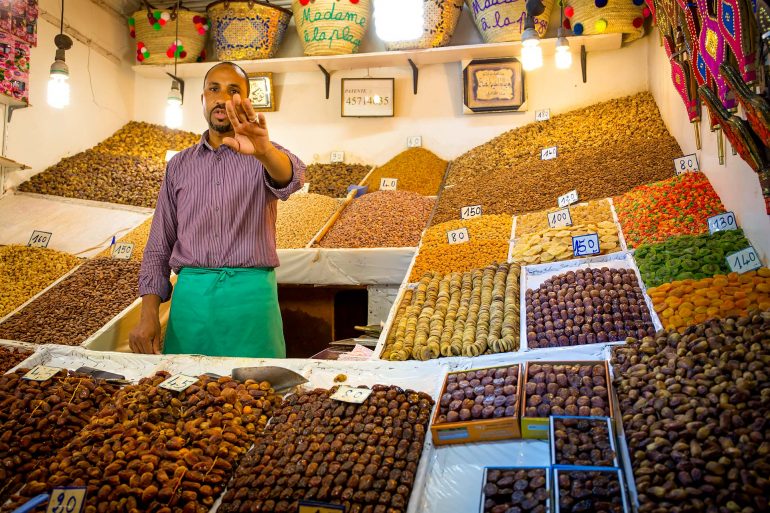 If you ask permission, some shop owners will step out of the way and allow you to take photos of the shop. Many will expect a tip, especially if they're street performers (like the snake charmers, or the guys with the monkeys).
This makes Morocco something of a challenge for a travel photographer: it is a gorgeous country, filled with colorful cities, crowded street markets, and amazing desert scenery, and yet much of it is hard to photograph without upsetting someone.
I spent three days exploring the medina in Marrakech, and I saw thousands of photos that I wished I could take, but I ended up with relatively few in my camera. Some were shot from the hip to avoid a reaction, while others were simply lucky.
To remain inconspicuous, I removed the battery grip from my Canon 5D and I also stuck to my smaller 24-70mm lens, rather than the bulky 70-200, which is hard to miss. It also turned out that the 70-200 was generally useless in the medina; if I was far enough away from anything to warrant its use, there were invariably a dozen people standing in my way making a clear shot impossible.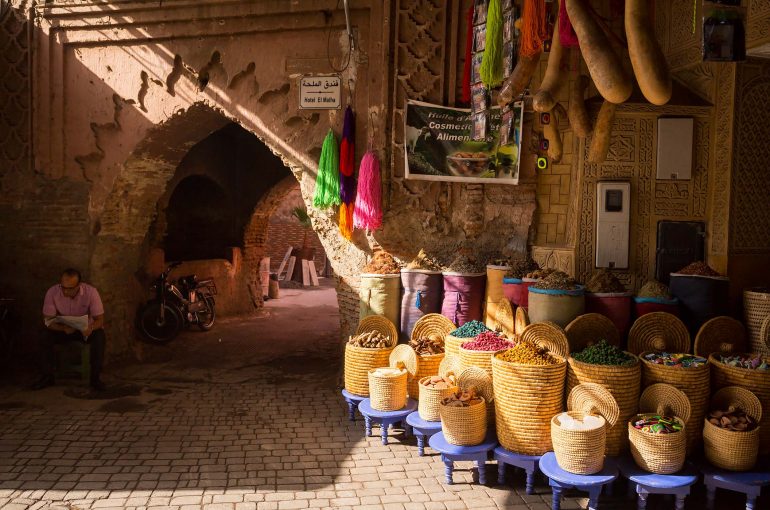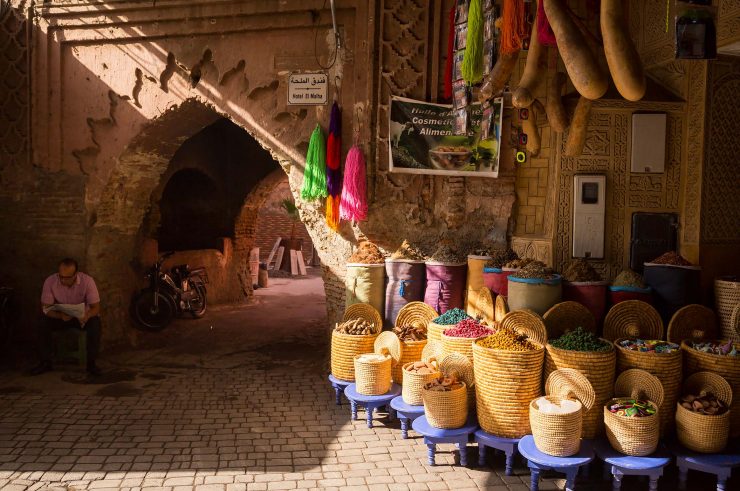 The major souks in Marrakech are filled with traditional crafts and spices, and are primarily of interest to tourists, though some locals also seem to visit them. The market streets are very dense, and many of them are also covered with bamboo shade mats, and as the moped exhaust and smoke from the various food stalls fills the air, the sunlight streaming through creates some amazing patterns in the air… but I noticed the phenomenon too late, and missed the best of it. The clouds rolled in on my second day there.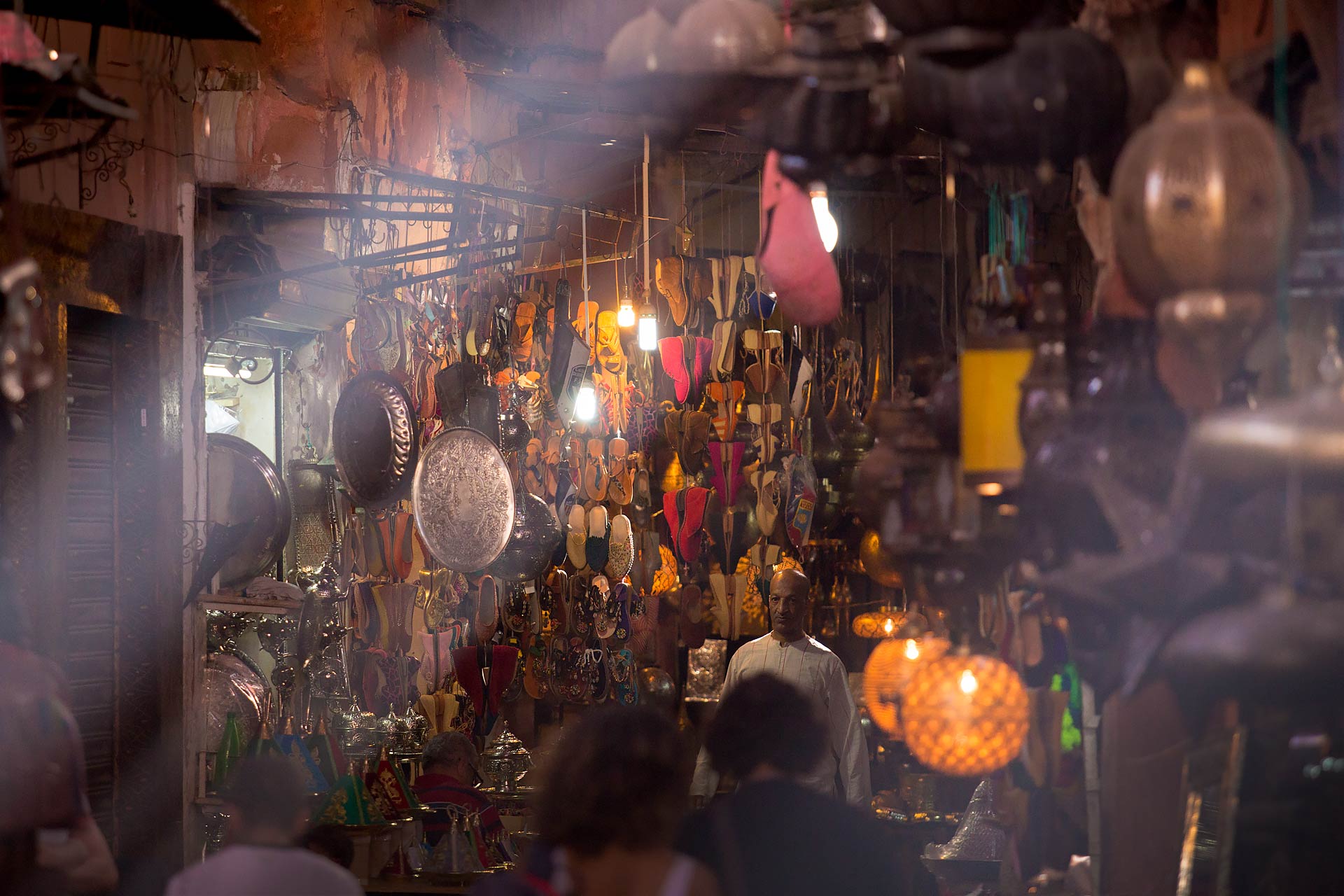 The further you get from the souks, though, the more you'll wander into the outer street markets where the locals buys and sell produce, meat, fish, clothes and general household goods, and you'll also start to find the workshops where many the items in the souks are actually made. I'd have loved to spend a week photographing the men and women working in these tiny shops, but they simply wouldn't allow it.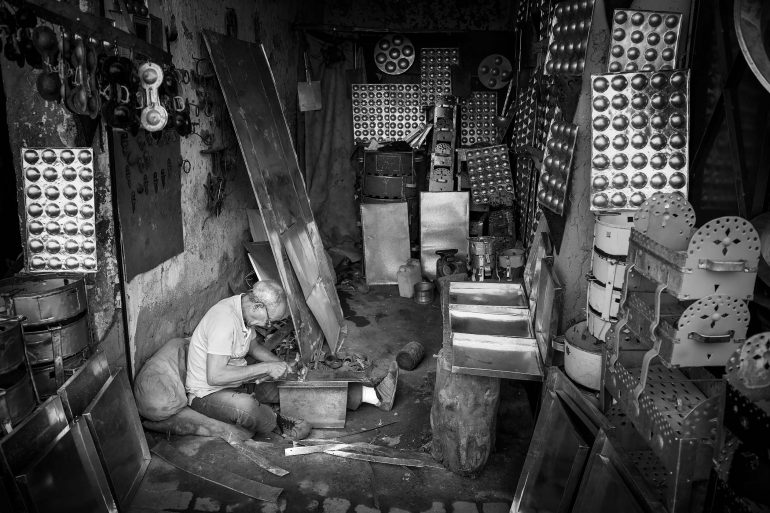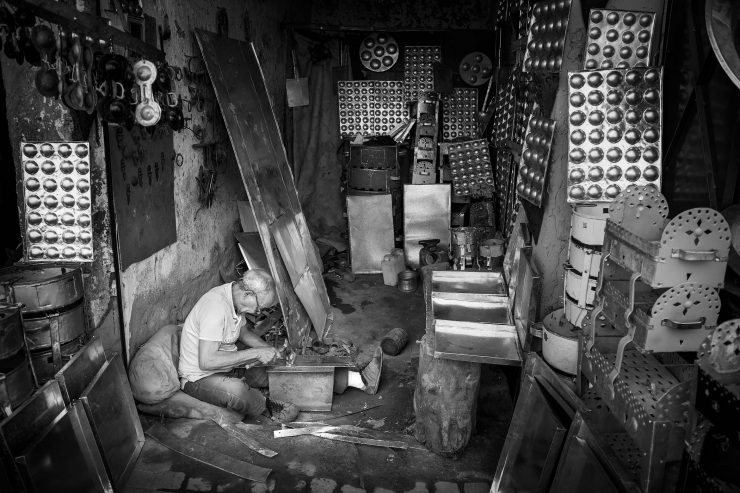 However, these outer streets were somewhat less crowded, and the arches and colors were beautiful for quieter compositions.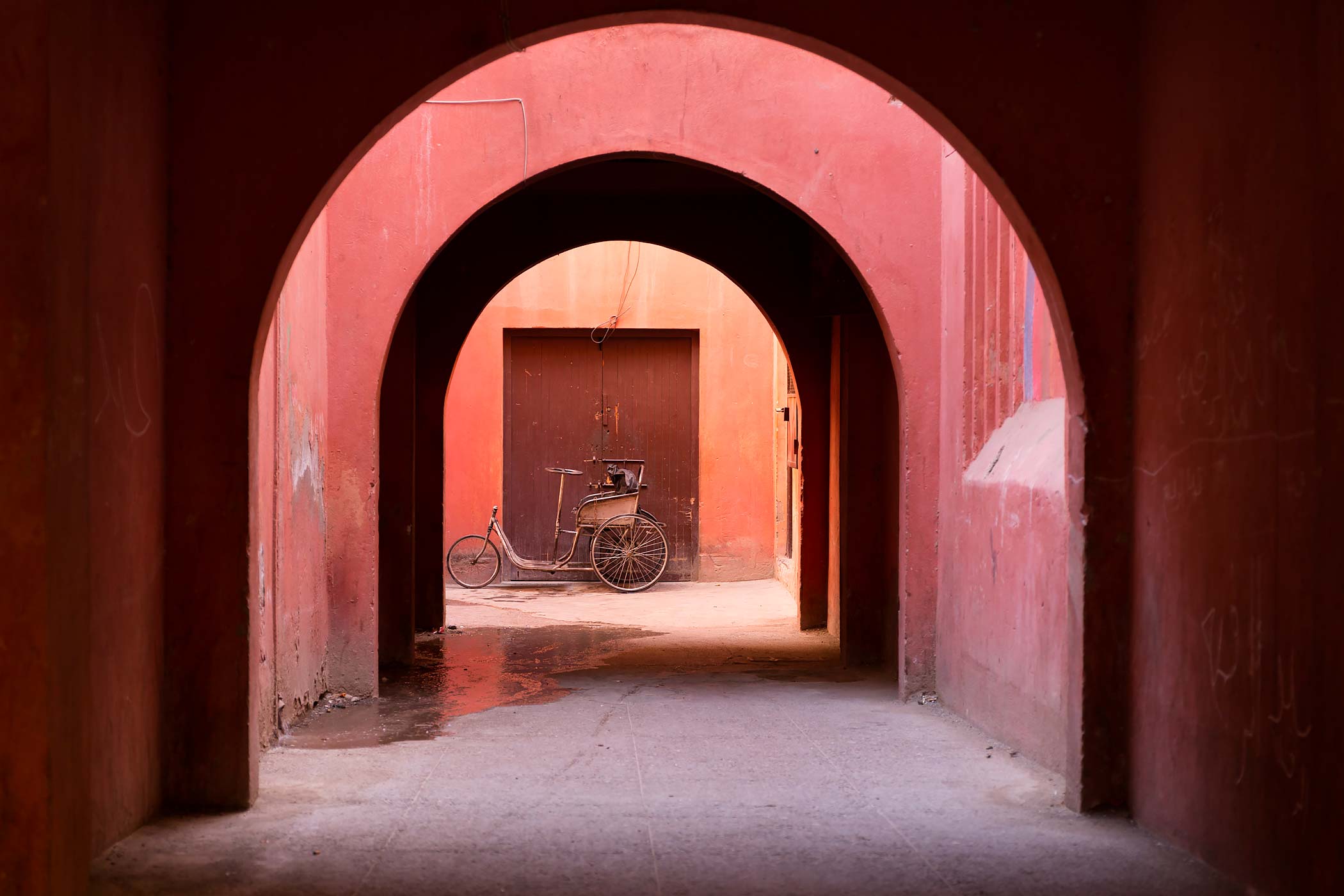 I would be remiss if I didn't mention that there were some exceptions: not everyone was camera shy. As I was walking back to my hotel one evening, I stopped to take a few pictures near the mosque, and a couple of kids passed by and one of them said "Bon jour" as he approached. I replied, "Bon jour", which made the pair of them giggle as they passed. My French pronunciation usually has that effect.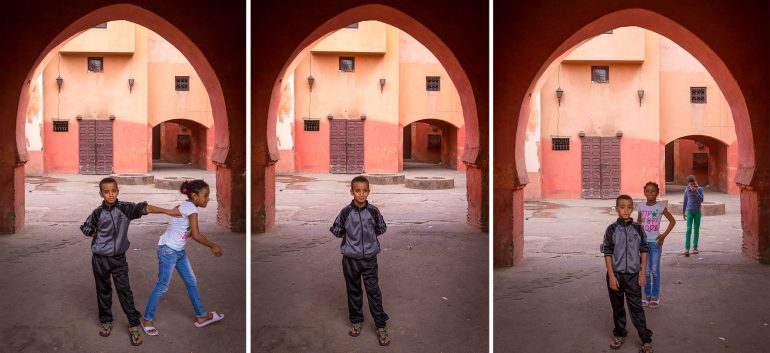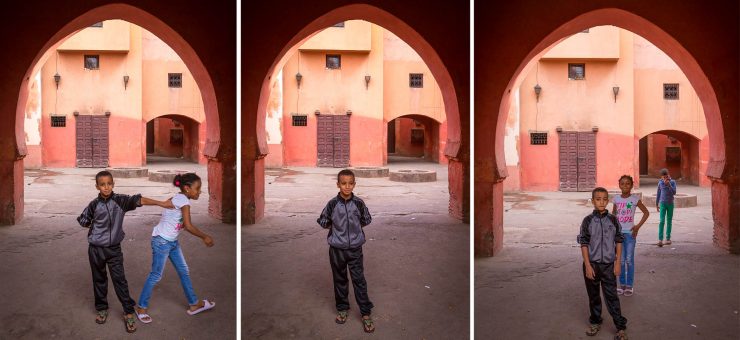 A few moments later, as I was taking another photo, I felt the kids walk up next to me and stare. When I turned to see what they were up to, the boy started speaking rapidly in French. I interrupted him, and looking apologetic (I hope), I said "I'm sorry, I don't speak any French." He looked momentarily confused, then started pointing at my camera, then took a few paces back, and posed for me. The girl (who I assume was his sister) also tried to get into the picture, but he wouldn't have any of it, and pushed her out. I managed to snap a couple shots, and as I started showing them the pictures that I'd taken, several other kids materialized… I don't know where they came from, but there was suddenly quite a crowd. Always wary of pickpockets, I decided it was time to move on, but the kids had fun looking at their pictures, and it was a nice change of pace for me, too.
Staying in Marrakech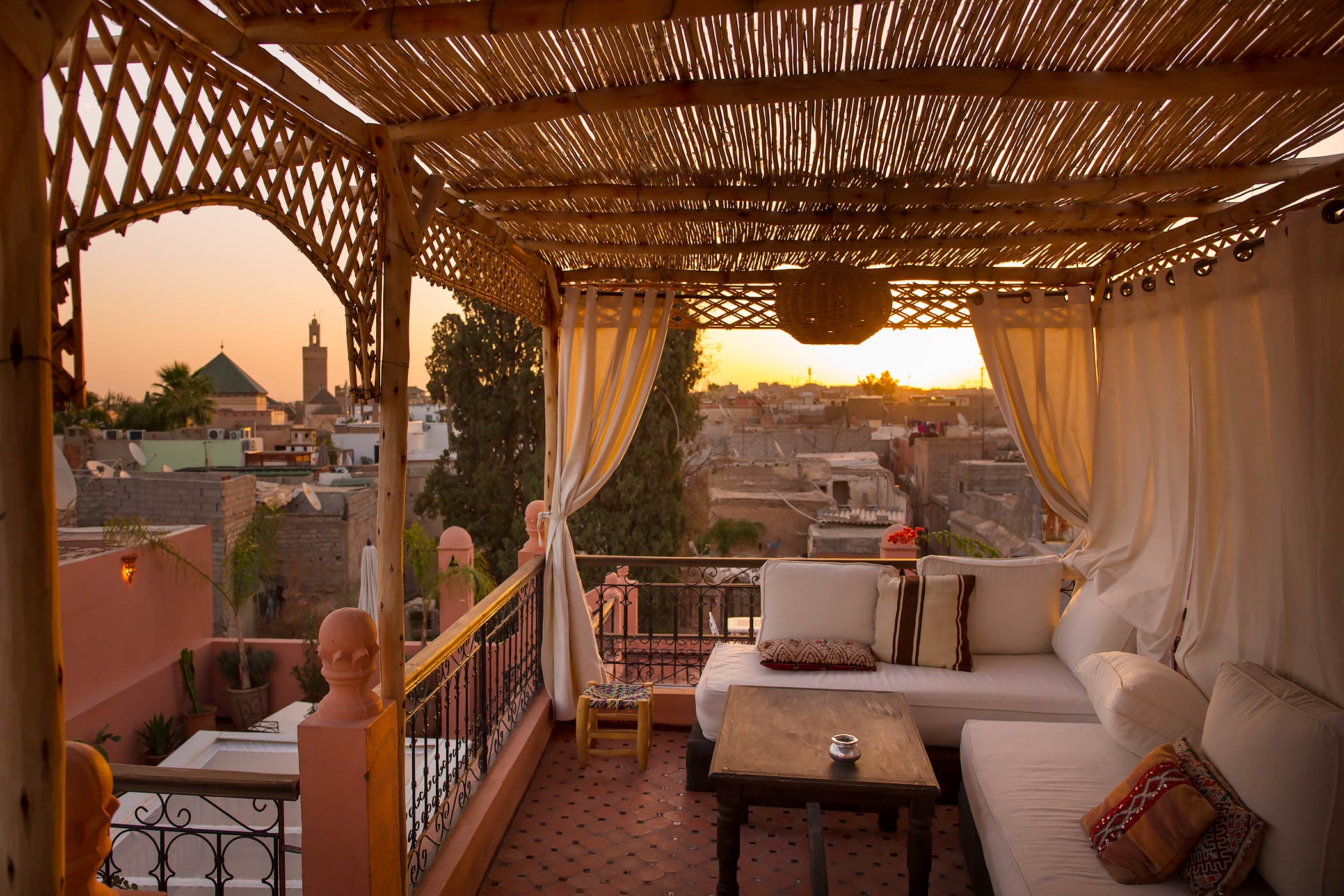 Photography aside, Marrakech was a beautiful travel destination. I loved staying there, though much of that may be due to my choice of lodging: the Riad Sun of Kech. I'm not getting paid for endorsing them, but I wish I were; I've been writing good reviews about them all over the internet.
A riad is a traditional Moroccan building style with rooms surrounding a central open area and courtyard, usually with a terrace on the roof. And that is what I found at the Riad Sun of Kech; a beautiful inner courtyard, a large, comfortable room full of Moroccan tile and woodwork, and individually served breakfast on the roof terrace. All of this was matched with the warm hospitality of the proprietors, who were endlessly helpful. And it was all less than $50 per night.
The Sun of Kech is inside the medina (the walled old city) but north of the major souks and tourist traps, so I spent each morning (after breakfast) walking from the riad to the center of the medina, passing through the less touristy markets and the workshops that support the city. I wish that I had spent more time photographing the Riad, but my mind was on the city.
After a few nights in Marrakech, I decided to head out to the coastal city of Essaouira. I'd heard good things about it: it's much more relaxed than Marrakech, without so many pushy vendors and people trying to mislead you into their shops (Marrakech could be hard to deal with, at times). There was no train running in that direction, but the bus fare was only $8 for the 200km trip. I bought a ticket.
Questions? Comments?
As usual, if you have any questions about shooting in this location, I'm happy to answer them if I can. Just let me know in the comments section below!