This morning, Tamron announced a new telephoto zoom lens, the Tamron 100-400mm f/4.5-6.3 Di VC USD, a competitor to the similar Simga 100-400mm f/5-6.3 "Contemporary" lens announced last spring, and of course, Canon's 100-400 f/4.5-5.6L IS II and Nikon's AF-S 80-400 f/4.5-5.6G VR.  The new Tamron bests the Sigma's maximum aperture at the near end of the zoom by 1/3rd stop, but lags 1/3rd stop behind the Canon and Nikon at the far end. The new Tamron will be the lightest lens in it's class at 39.3 oz., yet built with a weather sealed, rugged partial magnesium alloy body for durability. Oddly, the Arca-Swiss compatible tripod collar is an optional extra.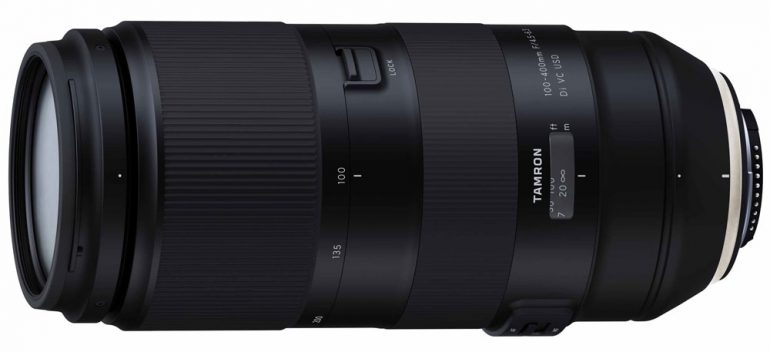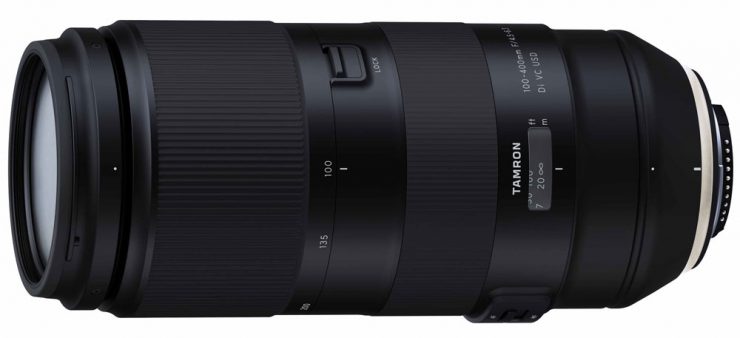 Of course, Tamron says that it's super sharp, but we'll have to wait and see in real world tests. More specifically, it's constructed with three LD (Low Dispersion) glass elements to reduce aberrations, especially axial chromatic, and the optics are treated with Tamron's latest eBAND coatings to reduce flare and ghosting.
When it comes to autofocus, there's a little more info to go on. When they announced their new 24-70 f/2.8 G2, Tamron paid special attention to improving autofocus performance and added dual-processors, one to handle focus and one to manage their "vibration compensation" (ie, image stabilization). This practice has been extended to the new 100-400mm lens, which is a good indicator that AF will be better than older Tamron lenses, and likely at least as good as the Sigma, if not the OEM lenses.
While Sigma doesn't make a specific "f-stop" claim about their variant, Canon says that their 100-400 II lens provides 4-stops of image stabilization. Tamron has not yet released a specific "stop" rating for their VC performance, but since their 24-70 f/2.8 G2 uses a similar dual-processor system and claims 5-stops,  it's likely that the new Tamron 100-400 will at least match the Canon, and may even set the bar.
The lens can focus on subjects as close as 4'11" away, producing a reproduction ration of 1:3.6, not quite making it a macro lens, but close. It will be Fully compatible with 1.4X teleconverter and TAP-in Console.
Price & Availability
The Tamron 100-400 f/4.5-6.3 Di VC USD will begin shipping before the end of the year, but no price has been specified yet. As usual, the lens can be pre-ordered from your favorite camera stores.
From B&H Photo: Canon Model
From B&H Photo: Nikon Model