Tamron 18-400mm F/3.5-6.3 Di II VC HLD
If you value convenience and flexibility over image quality, then you may be interested in Tamron's new 18-400mm F/3.5-5.6 Di II VC HLD lens for APS-C cameras (Canon and Nikon mount). This all-in-one zoom lens attempts to bring together an entire collection of wide angle, mid, telephoto and super-telephoto lenses into a single, lightweight package. On a Nikon, the Tamron lens has the equivalent field of view as a 27-600mm zoom on a 35mm camera and on Canon cameras it's equivalent to a 29-640mm. That's a 22x zoom ratio, and it fits into a housing that is smaller and lighter than the Zeiss Milvus 35mm f/1.4 lens announced earlier this week.
Recent rumors suggested that this lens would be have a maximum aperture of f/5.6 at 400mm, but it turns out to be a more reasonable f/6.3 like the new Sigma 100-400 Contemporary lens.
What will the image quality be like? There are two possible answers, here: (1) groundbreaking, ingenious engineering or (2) lots of optical compromises. In the past, all of the all-in-one zoom lenses (18-200 and above, including the Tamron 18-270mm) that I've tested have produced very disappointing optical quality in at least one end of their zoom range, and the more zoom range that engineers try to pack into a single lens, the worse it typically gets. As such, I don't have high hopes for the Tamron 18-400 and I generally don't recommend all-in-one lenses, but I'd be very happy to be wrong if image quality turns out to actually be good this time.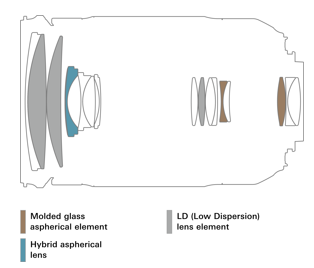 In fact, if I look at things a bit more optimistically, Tamron has been producing some amazing optics over the past several years, and they claim that this lens will be sharp throughout its zoom range. They attribute this in part to the fact that it contains a high percentage of special glass elements: the two of the three largest elements in the front group of the lens are LD glass, and several of the others are aspheric and hybrid aspheric elements. With the advances we've seen in optical design and engineering over the past decade, it's just possible that this lens will be something surprising.
Prices and Availability
The 18-400mm lens will be available at the end of July for a retail price of about $650.