Just as the Nikon Z6 appears to have been built to compete directly with the Sony A7III, the Nikon Z7 is positioned to compete with the Sony A7RIII. The Sony and the Nikon Z7 both have high resolution sensors and are designed for work that captures critical details, but the cameras are equally at home shooting action and events.
So how do they compare? Let's take a look. Here are the basic specs with better features highlighted in green, though in some cases "better" can be subjective.
Nikon Z7
Sony A7RIII
Current Price at Amazon
(body)
$2,496.95
$2,198.00
Len Mount
Z-mount
E-mount
Sensor Resolution

45.7 Megapixel

42.4 Megapixel
ISO Range
64-25600
100-32000
(50-102400)
Autofocus Points (total)
493

824

Autofocus Points
(phase)
?
399
Autofocus Points
(contrast)
?
425
AF Light Level
-1 to +19 EV

-3 to 20 EV (with f/2 lens)

Frame Rate
9fps
(12-bit RAW)
10fps
(14-bit RAW)
Buffer Size
23 12-bit RAW
18 14-bit RAW
(according to dpreview tests)
76 compressed RAW
28 uncompressed RAW
(all RAW 14-bit)
Built-In Image Stabilization
5-axis, 5-stops

5-axis, 5.5 stops

Anti-Flicker
No

Yes

Silent/Electronic
Shutter option
Yes
Yes
Shutter Speeds
1/8000 - 30 sec
1/8000 - 30 sec
Flash Sync Speed
1/200th sec.

1/250 sec.

Video Resolution
4K (3840x2160), 1080p, 720p
4K (3840x2160), 1080p, 720p
Max 1080p Framerate
120fps
120fps
Video Format
MOV/MP4
H.264/MPEG-4
XAVC S, AVCHD format Ver. 2.0
H.264/MPEG-4
Clean HDMI Out

Yes: 3840 x 2160 (30 or 24p), (4: 2: 2 10-bit)

Yes: 3840 x 2160 (30 or 24p), YCbCr (4:2:2 8-bit / RGB 8-bit)
Log Profile
N-log
S-log2, S-log3
Heaphone Jack
Yes (3.5mm stereo)
Yes (3.5mm stereo)
EVF Type
1.3cm Quad VGA OLED
3,686,400 pixel
1.3cm Quad VGA OLED
3,686,400 pixel
EVF Coverage

100% @ 0.8x

100% @ .78x
EVF Frame Rate
60fps
60 or 120fps NTSC
50 or 100fps PAL
Rear LCD
3.2"
2,1000,000
3" Touchscreen
1,440,000 pixel
Swivel Angles
Up
Down
Up 107 degrees
Down 41 degrees
Body Size
134 mm x 100.5 mm x 67 mm
126.9 mm x 95.6 mm x 62.7 mm
Weight
(with battery and memory card)
675g
657g
Media
1 XQD Card Slot

2 SD Slots (1 UHS II)

Battery Type
EN-EL15b
or
EN-EL15a (shorter life)
NP-FZ100
(2280mAh)
CIPA Battery Life
(EVF Shooting)
~330 shots
10-15 min. video

~530 Shots

Connectivity
USB-C, Wi-Fi (2.4 and 5GHz), Bluetooth
USB-C, NFC, Wi-Fi (2.4GHz), Bluetooth
What Are the Significant Differences?
There are quite a few minor differences between the two cameras, but which ones really matter?
Autofocus
Let's start with the autofocus systems. Both cameras have focusing points that cover the vast majority of the viewfinder, but the Nikon does it with 493 AF points, while the Sony does it with 824, including 399 phase-detection points. This is a pretty dramatic difference (though not as dramatic as the Z6 and A7III): the Nikon has about 60% of the number of AF points that the Sony does. However, the Nikon still has more points than most DSLRs (if we count cross-type points as single points). Only thorough testing will determine how important this really is, and information is still unclear about how many of Nikon's AF points are phase-detecting.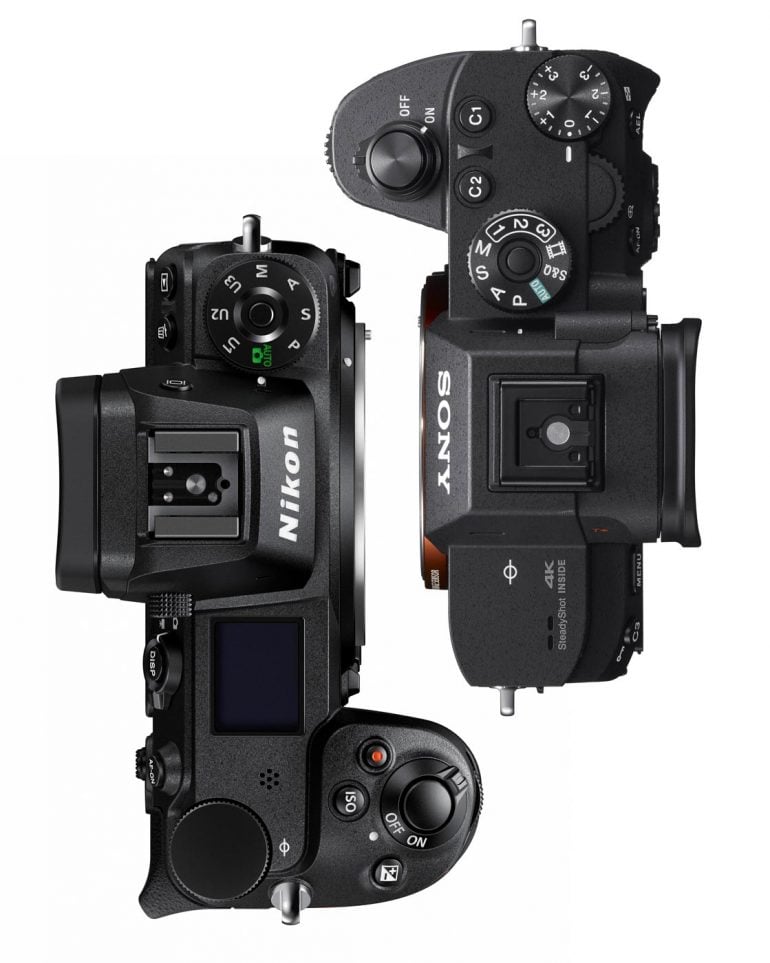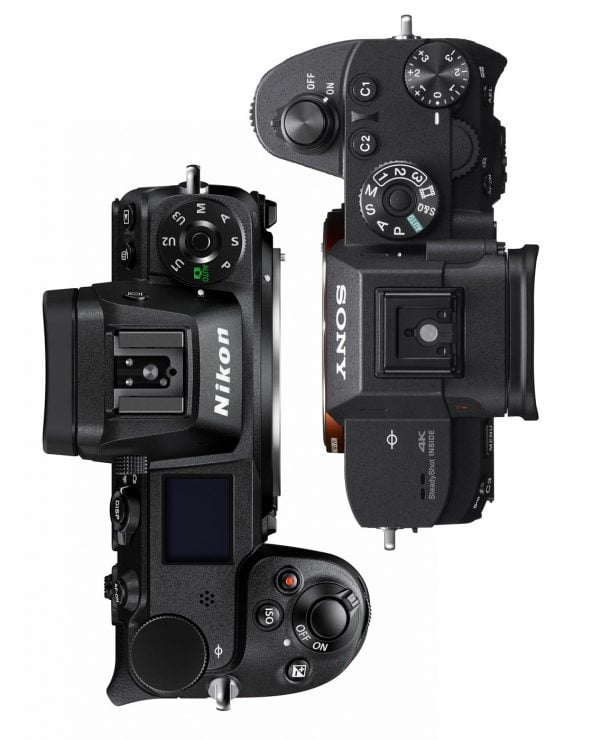 As long as we're discussing the autofocus system, it's worth noting that the Sony claims to handle low-light autofocus better than the Nikon by one full EV (ie, it will work in half the light required by the Nikon).
Body & LCD
The bodies are very similar in size and design, with the same style of tilting rear-LCD and thumb dial, and very similar dimensions (the Sony is about 95% as wide as the Nikon). Nikon's slightly larger size seems to be a consequence of its slightly larger, rounder grip. This was an early complaint with Sony cameras, though more recent models have improved grips.
The top thumb dial on the Sony is a dedicated exposure compensation dial, while the Nikon uses the familiar (+/-) button to access exposure compensation. There the Sony has opted for custom function buttons near the shutter release, the Nikon has dedicated ISO, movie record, and exposure compensation (the Sony's movie record button is on the back of the camera).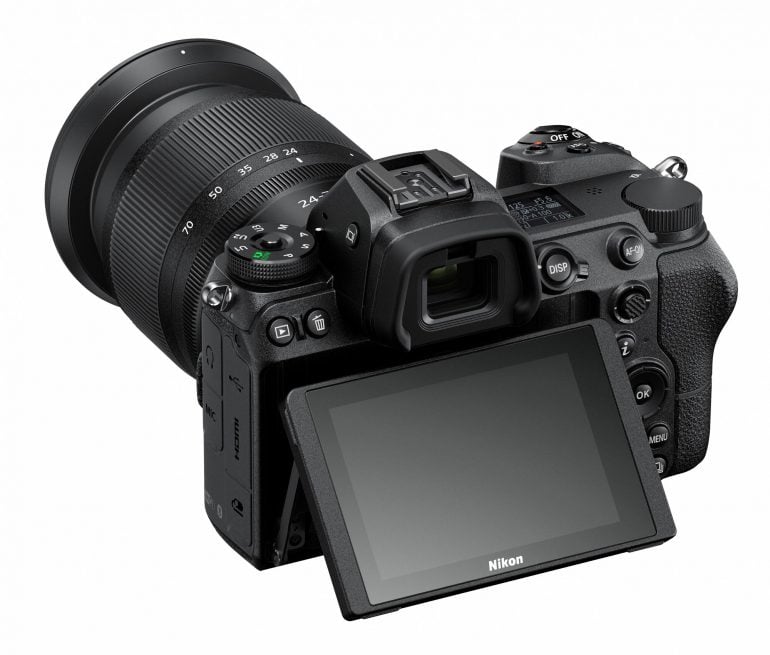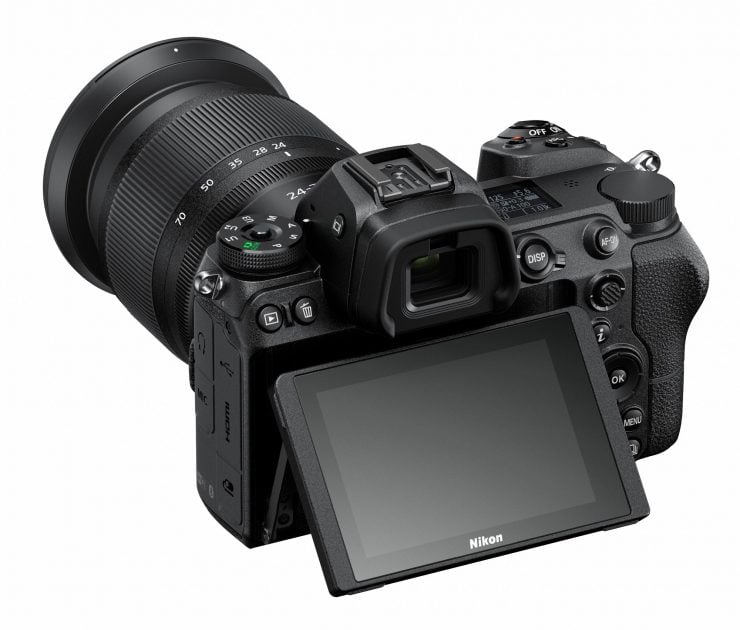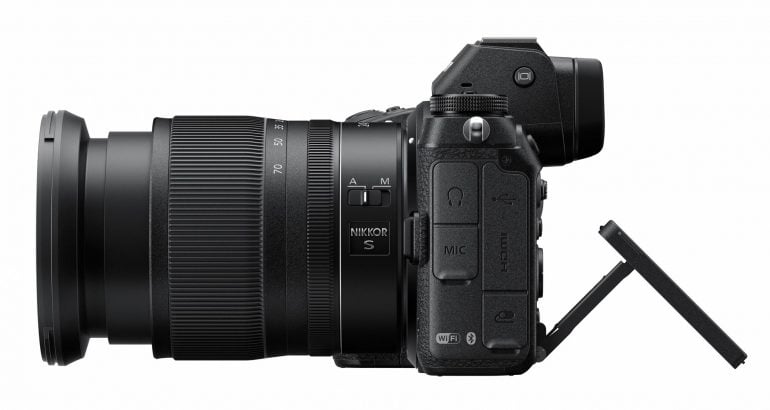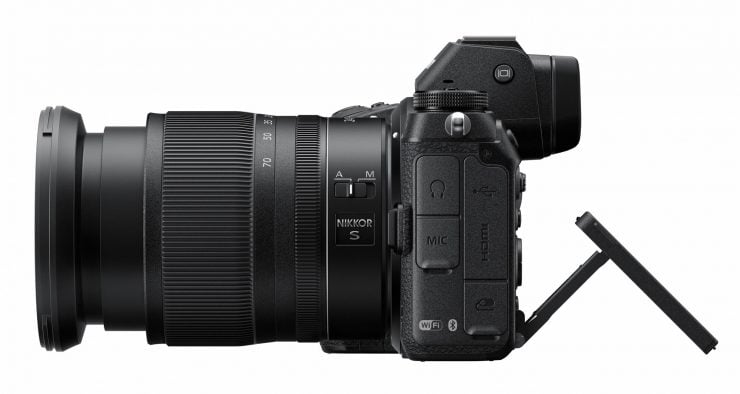 A small LCD screen to display current settings is a welcome addition to the top panel of the Nikon. The Nikon's rear LCD has somewhat better resolution than the Sony's, though it will draw more battery power as a result. EVFs, however, are virtually identical between the two cameras, each with 3.7megapixle OLED displays. The Sony has an adjustable frame rate (a standard of 60fps, or a more battery intensive 120fps).
Battery Life
And speaking of battery power, perhaps the most glaring concern with the Nikon is its expected battery life: 330 shots. The battery life of the Nikon Z7 is only 60% that of the Sony A7RIII, and short battery life is one of the biggest problems with mirrorless cameras in general.
It's worth remembering that these "shot" counts for battery life are worthless for predicting real-life usage limits. I regularly shoot three to four thousand shots at basketball tournaments on a single battery charge with my Sony A7RIII. However, since the CIPA battery testing is standardized, it is at least useful for comparing one camera to another in relative terms.
Speed
Though the Z7 and A7RIII are not built to be speed-demons, they're both wonderfully fast compared to DSLRs. At 10fps, the Sony A7RIII can shoot a little faster than the Nikon's 9fps, but it's a modest difference.
However, it's worth noting that the Z7 does not provide a full 9fps when shooting 14-bit RAW files; you'll have to drop down to 12-bit or use JPG. I haven't been able to locate any buffer data for the Nikon yet, either. The Sony A7RIII shoots 10fps, regardless of bit depth or format.
Flash photography fans will be disappointed to learn that the Z6 and Z7 sync at 1/200th second rather than 1/250th. The difference is not huge, but every stop matters when you're trying to overpower the sun or shoot action with fill flash. However, high-speed sync is available.
Storage / Memory Cards
Nikon has been shifting to XQD cards for the past few years, but the Z6 and Z7 are their first major cameras to be offered with XQD as the only option. Unfortunately, the two cameras have only a single XQD slot. The Sony has two SD slots, but only one of them is UHS-II compatible. XQD is currently the faster technology, with write speeds listed at 400MB/sec, while USH-II cards are max out at about 300/MB sec. Real world transfer rates vary.
Video
I don't shoot much video, but it appears that the Nikon Z7 will be very capable. Like the Sony, it offers full-frame 4K video and 120fps 1080p for those who want clearer slow-motion. The Nikon has an HDMI output advantage, providing 10-bit video to external recorders. I'll be interested to see what kind of data-rate the internal video footage is.
As A System
For the next year, Nikon will have three native Z-mount lenses available for their system, with no f/2.8 zooms for professionals. However, their FTZ adapter will certainly help by adding 600 or so F-mount lenses into the mix, though performance with the adapter may be affected. Professional zooms will be available next year, according to Nikon.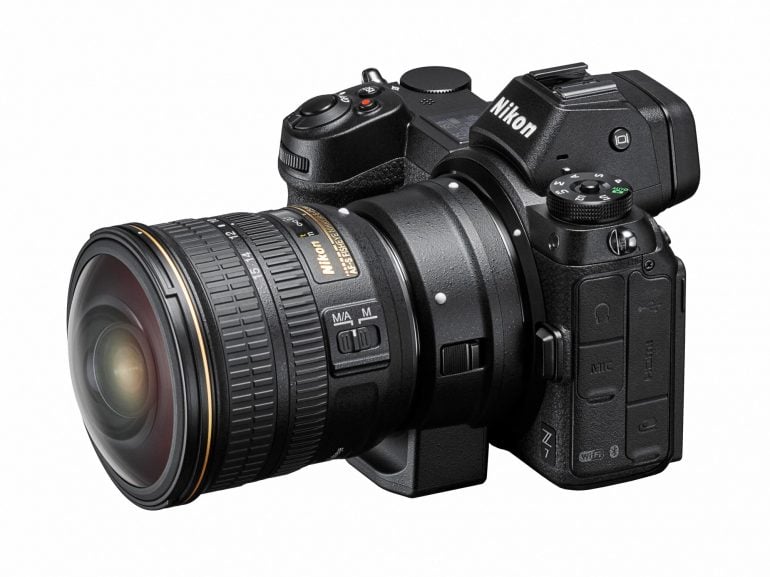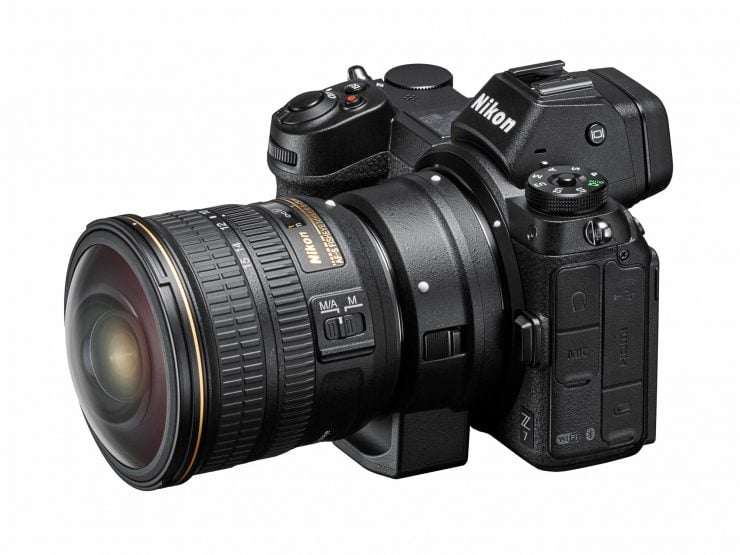 Sony now has a large collection of native E-mount lenses available, as well as 3rd party lenses made by Sigma, Tamron, Zeiss and Samyang.
Sony also has multiple APS-C camera bodies in E-mount: including the impressive a6300 and a6500. As part of a complete system, particularly for those who sometimes need to travel light, APS-C bodies can come in handy. High quality lenses designed for their APS-C models are still scarce.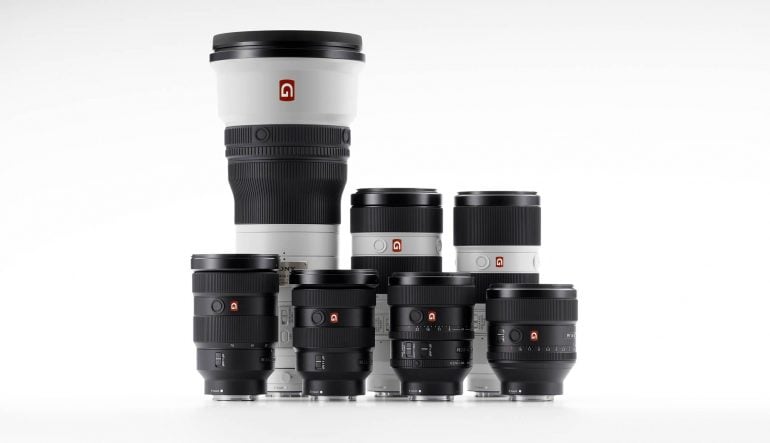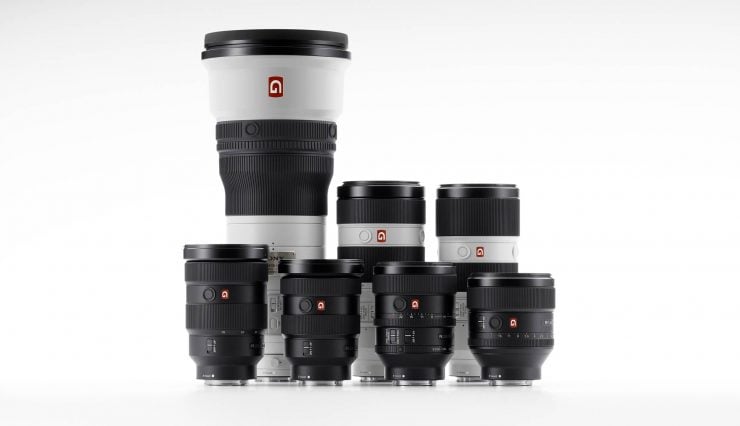 The pricing of these cameras is worth giving some thought. The Nikon Z7 is very similar to the price of the Sony A7RIII at it's release, although that price has now dropped a few hundred dollars. On the other hand, some of Nikon's lenses cost considerably more. Sony's 50mm f/1.8 lens costs about $200, about 1/3rd the price of Nikon's Z 50mm f/1.8S, though the Sony lens is not among their top tier models.
However, the 24-70 f/4 lenses are not quite as dramatically different. The Nikon costs just under $1000, while the Sony Zeiss 24-70 f/4 OSS costs about $800.
Similarly, the Nikkor Z 35mm f/1.8S costs about $850. This is less expensive than the Sony 35mm f/1.4, but about the same as the Sigma 35 f/1.4 ART series lens, which provides and extra 2/3rds of a stop of light and excellent optical performance.
Question? Comments?
What do you think? Is the Nikon going to be a serious competitor for Sony? Are Nikon and Canon's experience with still-cameras and lenses going to push Sony back out of the market, as their systems grow? Let me know what you think below.