The new Tamron 17-35mm f/2.8-4 Di OSD was officially announced today, adding a second ultra-wide, full-frame lens to Tamron's lineup. While the existing Tamron 15-30 f/2.8 reaches a wider field of view at the near end of the zoom, the 17-35 f/2.8-4 will be significantly lighter and less expensive, and will not suffer from the flare problems associated with the bulbous front element of the earlier lens.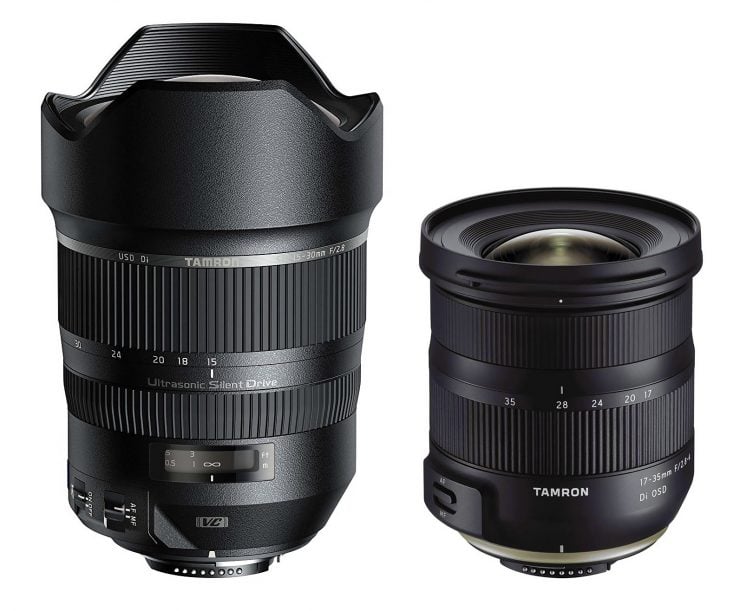 Weighing in at only 460g (1.01lb), the new lens is less than half the weight of the Tamron 15-30mm (1100g/2.43lbs), making it ideal for travel photographers and hikers who need to shed as much weight as possible. And in addition to being lighter, the lens is about 50mm (2 inches) shorter and 15mm (.58 inches) narrower in diameter, so the compact new lens will be easier to pack when space is tight.
Physically, the lens has more in common with the Canon 16-35mm f/4L IS USM lens (at least, externally), though the Tamron is even more compact. The Canon is about 1/3rd pound heavier and 3/4″ longer, though it does have image stabilization.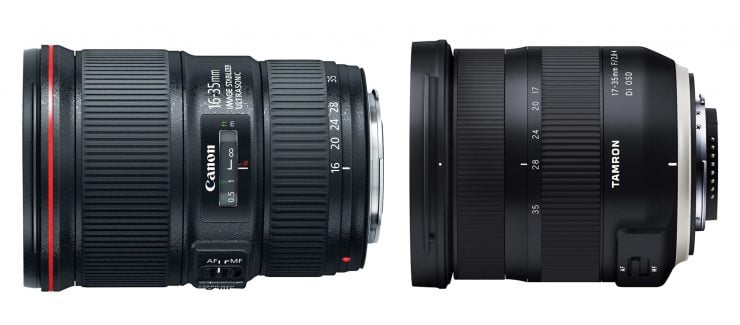 As you'd expect, Tamron claims that the diminutive size of the lens has not compromised its image quality, which has been perfected with the use of two aspheric and four low-dispersion glass elements1 Tamron's old 17-35mm f2.8-4, discontinued years ago, had only two low-dispersion glass elements. . Tamron also reports that the lens has been designed specifically to reduce ghosting from flare, a common problem with ultra-wide lenses, and has been improved further with their Broad-Band Anti-Reflection (BBAR) lens coating.
The new lens has a minimum object distance of about 28cm (11 inches).
Though the new Tamron lens does not offer image stabilization (a less important feature with ultra-wide angle lenses), they have developed a fast and silent new focusing motor for it. Dubbed the "Optimized Silent Drive", the OSD is supposed to be virtually silent, yet still faster than earlier USD drives.
It also is also weather sealed. Sealing gaskets are marked in blue in the image below.
Price & Availability
As a variable maximum aperture lens, the Tamron 17-35mm f/2.8-4 will mainly be competing with Canon and Nikon's existing 16-35mm f/4 lenses (both stabilized), which cost $1000 and $1100, respectively, though the Tamron will have a full f-stop advantage at the wide end.
The new Tamron will cost about $500 less than the Nikon lens and the 15-30mm, with an expected street price of $599 when the Nikon version begins shipping early next month (estimated to be Sept. 4th, 2018). Details about the Canon version's availability will be announced later. As usual, you can pre-order the lens at Adorama or B&H Photo and get it as soon as it hits store shelves.
Example Images