Probably a good, solid tripod, if a little heavy.
Though some questions remain about the build quality of this tripod, with my good version, I've been very satisfied overall. However, it is recommended only for those who need an angle-adjustable center column.
Every photographer should have a good, solid tripod. Even if you don't use one everyday, when those times arise that you do need one, they can be critically important. Unfortunately, the market is awash with cheap, flimsy tripods, and if a tripod can't hold your camera steady, then there's no point in using one at all.
The Vanguard Alta Pro 2+ may not be the perfect tripod, but it is, at least, a heavy duty piece of equipment that will hold your camera steady. In fact, it's more than that. Unlike most tripods, the Alta Pro 2+ gives you a remarkable amount of flexibility for those occasions when you need to steady your camera in an unusual position: if you're shooting macro images of objects on the ground, or product shots from overhead.
But like any tripod, the Alta Pro 2+ has its strengths and weaknesses, and sorting them out is the best way to decide whether this tripod is the right one for you.
This particular tripod was sent to us by Vanguard for free, to review. I did not and will not receive any money for this review or future product sales, although you can always support L&M by buying products through our affiliate links to Amazon, etc. I always strive to be as objective and bias-free as possible in my reviews, but you should always take everything that you read on the internet with a grain of salt.
---
A Few Basics
Without raising the center column the tripod extends to about 55″ tall, so a 6′ tall man like me has to bend over to look through the camera's viewfinder, but not much. With the ball head, it weighs about five pounds, according to the spec sheet, but it feels like a bit more. Vanguard claims that it will support a 15.4 pound load, but I'd keep it below 10lbs, where it seemed to get a little too shaky for my liking. Each leg has two twist-locks, and their rubber grips have raised ridges to indicate whether the leg is locked or unlocked. It's hard to see unless you're looking for it (I still prefer a flip-lock), but it's better than nothing.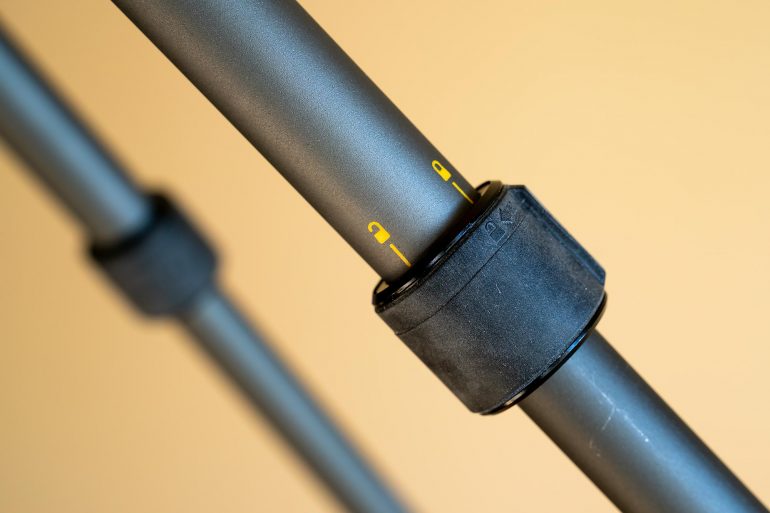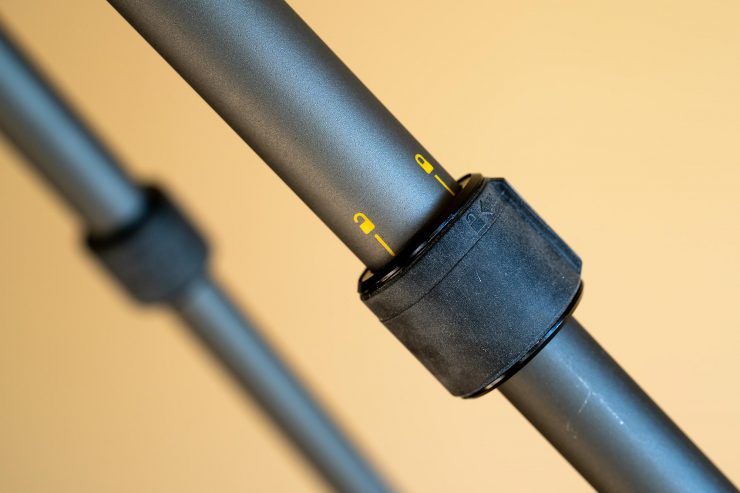 The tripod feet are flat rubber which makes them great for floors and smooth surfaces, but for an outdoor tripod I'd prefer to have retractable metal spikes available all the time. For most people, the rubber feet will be fine, though.
Build Quality
Before I tell you about how solid and sturdy the Alta Pro 2+ is, I'd be remiss if I didn't tell you one more relevant fact: the first one that Vanguard sent me was defective. At the top of each leg, there's a spring-loaded latch that locks each leg into place at your angle of choice, and one of them was defective and simply did not lock the leg at all, in any position. Vanguard sent me out a new one, and the second had no problems, but I wouldn't be much of an equipment reviewer if I just pretended that it never happened: the episode did raise reasonable concerns about the tripod's build quality.
That said, I've now used the good Alta Pro 2+ for several months, and it has had no mechanical problems. I've carried it through shoots here in Washington, through Montana, Yellowstone and the Grand Tetons, the Great Sand Dunes in Colorado, Arches National Park in Utah, and the Painted Hills of Oregon. It's been thrown into my trunk with luggage, dragged across trails and deserts, and rained on in Seattle. That's a good start.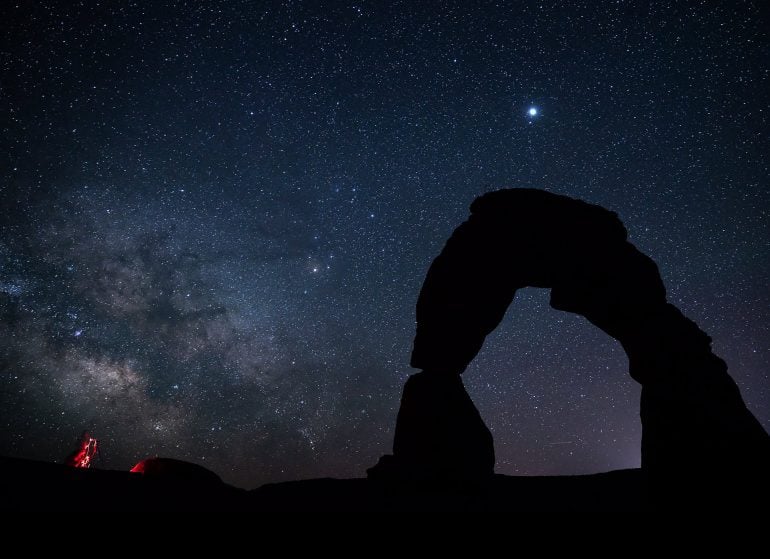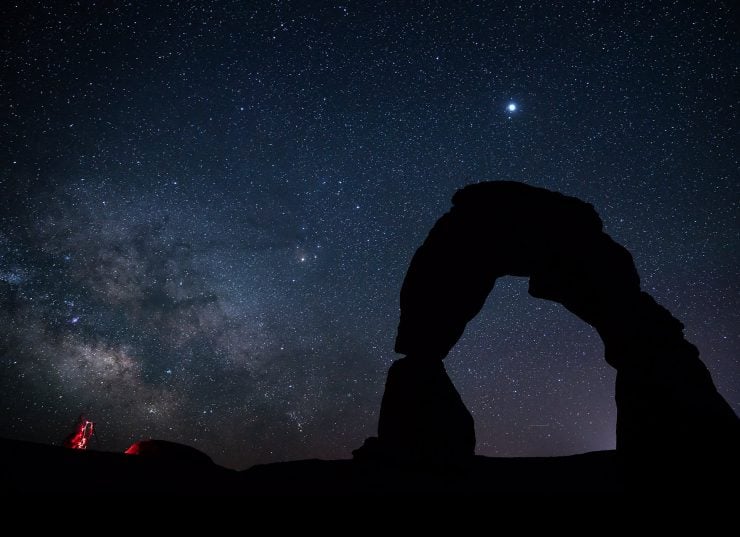 More importantly, once you've locked everything into place, the tripod is steady. There's no play in the joints, which are heavy metal. The upper legs are armored with rubber for protection and comfort while carrying it.
The Ball Head
I'm mentioning the ball head specifically only because it's a good one, and you're not always lucky enough to get a stable ball head when you buy one with a tripod. In fact, I'm a fan of Vanguard ball heads in general: I bought a Vanguard SBH-250 about eight years ago and still use it regularly. Both heads have the necessary controls (pan, lock, drag) and levels, and when you lock them, they don't sag. The head has two spirit-levels to go along with the one on the top of the legs, for a total of three.
Because the head is Arca-Swiss compatible, it's easy to find replacement plates if you lose them frequently like I do, and it also means that the head is compatible with the majority of L-brackets on the market, as well as the telephoto lenses with plates built into their foot.
It's worth mentioning that I've had a problem with the rubber padding on these tripod mounts: the adhesive is pretty worthless, and the pads fall out after minimal use. In the photo below, you can see that one of the pads has previously fallen out and I glued it back in with Gorilla Glue (its flexibility is a big advantage for the job), but now the second pad has also fallen out. Without the pads, the plate does not grip the base of the camera very well, making it less stable. It's quick and cheap to fix, but annoying nonetheless.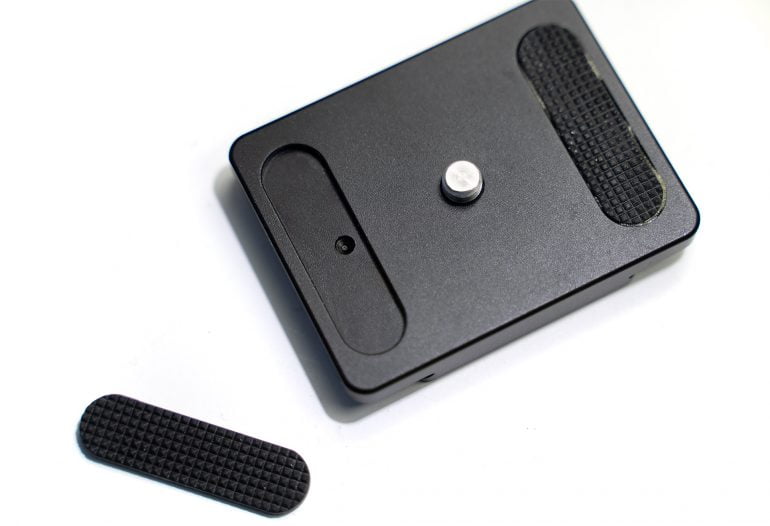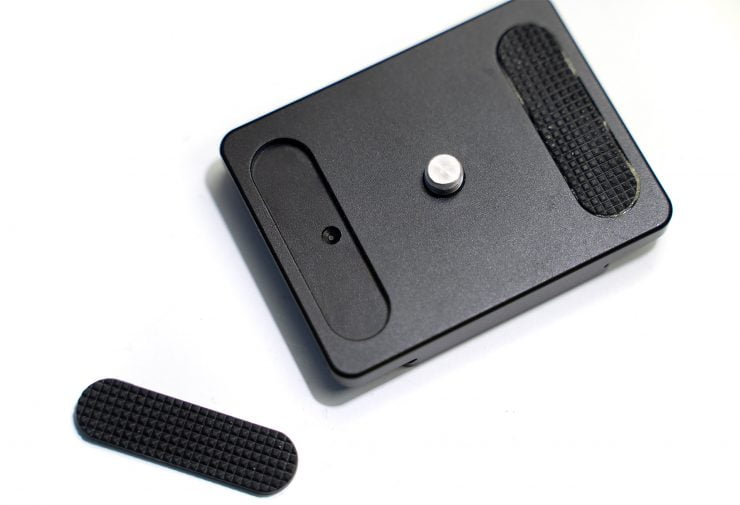 Weight
The weight of the Vanguard Alta Pro 2+ makes it less than ideal for hiking and backpacking. Part of the reason for this is that it's an aluminum tripod rather than carbon fiber, and part is the result of the extra hardware required for a tilting center column.
In any case, it ends up weighing about 5.3lbs with the ball head (according to the spec sheet), which is about a pound and a half more than my carbon fiber tripod, but it feels heavier than that. I packed it up to Delicate Arch on a ridiculously hot day this summer, and I felt it.
However, if you're covering flatter ground in mild weather, it's probably going to be pretty manageable, and it's still lighter than my old Slik U212, which I happily hiked around with in the 1990s. So, maybe I'm just getting old.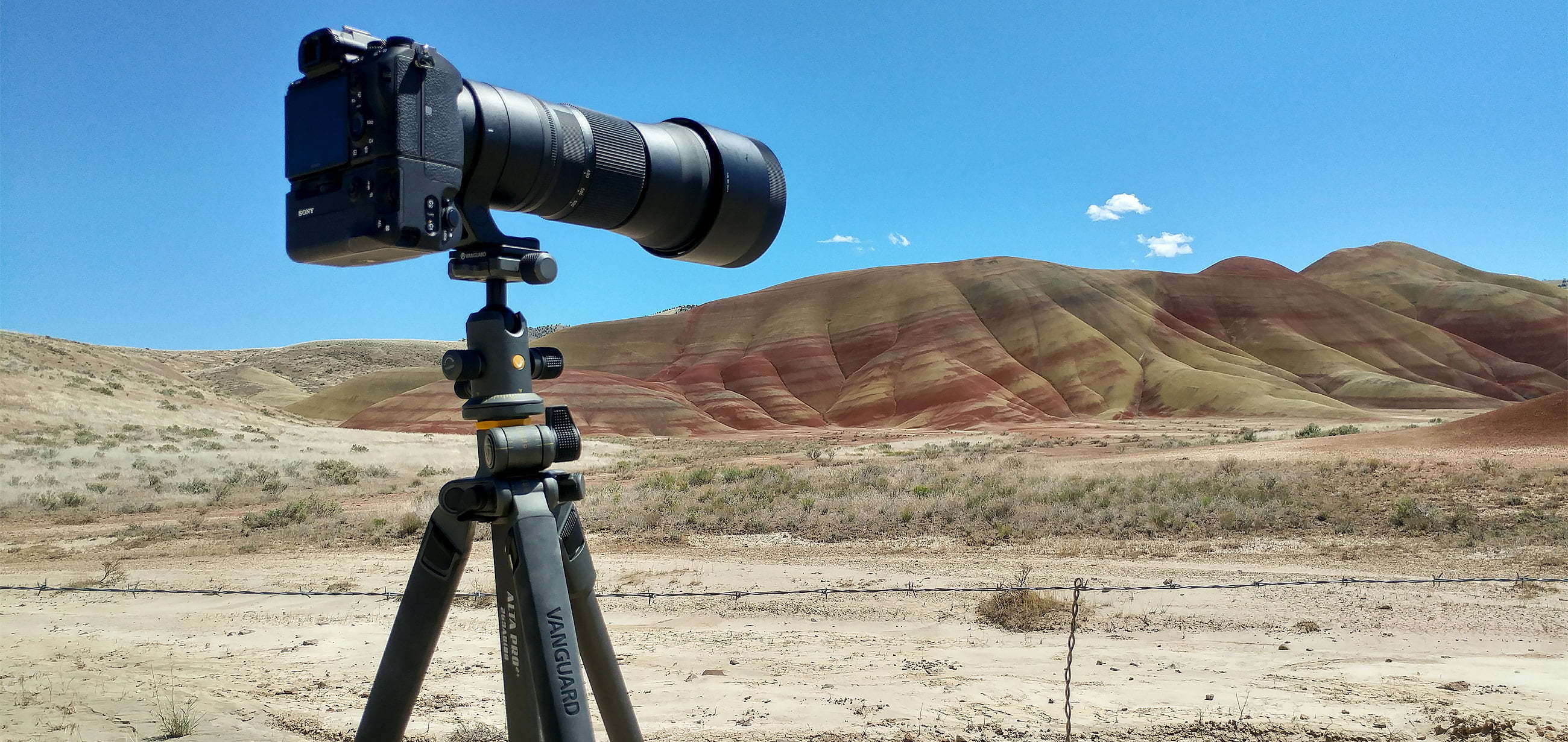 Stability
Combining the weight of the materials and the build quality of the joints and ball-head, the Vanguard Alta Pro 2+ is ultimately a very stable, sturdy tripod. Recently, I've switched from my old tripod to the Vanguard for holding my camera steady while doing lens-testing for my demanding YouTube review series, and it's been excellent so far.
Flexibility
The stability of the Alta Pro 2+ is augmented by the fact that the main leg-joint can be locked into a variety of different positions, giving it a solid, wide base, when desired. One tripod that I reviewed had legs that could only be locked into two positions: one that was too narrow, and one that was much too wide for standard use. This one is better.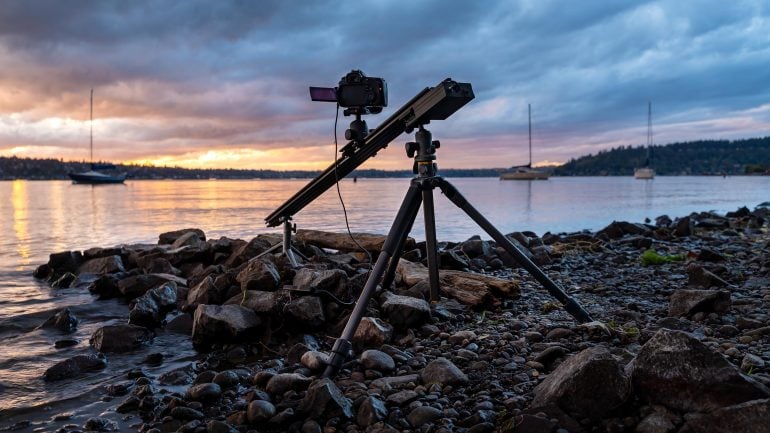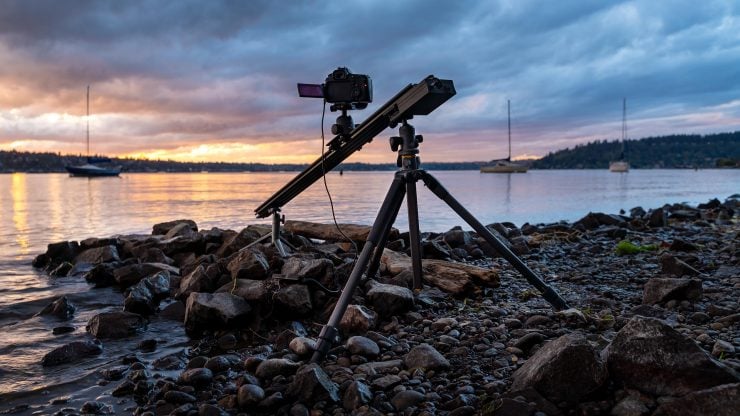 But that's not what makes this tripod so flexible. On the Alta Pro 2+, the center column can be raised from its vertical position and locked into a pivoting collar, allowing photographers to aim their cameras directly down at the ground, or just about any other angle imaginable, while getting the camera a little separation from the tripod legs.
This is perfect for photographers who are photographing small products from a high angle, for example. One of my commercial clients, a tea and spice seller, needs overhead photos of tea samples for their online shop. This tripod allows me to position the camera perfectly above the samples and out of the way of the strobes. Very handy.
Nature and macro photographers will also undoubtedly find it helpful for shooting small objects on the ground, particularly when the tripod's legs are splayed out at their widest setting and the head is nearly at ground level.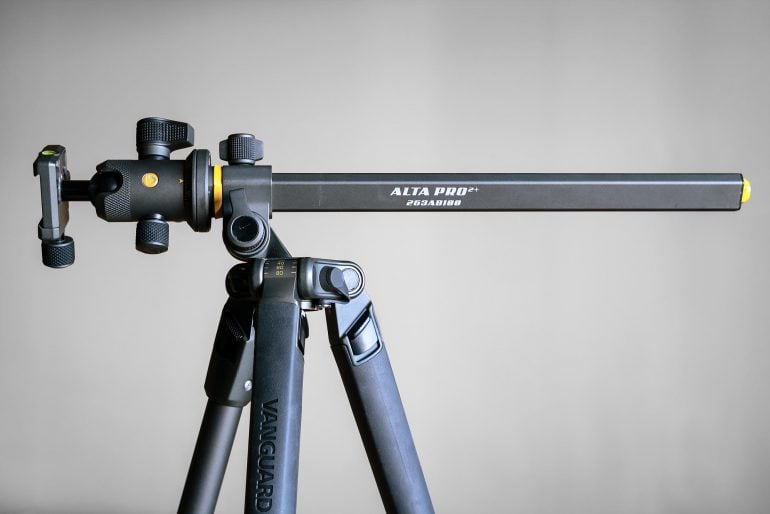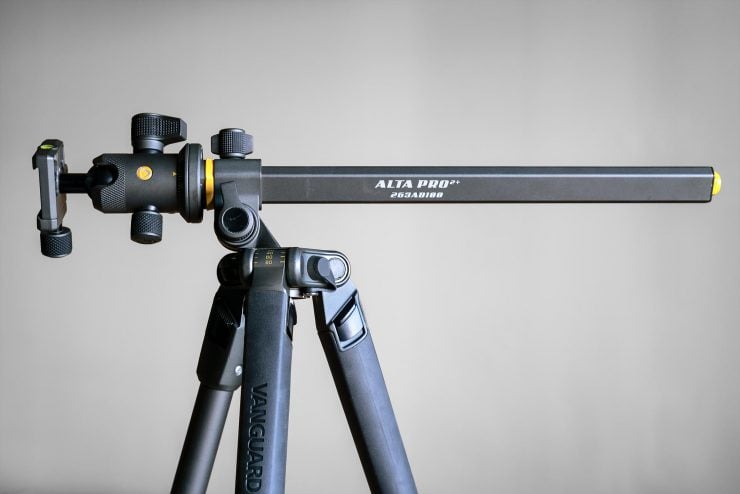 Value
The Vanguard Alta Pro 2+ costs about $170, which is not cheap for an aluminum tripod, but it is reasonable for a model with an articulated center column. The Manfrotto MT055XPRO3 tripod costs about $25 more and does not include a head, for example.
That said, there are plenty of generic tripods on the market that cost quite a bit less for similar features. A quick look around Amazon shows a sturdy looking model by "Moman" that costs just $120. Dozens of cheaper models have a center column that can only be locked veritcally and horizontally (rather than at multiple angles), but cost even less.
If I were more confident in the long-term quality of the Vanguard, I'd bump up the value score, but as it is, I'd say it's about average, so it gets a 5.

Conclusion
The Vanguard Alta Pro 2+ is a sturdy, stable tripod that gives photographers a lot of flexibility. The fact that I had to get a replacement and had to glue my plate-pads back on does give me some build-quality concerns, but I have not actually had any major problems with my second unit, so the first may have been a fluke.
Overall, I'd recommend the tripod to any enthusiast photographer who knows that they'll need an angled center column: macro photographers, product photographers, and perhaps videographers. It's great for a variety of jobs, and even if you need to carry something on a hike for a few miles, it's not bad.
However, if you don't need the extra weight and cost added by the center column, there are plenty of lighter carbon-fiber tripods on the market now for the same price or less for those who want a lightweight tripod, including Vanguard's own Vanguard VEO 2 235CB at $146 (and the $100 Neewer comes to mind). For those who don't care about the weight, sturdier and heavier aluminum tripods are also available for a lower price.