Conclusion
A great utility lamp for the right laptop. The design suffers a bit from its dependence on laptops with thin profiles that have USB-A ports. If you own a current MacBook, you would have to use a USB-C to USB-A adapter.
Introduction
I'm a minimalist at heart, though it's not always apparent when you look at my desk. My minimalism is more of a just enough to do the job kind of thing. This is why I shoot with Leica and Fujifilm cameras, and use a Mac as well as other "iDevices": they are simple to use, and their controls are just enough for the type of work I do. I also like to work at my desk with minimal lighting using the illuminated keyboard of my MacBook, as it helps me concentrate. But sometimes I need to illuminate more than my keyboard, especially a small part of my desk where I jot down notes (even though I have many note-taking apps, I like the feel of a pen or pencil). BenQ's ScreenBar Lite allows me to do that without cluttering up my desk.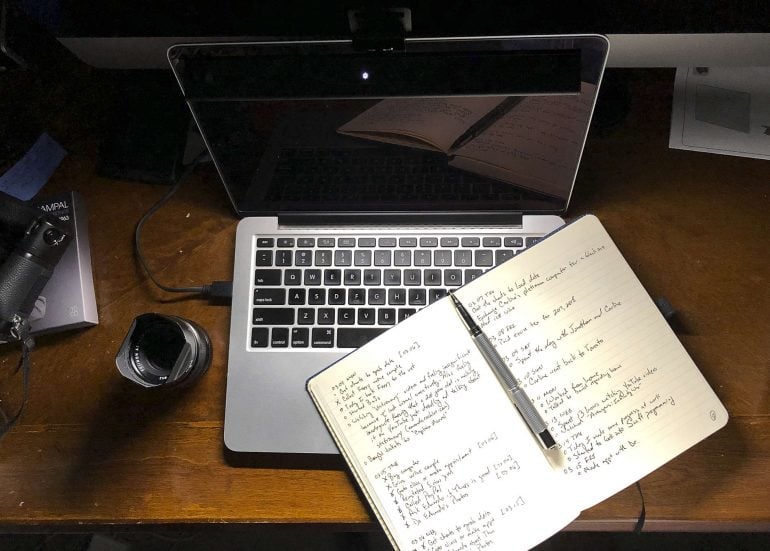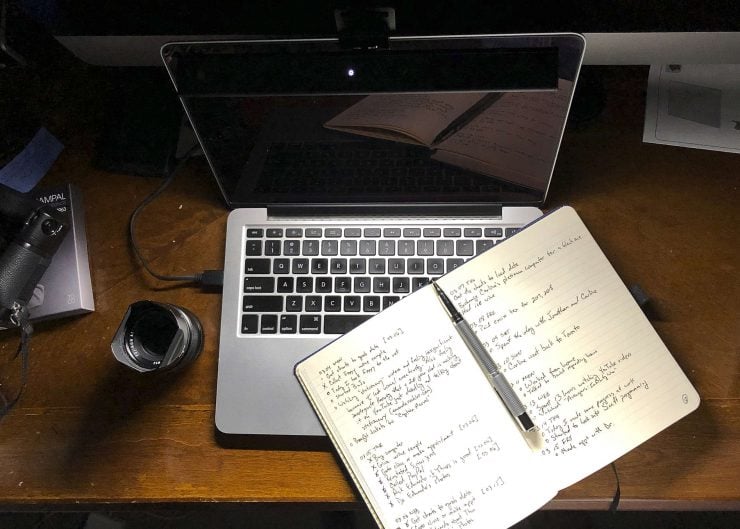 BenQ ScreenBar Lite
The BenQ ScreenBar Lite1
This ScreenBar Lite was provided to me by BenQ free of charge. I have never accepted goods or money in exchange for positive reviews, and have not done so here. However, it's worth keeping in mind that I didn't pay for this item, and that may or may not be reflected in my post, so take this with the appropriate grain of salt, just as you should with anything you read on the internet. I did not and will not receive any monetary compensation from BenQ for the review or future sales, but purchasing anything from Amazon or other sellers through links on this page will help support Light & Matter. is an LED lamp that is just enough to do the job. It attaches to your laptop screen, much like its big brother, the BenQ ScreenBar, which mounts on your desktop monitor. It is powered by an available USB port, illuminating the keyboard, and has enough of a spread to illuminate beyond the edges of the laptop.
I work on a late 2014 13″ MacBook Pro and a 2017 15″ MacBook Pro. I was only able to test the ScreenBar Lite on the 13″ MBP since the 15″ MBP does not have a typical USB-A port that the ScreenBar Lite requires, and the power cord of the ScreenBar is not long enough to be plugged into an outlet; it's meant to be as portable as your laptop. If you have a newer MacBook, make sure that you get a USB-C adapter.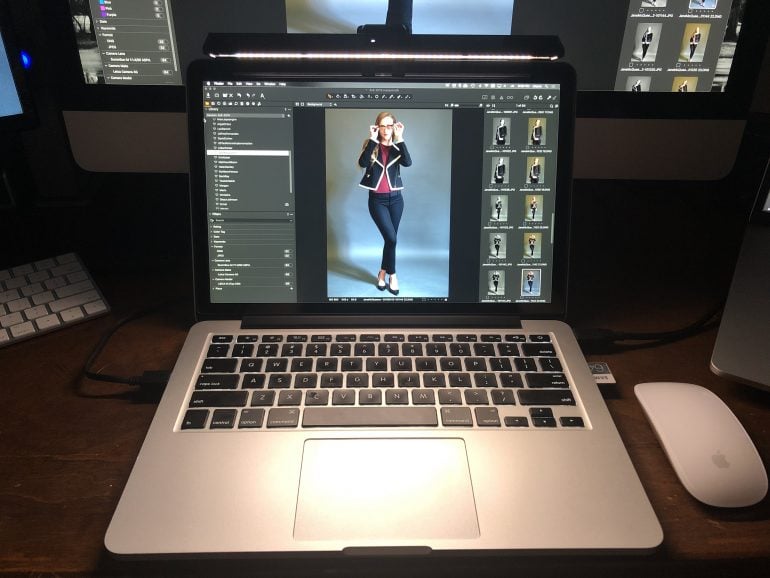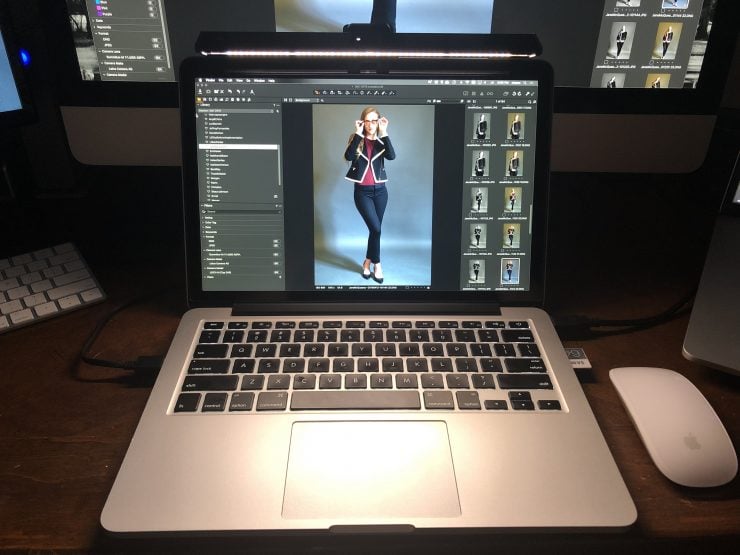 Features
The ScreenBar Lite is about 10″ in length, and when mounted, tilts down to 85 degrees without producing any glare on the screen. I find that having the ScreenBar Lite illuminate perpendicular to the keyboard is most effective. When tilted all the way down, the keyboard is greatly illuminated, but the light spread is absent.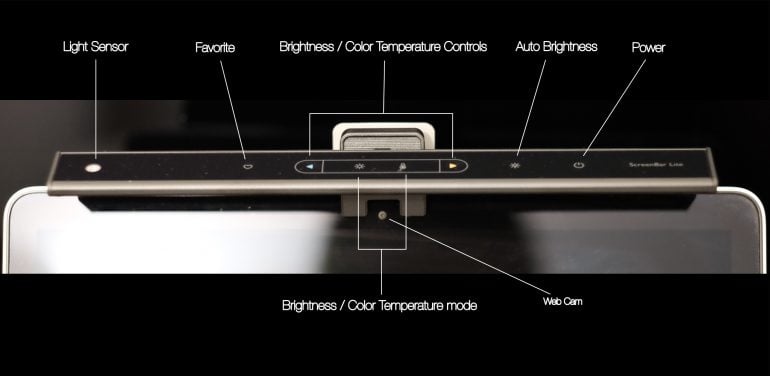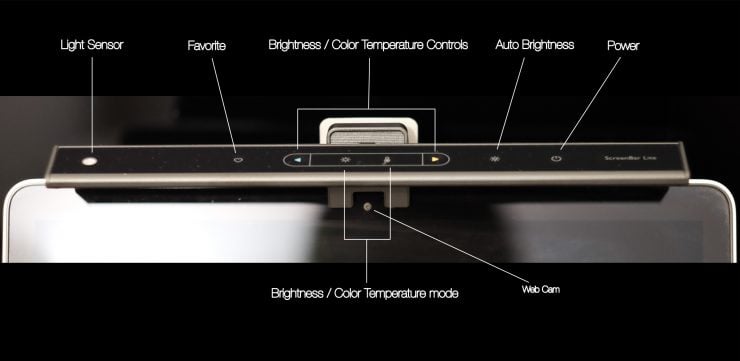 The top of the ScreenBar Lite has (from left to right) a light sensor, for the auto-adjust feature, a favorite button to quickly set the ScreenBar to your preferred setting; a dimming button that doubles as a blue shift button, when in temperature settings mode; a brightness mode button; a temperature mode button, to set the light temperature anywhere from 2700 to 6500 Kelvin; a brightening button, that doubles as a red shift button (actually orange) when in temperature settings mode; an auto dimming button; and, finally, the power button.
The ScreenBar also features a "notch" on the front of the clamp to allow any built-in webcam to be exposed. However, then tilted all the way down, the ScreenBar blocks the webcam. Lengthening the clamp, thus raising the ScreenBar further above the edge of the screen, would probably solve this problem. Though, it can be used as a webcam blocker for those who are a tinge paranoid about being involuntarily watched through them. When tilted all the way up, the ScreenBar is visible in the webcam, but it's not that bad.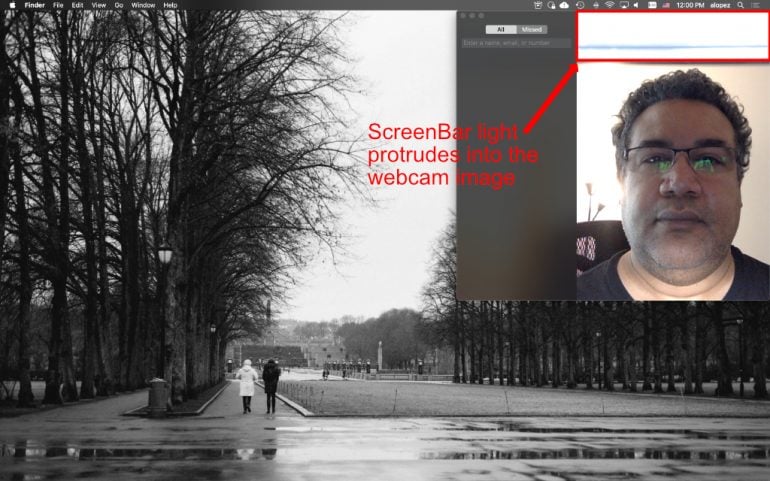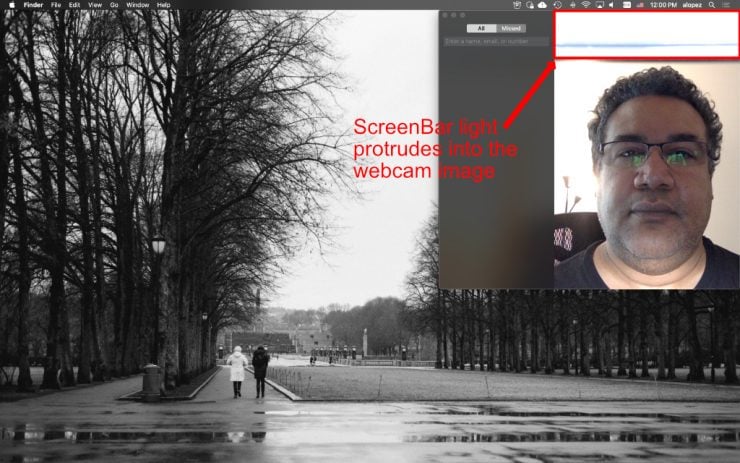 I also tested the ScreenBar Lite on a Windows Surface Pro. Because the monitor on the Surface Pro is wider than my MacBook Pro, the clamp of the ScreenBar Lite was over-extended, thus creating a gap between the monitor and the clamp, which caused the lamp to topple over. So, unless the clamp is flush with the monitor on both sides, the lamp will not stay. BenQ recommends the ScreenBar Lite for monitors that are no more than 0.3″ (8mm) thick, and for good reason.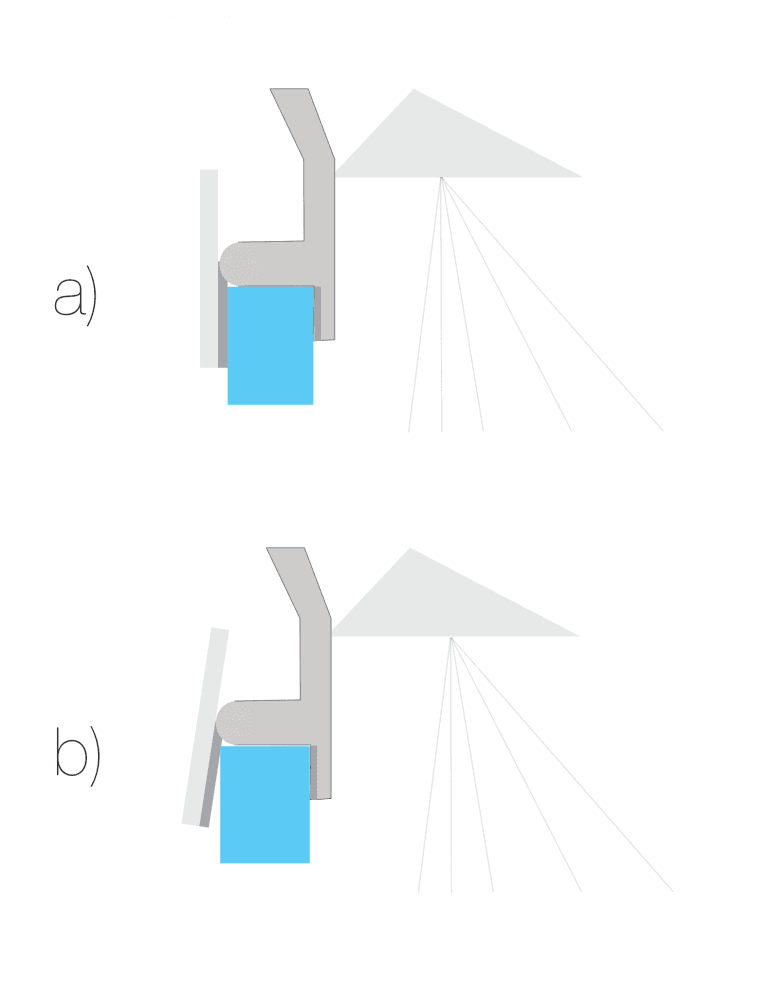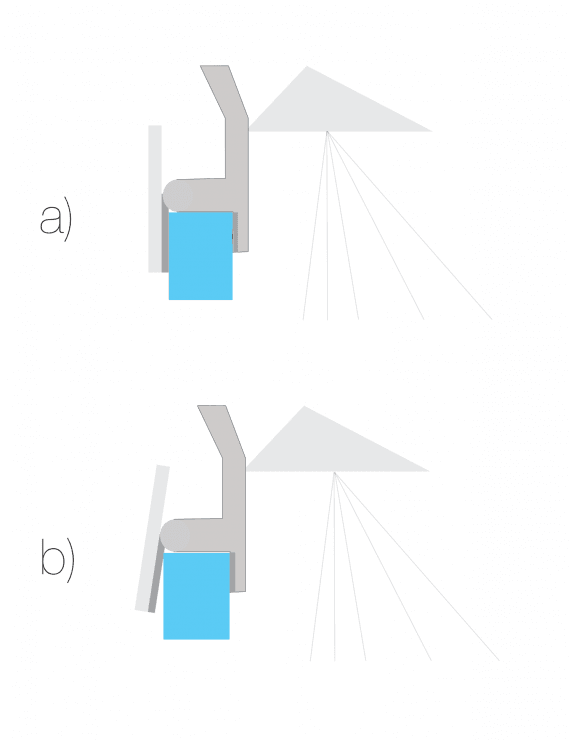 Day to Day Usage
Working with the ScreenBar Lite's illumination is quite comfortable. Though you can change the color temperature to match your environment or the time of day, I tend to like the cooler, whiter light. It may be psychological, but to me it makes things look "crisper", even what's displayed on my laptop monitor. Since it is connected via USB, a version that could be controlled via software, like the macOS menu bar, would be appreciated.
Though the ScreenBar Lite is lightweight (only 170g/6oz.), it is still a little bulky for what is intended to be a portable laptop light. Unlike it's big brother, the Lite's clip can not detach from the bar, and it doesn't fold flat, making the entire unit cumbersome in a slim laptop bag.
Value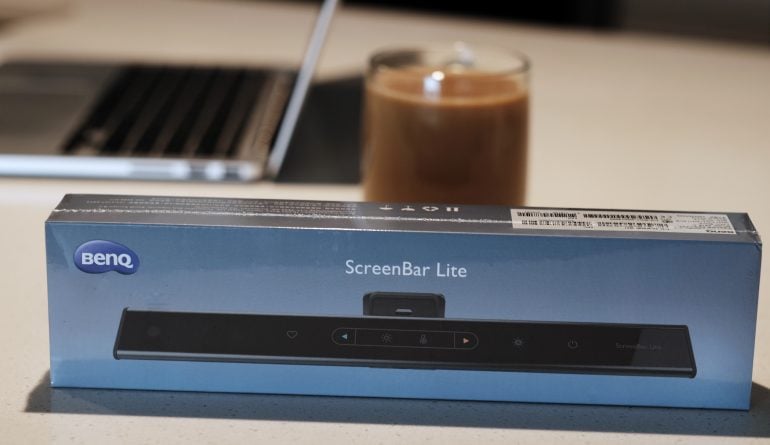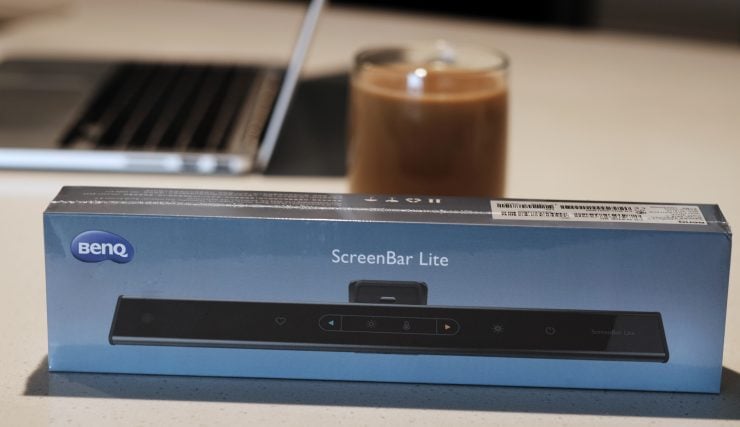 Like its big brother, at the end of the day, the ScreenBar Lite is simply a USB powered LED lamp with a clean design and adjustable color temperature. It is well constructed with high-quality materials, and the monitor-top design remains unique to BenQ. At $99 USD it is not exactly a bargain, but neither is a MacBook. Still, we'd feel that the price would be more justified if it were software controlled as well.
That said, similar options mostly seem junky; they're invariably just a few LEDs perched on the end of a wobbly goose-neck, providing low-quality light with no color adjustment, and unless positioned perfectly, will create glare on your screen. They are cheap and portable, though: most popular units on Amazon cost between $8 and $12. They're not tools for a professional, but they may get the job done.
---