A Beautiful Strap, if it Fits You
This is a beautiful strap of good quality. The strap is shorter than most cross-body straps, but will work for most people with the addition of a set of quick-connect clips (sold separately, $7).
PROS
Looks Great
Soft, Supple Leather
Attaches to Any Camera
CONS
A Bit Short
Length adjustment takes some time
Frequently when I'm doing a review it's because a company has contacted me and asked me to check out their product, but this time was different. I was browsing facebook and saw an ad for the Tether Cross-Body leather camera strap, and I was smitten. It looked gorgeous. So, I contacted the folks at Tether to see if the strap was as good as it looked, and they obliged by sending me a strap to review1To be clear, this unit was sent to me free of charge. However, we *never* accept products or compensation in exchange for a positive review, and we will not receive compensation from Tether for sales (though, as always, sales through Amazon will support Light & Mattter.. In less than a week, the strap was in my mailbox, and I open the package. This is what I found.
Appearance
To begin with, the Tether Cross-Body strap turned out to be just as beautiful as I had hoped. The texture and color of the leather is classy and rugged at the same time; it would look great on a classic-style camera such as a Leica or Fuji, but it also works nicely with my Sony A7RIII. The "Tether" logo stamped into the leather is tasteful and only adds to the appearance. With the smell of new leather added to all of that, I'm happy. At least, as far as aesthetics are concerned.
If I have any complaint, it's how the adjustable portion of the strap connects back to the wider section. The recommended method of looping the strap through the slots leaves an extraneous loose section of strap that seems messy to me. I found a better way to deal with it, which I've detailed below.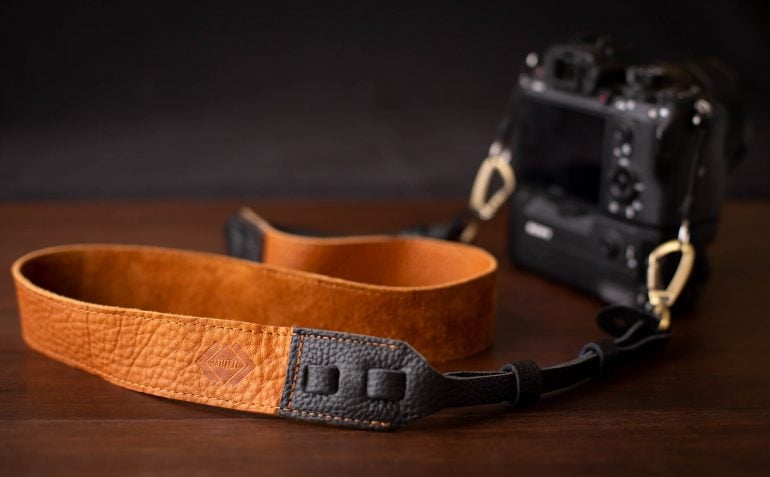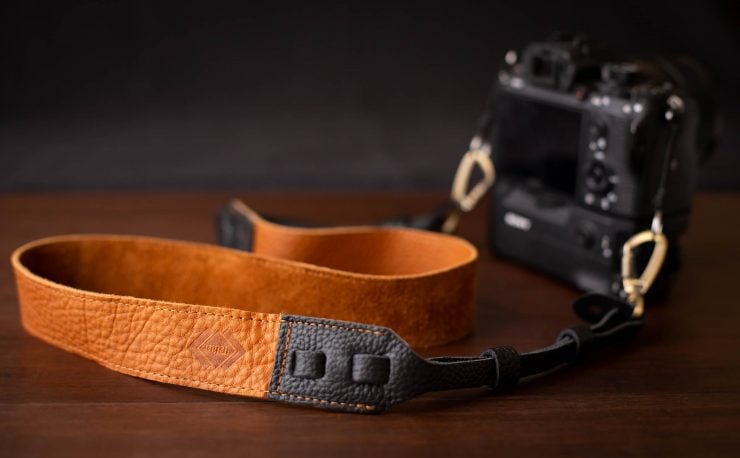 Materials & Build Quality
I was concerned that the strap would be stiff and uncomfortable, but I was glad to wrong. The material is a fine suede rather than thick, full-grain leather, and it is supple and butter-soft. The quality of the stitching looks good, and there were no frayed edges or loose threads. Overall, good craftsmanship.
Given that I often have $5000 worth of gear hanging from my strap, I'd probably have been willing to give up a bit of comfort in the leather for a little extra thickness and peace-of-mind, but Tether assures me that they have tested these straps briefly with 50lbs of weight with no problems, and that they're rated for normal use with up to 20lbs… far more than any person would reasonably attempt. My Canon 5D with grip and 70-200 f/2.8 together weigh about 7lbs.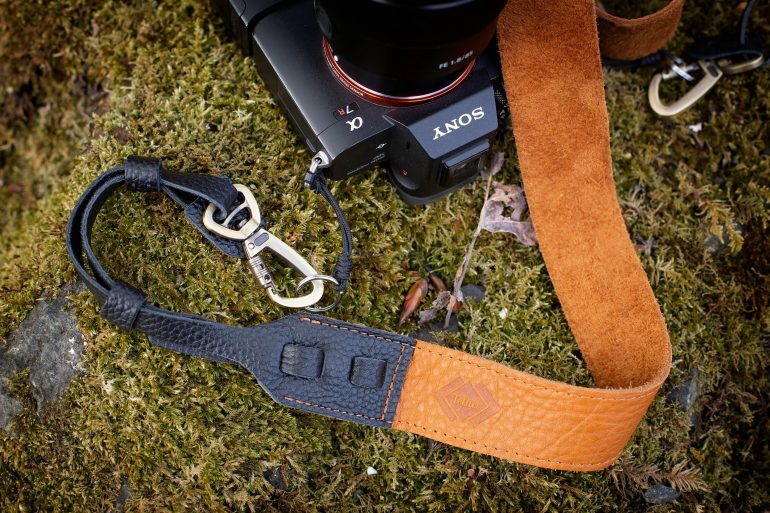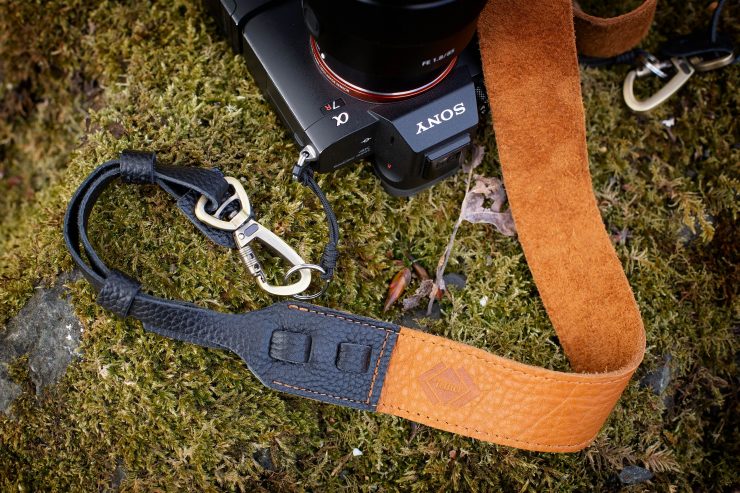 Comfort
The Tether Cross-Body strap is 1.5″ (4cm) wide, and made of soft, slightly stretchy leather that will absorb some shock. It's as comfortable as is possible for a leather strap of this width, but don't expect miracles: it's a normal leather strap with no extra padding. The strap is ideal for compact cameras with prime lenses or lightweight zooms. Wearing it cross-body will make heavier equipment more comfortable.
Functionality
Well, here's the crux of the matter: this is a camera strap, and it works. It attaches to just about any brand of camera with the hardware available (split rings, clips, and cord-loops).
But does it work as a cross-body strap? For me, it does not by itself.
I'm a pretty average build for a male: a hair over 6'0″ tall and about 170lbs. When I extend this strap to the limit of its adjustment range, it gets out to about 46″, but when I try to wear it cross-body with my Sony A7RIII (with the leather looped directly through the stock split-rings on the Sony), the camera sits far too high on my side… a couple of inches above the level of my elbow… not comfortable as a cross-body strap.
However, if I use the strap's (optional, $7) quick-connect clips, I get an extra 5″ of length per side, giving me a total of about 56″, which works as a cross-body strap, but it may still take a little getting used to. If you're significantly than me shorter or petite, the strap may work cross-body even without the clips.
The strap alone will certainly work as a neck/shoulder strap for everyone. And more importantly (for me), the leather is so soft and flexible that it's very comfortable when wrapped around the wrist for security when you're not wearing the strap.
Incidentally, adjusting the strap length is not a simple procedure. It requires the user to thread the strap end around several slots, and my strap did not come with instruction2though I am led to understand that they normally do. To the right I've reproduced the diagram emailed to me. Luckily, once you've adjusted the straps, they're nice and solid.
I found the recommended method of attaching the strap to be messy, and came up with a variation that I think is superior. In step #5 in the diagram, we're instructed to insert the strap end through the back of the topmost slot. I find that it's more tidy (and ultimately stronger) to go through the back of the bottom slot, then leave a loose loop there before returning into the next slot up, and then proceeding as instructed in the instructions. (See photos below)
This is Tether's recommended method of attaching the end of the strap, which leaves an extra, loose loop on the back.

I prefer this method. Note that the bottom two slots now have two thicknesses of leather passing through them.
Value
Tether gives us a nice leather strap, and leather can be expensive. Straps like the ONA Presidio cost about $110 and the Buffalo Jackson cost $80. On the other hand, the sturdy straps made by Portland Leather Goods cost only $44 at the moment, and the shorter "b.still" leather strap (which is eerily similar to Tether's "Classic" strap) costs a mere $26.
The Tether Cross-Body Strap costs $49.95 by it self, or $56.95 with the quick-connect clips (which are available in a brass or gunmetal finish).
All in all, then, I'd say that the strap is definitely worth it's price, but it's not an exceptional deal. In our rating system, a "5" is average, so the Tether does a little better.
Conclusion: Should You Buy One?
If you're looking for a beautiful, supple leather strap, look no further. For many people, the Tether Cross-Body will be an excellent and attractive cross-body strap, but if you're particularly tall or if your chest has any extra girth, you'll probably want to consider Tether's longer "Overlap" strap instead.
Questions? Comments?
If you have any questions that I haven't addressed, please feel free to ask me in the comment section below, as usual. And of course, if you'd had a different experience with these straps, I'd be interested to hear about it.