When I reviewed the beautiful Tether Cross Body Strap a few weeks ago, I noted that it might be a little short for some photographers. The Overlap Strap is Tether's solution to that problem; it's a longer and more easily adjustable leather strap. I've tested this strap out very lightly, as we'll be giving it away (along with a few other items) in the near future. This is what I found.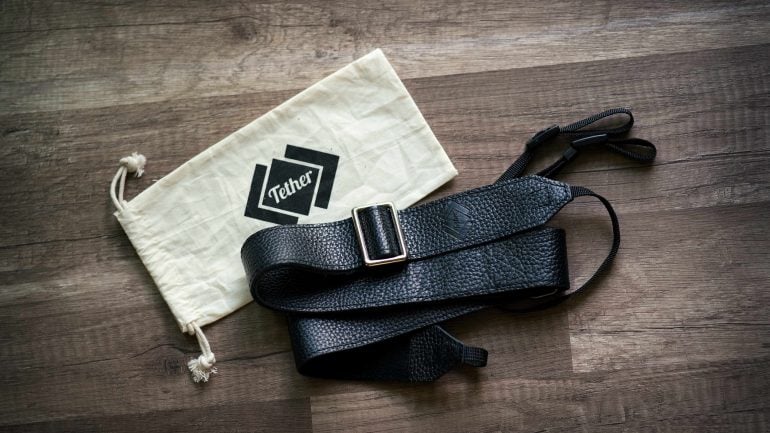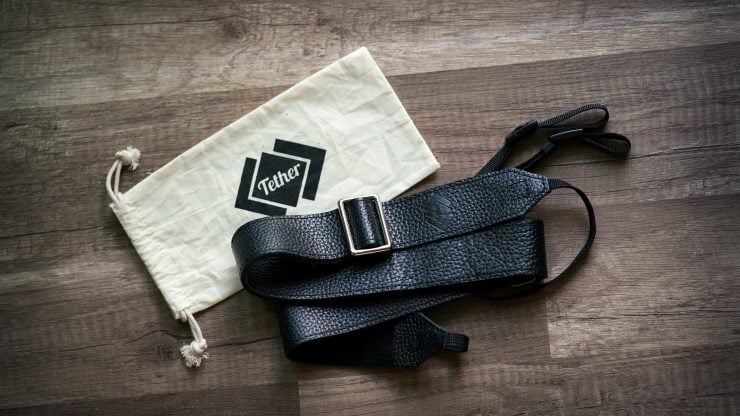 Much More Practical, A Bit Less Charm
The main body of the Overlap Strap is the same supple leather as that found in the Tether Cross Body strap: it feels like a soft, light-weight suede which is comfortable on the neck or wrapped around the wrist. They're available in black (seen here) or natural tan.
However, while the Cross Body is made from a single piece of leather, the Overlap's body is made of two large pieces, connected with a sturdy metal slide-buckle in the middle to allow length adjustment. At its shortest, the main strap section is 28 inches long, but when let out, it increases to about 42 inches. If desired, you can use the short end of the strap by itself as a wrist-strap (Tether also sells these separately for about $25).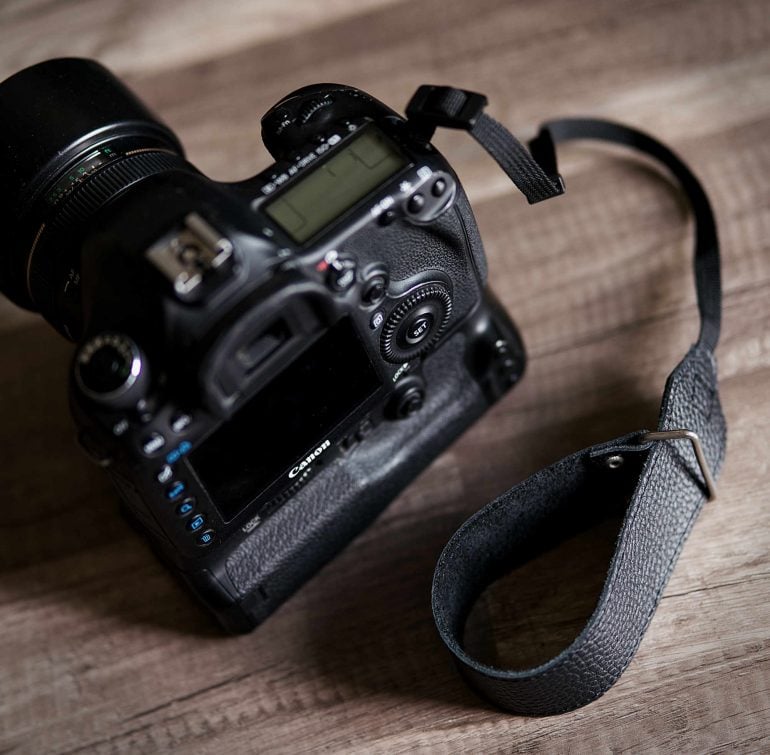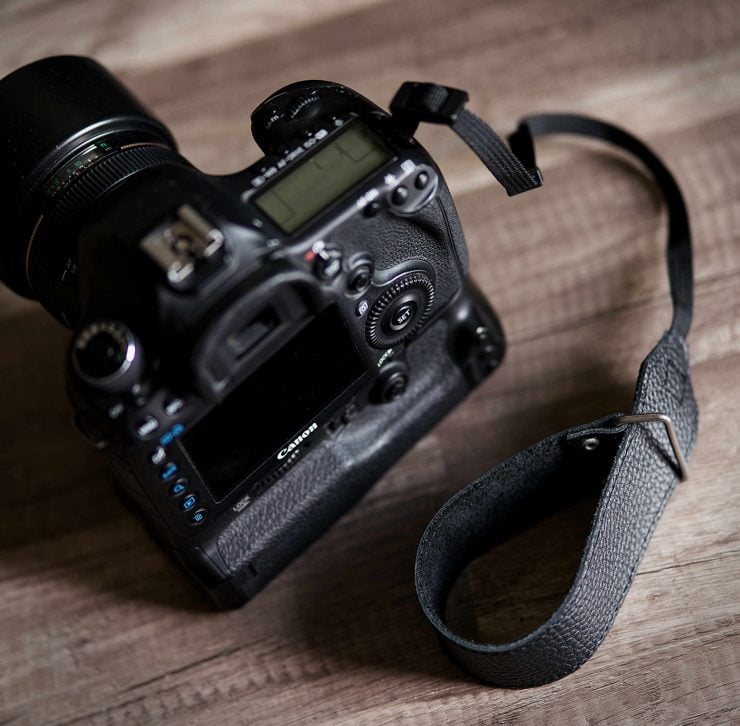 At each end of the main strap, the leather gives way to 3/8″ wide synthetic webbing, which is typical for most stock camera straps. The upside of this is that the material is strong and conveniently sized to fit the connector slots and rings on most cameras. These extensions are also long enough that the total usable length of the strap can be up to about 70 inches long (a little longer if you trust the slide buckles not to slip… I don't).
The downside is only that part of the charm of owning a leather strap is lost with the ends being synthetic. It's also worth mentioning that the synthetic webbing is not the softest material, and it's a little thinner than that on my Canon and Sony straps.
Comfort
The leather that forms the bulk of the Overlap strap makes it as comfortable as any leather strap of its size could be. It is supple and very slightly elastic, which also increases comfort. As with any strap, a wider piece of material will distribute weight better, but the Overlap's size strikes a nice balance between comfort and bulk.
If there is any potential for concern with this strap it is the center slide-buckle. The buckle is hefty, and while that makes it sturdy, it doesn't take much imagination to understand how uncomfortable it would be if the buckle were pressing against your shoulder or neck.
Luckily, I haven't found that to be a problem. When adjusted to most lengths, the buckles are well to the front or back of the strap, and are not in a position to dig into your clavicles.
Value
Tether's Overlap Leather Strap costs $59.95 + shipping when purchasing from their shop: a fair price, but not a bargain. Straps from the Republic Leather Company, made in the USA from full-grain leather, are the same price, and their equally sturdy Breton costs even less (asa price]B07N8SMD86[/asa]). The RLC straps are heavy duty rather than supple and comfortable, though.
And of course, there are dozens of leather straps out there in the $20-30 dollar range, some of them even with the same synthetic ends, but they're much shorter and not adjustable in the middle. Ultimately, the Tether Overlap is uniquely designed and uniquely comfortable, and most photographers will find it well worth the price.
Tether Overlap Camera Strap
To Sum Up:
An attractive, comfortable strap rather than a beefy one, the Tether Overlap is easily adjustable and will fit just about any size camera and photographer. If you don't need a strap this long, consider the Tether Cross Body strap instead; we find it even more attractive.
---