In early August, Tamron announced the development of the 70-300mm F/4.5-6.3 Di III RXD (Model A047) lens for Sony E-Mount, and this evening they're making the release of the lens official. The new 70-300mm lens will begin shipping on October 29th, just over a month from now, for an expected retail price of $549 in the USA.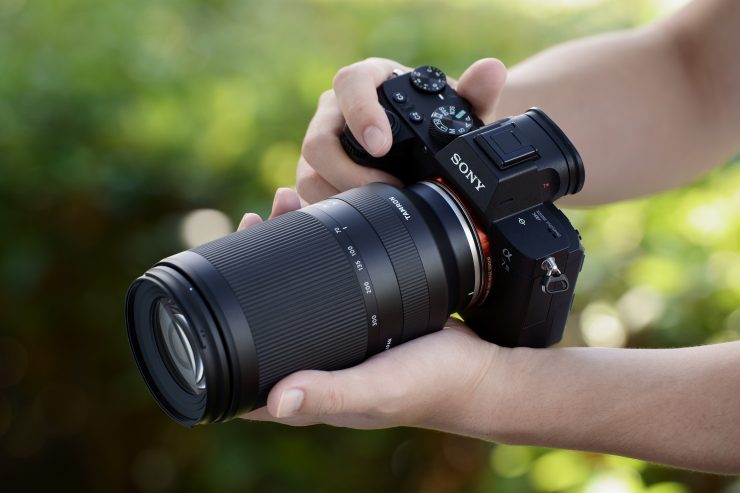 As mentioned in the development announcement, the lens will be remarkably compact for a full-frame 70-300mm lens, though some of that compact build has come at the cost of 1/3rd of a stop of light transmission (compared to the hugely popular model for Canon and Nikon DSLRs). The lens 5.8″ long lens will weighjust over a pound at 19.2 ounces (the aforementioned model for Canon weighed 27 ounces).
Unlike many lenses aimed at amateurs, the Tamron 70-300 will be weather resistant, and the lens promises to have exceptionally high quality optics despite its compact size. Powered by an RXD stepping motor, AF should be zippy and nearly silent, making it a good option for shooting outdoor sports photos and video. On APS-C models like the Sony a6400, the lens will provide a 450mm angle of view, making it attractive to wildlife photographers as well.
And if you happen to own any of Tamron's other lenses for Sony, the new 70-300 will be able to share any polarizers, neutral density filters, or any other filters that you own, because it shares the 67mm filter threads that are common to all of the Tamron lenses for Sony mirrorless.
Ready to Pre-Order?
If you'd like to buy one of these lenses and support my work here, you will undoubtedly be able to pre-order from Adorama and B&H Photo momentarily.