The Zeapon Micro 2 slider is a motorized camera slider that provides roughly 15 inches (38cm) of travel distance at any angle, from horizontal to completely vertical, with app control and time-lapse functionality. The following video details the types of effects that it can produce, as well as it's operation and some of its weaknesses.
Some of you may have seen the DIY time-lapse slider that I designed a few years ago. In my work on that system, I gained a real appreciation for how important it is to have easy, repeatable controls for a slider, and when you're setting up a time-lapse that might take hours to complete, you need equipment that you can rely on. These were the considerations that I had in mind when I started testing out the Zeapon Micro 2.
Zeapon provided me this review unit at no cost, but did not sponsor it, and have no editorial input; I'm free to say whatever I want about it. I always strive to be as honest and unbiased as possible, but bias can sometimes creep in, so take everything you see on the internet with a grain of salt. Most links on this page are affiliate links to resellers, which help support this type of work.
Zeapon Micro 2 Slider Basics
At about 4 pounds and 16 inches long, overall, the Zeapon Micro 2 slider is compact enough to carry in a backpack or small suitcase, but is long enough to produce useful visual effects for many types of footage. The slider/motor combo costs about $410 and is available from Amazon, B&H Photo, and AliExpress, so it should be easy to get no matter where you are in the world.
The video clip below was shot entirely from the Zeapon Micro 2 Slider.
With the motor module attached to the slider (it can also be used without the motor), about 11.5 inches of the rails are exposed, which initially led me to expect that I'd get about 8 inches of travel. However, the with a clever bit of design, the base mounting-plate for the slider and the camera plate both move in relation to the slider, so the total length of travel is roughly 15 inches.
The build quality of the Zeapon slider is excellent (though I had some assembly issues. See below), extruded aluminum rails, machined cart plate, and sturdy plastic side-guards and motor module housing. After nearly 6 months of testing, I don't have any concerns about the longevity or durability of this slider; it's a good, sturdy piece of equipment.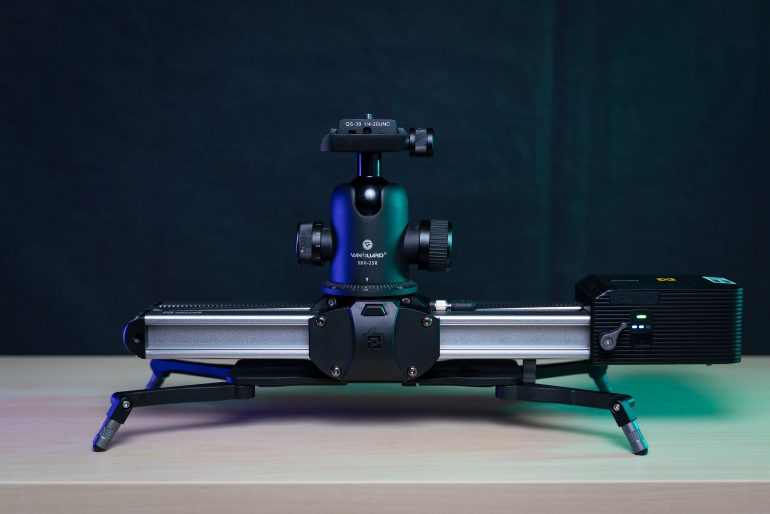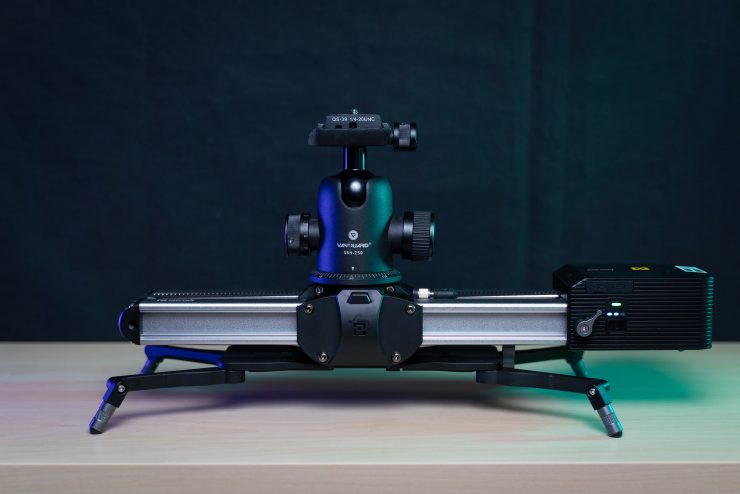 The Zeapon does not ship with a battery, but it accepts the common Sony-style NP-F550, NP-F750, or NP-970 batteries; I've been using the 970s for testing, and they last all day with constant use. Zeapon says that they'll last for 12 hours of use, but I've never managed to run one dead. If I were hiking with the Zeapon, I'd probably prefer a pair1I always carry pairs of batteries, just in case one goes bad. It happens. of F550s (3-4 hours of use, each) unless I were planning on shooting a long night-sky time-lapse.
My test unit was also bundled with the EasyLock 2, a small table-top slider platform with legs that also acts as a quick-release plate between the slider and a tripod, if desired.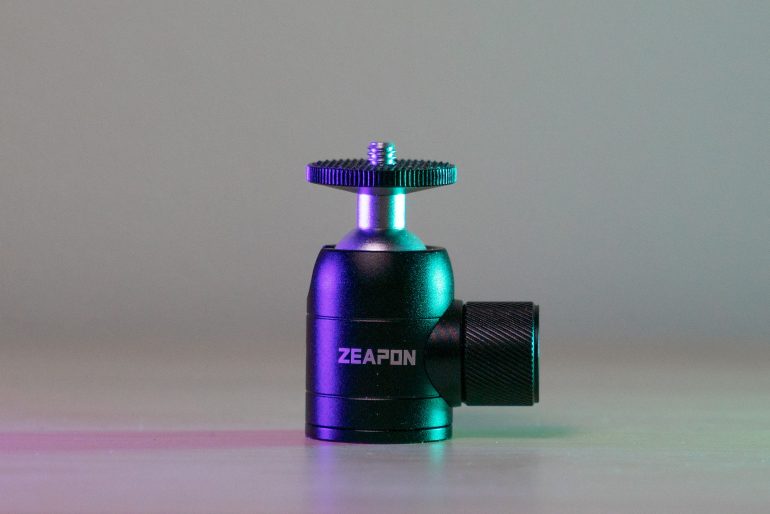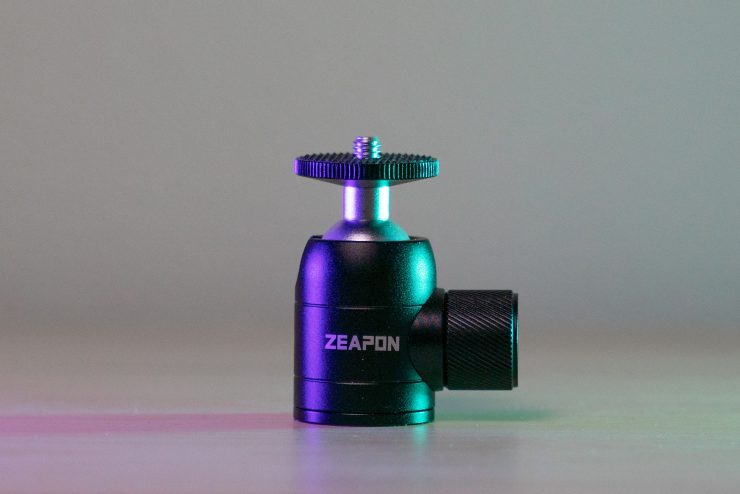 Though the EasyLock 2 does ship with a small ball head, it's really only suitable for use with a small camera like a phone or GoPro. For a larger camera, you'll need to provide your own mounting head. After trying several options, I found that an Ulanzi U-70 struck the right balance between stability and size; I'm really as much surprised as impressed with how much weight and stress this thing can take, even compared to the much larger ball-heads that I tested it against. I mention this because on AliExpress, the Zeapon sometimes is bundled with a ball head that looks identical to a PerGear head that I also tested and it turned out to be utterly useless. I'd avoid that bundle.
The Zeapon Slider App & Functionality
It is possible to control the Zeapon slider completely from the buttons on the motor module, including speed changes and adding waypoints, but most people will use the app, which makes working with the slider very easy.
The app has two modes: Video & Timelapse.
In video mode, you can move the slider head simply by dragging a button left or right on your phone's touchscreen. The speed that the slider travels is controlled by how far you drag the button to the side.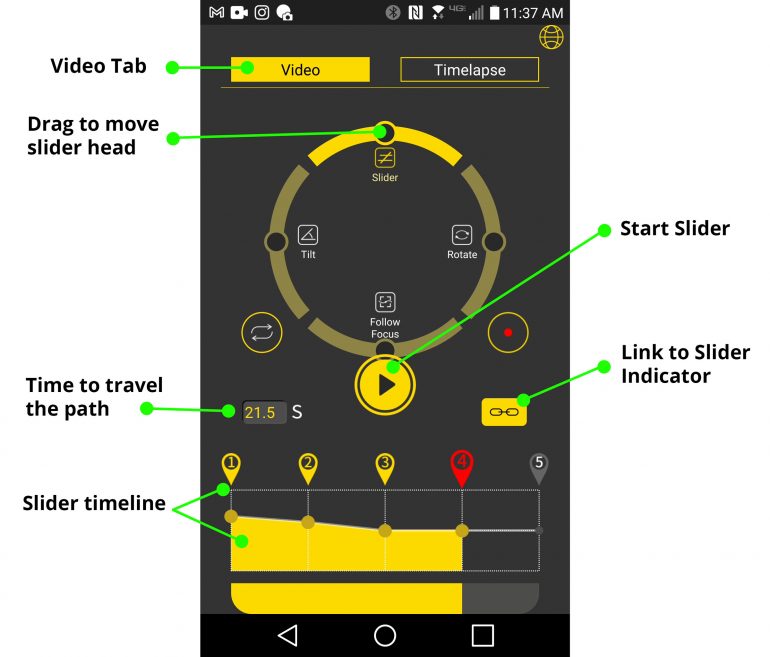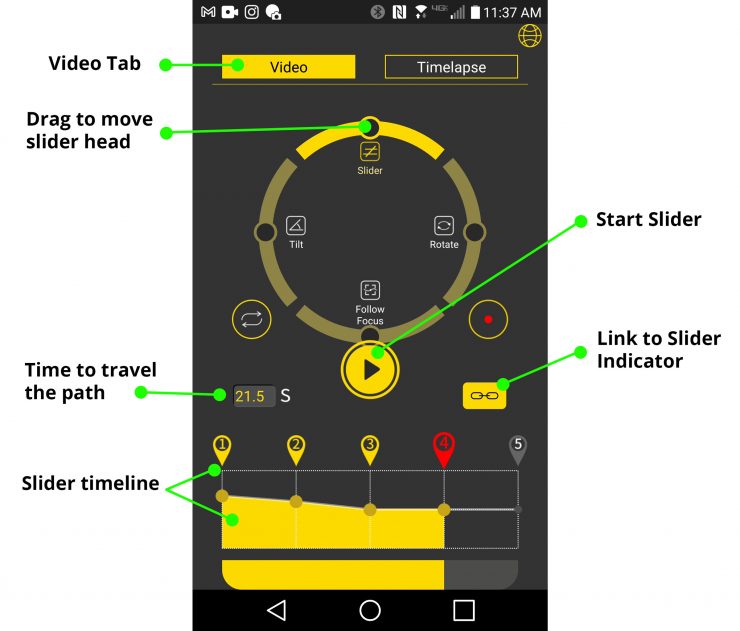 If you want finer, more predictable control, you can use the timeline at the bottom of the app: simply move the slider-head to the desired location, and press one of the markers to set a waypoint, then move the head to the next desired position, and touch another marker to set the next waypoint. Speed between waypoints is controlled by raising or lowering these points on the grid, and the app will tell you how long the slider will take to complete the path as you adjust.
For timelapse mode, you'll need to set the desired path in the video tab first, but setup is very straightforward. You'll set the shutter speed that the camera is using (with an optional delay for noise-reduction processing), set the delay between shots, and the app will then tell you how many shots it will take to complete the path. The app will also tell you how long it will take to shoot the sequence, and it will give you an estimate of how long the sequence will last when played back as 24fps video.
It's worth noting that when shooting time-lapses, the slider moves the head into position for each shot and then stops while the shutter is open, then moves into position for the next shot and stops again. This is problematic for a couple of reasons, detailed below.
Problems With the Zeapon System
The Zeapon Micro 2 is not without its problems, but they're generally minor.
I'm not a fan of how Zeapon has implemented the motion of the slider during time-lapse shooting; it would usually be better if the slider did not stop and start constantly throughout the sequence. Of course, starting and stopping introduces shake and vibration that is particularly problematic if you're you're using a short interval between shots (around 1 second, for example).
But more than that, some amount of motion blur is actually desirable in individual frames of motion film or video; it helps produce a smoother appearance and a traditional "cinematic look". See wikipedia's "Shutter Angle" entry for further detail about the amount of blur that is desired.
And unfortunately, if the camera is not moving when each shot is taken, then there's also no blur caused by the camera movement during the exposure, and although this motion is generally slow enough that it's not a major concern, it may be visible in some circumstances… especially macro sequences.
Luckily, this should be relatively easy to fix with an app update.
I also had some problems with loose screws. On a drive out to the coast, I stopped to shoot a timelapse sequence and found that there was quite a bit of wobble in the camera. I tracked the problem down to the fact that some of the screws holding the slider cart together were loose. Not just a little loose, either… I could have taken them out with my fingers. This necessitated a trip to a hardware store (luckily I wasn't too far from a town) to buy a hex wrench of the correct size, since I don't carry a set in my car. I have a bottle of blue Loctite with this thing's name all over it, and if you get a Zeapon slider, I'd recommend that you check your screws before any major shooting and add Loctite or locking washers.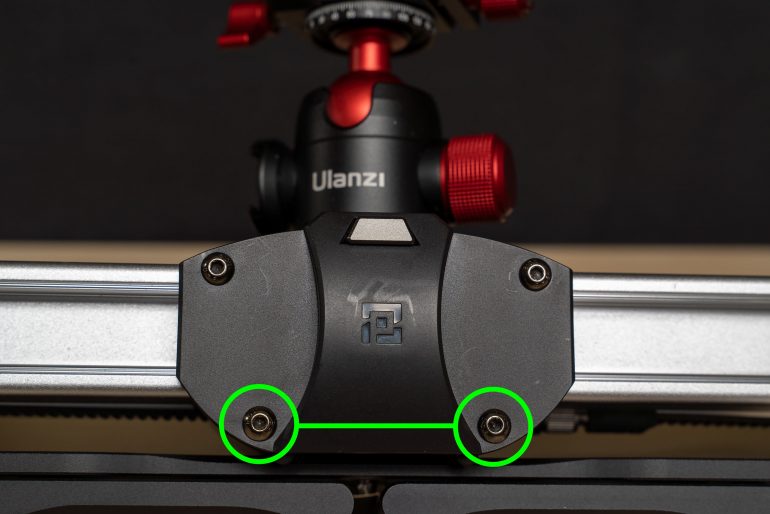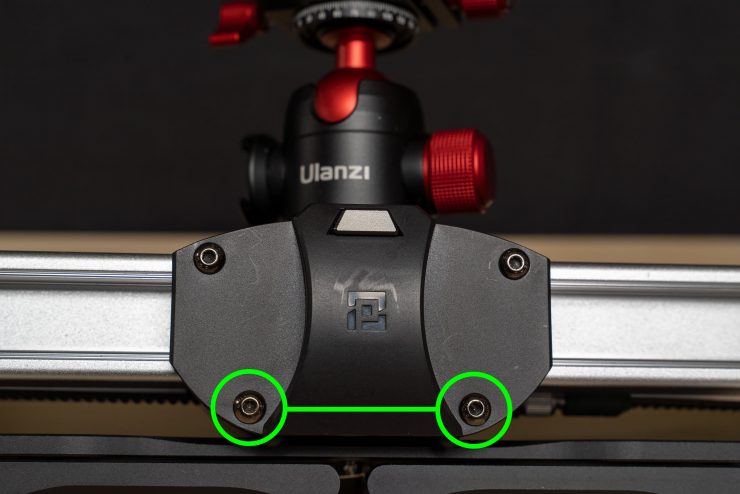 Despite tightening the screws, I find that I still get some sag when I use the Zeapon slider with my Sony A7RIII (with any lens) and use the full range of travel. This is true whether the slider is attached to a tripod or the EasyLock 2. To be clear: it's a minimal amount of sag… hard to notice and easy to correct, but it is visible enough to be apparent when you're shooting landscape work with a moderately wide lens and the horizon is visible. I take this as a design trade off; we get more travel distance but less stability (since the mounting plate moves and the rail overhangs it significantly at each end of its travel range).
There's a little bit of noise from the motor. Zeapon advertise the motor as being near-silent with -39db performance, and that's probably true at slow speeds. At it's top speeds or on vertical lifts, though, there's a noticeable whine from the motor, and if you're recording audio from the camera, it's not hard to hear. However, if you're recording from an off-camera rig or lapel mic, it shouldn't be a problem.
Finally, it's worth mentioning that the Zeapon Micro 2 slider is NOT part of a larger system of pan heads and follow-focus units, though the Zeapon app seems to indicate that they're in the works. So, if you need a motorized pan head to go along with your slider, Zeapon might not be your best choice at the moment.
Conclusion & Recommendations
I've been a photographer for over 25 years, but when it comes to video, I still consider myself a novice. This means that if I can figure out a piece of equipment like this and get decent results out of it, probably anyone can. At the same time, it means you should take any of my video-related advice with a healthy dose of skepticism; I'm no expert. That said…
Zeapon Micro 2 Slider Review: It's Just Right
the Zeapon Micro 2 slider is any easy piece of equipment to recommend for serious video and timelapse enthusiasts and professionals on a budget. As long as you're aware of the slider's flaws, they're easy to work around, and the slider is dramatically less expensive than similar performing units
Time-lapse Functionality
7
Pros
Great for Travel / Hiking
Feature Rich App
Easy to Use
Heavy-Duty Construction
Cons
A Little Sag at Ends of Travel
Some QC Issues Loose Screws
The Zeapon Micro 2 slider is an excellent piece of equipment for the video enthusiast; it's sturdy and well built, small enough to carry to distant locations but long and powerful enough to produce dramatic results. The app is similarly powerful, while being intuitive and easy to use.
As with any advantages, there will be some trade offs, and in this case the compact size and long travel distance come with a little bit of sag, and it will be important to check the screws at the stress points to make sure that they remain tight. I have some personal issues with the app's handling of time-lapse sequences, but it's not one that everyone would share (nor would it be hard to fix).
All in all, the Zeapon Micro 2 slider is any easy piece of equipment to recommend for serious video and time-lapse enthusiasts and professionals on a budget. As long as you're aware of the slider's flaws, they're easy to work around, and the slider is dramatically less expensive than similar performing units from the likes of Edelkrone.
Please Comment!
Would any of the issues that I mentioned be a deal breaker for you?
If you have any questions that I didn't cover here in the review or in the video (or even if you just don't feel like looking for the answers yourself), please let me know in the comment section below! I'm usually able to answer questions within 24 hours, though I sometimes take a little longer on weekends.