Sigma's newly announced 28-70mm f/2.8 DG DN Contemporary lens is now the smallest and lightest lens in its class, weighing nearly a pound less than Sigma's 24-70mm f/2.8 ART lens that was announced just over a year ago. This reduced size is increasingly important for photographers shooting with today's compact mirrorless cameras such as the Sony A7C and Sigma's own FP camera.
Though the new lens gives up 4mm of zoom range at the wide end, Sigma says that you will not have to sacrifice any optical quality if you choose the 28-70mm lens over the ART model (on which it's optical formula is based). Its optical formula contains seven special glass elements which allow it to achieve the "same uncompromising optical performance" as the 24-70 ART lens, according to Sigma.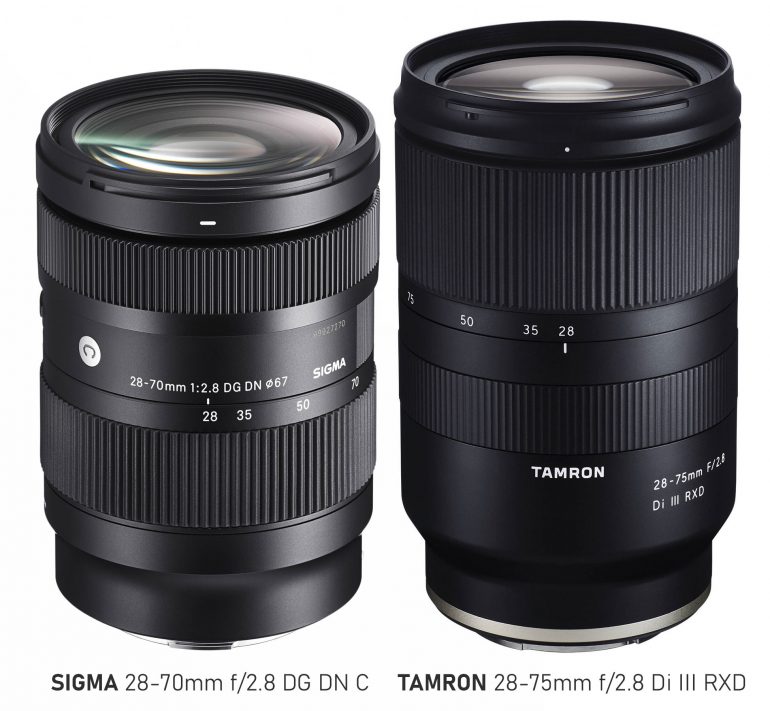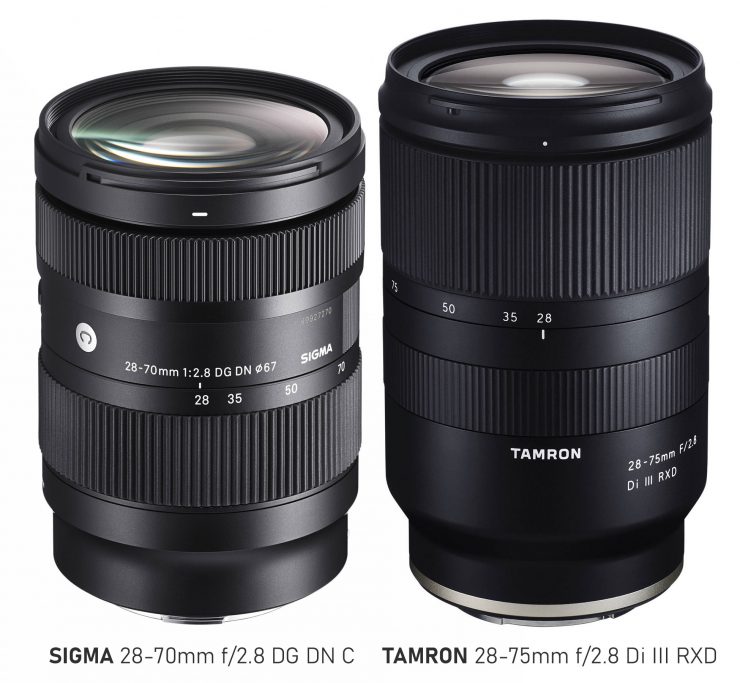 When I reviewed the Sigma 24-70 f/2.8 ART series lens recently, my only complaint about the outstanding lens was its hefty size and weight compared to the much lighter (and also excellent) Tamron 28-75mm f/2.8.
So let's see how they compare:
| | | | | |
| --- | --- | --- | --- | --- |
| Lens Model | Length | Weight | Filter Size | Price |
| Sony 24-70 f/2.8 GM | 5.35″ / 136 mm | 1.95 lb / 886 g | 82mm | $1,598.00 |
| Tamron 28-75 f/2.8 | 4.64″ / 118 mm | 1.21 lb / 550 g | 67mm | $899.00 |
| Sigma 24-70 f/2.8 A | 4.84″ / 123 mm | 1.84 lb / 835 g | 82mm | $999.99 |
| Sigma 28-70 f/2.8 C | 4.02″ / 102 mm | 1.04 lb / 470 g | 67mm | $899 |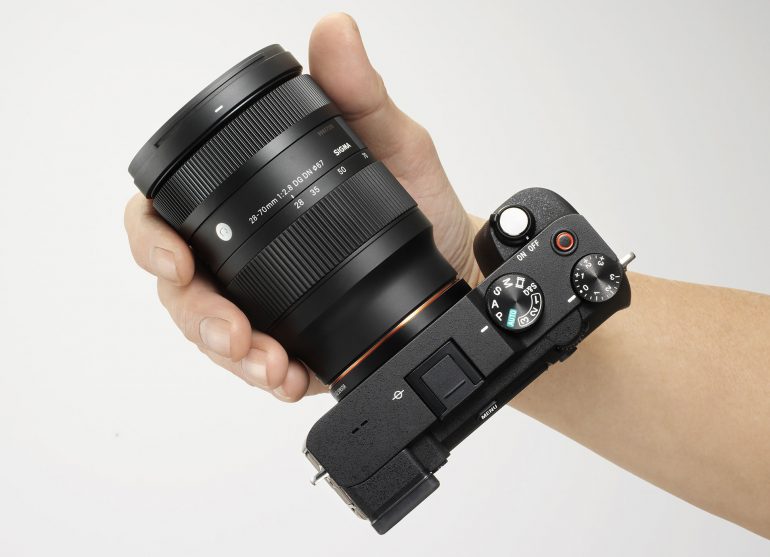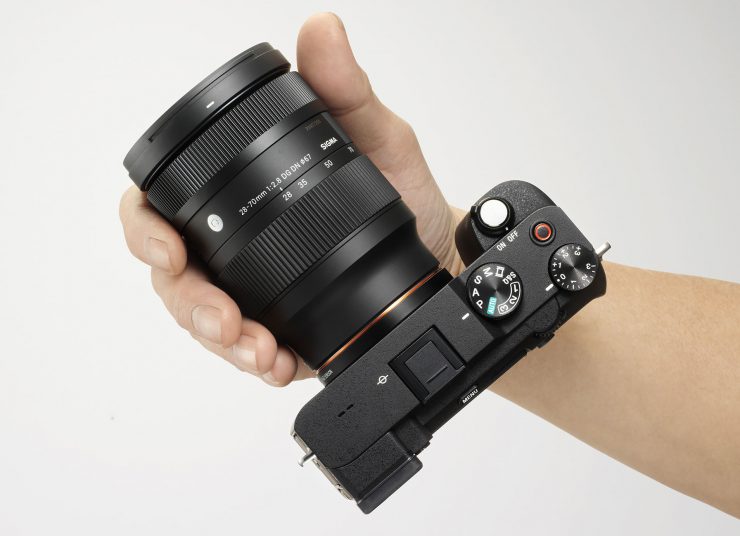 The compact body is made primarily of Thermally Stable Composite (TSC), a type of strong polycarbonate plastic that has properties similar to aluminum. Sigma has used a stepping motor for autofocus, which should produce quiet and accurate results, making the lens a good choice for photography and for shooting video. The lens mount has a seal against moisture and dust (though there is not suggestion that the rest of the lens is sealed), and the front element has Sigma's full compliment of coatings to protect the glass and reduce flare, ghosting and aberrations.
Although the Sigma 28-70mm lens does have an AF/MF switch, it does not have an AF Lock button like the 24-70 ART lens does. Tamron's lenses for Sony-E mount eschew the lock button and the AF/MF switch.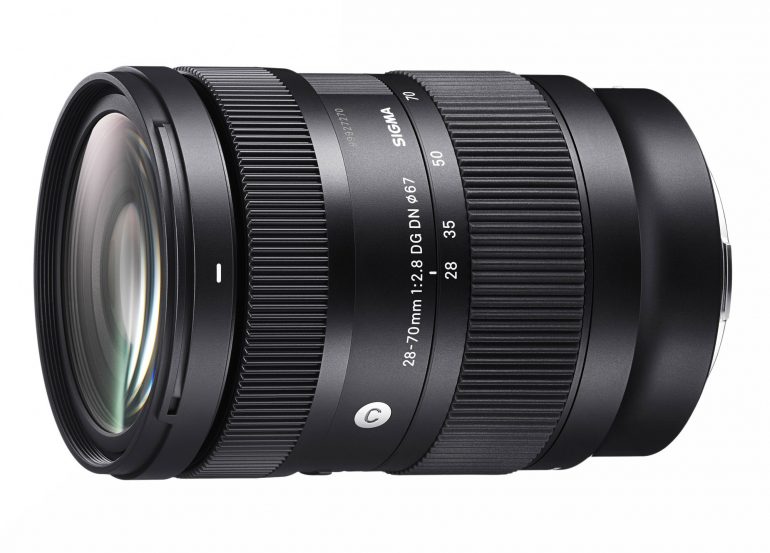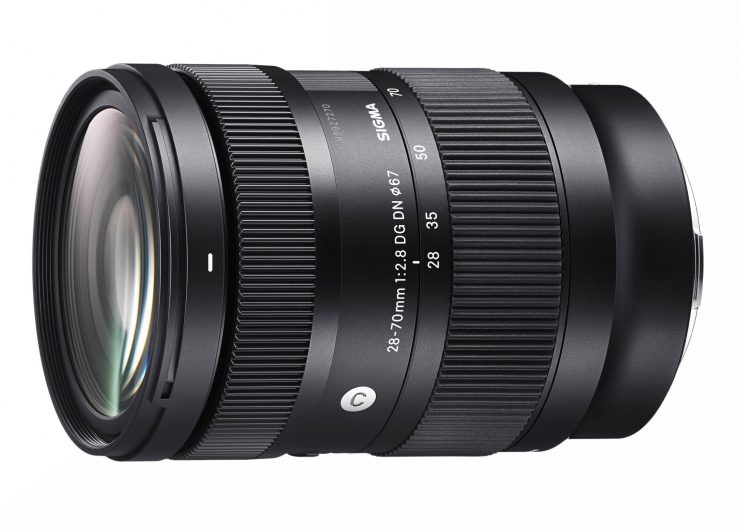 Price and Availability
Sigma expects the new lens to hit store shelves around March 12th at a price of $899 in the USA, very similar to the fantastically popular Tamron 28-75mm f/2.8 lens that will be its main competitor. In my comparisons between the Tamron and the Sigma 24-70 ART lens, the Sigma's image quality was generally as good or slightly better than the Tamron, so if the new Sigma lens maintains that standard, and matches the Tamron's excellent autofocus performance, then we may have a new king of the hill.
Want to pre-order one? Use one of the links below to help support my work here!
---