Today we take a look at Lume Cube's Tube Light Mini, an LED light wand packed with features.
Like many successful photo accessory companies, Lume Cube got its first success through Kickstarter. 2014 saw the release of the Lume Cube, a minuscule constant-light cube intended for creators using mobile phones, action cameras and the like. Now boasting close to 60 products, the company has expanded its offerings towards ring lights, colored illumination, and new form factors.
Physical Description
The Tube Mini Light is intended for creators on the go. Measuring 12 inches, it is a compact tube with a rugged body.
The Tube Light Mini sells as a stand-alone or as a two-lights kit. Each light ships in a dedicated robust case. The case is solid, elegant and quite compact.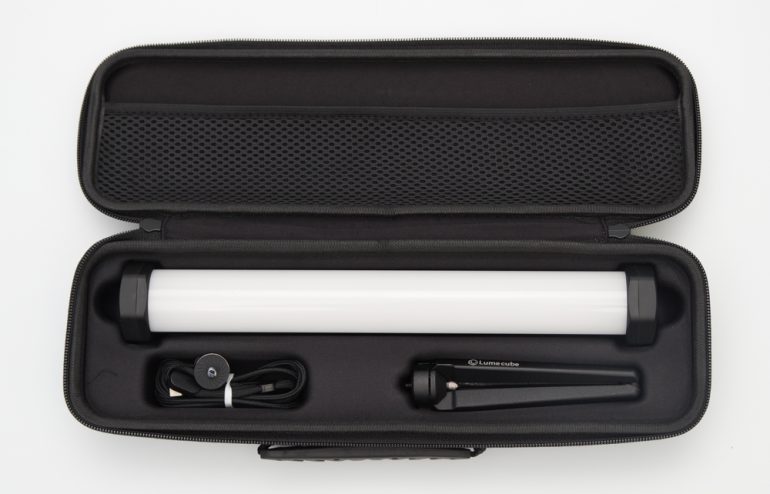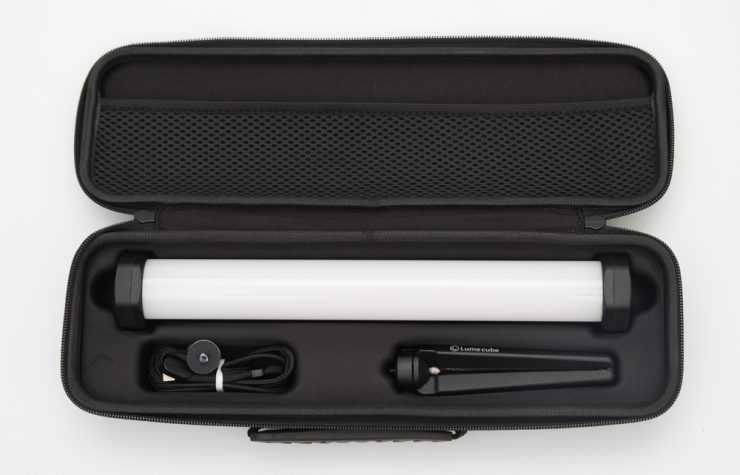 Inside is the light itself, a mini tripod, a leash and a USB cable. The tripod is made of metal, solid for its size and compact when folded. Both the tripod and the leash screw in using a standard tripod thread.
The Tube Light Mini has a length of exactly one foot, and weights 350g (0.77 lbs). It is clearly designed as a compact and portable light source before anything else. It emits light along most of its length, thanks to its 124 LEDs supplying 950 lumen. Like most light wands, light is emitted from half the circumference. The rest of the chassis is made of aluminum and feels extremely durable.
Both ends of the Tube Light Mini are identical. They feature female ¼-20 holes (standard tripod mount), a rubbery texture and magnetic sections to easily attach the tube to metallic surfaces. They are hexagonal in shape, so the tube won't roll around if left on its side.
The control panel features a high-contrast screen, an on-off button, selection button and a click-wheel. The interface is simple, rather intuitive, but minimalist when compared to the dedicated app (see below).
The tube is weather resistant; it cannot be submerged, but will resist dust and rain, making it useful outside the studio. Its metal housing and rubber ends also makes it drop-resistant (to some extend).

A USB-C port is used for charging. The light offers around 192 minutes at 50% brightness, and 102 minutes at 100% power. Remaining operation time is displayed on the screen. The Tube can also serve as a power-bank for mobile phones.
Operation And Bluetooth Control
The Tube Light Mini is a full-spectrum light: it covers temperature ranges between 2700K and 7500K. Its CRI rating is 96+, meaning excellent accuracy, repeatability and reproducibility between tubes (if more than one is used).
It can easily be controlled directly from its buttons and screen. The menu is simplistic, cycling through various means of controlling and defining the light output. Most functions can be accessed this way, but clicking repeatedly the buttons can be slightly tedious. Normally, the type of illumination will remain constant in a given situation, so this is not a big issue.
Controls are best performed via Bluetooth and the dedicated Lume Control App. Pairing is easy and automatic, however we had to pair again a few times after longer periods disconnected from the app.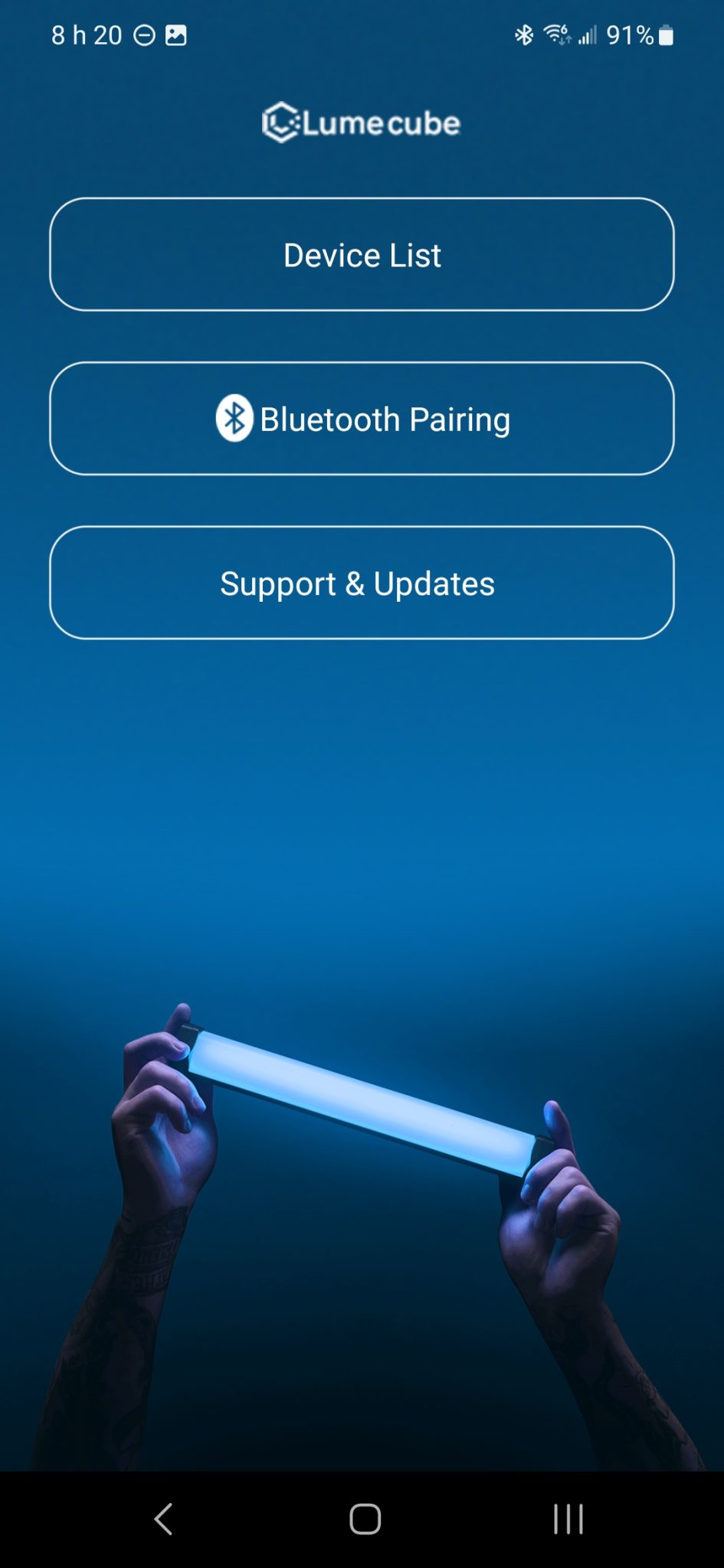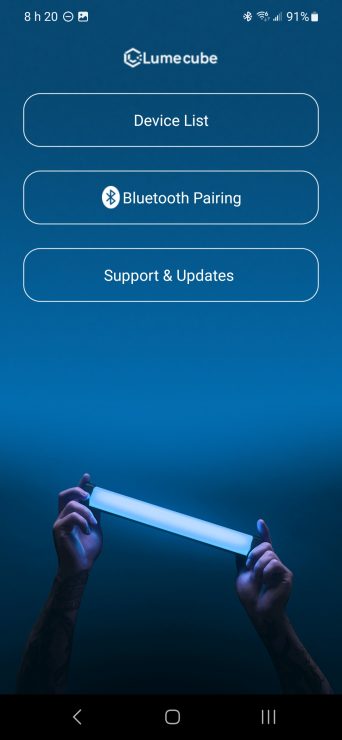 Once paired, the app shows all connected devices, offers the possibility to control each individually or via groups.
The main menu offers full controls of the Tube Light Mini. It reports battery status, basic settings for white balance and brightness, advanced settings for colorization, as well as special effects. The information is well organized, with logical grouping and easy to understand options.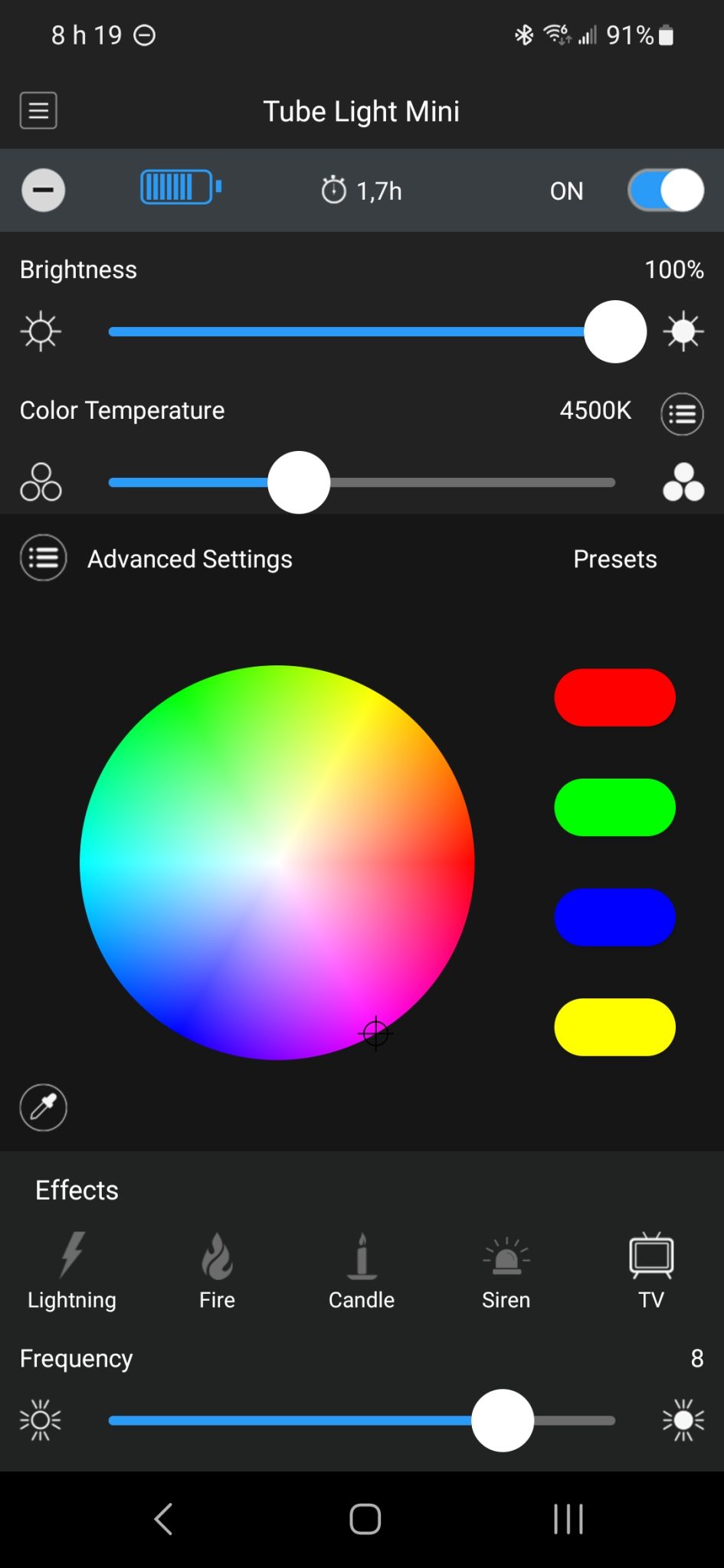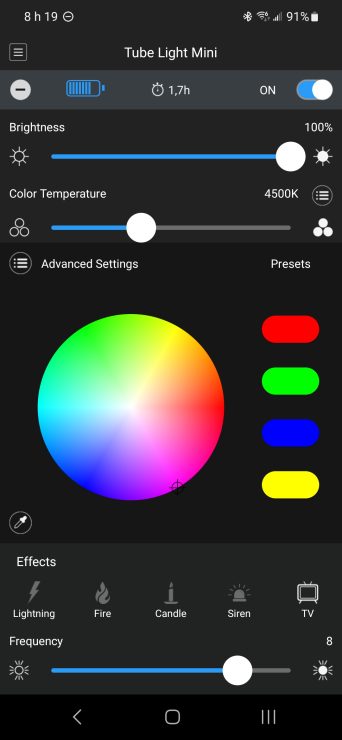 The app also offers a color picker, either via a saved image or directly from the phone's camera. This lets the tube match its color to a given element of the scene.
Color temperature can be fine-tuned by entering a sub-menu, with specific control for green/magenta cast.
There are seven special effects programmed within the Tube Light Mini. They range from police lights to candle, lightning or TV. The only thing which can be controlled is the frequency of the effect. These special effects are welcome, but their number is low and, for some of them (like fireplace) we would have liked a more dynamic output.
Tube Light Mini In Use
Many manufacturers of tube lights, such as Godox's TL60, aim for longer and longer tubes, and offer advanced functions like DMX control (Lume Cube also offer a 4 foot long version of their Tube Light). These lights can be incorporated in complex and dynamic lighting schemes. Instead of bringing yet another copycat to the market, Lume followed their company ethos and released something different.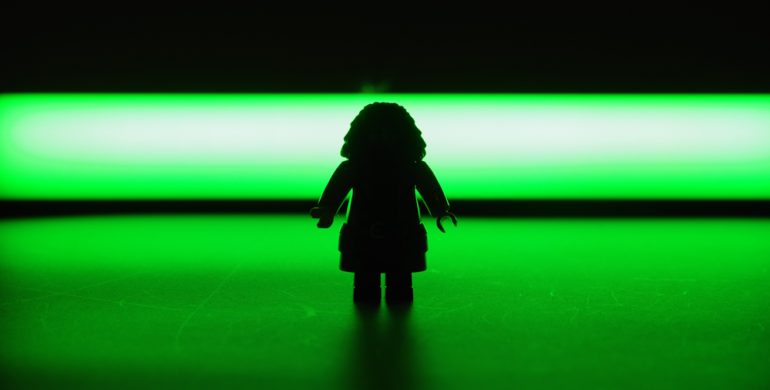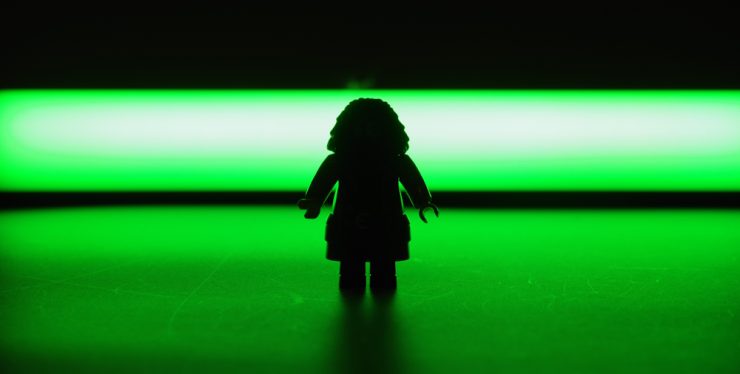 At its core, the Tube Light Mini is of course a light tube, no mor and no less. But instead of a big, full-featured studio light, Lume Cube went another way, with a tube that is resolutely designed for portability.
The tube is short at exactly one foot, light, weather and drop resistant, it is easy to attach to various surfaces via magnets and it even serves as a power bank! All of this is geared towards portability and on-location work.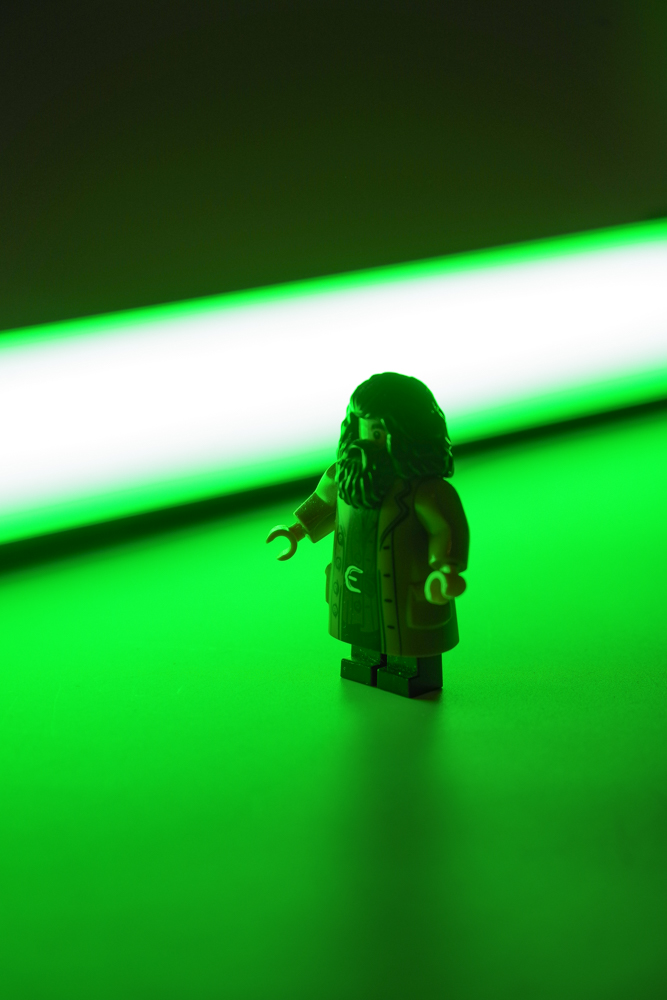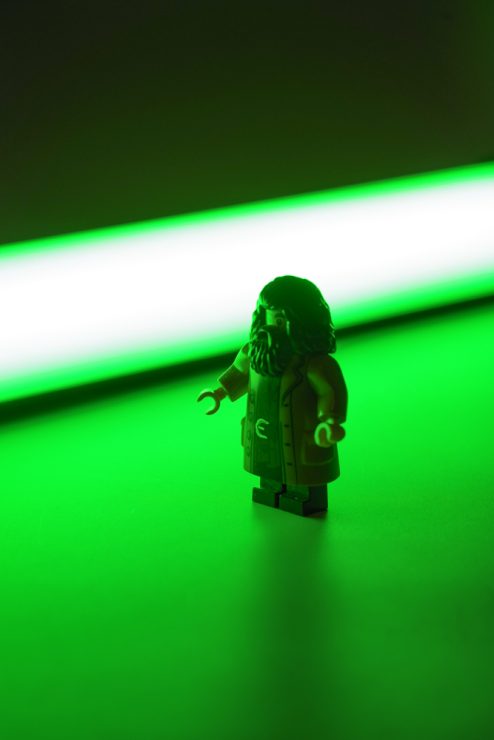 The images above show various illumination options with the same subject
The quality of the light produced by the Tube Light Mini is excellent, with good brightness and high color accuracy. Color can be accurately and easily controlled and adjusted, both from the tube itself or via the excellent app.
Tube lights can offer great creative opportunities, both as additional light sources and as elements in the frame. They can be used for stills and videos. A shorter tube does not offer all the possibilities of a longer one, but has the benefits of portability and ease of setup.
Conclusion
Lume Cube's market has been, right from the start, directed towards compact and reliable light sources to use everywhere, without fuss or complications. The Tube Light Mini fits right in this mindset. It is a portable and rugged tube, easy to carry around and offering high-quality light for a variety of situations. It lacks some of the bells and whistles or bigger, studio-oriented tubes, but offers a confidence-inspiring level of robustness. It will be a welcome option for on-the-go creators looking for options beyond a basic flash.
The Lume Cube "Tube Light Mini" can be purchased separately for $149 from Amazon, B&H Photo, Adorama, and many other major retailers. It's worth mentioning that knock-offs are now also available on markets like Amazon for only about $50, though their quality is untested. The dual tube kits seem to only be available directly from Lume Cube, for now.
Pros
Compact, light and very robust (including weatherproofing)
Accurate and versatile colors control
Some basic built-in special effects
Several mounting options, including magnetic
Can serve as a power bank
Complete and clear Bluetooth app, with groups control
Accurate battery reading with long-lasting battery
Reasonable cost
Cons
Bluetooth reconnection sometimes fiddly
Special effects a bit barebones
No gel filter emulator
Limited connectivity options (no DMX, no ethernet)