The unusually shaped Neewer Q4 is a powerful, monolight-sized TTL strobe that's powered by a rechargeable lithium battery. Though I was skeptical of the unit's design at first glance, it quickly grew on me and the unit has turned out to be sturdy, intuitive, and reliable… all at a reasonable price1A representative from Neewer contacted me last spring with an offer to provide one for review, and I received it in early August. I always try to be as unbiased as possible in my reviews, and this review is not sponsored or subject to oversight from Neewer, but keep in mind that I also did not pay for the unit.. I tested the Q4 with the Neewer QPro Sony and Canon triggers, both of which behaved identically.
A Quick Overview
If you've ever used a modern speedlight on your camera, then the Neewer Q4 will not offer any surprises: it has all of the common features and ease-of-use of a speedlight, but with more power. It can connect wirelessly with your camera's exposure metering system for full TTL control and with first curtain, second curtain or high-speed sync. Of course, its power level can be adjusted manually from full-power down to 1/256th power, and all of these settings can be set via the QPro wireless trigger (currently, 1/256th power is not available via the QPro wireless controllers).
Neewer Q4: Body and Build
The Neewer Q4 eschews the traditional cylindrical shape of a monolight in favor of a more compact, rectangular one. Without the bulb and reflector, the unit is only 3.5 inches thick, and 7.25 inches wide. The shell of the unit is a sturdy plastic with a Bowens speedring mount that seems to be mostly metal, and the sturdy top handle is also metal.
The front of the unit has a button to release the included, compact reflector or any other modifiers that are being used. The right side (from behind) of the unit houses a USB-C port for firmware updates and an 1/8th inch (3.5mm) sync cable port. On the left we find the battery compartment, and an installed battery provides a power-jack for those who prefer wall-power. The top of the unit sports a long, narrow optical sensor so that the Q4 can be used as an optical slave, and it also has a sturdy handle, which is remarkably handy while setting up and adjusting the flash unit. The bottom of the unit has a standard female 1/4″ threaded mount.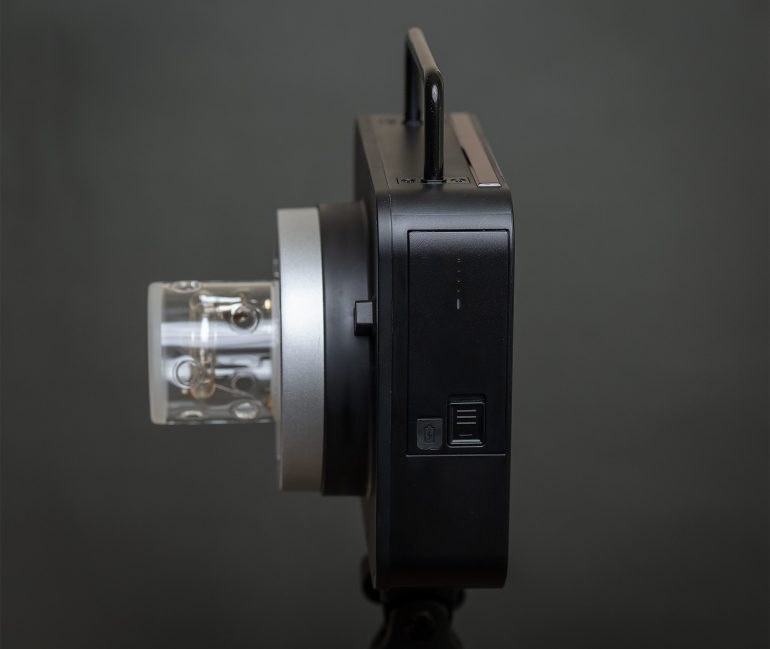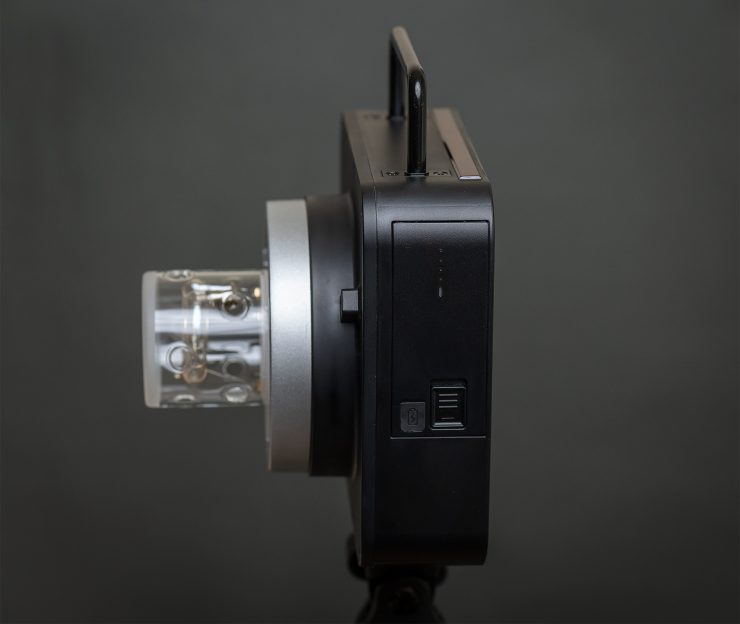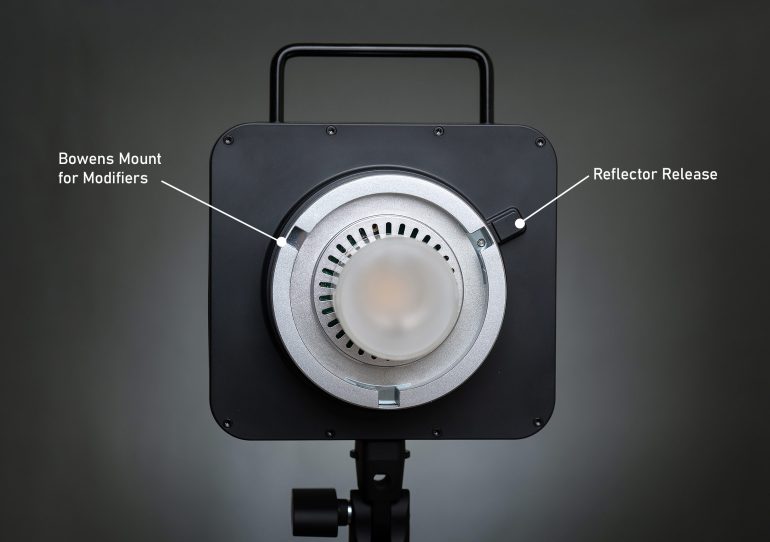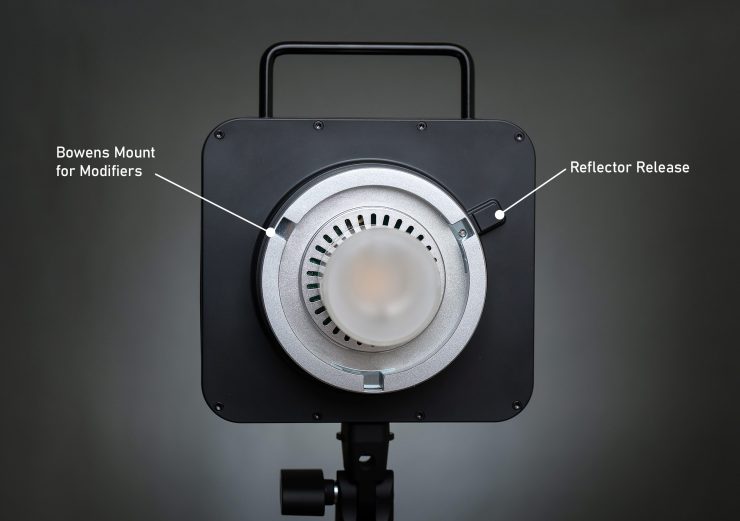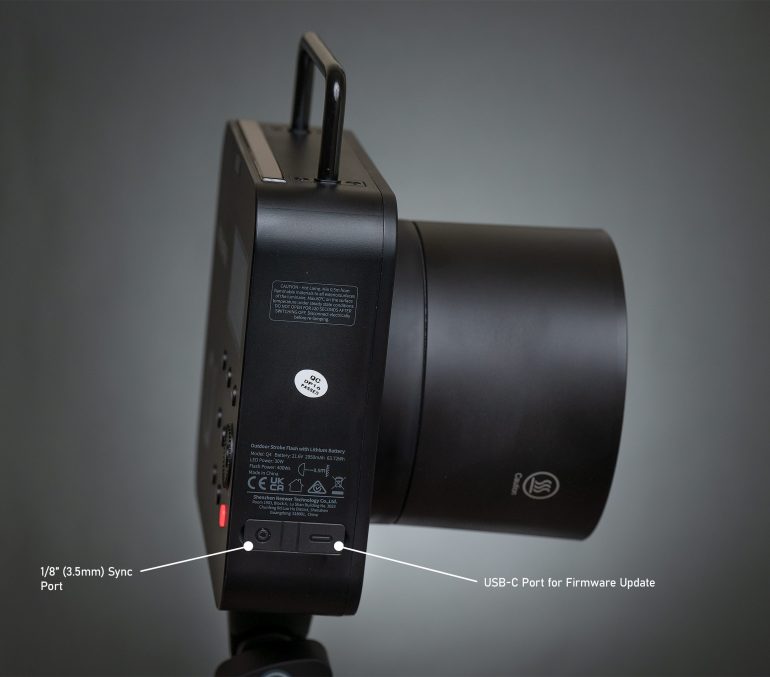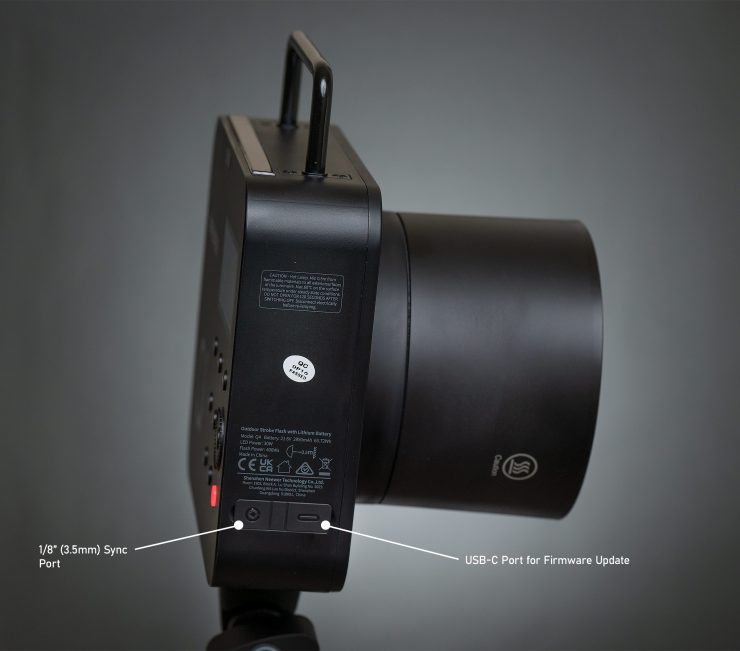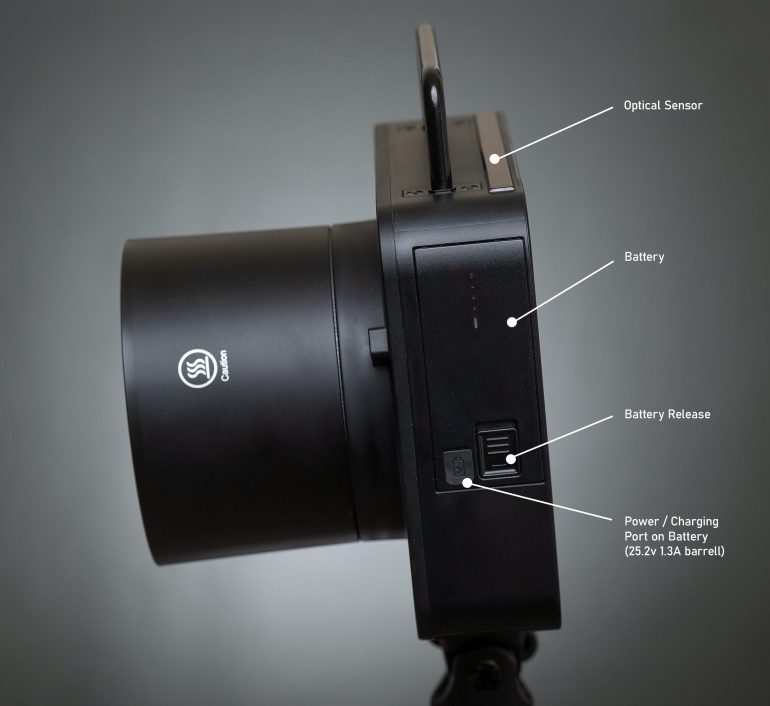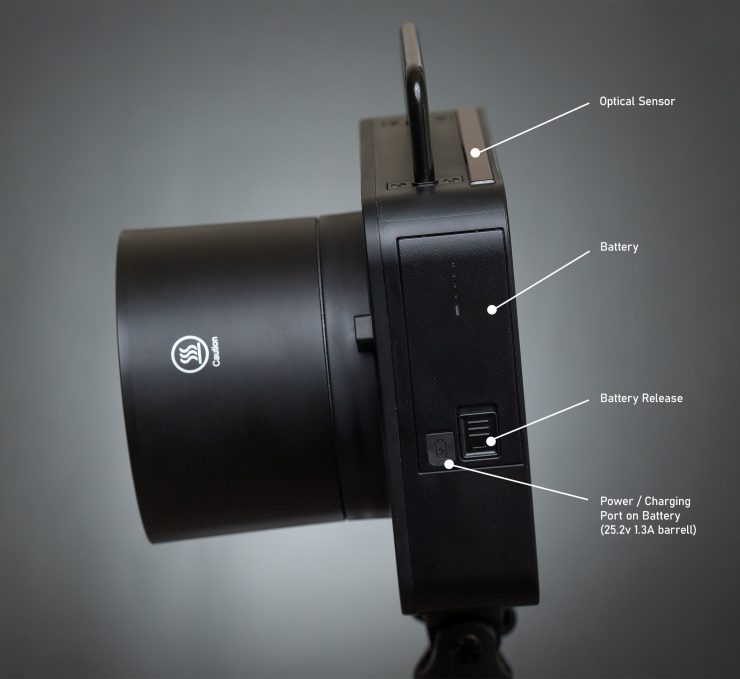 Naturally, the bulk of the controls are on the back, along with a backlit LCD screen. I find the controls to be nice and simple, but not so simple that it makes full control difficult.
There are eight standalone buttons, which might sound like a lot at first glance, but one of them is a dedicated power button, one turns on the modeling light, one turns on the radio trigger, one of them turns on high-speed sync, and one of them simply is a test-flash button, so they're all very simple, single function buttons. The "GR/CH" button allows you to select the radio channel and flash group if you have a big flash setup.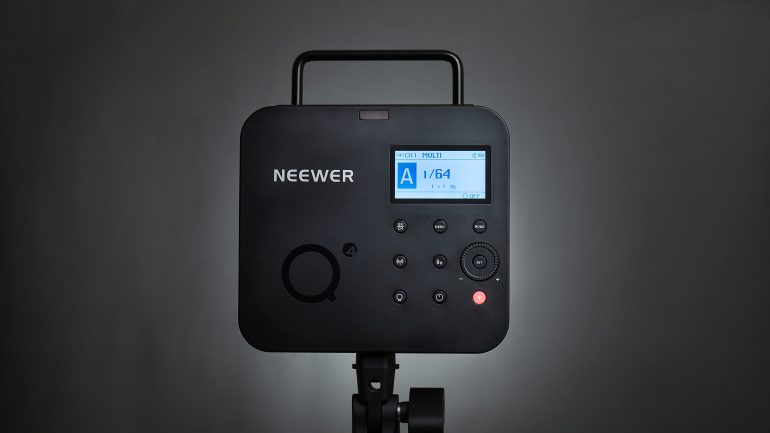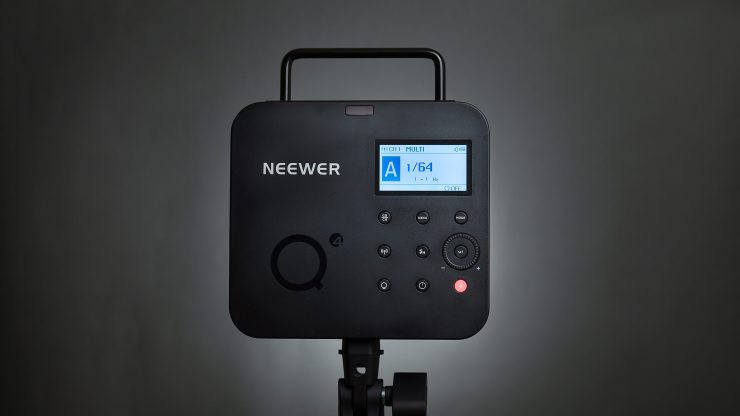 The remaining two buttons, labeled "Menu" and "Mode" are used in conjunction with the control dial and its "set" button to adjust the other settings, all of which are displayed in a fairly straightforward way on the LCD screen.
The Neewer Q4 can be controlled remotely with the hot-shoe mounted QPro TTL Wireless Flash Triggers, which are available for Sony, Canon and Nikon and cost about $66 (sold separately), and can also control a variety of other Neewer flashes.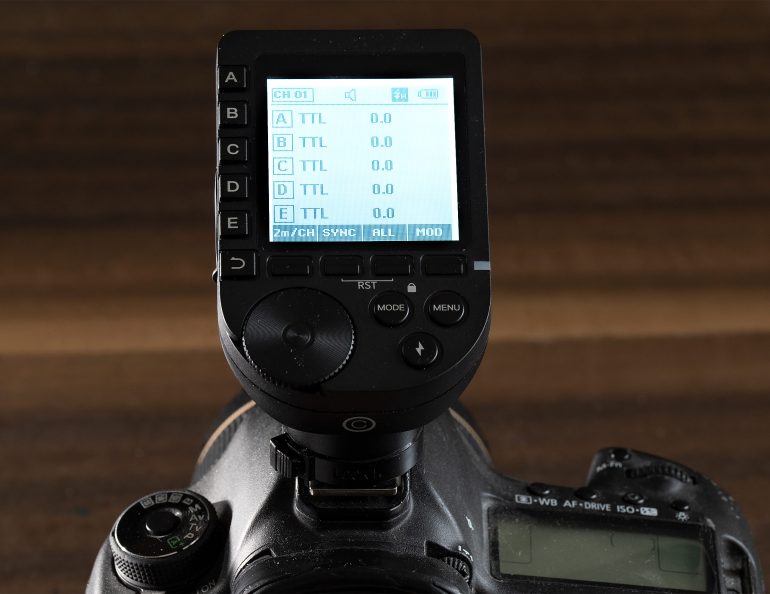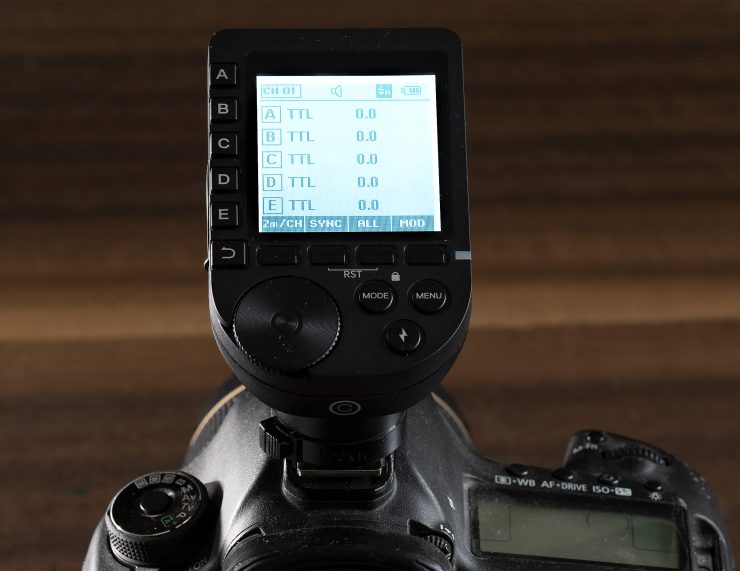 One of the unique features of the Q4 is that it displays the T.1 flash duration2The "T.1" flash duration is the point at which 90% of the flash's light has been released after it has been triggered. If you're taking a photo that is only lit by flash, the T.1 time acts like the shutterspeed for stopping action. in the lower left corner of the LCD, ranging from 1/209th of a second at full power all the way down to 1/10989th of a second at 1/256th power.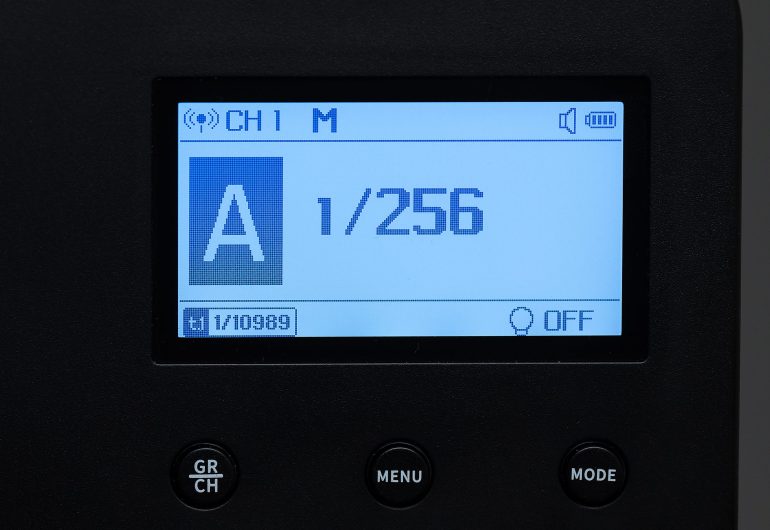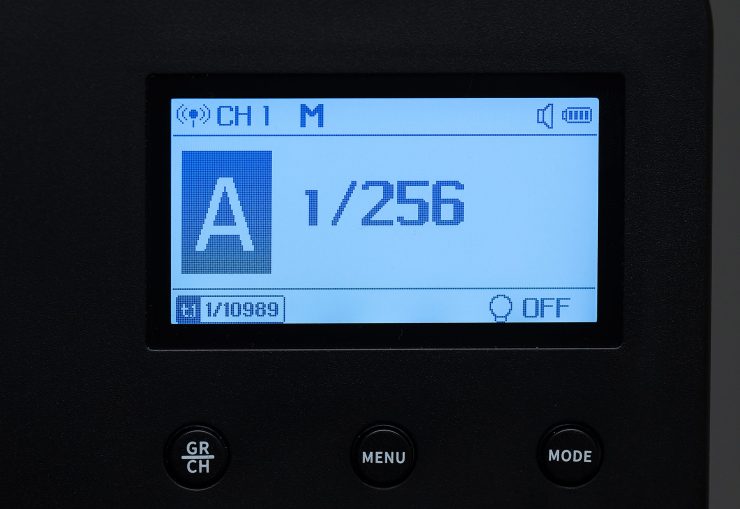 The Q4 has an adjustable, bright 30W LED modeling light that is probably bright enough to double as a video light, though the fan gets loud when it's at full power, and I don't know what its CRI rating is. In any case, as a modeling light, it can be set manually from 10% power up to 100%, or it can be set to be proportional to the power setting of the flash, which is useful when setting up multiple strobes.
Overall, the unit is sturdily built, but I wouldn't call it "rugged". It does feel like the sort of thing that will last for many years of regular use.
Compatibility
Most of you will be familiar with the Neewer brand from Amazon 3though you can now find the brand at lots of major camera stores, where they've been selling inexpensive photography gear for the past decade or so, focusing on strobes, light modifiers, and other studio equipment. Until I looked into it more closely, I thought that they were another line of re-branded Godox/Flashpoint equipment: the Neewer Q3, for example, is very similar to the Godox AD200, and the Neewer Z-1 could easily be confused with the Godox V-1, though it turns out that there are significant differences between them, and the brands are generally not compatible with each other.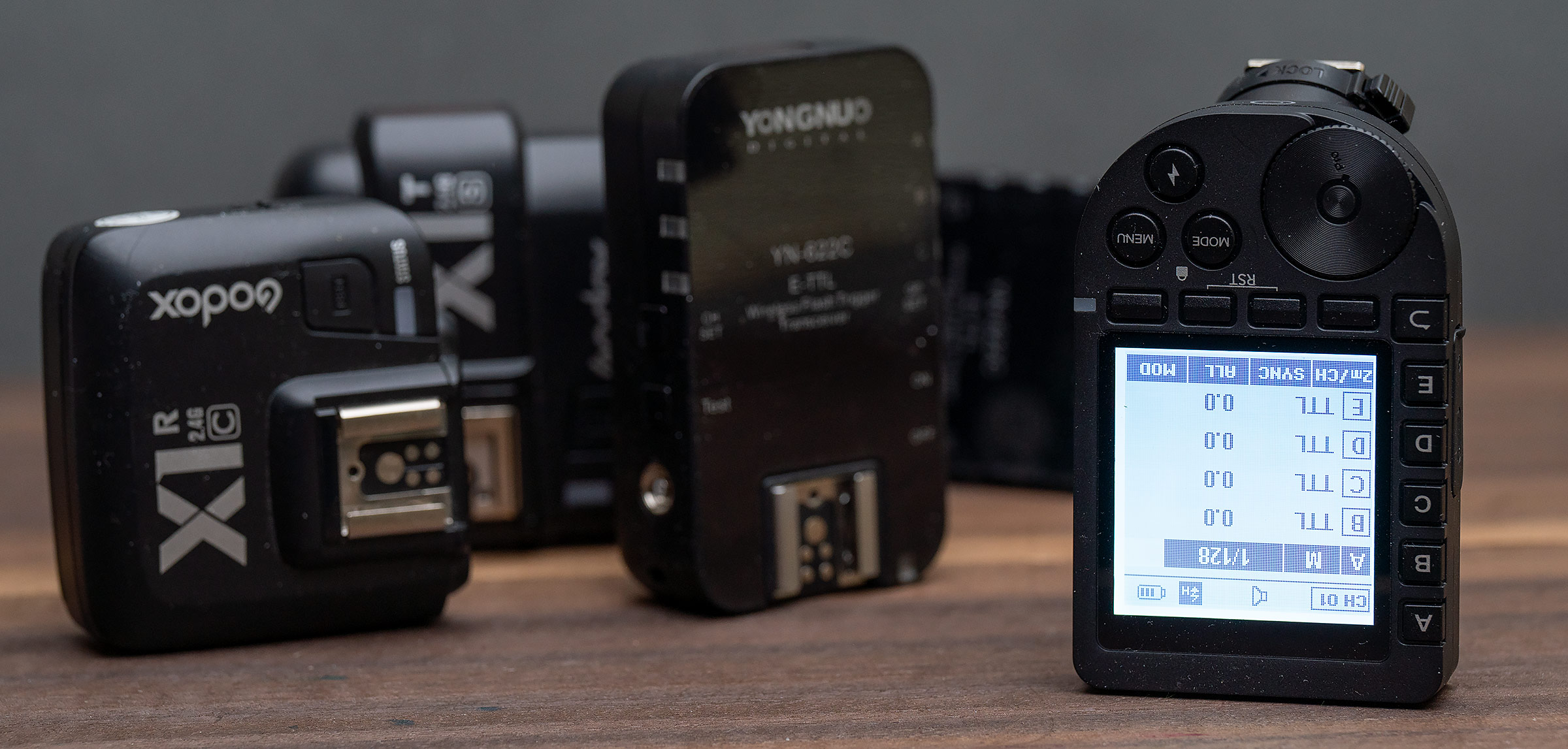 However, Neewer's expansive and disparate lines of on-camera and off-camera strobes ARE generally compatible with each other. Of course, the Q System flashes can be used together with the same radio trigger, but the Z and NZ strobes with built-in 2.4GHz receivers can also be used with the Q series triggers.
The Neewer QR receivers also work with a variety of Neewer speedlights that don't have built-in radio functionality, and they're also compatible with other 3rd party flashes, such as Godox and Aputure.
I have a variety of flash triggers in my collection, including Godox, and I didn't have any success with trying to get them to talk to the Neewer Q4. It was worth a shot.
The Neewer Q4: In Use
Because the Neewer Q4 is battery-powered, I made a point of taking it outdoors on a bright day to see whether it would be able to overpower the sun, though I also spent time getting familiar with it indoors. For testing, I also used the impressive Neewer 47 inch parabolic softbox.
One August day around noon, I set up the Neewer Q4 in a scrubby powerline right-of-way, and placed my model (Hannah) with the sun above and slightly behind her. With auto-exposure and no flash, the sky in the background was blown out and Hannah was still engulfed in shadow.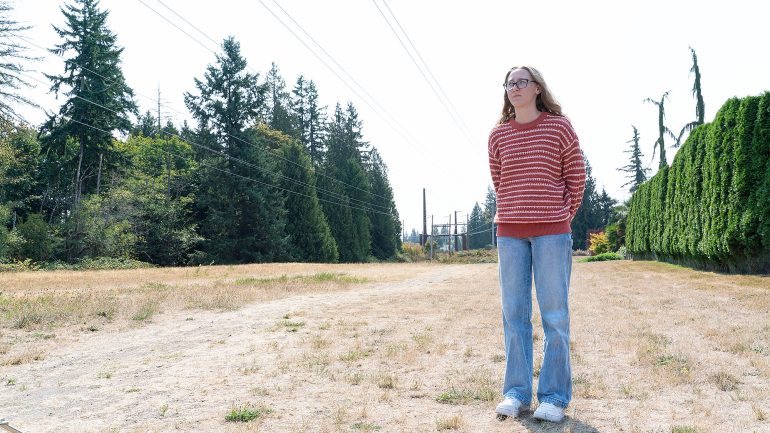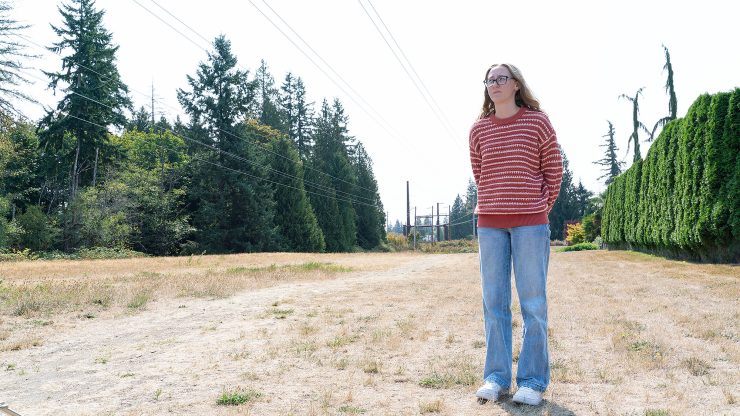 Next, I set the camera to manual exposure (still with no flash) and reduced the exposure to darken the whole scene.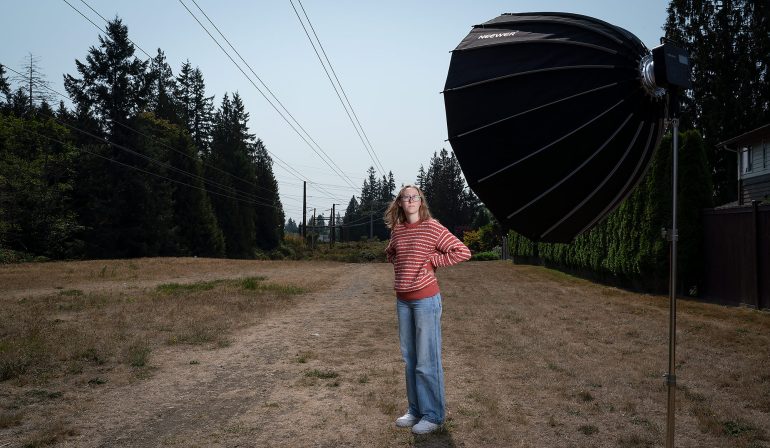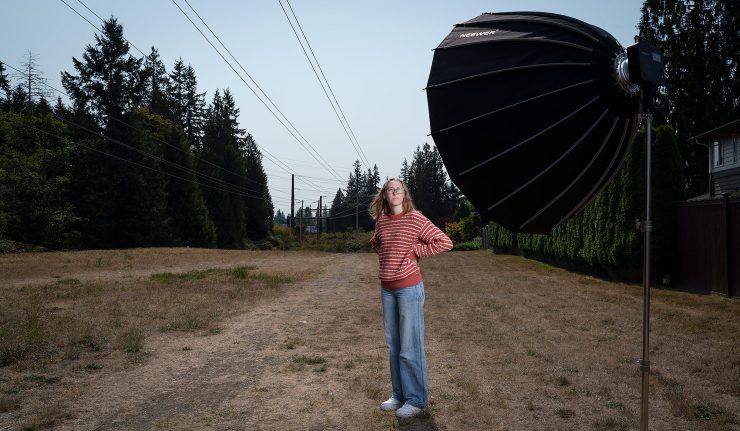 Finally, I powered on the Neewer Q4 and attached the 4-foot parabolic softbox to add exposure back in, but only on Hannah. After a few quick adjustments to the flash's power level via the QPro on my camera's hotshoe, I ended up with a properly exposed subject in front of an under-exposed background, on sunny day.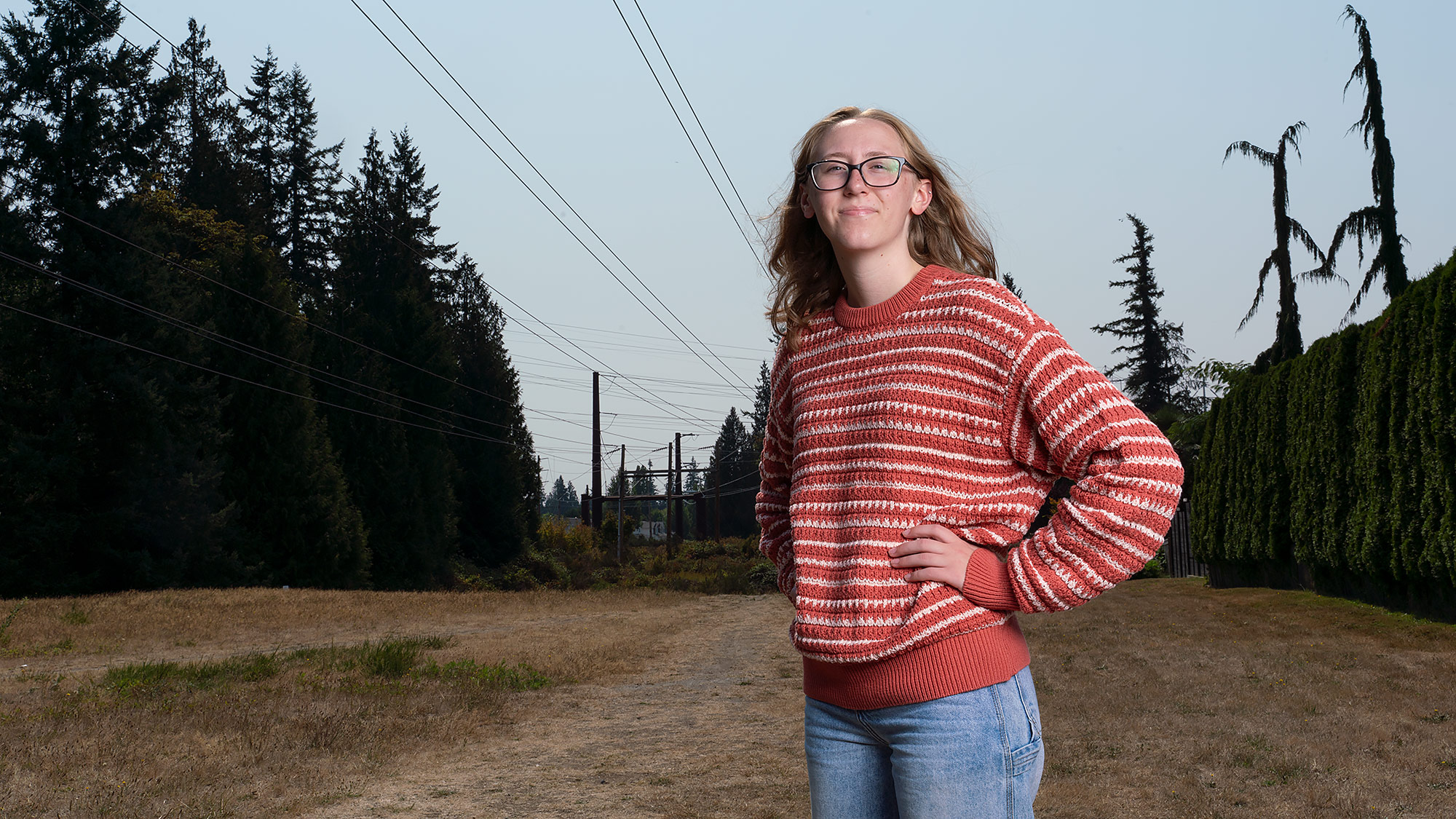 Of course, this was just an equipment test, so the background was fairly terrible, and the smokey haze from local forest fires didn't give me the blue sky that I hope for with this kind of shot, but it was a successful display of the Q4's abilities.
I rotated the flash head 180 degrees and shot with the overhead sun coming down directly on Hannah's face, and the flash did a good job of adding fill-light, instead, and of course, I was still able to darken the background to separate the subject.
Most of these were shot at full power, and I was very impressed that the recycle time really did seem to be no more than about one second, and once I was shooting at 1/4 power or below, I never seemed to have to wait for the power to cycle unless I was shooting very fast bursts.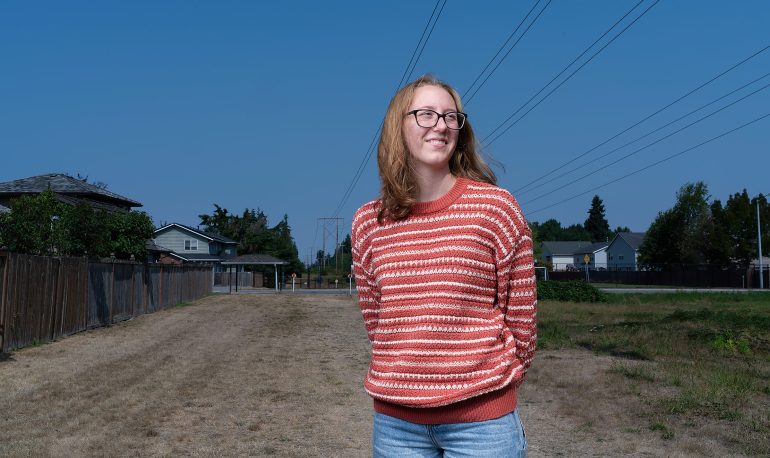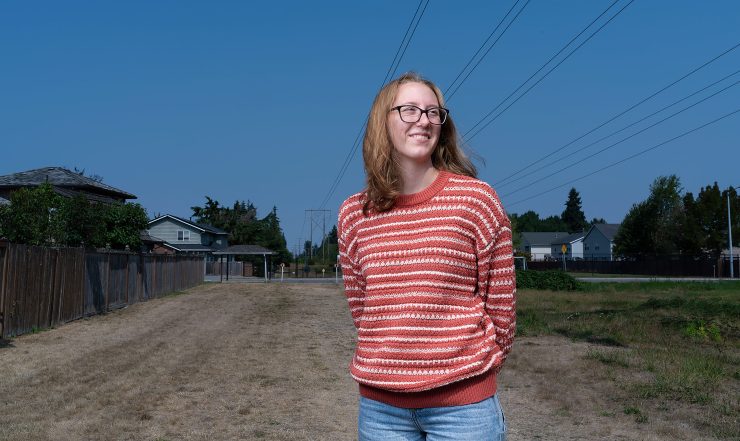 The Q4, in conjunction with the QPro trigger on my Sony camera, made it quick and easy to get the amount of light that I needed, without lowering the light stand and fussing around with buttons on the flash head, and of course, having the flash in a single, battery powered unit was much easier to transport and set up than the old separate flash-heads with external power packs (and an extension cord for a wall-powered monolight would not have been possible at all at a location like this one).
It's also worth mentioning that the Neewer Parabolic Softbox that I used was wonderfully fast to set up, and it has given me excellent light quality. I have a much older softbox of about the same size that is not a quick-setup model, and it takes so much time and effort to set up that I just don't use it anymore. And the Neewer Parabolic softbox would make a handy emergency shelter if you were stranded in the woods.
Because of the thin-body design of the Q4, I wondered whether the weight of the large softbox would be a problem, but since the light-stand mount is so close to the speedring mount, it was a non-issue. Outdoors, I did need sand-bags on the light stand, since there was a breeze, but that would be true with any flash and a softbox that size.
When used for studio/tabletop photography, the Q4 and softbox combination provide wonderfully soft, even light, and again, the QPro controller makes adjustments easy. In the pen and ink photo below, I set the Q4 to TTL mode and exposures were reliably spot-on.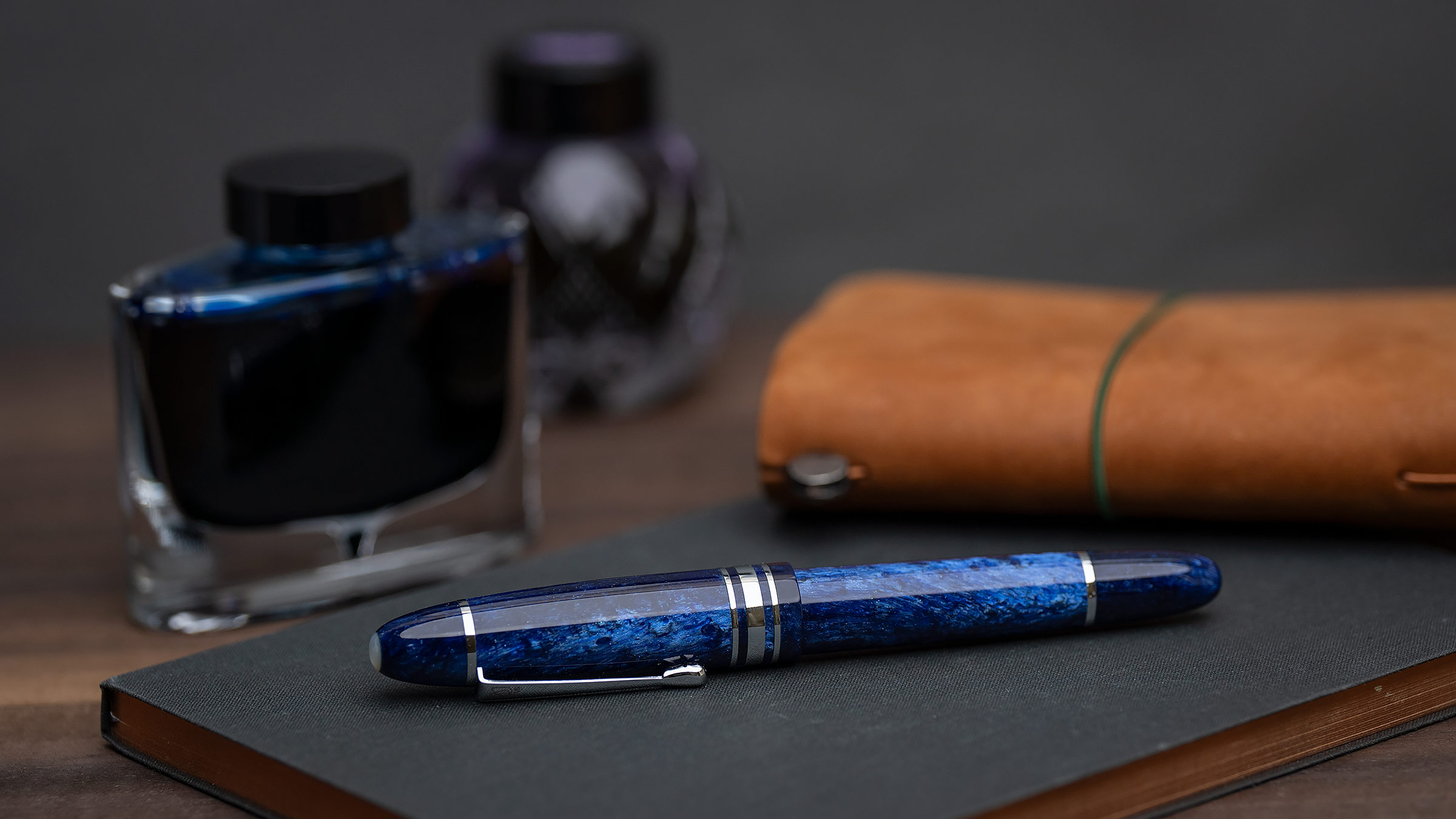 The Downsides
After using the Q4 several times over the course of nearly a month, I still haven't found any major drawbacks with the unit itself, but of course, that doesn't mean that it's perfect.
One of my first concerns about the Neewer Q4 is that it's a battery-powered flash, but it doesn't take a standard sized battery, and extra batteries don't seem to be available (yet). Neewer's claim that the battery will last for 400 full-power flashes seems very possible, and will likely cover most shooting situations, but not all of them, and more importantly, any professional photographer will want to have a backup. That's just part of being a pro. So, until extra batteries are available, this unit will be more of an amateur's tool.
I mentioned earlier that the Q4 can shoot from full power down to 1/256th power, but in actuality, 1/256th is unreachable via the QPro tiggers, which are limited to 1/128th power. Perhaps this will be fixed with firmware updates (both the triggers and the Q4 have USB-C ports for that purpose), but for now, it's an annoyance.
Charging the battery for the Q4 easy, but the charger is an unusual voltage (25.5v) and uses a barrel jack. It would be so much more handy if I could use my laptop's USB-C charger to recharge the Q4 battery; the supplied charger is bulky, and if I lose it while traveling or leave it behind at a venue, it's not clear how easy it will be to get a replacement.
And finally, it's worth remembering that the Q4 is part of the Neewer ecosystem, and while it's relatively broad, you'll want to make sure that Neewer offers all of the equipment that you'll need to get your job done before you buy in.
Value
The list price of the Neewer Q4 is $429, but on Amazon it's for sale with a $60 off coupon (total: $366.99, and at B&H Photo, the regular price is $379, but it's currently marked down to $299 during their "Bild" expo. $299 is an excellent price, but even $379 is very fair. The Godox AD200 Pro costs $350 and provides only 200Ws of power (vs the Q4's 400). To get a TTL flash that exceeds the power of the Q4, the Godox AD600B (600Ws, about 1/2 stop more light) is a more powerful option, but it's significantly larger and costs $700.
It's closer in size to a Paul C Buff "Alien Bees", and they're similarly powerful at 320Ws priced ($299), but the Bees are dumb, manual flash units, with no radio controls or TTL metering.
So, considering their power output and features, the Neewer Q4 is an excellent value.
Conclusion
Since I'm not a portrait or wedding photographer anymore, when I want to shoot a portrait with lighting, I want something that is going to be lightweight and intuitive to use, and the Neewer Q4 is excellent in that regard. It has the power and the flexibility to get the job done on just about any location, which is even more important to me now.
Although using multiple small strobes such as the Neewer Q3 may provide the same output as the Q4, the standard Bowens mount on the Q4 makes it much more convenient for use with high quality light modifiers. I've been very impressed with this little powerhouse in the past few weeks of use, and I'm looking forward to using it more frequently.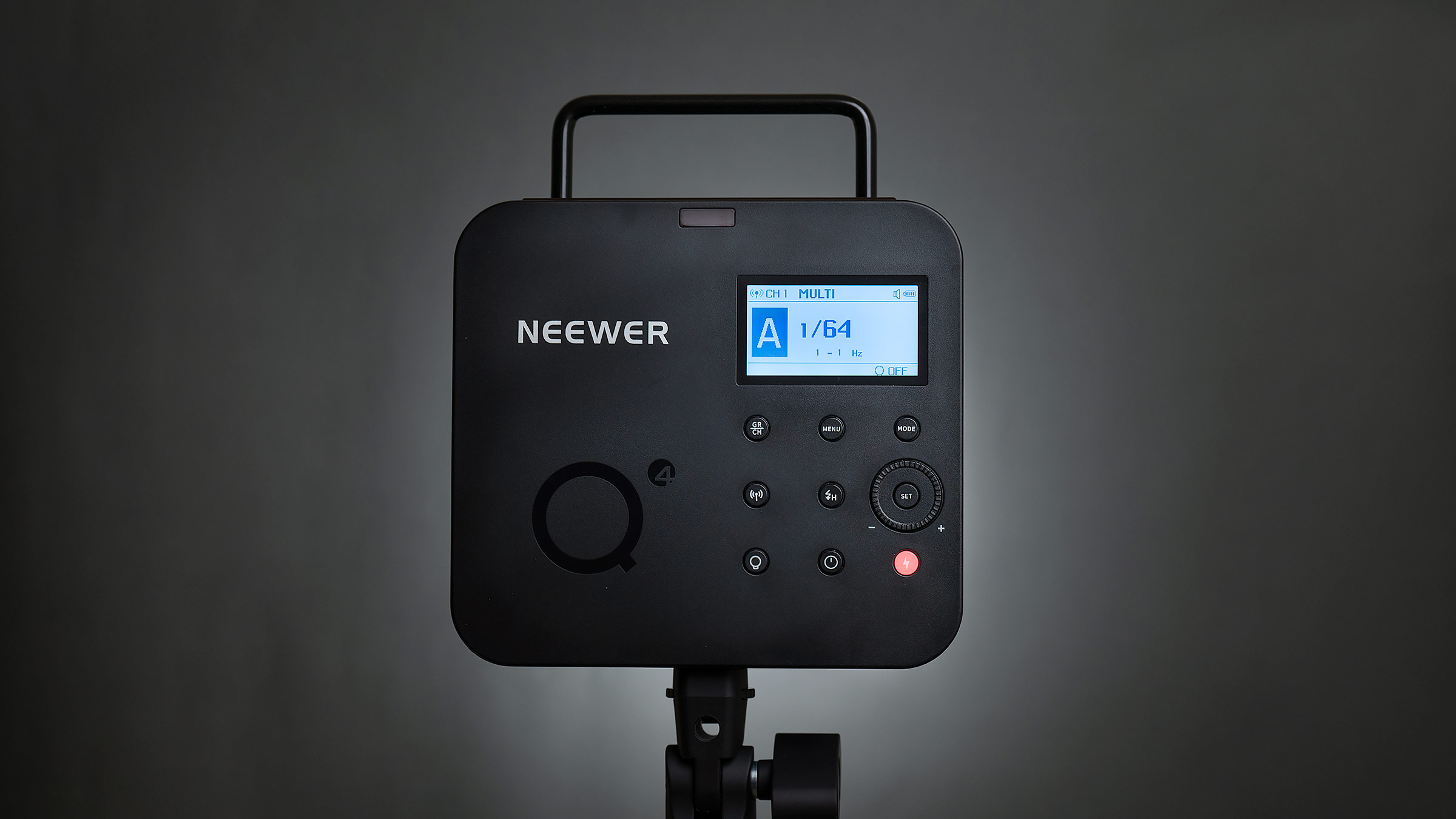 The Neewer Q4 Battery Powered Strobe
Pros
Powerful Outbut
Intuitive to Use
Easy to Control
Great Value / Price
Cons
No Extra Batteries Available, Yet
1/256th power not available via QPro
Dedicated Battery Charger