Perhaps the proper question is, "Is one of them better?" Over the past few months, Nikon has been busy releasing new equipment, including several lenses and two SLR bodies. Everyone is talking about the D7000, which has yet to reach customers even now (in November). However, the D3100 was released a month earlier and is actually available on the open market (at a mere $640, including a lens), and contains some of the features that are so intriguing about the D7000. Canon's Rebel T2i / 550D is nearly a year older but probably Canon's most equivalent counterpart to the D3100, and also one of the most popular camera models in the world. So how do they compare? It may help to break it down into a few different categories.
Handling and Compatibility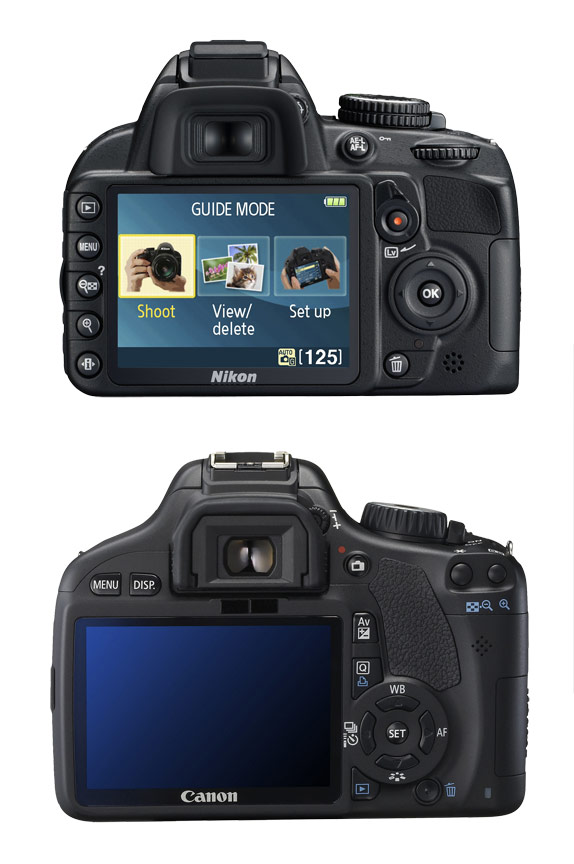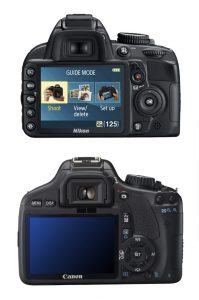 Both cameras are small and light, and the issue of comfort in the hand is too subjective to comment on. Neither one feels great to me compared to a professional level DSLR, but both are a big improvement over point-and-shoots. Both models have a mode selection dial on the camera-right top, where neither model has a secondary LCD readout. There are a couple of differences that should be noted, though. While both cameras make use of a 3″ LCD screen, the Nikon uses a relatively low resolution LCD screen, at only 230,000 pixels, compared to 1,040,000 million on the Canon T2i. Both cameras are equipped with somewhat simplified controls: while the Nikon D3100 does maintain the thumb-dial on the rear of the camera, the finger-dial below the shutter release button which is common to more expensive models is not used. Instead, the purpose of the thumb dial changes according to which shooting mode you select. Similarly, the thumb wheel for exposure compensation, which is a standard feature of all of the more expensive models, is removed from the Canon Rebel T2i, presumably on the grounds that beginners rarely use exposure compensation.
Both cameras are compatible with reduced sensor and full-frame sensor lenses. It should be noted, though, that the Nikon does not contain a focusing motor, and therefore is only compatible with modern lenses that have self-contained focusing motors, so the camera can't focus with most of the lenses produced in the 1990s (the D7000 is backward compatible, however). All Canon AF lenses contain focusing motors and can be used with the T2i.
Auto Focus System and Shooting Speed
Both cameras use similar auto-focus systems, with one cross-type AF sensor in the center of the frame, and an array of single-directional sensors spread across a wider range of the frame. In the case of the T2i, there are 9 focusing points total, and the D3100 uses 11, giving it a very slight advantage. Again, the cameras perform very similarly. When shooting jpgs, the Canon has a slight speed advantage, shooting 3.7fps while the D3100 shoots 3fps.
Image Quality
This is perhaps the most important aspect, but also the most difficult to compare. The Canon does have a higher resolution sensor than the Nikon, but not dramatically (18 vs 14.2 megapixels, respectively). Theoretically, this will provide the Canon with higher resolution images, but in order for it to do so, the photographer must use a top-notch lens and excellent technique (probably tripod mounted), which is rare even with professional photographers. In practice, the Canon will probably produce slightly higher resolution, particularly in good light with a steady camera, and it will give users a little bit of extra room to crop down the edges. It is also worth mentioning that the Nikon D3100 shoots 12-bit RAW files, while the Canon shoots 14-bit. Most Nikons, including the new D7000 but also models as old as the D300, give the user a choice of 12 or 14-bit. Many photographers argue that the theoretical advantage of 14-bit files does not provide a real-world, practical advantage when it comes time to print. I would argue that there is a substantive advantage to 14-bit files, but only when the photographer knows how to retrieve the extra detail from the shadows in post processing. I'll write more on this specific issue in the future; it has come up with regards to the D7000 as well.
High ISO Tests have shown that both cameras produce excellent results up to about ISO800, after which the Canon produces slightly better results until ISO6400, when the Nikon regains the lead. It should be noted, though, that the results are very very similar, and undoubtedly different tests will produce different results. Perhaps more importantly, beyond ISO1600, the image quality isn't exactly great in either case… so no matter who is considered to be ahead, it is simply the lesser of two evils.
Video
Although Nikon was the first SLR to introduce HD video recording about 2 years ago, the D3100 is the first model to record in full 1080p HD, while all of the Canons since that time have shot 1080p, so many Nikon shooters happy to be back in the game. Although not everyone will care about video features, Nikon does still have some catching up to do when it comes to frame rates. The Canon shoots 1080p at 30fps (USA standard broadcast rate) and 24/25 fps (movie film frame rate/ PAL standard), while the Nikon only shoots 24 fps. At 720p, the Nikon does shoot 30fps as well, while at 720p Canon shoots 60fps slow-motion video.
On the other hand, the Nikon adds one feature that Canon lacks: full-time auto focus. This is not, unfortunately the fast and accurate phase-detection AF of the Sony a55 and a33, both of which excel in this area. Instead, Nikon implements a contrast detection AF system that can hold focus on well-lit subjects where minimal movement is involved. The Canon, on the other hand, requires the photographer to press the shutter button periodically to auto-focus.
My impression of the Nikon video AF system is that it will have limited applicability where auto-focusing is actually helpful. Users who want to use the camera as a replacement for a video-camera will be disappointed, as it will probably not truly be able to keep up with the type of motion that people want to capture: kids playing, sports, events, etc. Note, for example, in the opening moments of the video above (between 0:07-0:10), where the camera is close enough to the girl's face to be able to evaluate the focus, and there is movement: the shot opens in focus, but then after the girl turns her head, she remains out of focus while the camera searches. Users for whom video AF is very important should look at the Sony a55 instead.
Feature Comparison
This table displays some of the common features of the Nikon D3100 and the Canon Rebel T2i.
Canon Rebel T2i / 550D
Nikon D3100
Amazon Price (body only)
$715
$626

Kit Price
(Canon t2i + 18-55mm lens, Nikon D3100 + 18-55mm)
$829

$639

B&H Price



$719
$649
Body Material
Polycarbonate, Fiberglass Resin and Stainless Steel
Polycarbonate
LCD Size / Resolution
3.0"
1,040,000 pixels
3.o"
230,000
Sensor Resolution
18 Megapixels
14.2
ISO Range
100-6400
+12800
100-3200
+6400
+12800
Total AF Focus Points
9
11
Cross-Type AF Sensors
1
1
AF Light Level Range
-.05 to +18 EV
-1 to +19
Metering System
63 Zone Point Linked Evaluative
9% Center Weighted
4% Spot
420 pixel RGB sensor evaluative
6% Center Weighted
2.5% Spot
Max Frame Rate : RAW (14-bit)
3.7
?
Max Frame Rate : RAW (12-bit)
n/a
?
Max Frame Rate : JPG
3.7fps
3fps
Max Burst Duration RAW (at highest frame rate)
6
?
Max Burst Duration JPG (at highest frame rate)
34
?
Shutter Speed Range
1/4000th - 30 sec.
+bulb
1/4000th - 30 sec.
+bulb
Maximum Flash Sync Shutter Speed (standard flash)
1/200th sec.
1/200th sec.
HD Video Resolutions
1080p, 720p
1080p, 720p
Available HD Video Frame Rates
PAL and NTSC
24/25, 30 at 1080p
24/25, 30, 60 at 720p
24fps @ 1080p
24 or 30 fps @720p
Media Type
SD / SDHC / SDXC
SD / SDHC / SDXC
Weight
530g (with battery and SD card)
455 (body only)
Viewfinder Coverage
95%
0.87x magnification
95%
.80x
.
Conclusions
With some camera comparisons, there's a clear winner in the end… but that is not the case here. The Canon T2i / 550D does come out ahead in the megapixel battle, it shoots a little faster, has a nicer LCD, and it offers more video frame-rates (I spent a little more time with a Nikon D3100 today, and I'm not impressed with the full time video AF). However, these features will probably not provide a significant benefit to most of the people who buy these cameras (with the exception of the LCD, perhaps), and it costs about $200 more than the Nikon D3100. It seems that Nikon is practically giving away the 18-55mm kit lens, as there is virtually no difference between the body-only and kit prices I've seen listed. Some users will be able to get better quality out of Canon's higher resolution sensor and higher bit-depth, especially if they're going to be printing large and using good technique… but in order to decide whether the camera is worth the extra money to you, you'll have to ask yourself whether you are in that group, or whether you'd at least like to be in that group.
If you still can't decide, you should also take into account the cost of lenses, and whether the company is consistently making higher-end camera bodies that you think you'd grow into in the future.
What IS going to make a much greater difference to your photography than your camera choice is the amount of time that you spend taking pictures. Just like anything else, the more you practice, the better you'll get; especially if you have a class, a club or online group/forum to offer you honest evaluation of your images. Check around for local seminars and workshops; spending time shooting with pros will make a big difference [if you live in the Seattle area, feel free to contact me about future workshops]. Right now is the best time to get started… don't waste months worrying about which camera body to buy, it won't benefit your photography enough to be worth it. It's time to get out there and start making your photography better, not expecting your camera to do it :) Happy shooting!