I read somewhere that the common personal computer these days has more processing power than all of the computers used by NASA to send the first man to the moon. The same thought struck me recently when looking at some of the entry-level DSLRs that are currently on the market (namely, the Canon T2i/550D, The Sony a55, and the Sony a580); never in history has so much imaging power been in the hands of so many. And let's face it: many SLR owners are not using much of that potential. We're getting the highest resolution birthday party snapshots ever… and the pictures that facebook crunches down to nothing come from exquisitely sharp source material. Most of our imaging power is wasted.
But not all of it. What about those photographers who are getting serious about photography, who understand and use the histogram on their camera's LCD, who use excellent technique and tripods to capture all of the detail in their landscapes, who understand the effects of aperture, shutter-speed, and ISO? These photographers are in the golden age of imaging, and the choices available to them can be exhilarating and confusing at the same time. Which DSLR will serve that photographer the best?
The Sony a580 vs a55

As I've said previously, Sony's a55 is one of the most innovative new cameras that has been released in years. Unfortunately, with those cutting edge features comes the downside of new technology: bugs and unexpected consequences. The a55 has a few of each, most of which are centered around the implementation of its electronic view-finder (EVF). The a580 is not walking quite as distant on the wild side, but it is also rich with innovative features [it should be noted here that the a560, also a new Sony model, is virtually identical to the a580 but with a 14 megapixel sensor].
But let's start with similarities. The Sony a55 and a580 both make use of the same 16.2 megapixel sensor, about the same size as that found in the new Nikon D7000, and as we've come to expect from Sony cameras, they both have  image stabilization implemented within the camera body rather than relying on the lens to do the job. You can expect the same image quality from each camera, with the possible exception of any slight differences due to light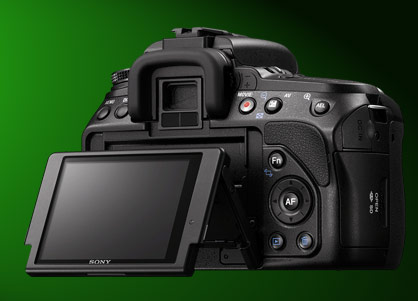 loss from the translucent pellicle mirror found on the a55. They both have the same video format support. The a55 and the a580 both have articulated LCD screens, though not everyone will agree that it's a benefit.
When it comes to cool, processor-based features, the Sony a55 and a580 share much of the same set. Both have in camera HDR processing, standard and 3D multi-frame sweep panoramas, face and smile detection,  and hand-held twilight / multi-frame NR (a feature with promise).
Additional similarities can be found in the following table. Click on the "Show X Entries" drop-down box and select "50" to see the whole table at once.
Sony Alpha a55
Sony Alpha a580
Canon Rebel T2i / 550D
Amazon Price
$749

$819
$715
B&H Price
$749
$699
$719
Body Material
Polycarbonate
Polycarbonate
Polycarbonate, Fiberglass Resin and Stainless Steel
LCD Size / Resolution
3.0"
921,000 pixels
3.0"
921,600 pixels
3.0"
1,040,000 pixels
LCD Articulated?
Yes
Yes
No
Sensor Size
15.6mm x 23.5
15.6mm x 23.4
14.9 x 22.3mm (APS-C)
Crop Factor
1.5x
1.5x
1.6x
Sensor Resolution
16.2 Megapixels
16.2
18 Megapixels
ISO Range
100 - 12800
100 - 12800
+25600
100-6400
+12800
Total AF Focus Points
15
15
9
Cross-Type AF Sensors
3
3
1
AF Light Level Range
-1 to +18
+1 to +17 (live view)
+2 to +20 (viewfinder)
-.05 to +18 EV
Metering System
1200 Zone evaluative metering
1200 Zone evaluative metering
63 Zone Point Linked Evaluative
9% Center Weighted
4% Spot
Max Frame Rate : RAW (14-bit)
?
?
3.7
Max Frame Rate : RAW (12-bit)
n/a
?
3.7
Max Frame Rate : JPG
10fps
7fps
3.7fps
Max Burst Duration RAW (at highest frame rate)
20
22
6
Max Burst Duration JPG (at highest frame rate)
35
45
34
Shutter Speed Range
1/4000th - 30 sec.
+bulb
1/4000th - 30 sec.
+bulb
1/4000th - 30 sec.
+bulb
Image Stabilization
In Camera Body
In Camera Body
In select lenses.
Maximum Flash Sync Shutter Speed (standard flash)
1/160th sec.
1/160th sec.
1/200th sec.
HD Video Resolutions
1080i, 1080p, 720p
1080i, 1080p, 720p
1080p, 720p
Available HD Video Frame Rates
1080i @ 60fps
1080p@ 30fps (no 24fps yet)
1080i @ 60fps
1080p@ 30fps (no 24fps yet)
PAL and NTSC
24/25, 30 at 1080p
24/25, 30, 60 at 720p
Auto Focus in Video Mode
Phase Detection
None
Contrast Detection
Firmware Sidecar Available
No
No
Magic Lantern Under Development. Currently version provides audio meters.
Media Type
SD / SDHC / SDXC plus Sony memory sticks.
SD / SDHC / SDXC plus Sony memory sticks.
SD / SDHC / SDXC
Weight
492g (with battery and SD card)
599g (with battery and SD card)
530g (with battery and SD card)
Viewfinder Coverage
100%
1.1x magnification,
1.4 million pixel viewfinder (electronic)
95%
.80x magnification
95%
0.87x magnification
Translucent Mirror System (Fixed Pellicle Mirror)
Yes
No
No
GPS Tagging
Built-In
No
No
.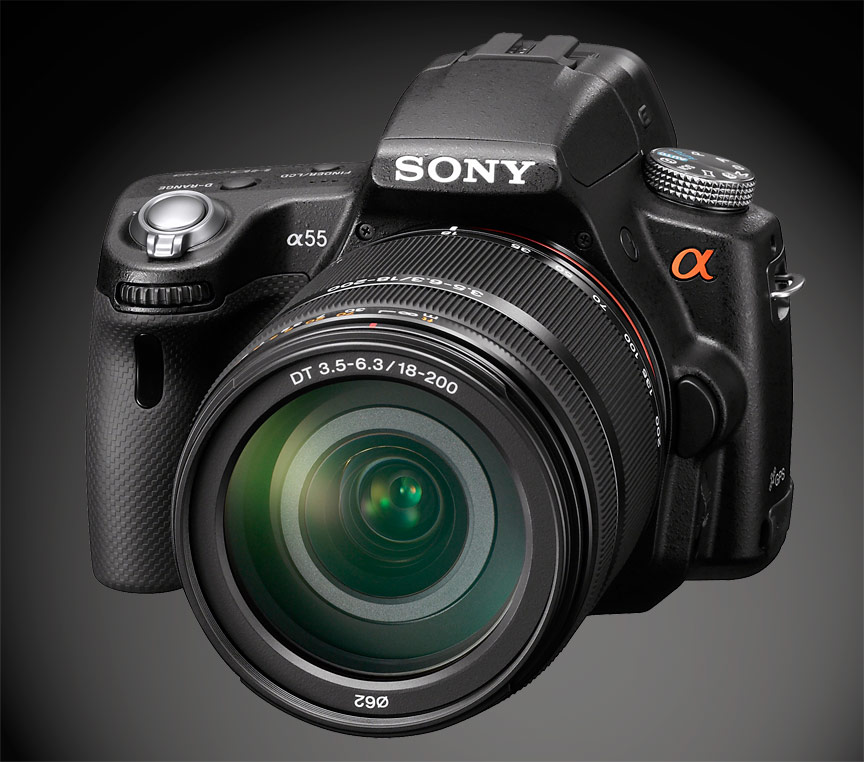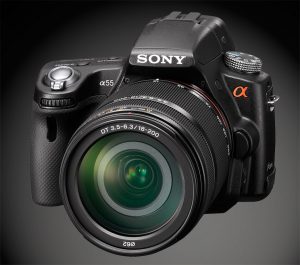 What we don't find in the a580, though, is an electronic viewfinder. Although this means that the viewfinder does not offer illumination, full coverage, or 1x magnification, it also does not continuously drain the battery. One of the biggest complains about the a55 is its short battery life during heavy use, such as long sporting events. Many photographers have reported that the battery will die before three hours of full time use, though this obviously depends on several factors such as temperature, lens choice, image stabilization use, etc. With a standard optical viewfinder, however, the a580 should last somewhere in the same range as Canon and Nikon's SLRs.
It should also be noted that while the Sony a55 has built-in GPS tagging, the a580, for some reason, does not. This is unfortunate. I would probably play with and dismiss most of the "features" of these cameras, but GPS data is something that I always find helpful… especially when I need to return to a specific location at a later date when weather or lighting has improved. That said, there are a host of geo-tagging options available now, from hot-shoe mount units to iPhone apps, so it's not a game changer. It's a shame to lose such an elegant solution, though.
Compared to the Canon T2i / 550D
The Canon T2i has a higher resolution sensor and full range of (mostly) higher quality, professional grade lenses, which means that it should technically produce the highest image quality of all three cameras when used optimally. For some photographers, that's the end of the discussion. However, when it comes to image quality, the differences between systems is so subtle, and optimal performance is so rarely achieved, that  image quality is probably one of the least significant differences.
Autofocus is a significant issue, though. Both Sony cameras have 3 cross-type AF points and 15 total AF points compared to the single cross type and 9 total of the Canon, giving them a significant edge. There seems to be on caveat, though: when using the optical viewfinder of the a580, the autofocus does not perform well in low light. Sony rates its lowest light level effectiveness at +2 EV, compared to -1 EV on the a55 and -.5 of the T2i. For those not familiar with the EV measurement system, it is closely related to the f-stop scale, so the difference between -1 EV and +2 EV is 3 stops, or 8 times as much light. Interestingly, the a580 requires only half as much light to focus when using live view. Keep in mind, though, that even +2 EV is a very low amount of light (if you were using a  fast f2.8 lens, you'd still need a 2 second exposure at ISO100 to achieve an EV of +2).
For many, frame rate will also be a significant issue, especially action photographers. The Canon's max frame rate is 3.7 fps, which seems somewhat paltry in comparison to the a580's 7fps, and even that is overshadowed by the a55's astounding 10fps.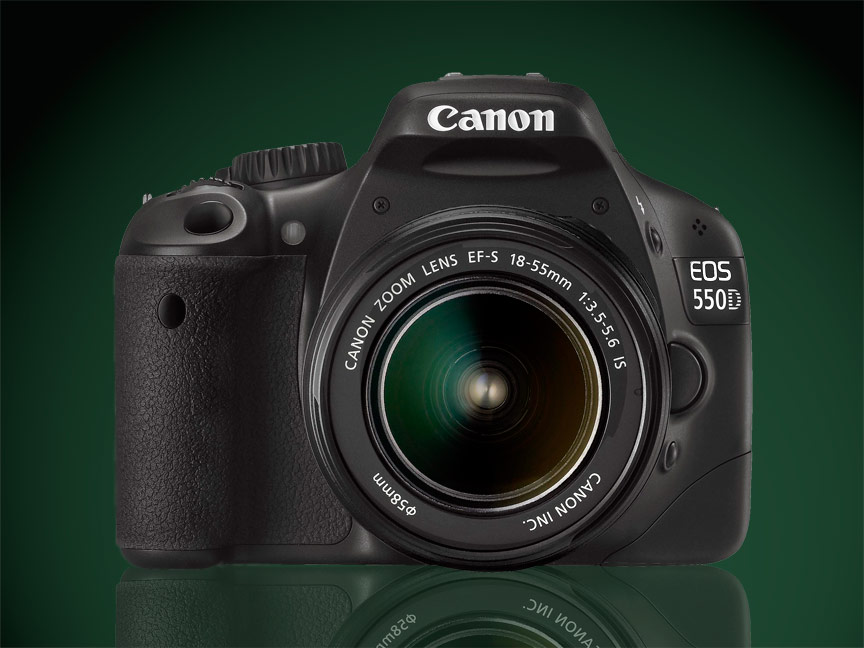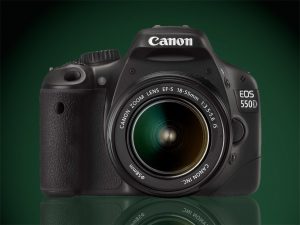 When it comes to video, things are a little less cut and dry. The Sony a55 has superb AF functionality for video; it is the only SLR that has phase-detection focus while shooting video, made possible by the pellicle mirror system. The Sony a580, on the other hand, has no video AF at all. Not even temporarily. The Canon does have video AF, but it is the slow, contrast detection type which is not terribly useful. On the other hand, neither Sony camera offers 24fps at 1080p, which will be discouraging for those who are interested in film-making. This can potentially be fixed by firmware update, though, as was done with the Canon 5D Mark II. Similarly, Sony's cameras do not yet offer full manual control of video functionality, though there are some work-arounds (exposure compensation, etc). Not only does the T2i offer manual control of video, it also has the added bonus of (free) Magic Lantern firmware for video, which offers important advantages to the 5D Mark II . While still under development for the T2i, there is currently no reason to believe that anything similar will exist for the Sonys.
What to Buy?
All three are great cameras, and a good photographer will be able to take amazing photos with any of the three. However, their strengths do lie in different areas.
Buy the Sony a55 (body: $750) :

If your interest is primarily in action photography. The a55 is nothing if not a great camera for action.
If you won't be away from a power source for days at a time.
If you'd like a camera that can act as a replacement for a home video camera for ease of use.
If you don't use manual exposure with off-camera flash.
Buy the Sony a580  (body $699, sale price):
If you'd like the image quality of the a55s sensor but don't want to deal with the drawbacks of the pellicle mirror system.
If you want a good AF system and fast burst rate.
If you're not particularly interested in film making.
Buy the Canon T2i (body $699, sale price) :
If highest resolution is important to you and you'll usually be shooting on a tripod using high quality lenses (landscape, fine art, etc.).
If you're interested in serious film-making (and expect to manual focus).
If you're considering moving up to a more expensive Canon model later and want to get started on your lens collection.
Please leave comments below if you have any questions or additional information.