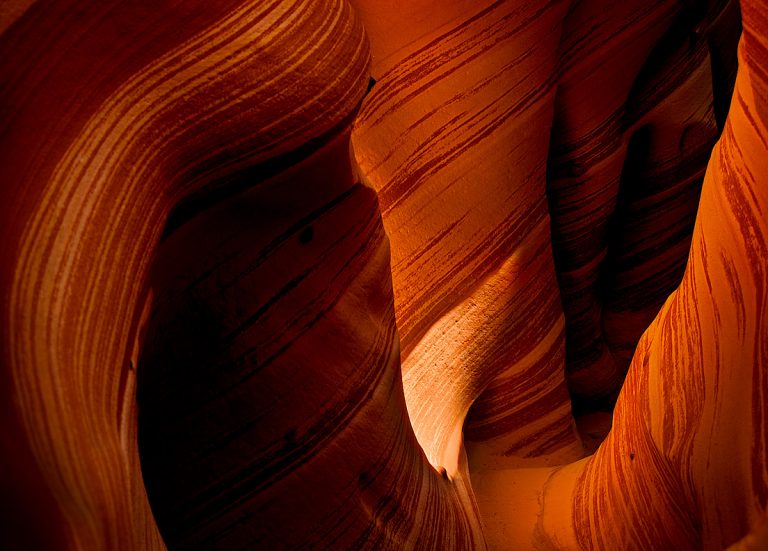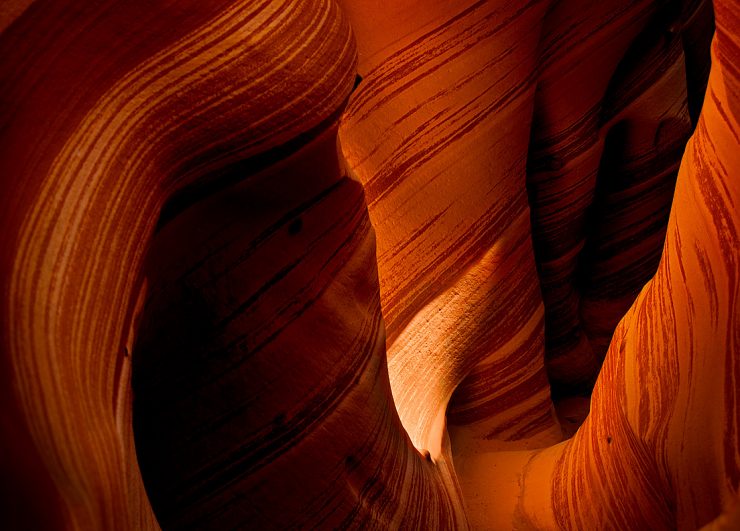 After spending a few days in Bryce Canyon, I decided that I'd like to get away from the crowds and find something a little different. My idea was to get out of the national park and find a slot canyon, preferably on a trail with light traffic. One of the very helpful rangers at the Bryce Canyon visitor center suggested that I go Grand Staircase-Escalante National Monument, which has several nice slot canyons. I happen to have a National Parks annual pass, but for those who don't, Escalante National Monument is BLM run, so there are no park entrance fees.
An hour or so later, I found myself at a visitor center in Cannonville. It turns out that extreme weather over the past year has washed out many of the roads in the National Monument, and quite a few trails are only reachable with a high-clearance 4×4, which I did not have. The ranger with whom I spoke said that my best option would be Zebra Canyon, which was only a 5 mile hike, and the road to the trailhead was in probably in good shape. But, he said, I'd better stop at the visitor center in Escalante to double check on the road conditions before trying it. So, another hour later, I wound up in the town of Escalante.
Behind the counter was a very dour woman nearing retirement age with dyed brown hair. When I approached, my smile did nothing to change her demeanor, so I just asked her about the road to the Zebra Canyon, saying that the previous ranger had suggested that I double check. "It's fine", she replied with no change in expression.
I thought that was good news, so I asked her for directions to the trailhead. She looked exasperated. "They didn't give you directions in Cannonville?" she asked, as though I had foolishly entered the desert without any water. I replied that they had given me directions to a general area, but I still needed detailed directions. So, she pulled out a map and handed me a sheet of paper, and started with the string of directions.
"Drive up the road and turn right on Hole-in-the-Rock Road" she started.
"Ahh yes… Hole-in-the-Rock Road," I thought to myself. I hoped that it would be marked.
"Stop at Cow Hollow and park on the right," she continued.
"Cow Hollow? Is there a sign?" I asked.
She paused and stared at me for a moment. "It's after the third yellow cattle guard."
It was true. I found Hole-in-the-Rock road (it was marked), and there were two other cars parked past the third cattle guard. I took a look around, and found the trail… an unmarked, narrow footpath… across the road, meandering through a field of high grass and wild-flowers.
Perhaps a half-mile along the trail, I ran into a couple headed out. "So, how was it?" I asked as I got near. The guy hesitated and said with a heavy German accent "Not so gut". He didn't seem likely to elaborate, so I continued along the path, which followed a dry riverbed. After a mile or so, the path dropped down between rocky hills of sandstone, and I spotted another couple heading the opposite direction. "What did you think?" I asked them. "Beautiful! Gorgeous light!" they replied with very light accents that I couldn't quite place. German maybe, or Dutch. We chatted for a moment, and the gentleman said, "By the way… up ahead, the riverbed forks, and the trail disappears. Take the right fork. You'll see the slot canyon after another half mile or so, but it's slow going because of the soft sand."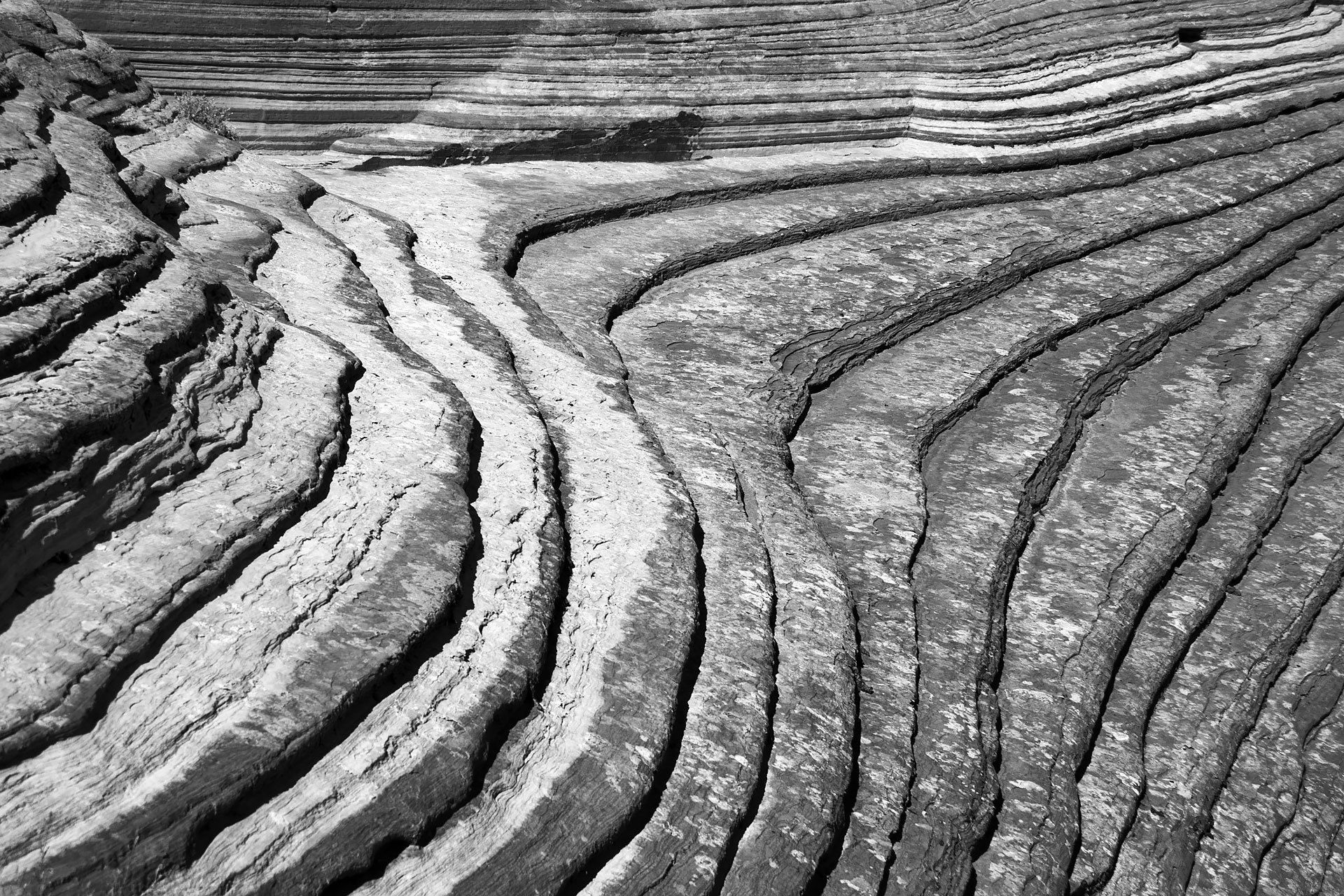 Eventually, I came to what appeared to be a fork in the riverbed. I took the right fork and started trudging through the sand… but after a few minutes, I realized that I wasn't following any footprints. The sand was smooth and untracked… and I knew that at least four other people should have passed through in the past couple of hours. So, I hiked over the ridge that separated the prongs of the fork, and started looking for the trail. Again, I found no footprints… but I was pretty sure that I should have; the sand was soft, and the dried mud was thin and crispy. It sounded like walking on potato chips, and left a definite trail. With no better options, I decided to trust the guy from the trail, and went back to the right fork. After a short hike, I saw the entrance to the slot canyon.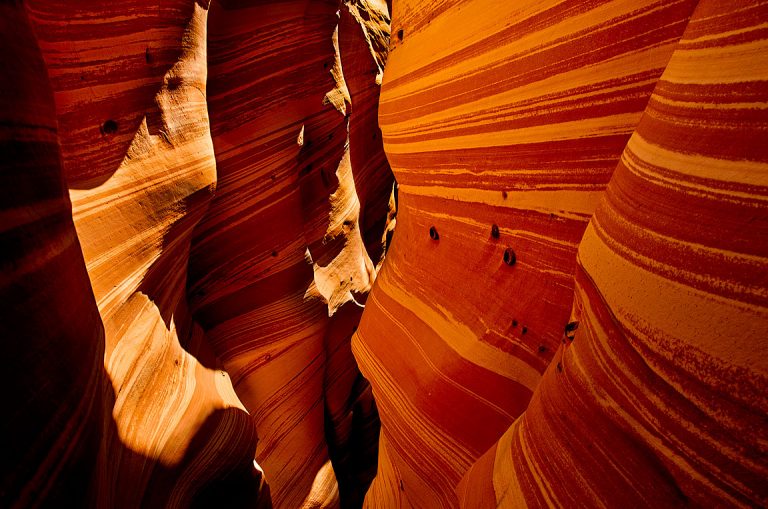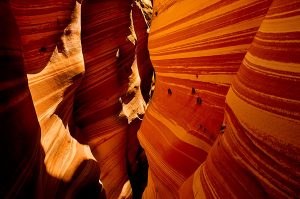 Upon my arrival, I was a little disappointed with the slot canyon. The colors were more brown than orange (though they got better as the sun got lower), and it appeared to be pretty short. Once I got inside, though, I realized that it continued quite a bit further, it just required a bit of climbing. After a brief brush with certain death (I'll leave that story out to protect a bit of my dignity), I climbed up to a couple of higher levels of the canyon and started taking a few photos.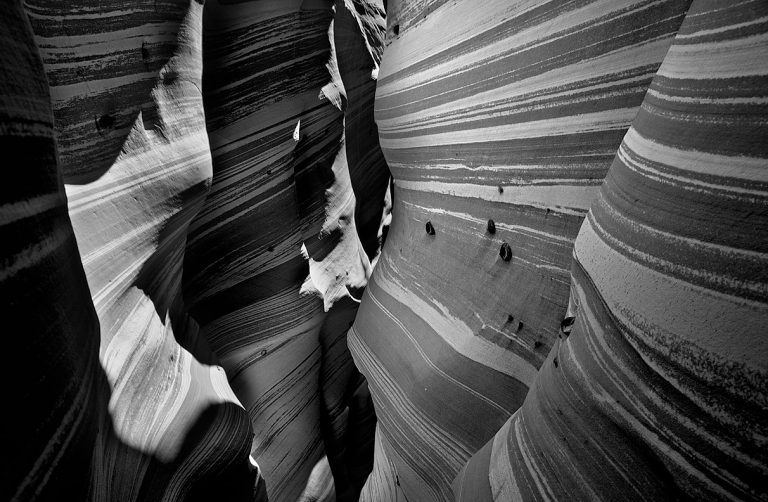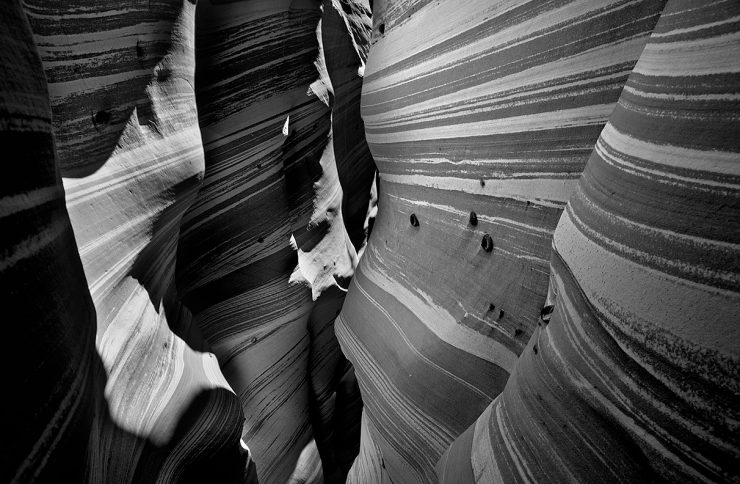 The patterns in the walls were wonderful. In some cases, they were vivid lines, curving and arching like flowing water. In other cases, the patterns became swirled and cloudy, but they were equally attractive. Unfortunately, the widest lens that was available was an 18mm (on an APS-C Nikon D300s). I'd really have preferred an ultra wide angle zoom in a circumstance like this, like Nikon's AF-S 14-24mm f/2.8G if I were shooting full frame (what an amazing lens!), or the 10-24mm f/3.5-4.5G DX on the smaller sensor. [If I'd been shooting Canon, I'd probably have gone with the Tokina 11-16mm f2.8 Very had to find for Canon at a reasonable price these days, though]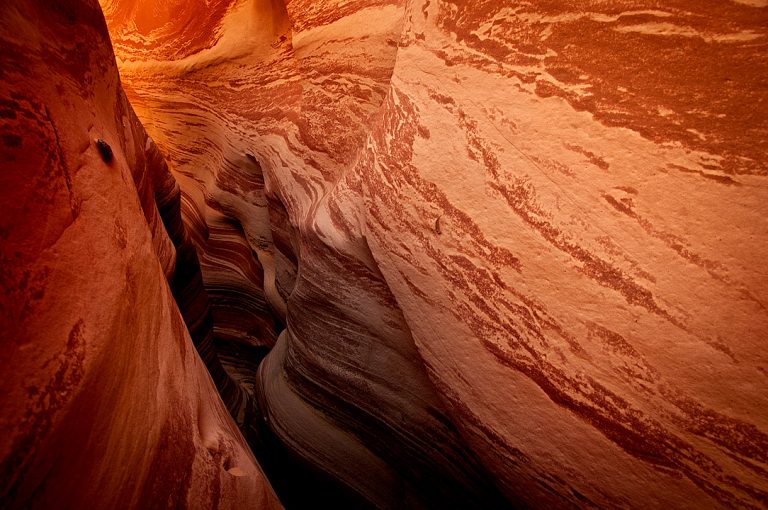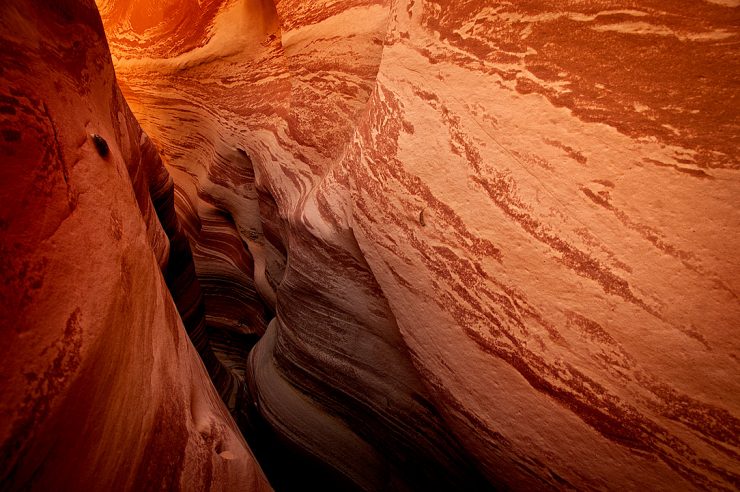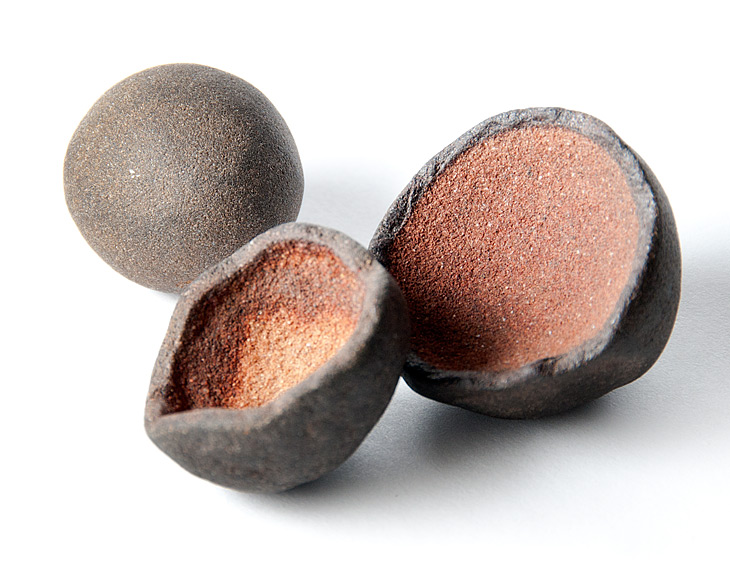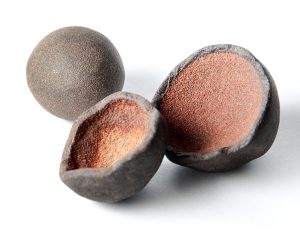 One of the strangest features of the slot canyon was the abundance of small, spherical rocks that were protruding from the sandstone wall and littering the floor. Clearly, the rocks were forming in the sandstone and then eroding out, but I'd never seen anything quite like them. They were like chocolate truffles, with a hard outer shell but a softer sandstone interior.
After I'd taken about two photos, though, there was a sudden burst of wind… followed by strong, sustained wind. The air was thick with sand, obviously picked up from the dry riverbed outside. The wind was strong enough that the sand against my legs felt like little pin-pricks, and I could barely open my eyes. I covered my mouth and nose with my shirt, but my mouth was already full of sand… as was my hair, and my pockets started their own collections. My skin, sweaty from the hike in, became a hard crust of sand. I stood for a few minutes, hoping that the wind would die down again… but it didn't take long before I decided that I'd had enough. I turned to pick up my backpack where I'd set it down a few minutes before, and it was nearly half-buried in the dusty sand. I scrambled out of the canyon as quickly as I could, and then started the hike back to my car along the sandy river bed.
My footprints from the trip in were already gone.